Users search for virtual meetings and webinar tools in the name of Zoom alternatives expecting the same capabilities in the tools they are seeking - that is, the impact of Zoom on worldwide users. In other words, "Zoom" as a brand name has become synonymous with online meetings.

If internet stories are to be believed, there was a significant surge in the use of Zoom for remote work, distance education, and online social contacts during the COVID-19 pandemic. With 477.3 million downloads, Zoom became the fifth-most downloaded smartphone application globally in 2020.
Education was one of the most affected fields. It transitioned to a digital environment even before the pandemic with online libraries, remote tutoring, and others. During the pandemic, a few Ph.D. students approached freelance writers through Zoom asking 'do my essay'. And with the lockdown in full force, this tendency became even more prevalent with students able to study entirely from the comfort of their homes.

Given those mentioned above, it is evident that Zoom experienced security issues. For instance, a few vandals interrupted legal and business meetings during the pandemic, prompting Zoom users to hunt for an alternative.

Here are some of the best Zoom alternatives that you might find interesting.
1. Troop Messenger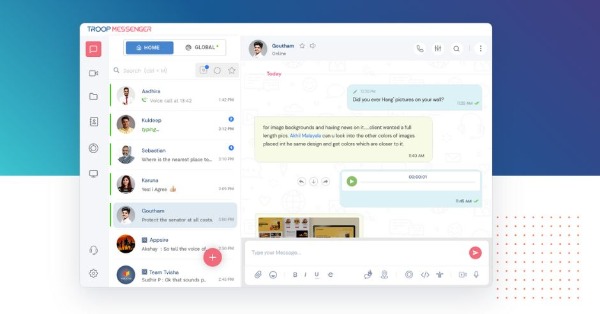 Troop Messenger is one of the few Zoom alternatives that has seen numerous users transitioning from Zoom and other platforms since they find their current tools inadequate for their requirements.

As mentioned above, Zoom's security concerns during the pandemic caused users to look for alternatives. Users didn't take too long to sign up for Troop Messenger, counting on the security measures that prompted defense, government, political, and corporate companies to opt for it as their official communication tool. It is the best Zoom alternative since you cannot find any tool in the market that can match Troop Messenger's security standards.

Troop Messenger is one of the few team collaboration tools whose every functionality effectively benefits users, unlike other tools focused on a particular niche. Troop Messenger's audio/video conference feature called Cattle Call outperforms all available video conference software. Like this tool, any tool can provide a calendar, scheduling, screen sharing, remote access, and other features, but this tool goes above and beyond in terms of meeting requirements. Take the Jointly Code Editor feature, for instance, which empowers multiple programmers to work on code without ending the conference and undermining the case for switching to another UI.
Highlights
Compliable with the on-premise delivery model
Jointly code editor
Host privileges
Screen control
Guest members
Supported Platforms: Windows, macOS, iOS, Android, Linux
2. FaceTime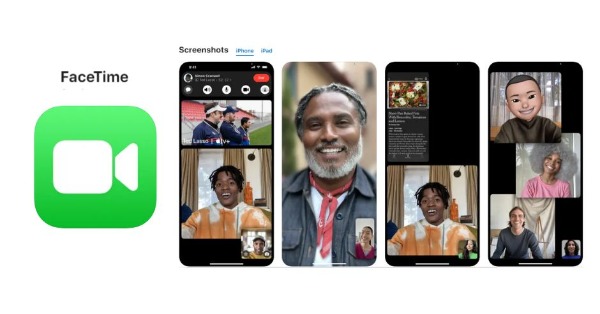 Apple Inc. developed the exclusive videophone service called FaceTime. FaceTime is available on Mac computers running Mac OS X 10.6.6 and later, as well as supported iOS mobile devices running iOS 4 and later. Any iOS device with a front-facing camera and any Mac computer with a FaceTime Camera is supported by FaceTime.

Despite FaceTime lacking a conference feature, users tend to exist with Group FaceTime using it as a video conference solution. You can simultaneously initiate audio/ video chat with up to 32 people with Group FaceTime.

When using Group FaceTime, all participants will appear in a tiled view, with the size of each person's tile altering according to the number of conversation participants. The current speaker's tile size will increase to draw attention to them, but you can also activate Focus View by double tapping on any chat member you want to see.
Highlights
Encrypted group chats
Screenshot detection
Favorite contacts
Audio/ video quality
Supported Platforms: iOS, macOS
3. RingCentral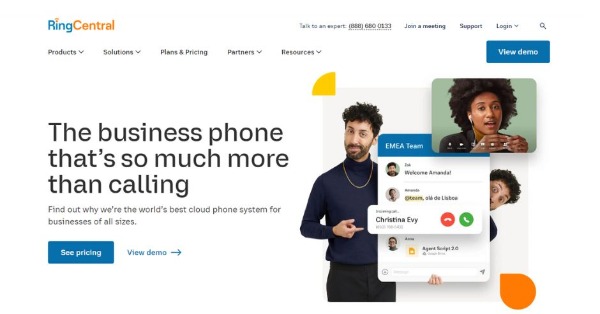 RingCentral, Inc, an American company, offers a free cloud service called Cloud Video Conferencing that combines HD video conferencing, mobility, and web meetings. As part of your comprehensive business communications solution, RingCentral Meetings provides the ability to video conference and online share. Hold high-definition face-to-face meetings and instantly share your desktop or files with anyone.

This online collaboration tool supports 24-hour meetings and conferences involving up to 100 participants. The software also offers ten hours of storage for recording sessions, which you can download and share across your devices for up to a week.

It will record the best available video resolution based on the camera's capabilities and the user's Internet bandwidth to sustain the video stream—both the desktop and mobile applications for RingCentral Meeting exhibit the same behavior.
Highlights
Spotlight speaker
HD Video conferencing
Calendar integration
Audio dial-in access
Integrated chat
Supported Platforms: Windows, macOS, iOS, Android
4. GoToMeeting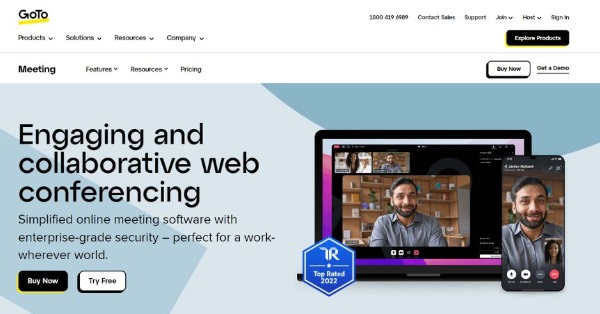 LogMeIn developed and advertised the web-based service GoToMeeting. Users can hold live online meetings with other computer users, customers, clients, or coworkers using this collection of online meetings, desktop sharing, and video conferencing software.

They have a Smart Meeting Assistant that can take notes specifically for your meeting and put everything you say in writing. This is one of the perfect Zoom alternatives for healthcare practitioners. This tool is ideal due to the robust security features of GoToMeeting, which must conduct remote patient meetings and can now discuss sensitive topics with clients online, such as through video-based telemedicine.

According to GoToMeeting, 80+ million online meetings are conducted yearly with the same enterprise-grade security and other robust security features, including risk-based authentication and AES-128-bit encrypted audio and video data by default. Zoom consumes 50% more bandwidth than GoToMeeting, which might result in increased lag, poorer video quality, and more IT issues.
Highlights
Noise suppression
Commuter mode
HD video
Screen sharing
Custom email templates
Supported Platforms: Windows, macOS, iOS, Android, Linux
5. Microsoft Teams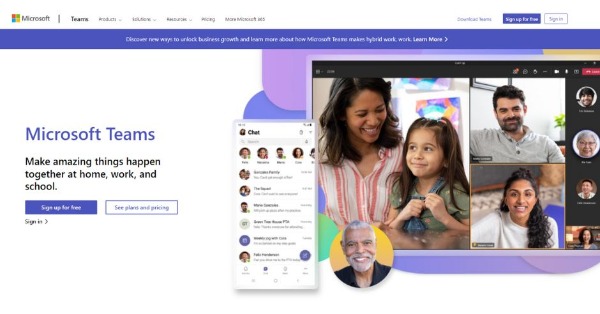 Microsoft Teams is a popular workplace collaboration software that can be used for video conferencing for chat, sharing files, audio/ video calls, and other features.

Microsoft chose to shut down Skype on July 31, 2021, with only a free plan suitable for home use after purchasing Skype in 2011 for $8.5 billion. Microsoft had anticipated that Skype users would switch to Microsoft Teams because it has extensive features. However, only a small number of users turned up, and the rest preferred to use other technologies.

Regarding conferencing, Zoom's free platform offers +/- what Microsoft Teams' free plan features do. For example, while Zoom only allows 100 participants with a 40-minute time limit, MS Teams allows 100 participants with a 60-minute limit.

Standard video conferencing facilities like screen sharing, chat polls, and a chat feature is included with Microsoft Teams, along with backgrounds that can be customized and web versions of Microsoft's applications. Participant lists, real-time captioning, and shareable recordings are additional helpful features.
Highlights
Team meetings recordings with transcripts
Webinar hosting
Attendee registration and reporting tools
Cloud storage
Noise suppression
Supported Platforms: macOS, Windows, iOS, Android, Linux
6. Dialpad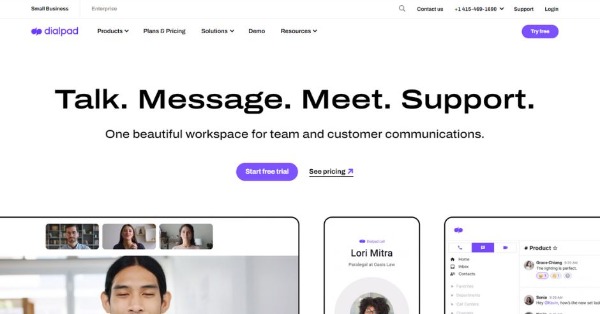 The unified communications platform Dialpad connects your teams with voice, video, chat, and online meetings. It provides a comprehensive set of cutting-edge features to assist you in streamlining your business communications and increasing efficiency.

It has many fascinating features that regular participants in video conferences would appreciate. With HD video and audio featuring built-in background noise reduction, users can pre-pick features such as meeting backdrop, music, the order of how your participants will be shown, and a custom meeting room URL. Hence, you can try this tool if you seek Zoom Alternatives for Webinars.

The free version of Dialpad Meetings is perfect for gatherings of no more than ten individuals. The free edition's 45-minute time frame on your video conference makes it ideal for small meetings.

Unlike other free Zoom alternatives, this application integrates AI, which produces real-time transcriptions and captions while you interact. Additionally, DialPad will track keywords and send out real-time notifications, identify and monitor people's moods, and send out an automated post-call report.
Highlights
Unlimited meetings
Automated post-call summaries
User management
HD audio & video
Open APIs & webhooks
Supported Platforms: Windows, macOS, iOS, Android
7. Zoho Meeting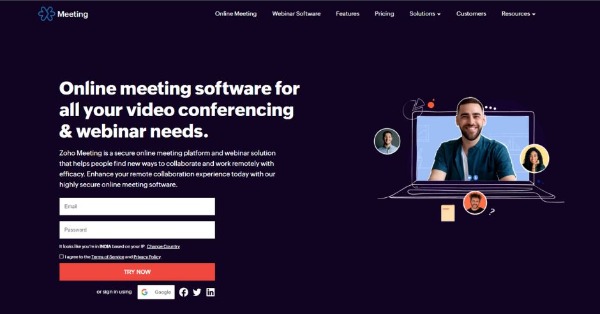 Zoho Meeting is one of the best Zoom alternatives. This online video conferencing service will give you full access to tools like screen sharing, audio, video, and remote access, among others. Even if your recording files are enormous, it does allow you to save a predetermined amount of recordings according to your plan.
Zoho Meeting is an effective approach to interacting and working remotely using a safe online meeting platform and webinar solution. With its incredibly secure online conference software, you can instantly improve your remote collaboration experience.

This tool is one of the popular free alternatives to Zoom, where you may hold free online meetings for an hour with up to 100 participants using this service's free web conferencing option. Users of Zoho Meeting can hold meetings for as long as they like, even in the free version, in contrast to Zoom, which imposes a 40-minute time limit.
Highlights
Q&A and polls
Admin Portal
Meeting lock
Reporting & Analytics
Source tracking
Supported Platforms: Windows, macOS, Android, iOS, Web.
8. Lucid Meetings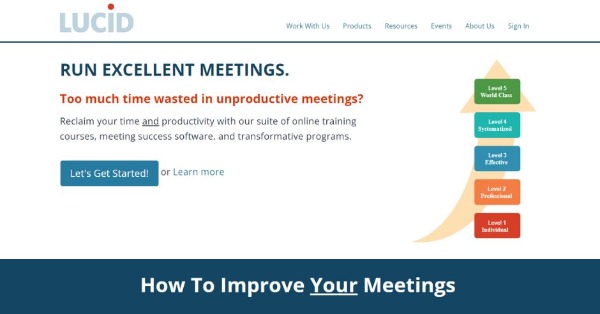 Lucid Meetings is one of the ideal Zoom alternatives for virtual meetings that can make it simple for teams inside an organization to plan events, invite attendees, and run meetings. It is a tool that is frequently used when holding business meetings.

Meeting agenda elements in LucidMeetings help plan meetings, document exchange, and communicate the meeting's objectives. Meeting minutes can be archived and exported in a variety of formats. Additionally, speaker queues will be used to prevent overlapping conversations.

Every meeting has a set time and is held in the meeting room. When you enter a room, you may view the scheduled meetings, guests, and the minutes from those sessions.

A group can gather privately in each room. Rooms are created for various initiatives, teams or departments, the Board of Directors, and people who only require a convenient means to have meetings.
This platform can be the best Zoom alternative for small and large businesses. The team will be helped to handle the projects efficiently by its user-friendly UI.
Highlights
Meeting agenda templates
Attendance tracking
Topic parking lot
Meeting effectiveness report
Workflow automation
Meeting satisfaction survey
Supported Platforms: Windows, macOS, iOS, Android
9. Cisco WebEx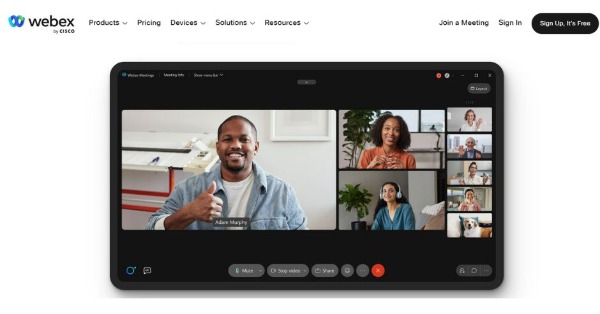 Cisco WebEx is a web conferencing and video conferencing software provider with headquarters in the US. It was developed in 1995 under WebEx, and Cisco Systems purchased it in 2007. The corporate headquarters of the corporation is situated in Milpitas, California.

The company's software offerings include Webex Meetings, Webex Teams, Webex AIM Pro Business Edition, Webex WebOffice, Webex Connect, Training Center, Sales Center, Event Center, Support Center, MeetMeNow, and PC Now. All of the Webex solutions are part of Cisco Systems' collaboration offering.

With this live video conferencing software, you may access a wide range of capabilities, such as personal video meeting rooms, scheduling, screen sharing, audio via call-in or VOIP, cloud recording, Polling, Q&A, and more.

Cisco WebEx and Zoom are identical in setup and usage procedures, but according to many user reviews, Zoom is more user-friendly than Webex.
Highlights
Post-meeting transcript
Voice commands and keywords
Live to poll
Breakout rooms
Interactive whiteboarding
Supported Platforms: Linux, Windows, macOS, iOS, Android.
10. Google Meet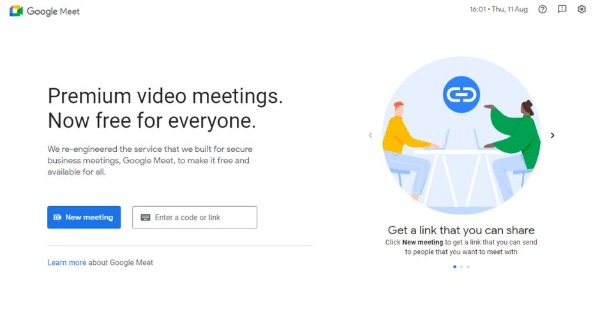 Google Meet, the brand name is self-explanatory in that Google develops it. It is a video communication service that was formerly known as Hangouts Meet. This tool and Google Chat together make up the two apps that replace Google Hangouts. By 2022, it will replace the consumer-facing Google Duo, with the Duo mobile app being renamed Meet and the old Meet app being phased out.

With 100 million users accessing Google Meet every day during the COVID-19 epidemic, as opposed to Zoom's 200 million daily users as of the last week of April 2020, the use of Meet increased by 30 between January and April 2020. Perhaps by the end of 2022, Google Meet is expected to become one of the few Zoom competitors that would create an urge in Zoom users to transit.
Highlights
Two-way and multi-way audio/ video calls
Noise cancellation
Call Encryption
Video filters
screen sharing
Supported Platforms: Android, Web, iOS, macOS, Windows.
11. Livestorm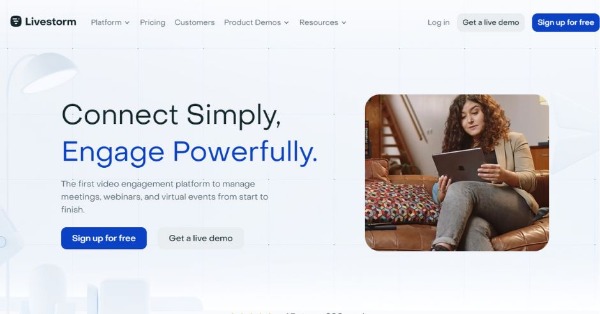 Livestorm is a software provider that provides browser-based online web conferencing software for webinars and virtual meetings.

Livestorm gives teams integrated capabilities to manage their video events from beginning to end, in contrast to the conventional webinar or video conferencing software. Access configurable signup pages, website widgets, email delivery tracking, built-in social sharing, email templates and sequences, and more.

The core of Livestorm is focused on utilizing WebSocket and WebRTC for low-latency, real-time interactions. Each viewer's web browser automatically adjusts the video stream's quality and format. For browsers that support WebRTC, such as Google Chrome, Firefox, and Opera, the stream provides an HLS stream as a backup, while Internet Explorer and Safari can still access the WebRTC stream.

This tool is one of the most effective alternatives to Zoom for those seeking a solution to severe latency difficulties with Zoom meetings.
Highlights
Replay viewers
Marketing automation integrations
CRM integrations
Custom branding
Analytics
Supported Platforms: iOS, Android, Web.
12. BlueJeans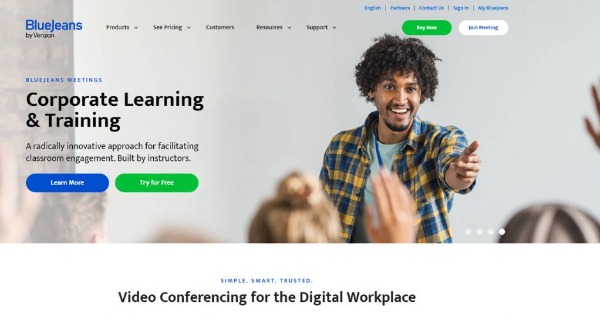 BlueJeans provides an open-standard cloud-based video conferencing solution that connects customers across numerous platforms and devices. For large groups and organizations, it uses a method of meetings, rooms, and events to facilitate video calling.

In contrast to some of the more complex solutions provided by rivals, Bluejeans consists of rooms, meetings, and events to enable video meetings anywhere. It is a robust web conferencing platform with integrated teamwork capabilities that can improve your teamwork. Compared to the aforesaid Zoom alternatives, the only drawback of this solution is it only provides a 14-day trial period; it does not offer a free subscription.

Smaller companies and those that combine remote and office-based working are good fits for this solution.
Highlights
Enterprise-grade security
One-touch access
Automated alerts
Analytics
Live meeting controls
Supported Platforms: Windows, macOS, Linux, Android, iOS.
13. Whereby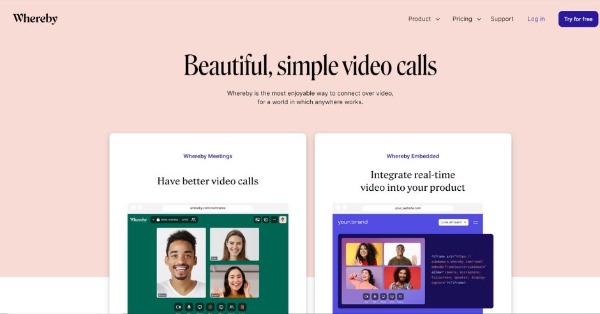 Whereby previously known as Appear.in, it was created as a summer internship project for Telenor, a Norwegian telecommunications company, and has since become one of the most well-liked video calling apps. It's ideal for small firms seeking a simple method to link team members. Users only need to establish a room and publicize their meeting URL. Anybody can join the browser thanks to its straightforward format, which offers speedy service and eliminates the requirement to download an app or log in.

This video conferencing application features recording, chat, screen sharing, real-time responses, and interfaces with YouTube, Google Drive, and other solutions in customized meeting rooms for up to 50 participants.

It provides a meeting period of 45 minutes for 100 participants, which is 5 minutes more than Zoom.
Additionally, enrollment in the Pro and Business programs is supposed to be unrestricted. Although screen sharing can be done, it does not permit remote access, so it may not be suitable for remote teams unless they wish to collaborate across different platforms.
Highlights
Unlimited video recording
Custom branding
Shared rooms
Custom subdomain
Noise reduction
Supported Platforms: Windows, macOS, Linux, Android, iOS, Web.
Eyeson, Meet Now, Jitsi Meet, Join.Me, Discord, and others are some of the Zoom alternatives.
Conclusion
Before choosing any video communication services, you should be aware of the vital distinction between a video conference and a video call. Because some tools on the market, including well-known instant messaging software, deceive their users by referring to the video call option as the video conference feature. To be precise, you can try the aforementioned Zoom alternatives without any qualms because they are video conference software that does not include FaceTime. But if you ask my opinion, I would advise you to select a secure tool that can protect you from cyberattacks and save your data.