Do you know that most users and companies consider Wrike alternatives the best project management tools? So, if you're looking for the list, these are some of the best and most popular applications.
What is Wrike?
Wrike is a platform for collaboration, work management, and project management that gives you a 360° view of all your projects, simplifying managing resources and workload.

To help the teams achieve operational excellence, Wrike software provides specialized software for various industries and team functions with pre-configured templates for tasks, workflows, and communication. This helped make Wrike the top project management software.

Here are a few of the most prominent alternatives to Wrike that can give it a run for its money.
Best Wrike Alternatives
1. Jira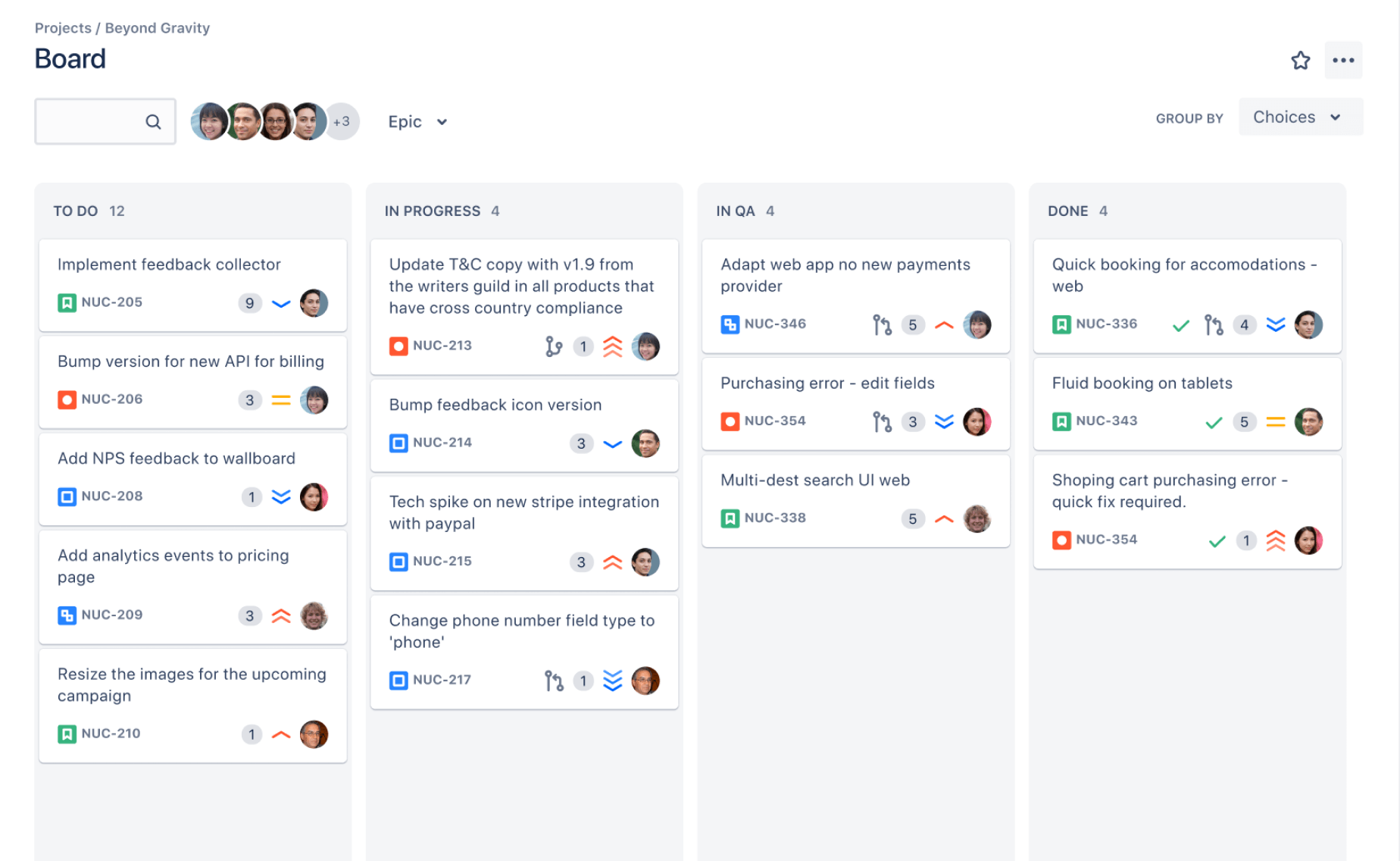 Jira Software includes all the capabilities and best practices that agile teams require to establish and grow their agile practices immediately. Jira Software is adaptable, complying with your team's working style, whether Scrum, Kanban or something in between. More than 100,000 companies trust it as the best Wrike alternative.

Agile teams utilize scrum boards to divide large, complex projects into valuable chunks of work, allowing focused teams working in sprints to complete their job more quickly. Reports and dashboards provide crucial context-specific insights that help you keep your teams informed and prepared for success. Additionally, you may design workflows that can be mapped to any task.

Jira Software's Work Management capabilities provide the functionality required for software development teams to plan, track, and deploy software products. Software teams use this program for bug tracking, project management, and routine software development chores.
2. Celoxis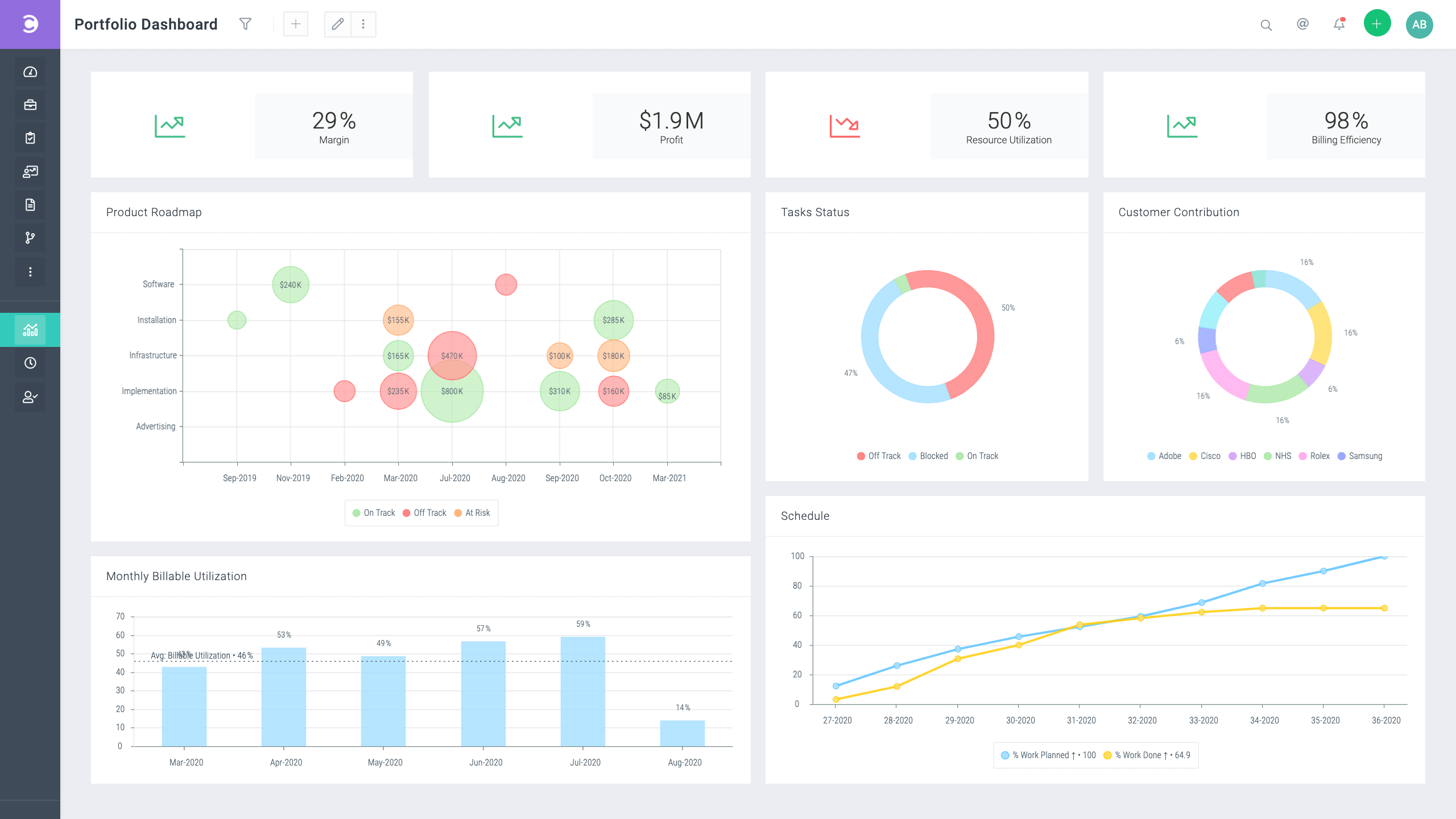 According to Celoxis, it is the world's top project management and PPM software. It is ranked as one of the world's top three project management software solutions and is used by more than 2000 customers worldwide, ranging from mid-sized businesses to Fortune 100 firms and across all industry verticals.

Change how you make decisions with Celoxis' all-in-one solution, which includes cutting-edge project management tools, improved project workflows, and data-driven insights.

Project requests can be sorted, flexible project plans can be built, risks can be tracked, resource usage can be optimized, progress can be visually tracked, portfolios can be watched, clients may collaborate, and much more. There is an on-premises version of Celoxis as well.

With its extensive API, this project management software may be easily integrated with any custom or in-house program you need. It works flawlessly with over 400 prominent business apps.

It provides appealing, fully customizable dashboards that quicken decision-making. Additionally, you can plan reports to go straight to your CEO's mailbox. Change everything about your company, from project portfolio optimization to measuring profit margins and everything in between.
3. ClickUp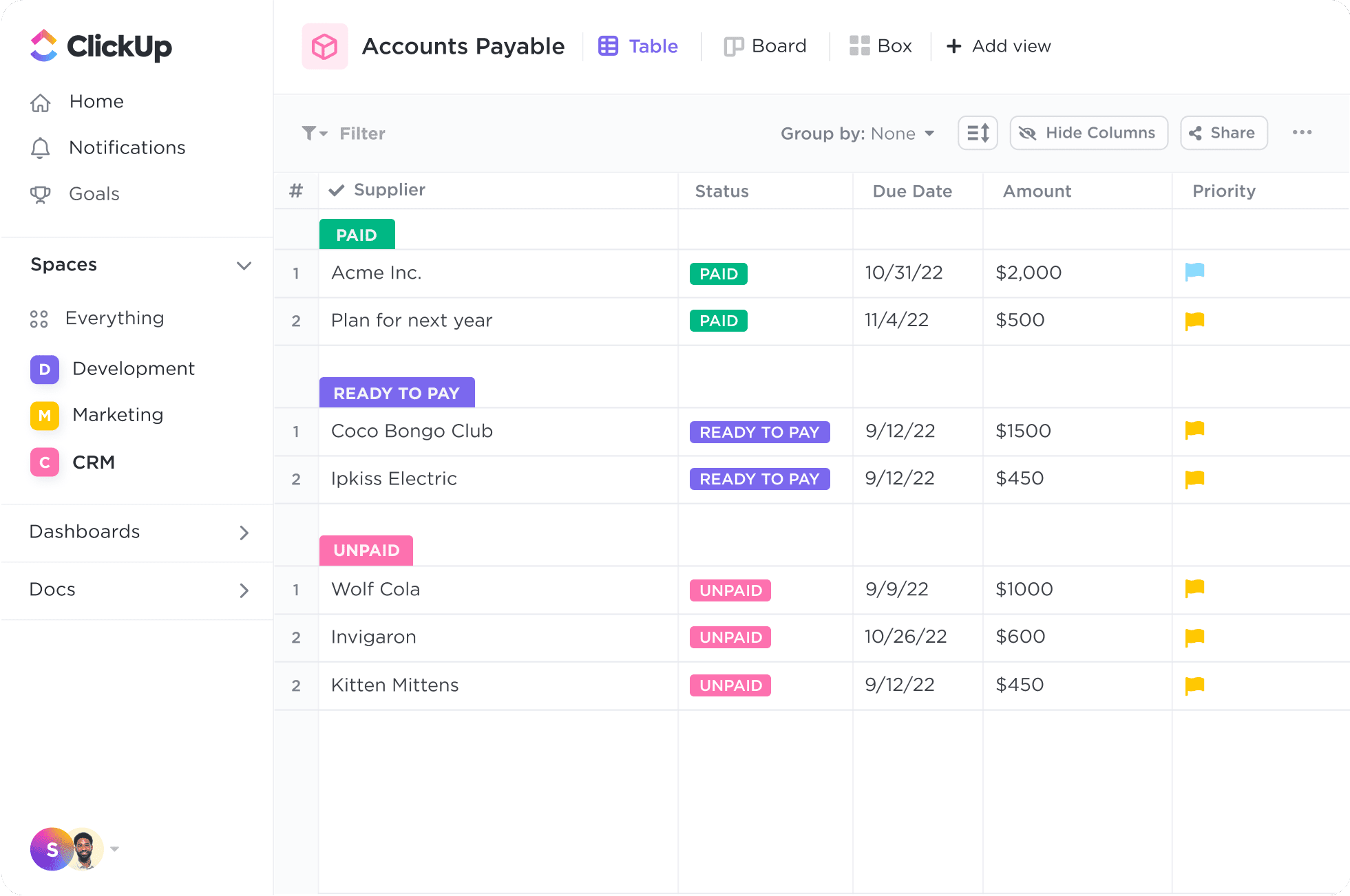 ClickUp, a cloud-based project management and team collaboration software, is appropriate for companies of all sizes and sectors. Tools for collaboration and communication comprise task assignments and statuses, alarms, and a task toolbar are among the features.

With ClickUp's special Hierarchy, you can design the ideal structure that grows with your needs. ClickUp empowers you by giving you the freedom and capacity to manage anything from tiny teams to huge companies.

With stunning views that simplify project planning, you can follow your project from beginning to end. Utilize any of ClickUp's 10+ customizable views to manage your resources in a List, Gantt, Box, Board, or Calendar view, or design your workflow.

By allowing you to give instructions to an assignee on how to finish the task at hand, using its to-do list application within ClickUp gives your tasks a clear outline. There are a couple of benefits on top of the straightforward statuses for the subtasks. Team members can concentrate more on the creative component of jobs and recognize little victories when a simple to-do list is added to a task.
4. Toggl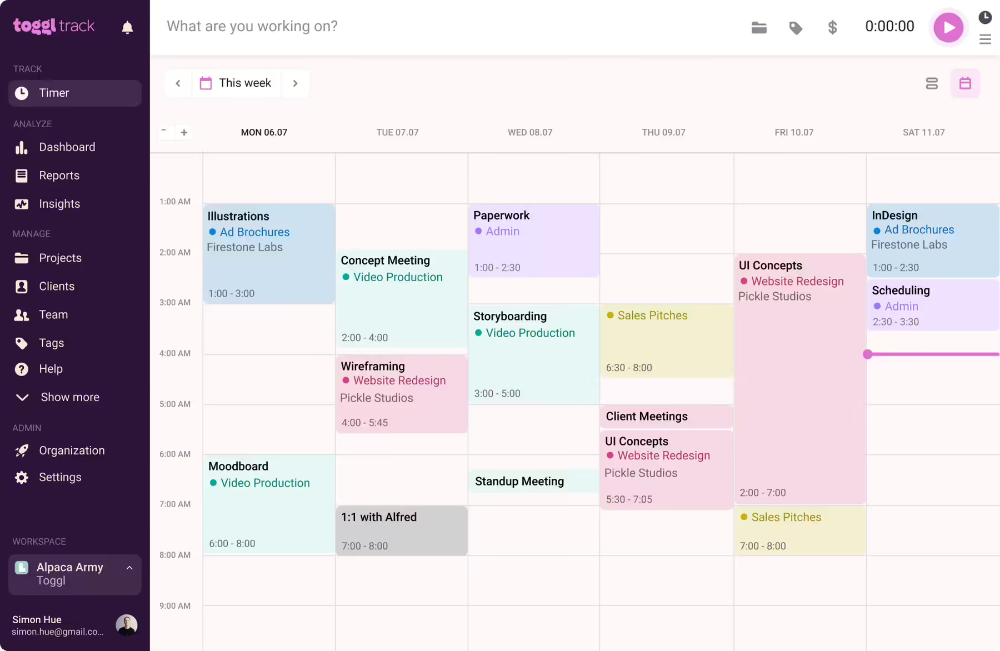 Toggl is another tool on our list that joins the Wrike competitors' list. It is a time-tracking tool that provides online time-tracking and reporting services via its website, mobile applications, and desktop programs. It enhances team productivity. It created straightforward tools that make managing hiring easier, planning teams and projects, and tracking your time.

Toggl Track gives your team members total control to track their time precisely. In addition to being non-intrusive, it is simple and intuitive. Maintain transparency, accountability, and knowledge. With simple timekeeping and precise time reports for expanding teams, payroll and quarterly reporting will be simplified.

You can rapidly build reports and evaluate time-tracking data in your workspace by classifying your time entries to Projects and Clients. Real-time monitoring of project performance and profitability evaluation is possible. Compare labor costs to billable hours for various projects, months, and clients. Use Toggl Track to integrate with your current tools. Utilize the Track browser extensions to include a timer in over 100 popular devices.
5. Scoro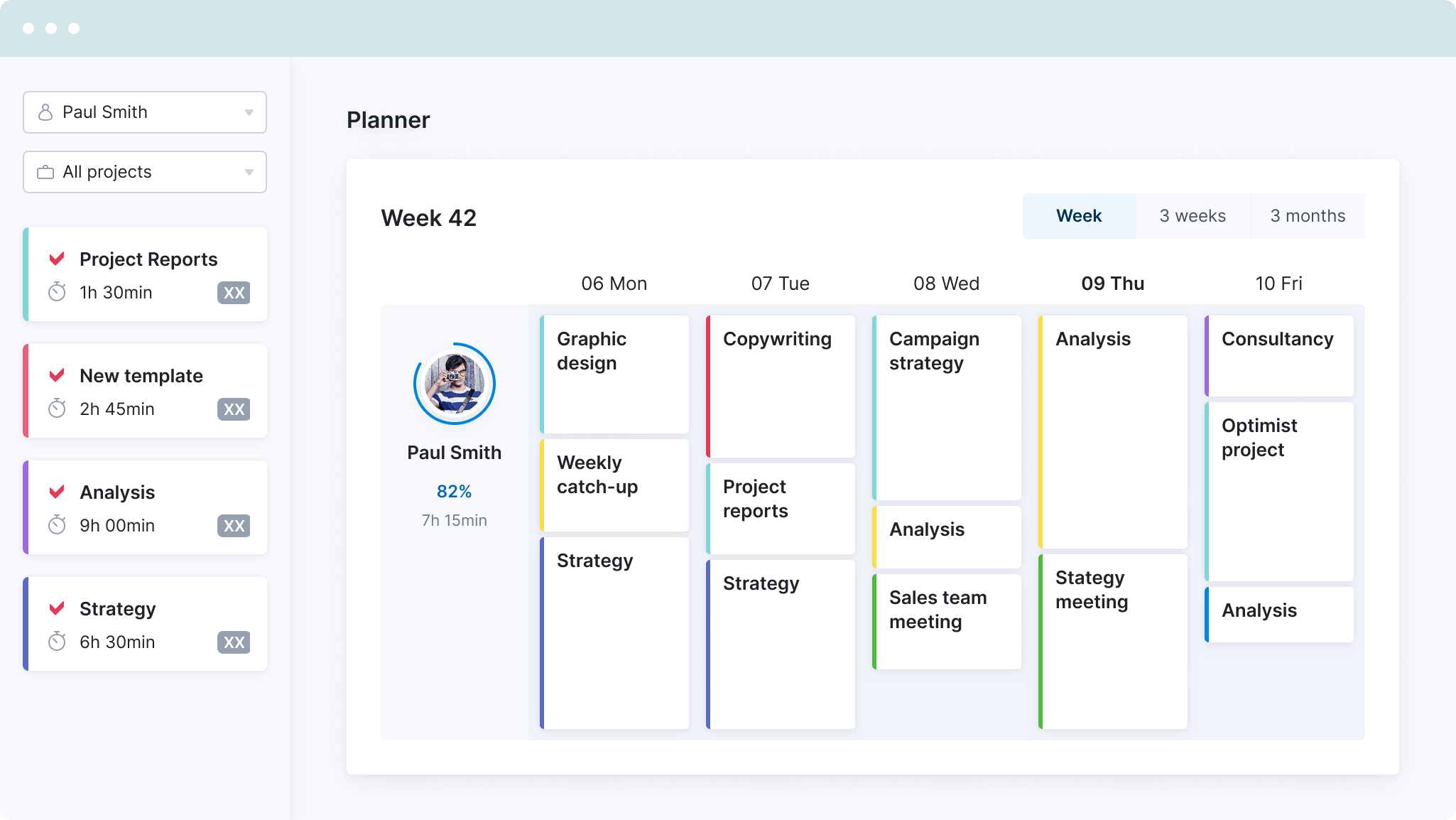 Scoro, is the award-winning work management software for cloud-based small to midsize business systems. This Wrike alternative tracks business outcomes while managing projects, clients, and invoicing. It is capable of forecasting and budgeting. It has multiple degrees of security that provide various user groups with different access levels. It enhances delivery and quickness.

Give your team rights-based access to shared projects, assign tasks, and track unlimited projects. A complete summary of every project, including time spent and billed, scheduled tasks and meetings, invoices and expenses, comments, and files, will be provided on a single page. Using real-time Gantt charts, you may monitor the effects of logged hours, unforeseen changes, or delays on your anticipated timeframe and resource availability.

Users may make data-based decisions, track costs, and profitability, and interact easily with remote colleagues. It is adaptable and compatible with various programs, like Toggl, Asana, Dropbox, Jira, Zendesk, WooCommerce, Stripe, etc. You can check work reports on completed tasks, missed deadlines, delegated and unassigned activities, billable and non-billable labor, and more.
6. Monday.com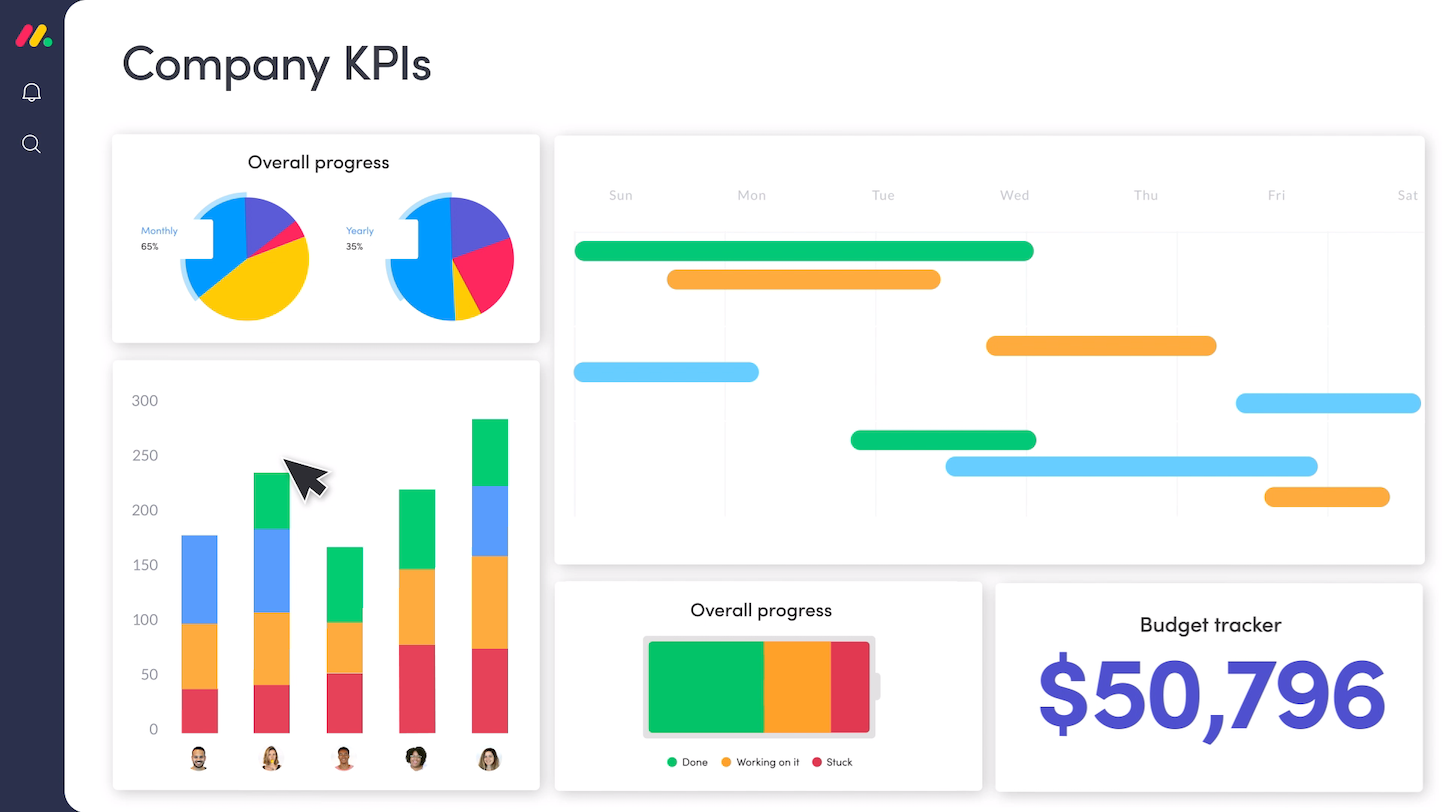 Monday.com is one of the best Wrike alternatives that is widely used. It is a cloud-based platform that allows users to make their project management tools and applications.

Since it is entirely adaptable, you can easily configure your CRM software to function for you without any development assistance. Add as many columns as you wish, edit transaction stages, manage pipelines simultaneously, and more.

Plan a project's entirety, from start to finish. Manage several projects with ease from a single location. To keep going forward, create personalized dashboards, assign collaborators, and comprehend risks and bottlenecks.

Keep an eye on your performance to make judgments with confidence. With simple, illustrative, and user-friendly project dashboards, you can monitor the track the state of your projects at a glance and achieve your objectives. Quickly import data from Excel to transform outdated spreadsheets into smart boards that you may use to examine Gantt charts. Contextualize your work and collaborate smoothly with your entire team.

Monday.com pricing is more affordable than Wrike pricing; therefore, small businesses and start-ups might pick the former.
7. Asana
Asana is another popular tool that makes it to the Wrike alternatives list. It is a platform for job management and team collaboration that offers software. It allows teams to create projects, assign work, set deadlines, and communicate openly. It also has goal-tracking features, calendars, file attachments, and reporting tools.

Although Asana isn't a free Gantt chart software, it is the finest. From your Asana projects, create Gantt charts to plan project timetables and map dependencies visually.

Replicating current workflows or processes, you frequently employ with custom templates is simple. Save them to the central template library of your company so that anyone may access and utilize them. To keep everything connected, Asana allows you to comment directly on a task to mention precisely what needs to be done. You may even @-mention teammates, other tasks, or projects.

Send or forward emails to Asana to start discussions or create tasks so you can take action on communications and keep track of crucial information.

You can utilize your preferred work tools to communicate, collaborate, and organize work in one location, from beginning to end, with Asana's more than 200+ integrations.
8. Trello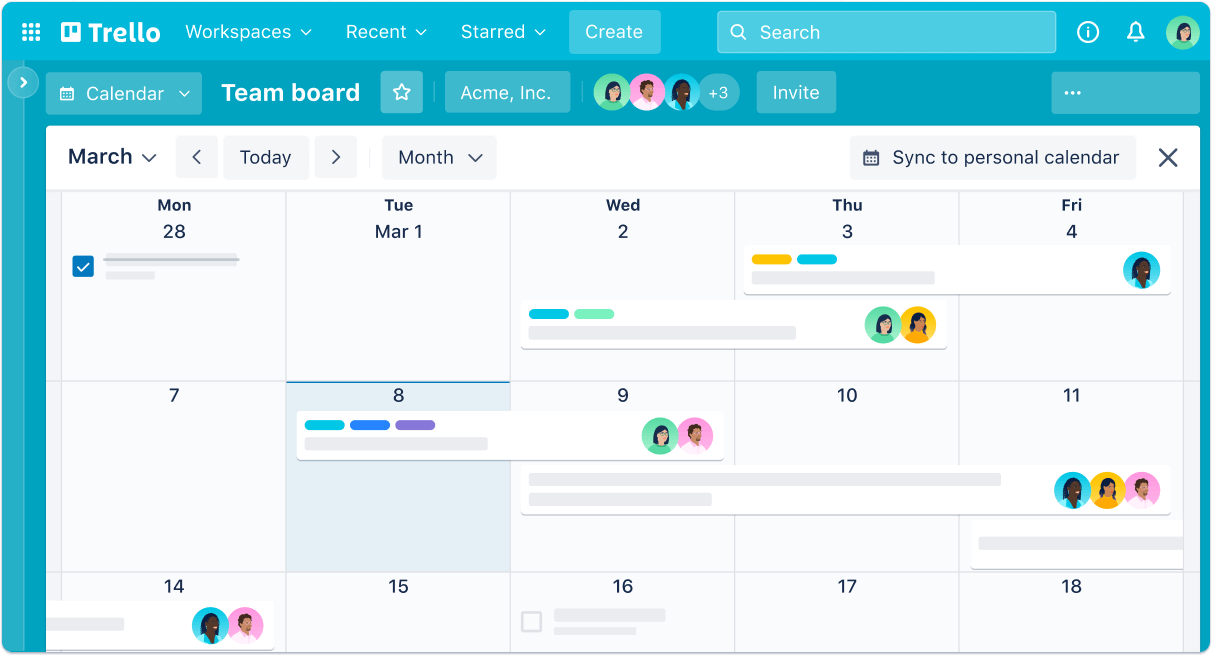 If you are looking for one of the best daily planner apps, at the same time, it has to be an alternative to Wrike; your search ends with Trello. When your team concentrates on deadlines and due dates, in that case, the calendar in this app will be an invaluable tool because it will provide you with a better understanding of your work while enabling you to focus on the specifics of what needs to be done each day.

Keeping track of every facet of your project from start to finish becomes simple. Get a comprehensive picture of the project pipeline for your team and steer clear of obstacles. Trello's timeline view enhances project planning by providing a visual perspective to assist you in turning any idea into reality. To gain additional perspective, toggle the Timeline view to group cards by list, member, or label. You'll be well on your way to finishing your projects on schedule and within your projected budget if you can quickly change dates and assign new team members from within the Timeline view.
9. OpenProject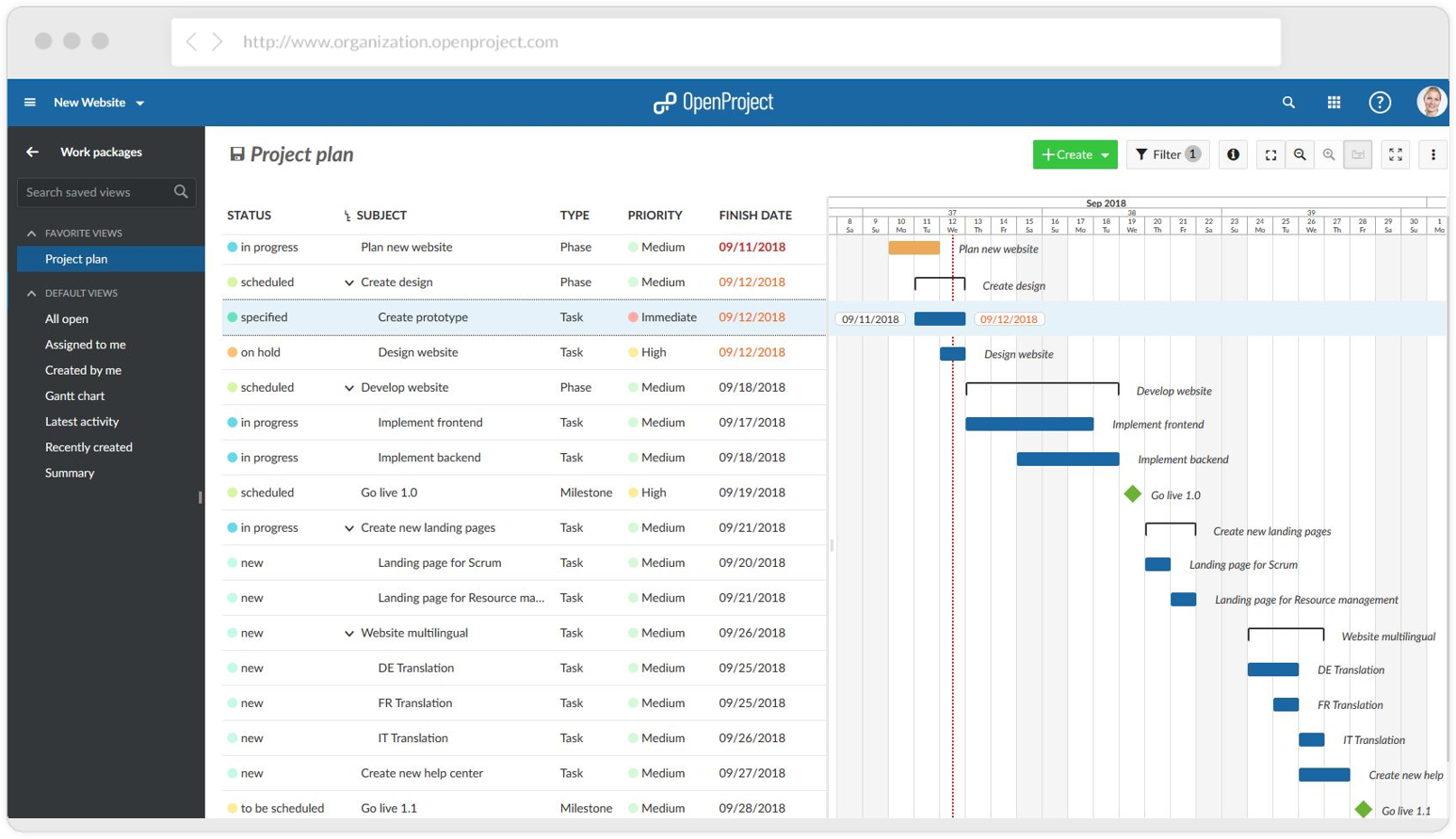 OpenProject is the best free Wrike alternative, which can be installed on-premises in your own infrastructure and gives you total control and data ownership. You control where and what happens to your data without influence from outside sources.

The project overview is a single dashboard page that contains all pertinent details for a chosen project. The purpose is to give the project team access to a single data source. It offers complete transparency and significant flexibility and can promote collaboration while facilitating a quicker market debut.

Agile teams can deliver more effectively and quickly using OpenProject. It offers the ideal solution for supporting Scrum and Kanban approaches and agile project management. Every iteration includes building, measuring, and learning.

Troop Messenger the best on-premise chat employed by corporate companies, defense agencies, political parties, health care, and other industries. With that said, it also supports SaaS, chat APIs & SDKs, and customization delivery models. It is one of the most prominent team chat apps supporting integration with Wrike Alternatives. It offers a Zapier connection, allowing you to add more necessary tools to your existing project management software. So, check the Troop Messenger; its world-class security protocols and numerous features will certainly persuade you to use it.
Conclusion
The aforementioned Wrike alternatives are the most powerful project management tools available; they are renowned for empowering users to perform, manage, and deliver tasks or projects efficiently. They are now crucial for fostering collaboration and boosting productivity. Therefore, it is advisable to compare the tools with your specific requirements and security measures before choosing one to use the best one.