Are you looking to use one of the best WeChat alternatives on your smartphone? Check out this blog to learn about its competitors, who can direct you to the ideal replacement.
What is WeChat App?
WeChat, a popular app used by a billion users, mainly in China, was the first to be referred to as a super-app. WeChat is known as a super-app since it incorporates messaging, payments, e-commerce, and many other features into one program, making it essential for many users.

Preceding are some of the apps that can compete with WeChat as its replacement.
Top WeChat Alternatives
1. WhatsApp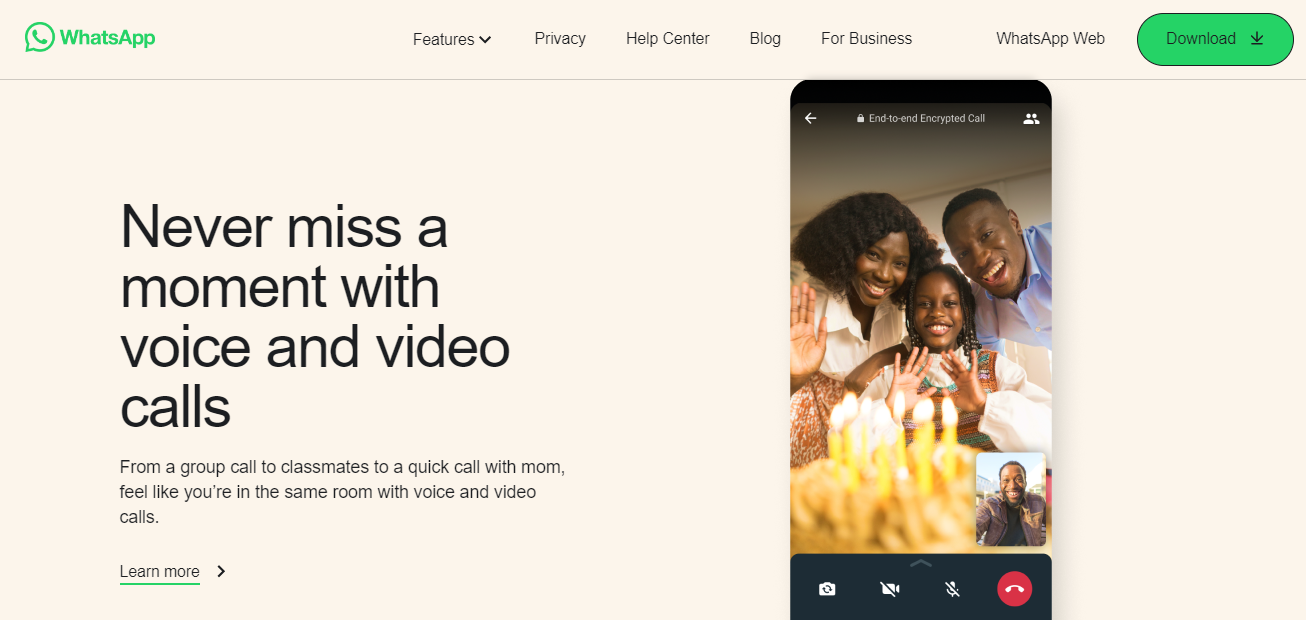 WhatsApp is a voice-over-IP and centralized instant messaging service accessible worldwide for free. It is owned by US tech giant Meta (by then Facebook). In addition to voice and text messages, phone chats, and video calls, it enables users to exchange pictures, documents, user locations, and other content.

The most popular instant messaging software people use today is WhatsApp, which has 2.24 billion users worldwide. In 2014, Meta swiftly decided to purchase WhatsApp for $19 billion US after immediately realizing the app's potential. About 450 million monthly active users were using WhatsApp at the time. Seven hundred thirty-seven million more users than the runner-up, "WeChat," making it the best alternative to WeChat.

Other messengers gained a surge of people enrolling to their platforms due to its privacy policy, which was revealed in January 2021. However, WhatsApp quickly clarified its remark by saying it only applies to particular businesses. Finally, WhatsApp was able to regain its glory.

You can link your WhatsApp business profile to give your clients another opportunity to contact your company. As a WhatsApp business account, you can use WhatsApp for your business, unlike other mobile messaging apps. Additionally, it syncs with your company's Instagram Business profile or Facebook page. Once connected, your Facebook page and WhatsApp Business profile instantly sync your company information. Your Instagram Business profile and the associated Facebook page list your WhatsApp Business account number as a contact option.
2. Telegram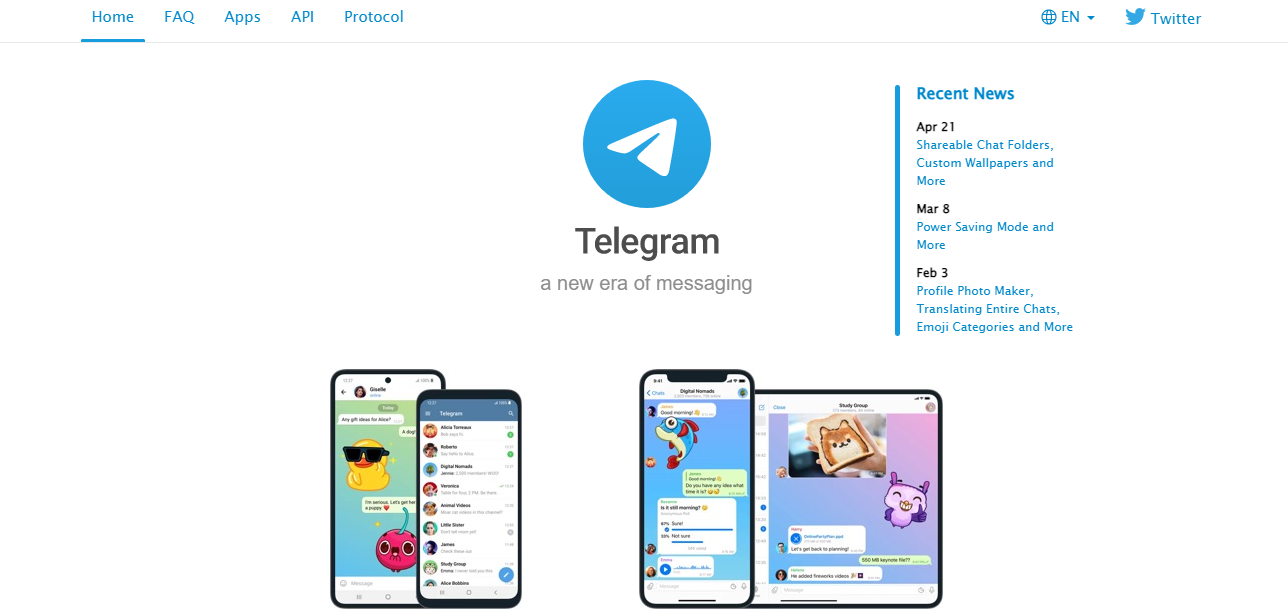 Telegram Messenger is an international, cross-platform, freemium, secure, cloud-based, and centralized instant messaging service. End-to-end encryption and video calling, VoIP, file sharing, and other services are all optional and available through the app.

While Secret Chat, as described above, is end-to-end encrypted, and communications vanish at the time determined by the user, group, and one-on-one chats in Telegram use client-server encryption.

While the operations center is situated in Dubai, United Arab Emirates, Telegram's servers are scattered throughout the world in five data centers.

Telegram can be added to the list of WeChat competitors. In real-time, none of the apps, like WeChat, offer the ability to exchange media and files without restrictions on their nature or size. You may set up bots to perform particular jobs, create group conversations with up to 200,000 participants, and share huge videos and documents of any kind up to 2 GB each. Your entire chat history will be safely stored in the Telegram cloud for as long as necessary, requiring no disk space on your device.
3. Facebook Messenger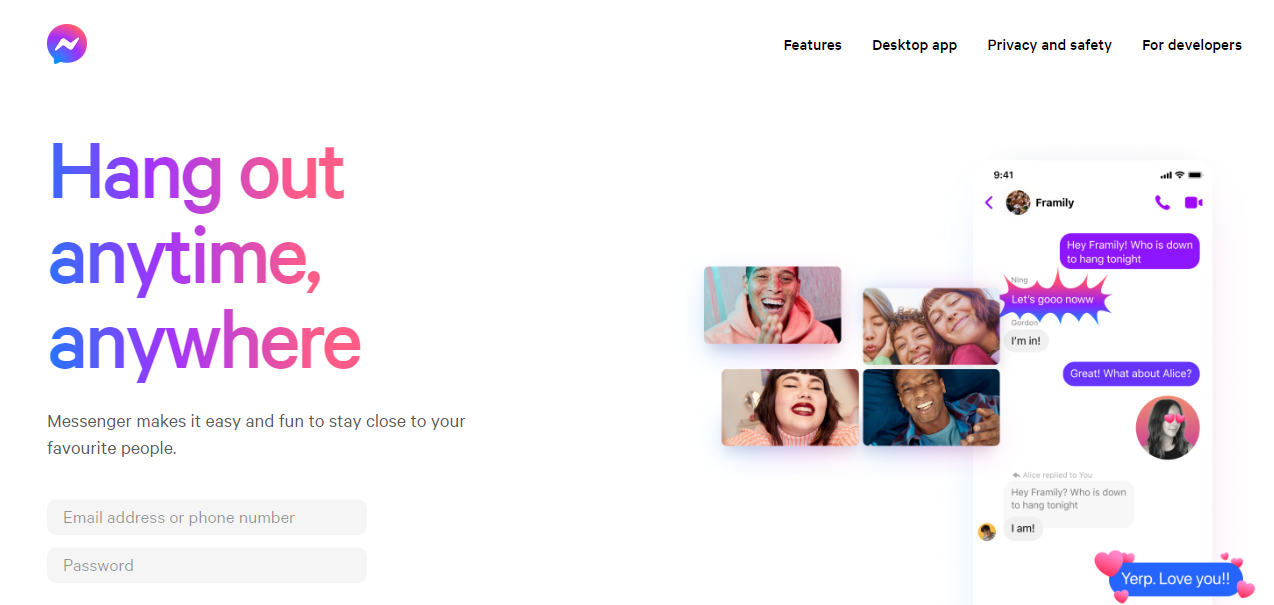 The American company Meta Platforms developed Messenger, a proprietary platform and instant messaging application. Facebook Messenger was initially created in 2008 as a standalone iOS and Android app. In 2010, the firm redesigned its messaging service.

One of the secure chat apps, the standalone app, supports using numerous accounts and discussions with optional end-to-end encryption. This WeChat app alternative can send messages, trade data, images, movies, stickers, music, and videos. It can also respond to messages from other users and communicate with bots. The service also supports voice and video calls.

Compared to email or social media marketing, Facebook Messenger marketing can increase engagement by 10 to 80 times. Messenger users exchange 20 billion messages a month. Considering, the list of the most 'active' social media platforms worldwide, Facebook Messenger would rank seventh with 1.036 billion users that advertisers might target in April 2023.

Companies are becoming aware of Facebook Messenger's potential to attract new clients. And as additional features are released, it will undoubtedly strengthen over time.
4. Clap Messenger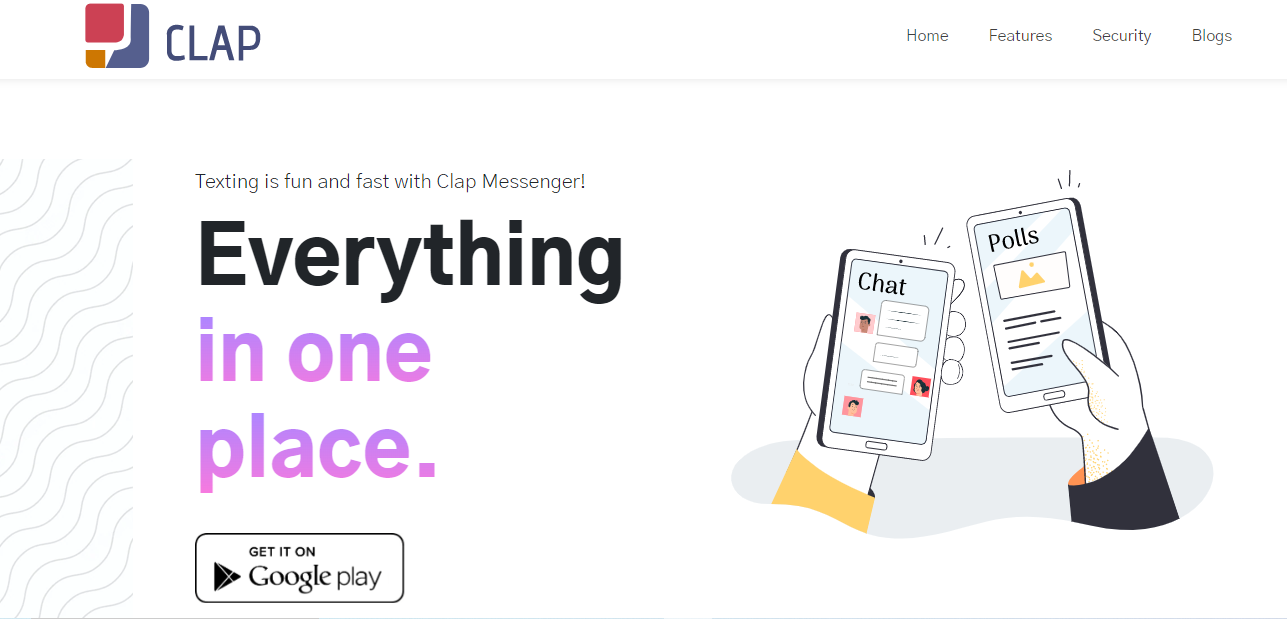 As mentioned above, WeChat is a super app, so if you are looking for a perfect WeChat replacement that not only complies with all your requirements but also should be capacitated to be in the WeChat alternatives list, your search ends with Clap Messenger.

Clap Messenger is one of the best super apps offering unique privileges that will pique millennials' interest. Its features are well-designed, and because of its user-friendly interface, a user with no technical knowledge can use it easily.

It is a messaging-focused super app created by a team of highly experienced developers while considering the needs of new-age users. Its features and capabilities, including chat, audio/video calls, pictures, movies, polls, etc., are encrypted because it was created with advanced safety features.

As hinted, you can explore its limits beyond instant messaging. For instance, you can sort your daily activities like planning events effectively, scanning documents, engaging with communities, taking money from people who owe you with a strategic approach without affecting relations, sharing albums, and others. And its upcoming features include booking the table, flight tickets, shopping, safe payments, etc.
5. iMessage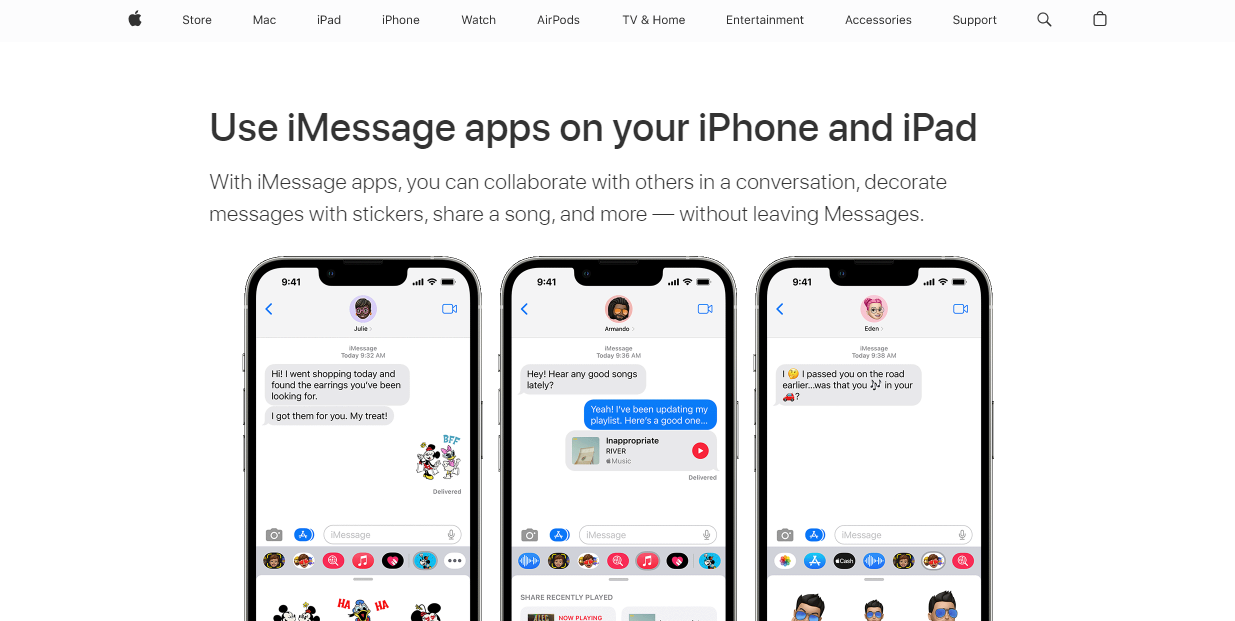 Apple Inc. developed the instant messaging service iMessage, which went live in 2011. It cannot replace an app like WeChat just because Apple created it. Unlike other communication tools, iMessage is only supported by Apple's macOS, iOS, iPadOS, and watchOS operating systems.

Sending text messages, photos, videos, and documents; receiving the delivery and reading statuses; and end-to-end encryption ensuring that the sender and receiver can read the messages and that nobody else, even Apple itself, can do so are among the core features of iMessage, which are available on all supported systems. Additionally, location information and stickers can be sent using the service. Third-party developers can add their custom extensions to iMessage on iOS and iPad.

Although iMessage is end-to-end encrypted, many people frequently confuse it with SMS. With iMessage, users may communicate with other iOS or macOS users by sending them texts, documents, images, videos, contact details, and group messages over the Internet.

The public keys for every message recipient are obtained from Apple Identity Service (IDS). Each communication in a chat is uniquely encrypted for each receiver device. Encrypted message attachments are uploaded to iCloud and can be downloaded individually by the recipient. Apple servers keep messages for up to 30 days.
6. Signal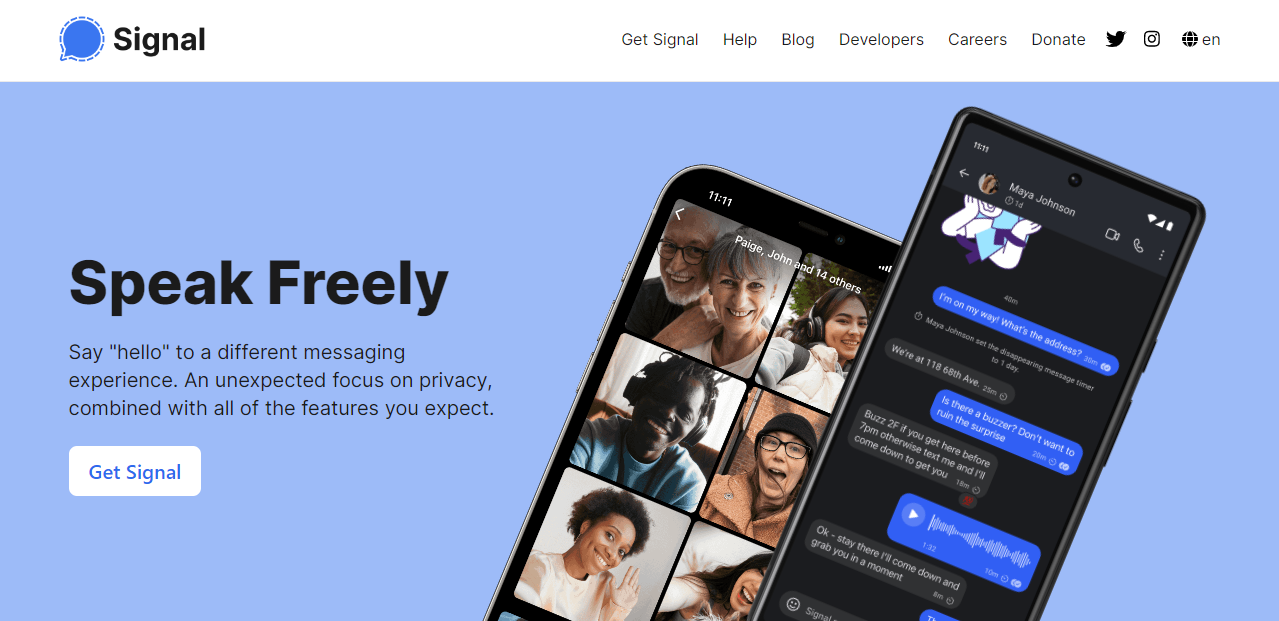 A communications service called Signal puts privacy first. End-to-end solid encryption ensures the confidentiality of your communication, and it is free and straightforward to use. Text, voice notes, photos, videos, and other items can all be sent via instant messaging. Users may communicate with one another directly or through group messaging.

It is an autonomous nonprofit, claims Signal. We are not affiliated with big IT businesses and cannot be bought by any. Grants and donations from people aid development.

Unlike other chatting apps, Signal does not contain advertisements, affiliate marketers, or intrusive tracking. Therefore, focus on enjoying the times with those who matter to you.

The program is cross-platform and has a centralized computing architecture. The nonprofit Signal Foundation and Signal Messenger LLC, a division of that foundation, created it. All its desktop, mobile, and server software is released under the AGPL-3.0-only license. The official Android app typically uses the exclusive Google Play Services but can operate without them. It is also made available for iOS and desktop applications for Windows, macOS, and Linux. An Android device or iOS is required for desktop registration.

Mobile phone numbers are used by Signal to identify users. It uses end-to-end encryption to protect all communications. The client software has tools that allow users to independently confirm the legitimacy of the data channel and the identities of their connections.
7. Snapchat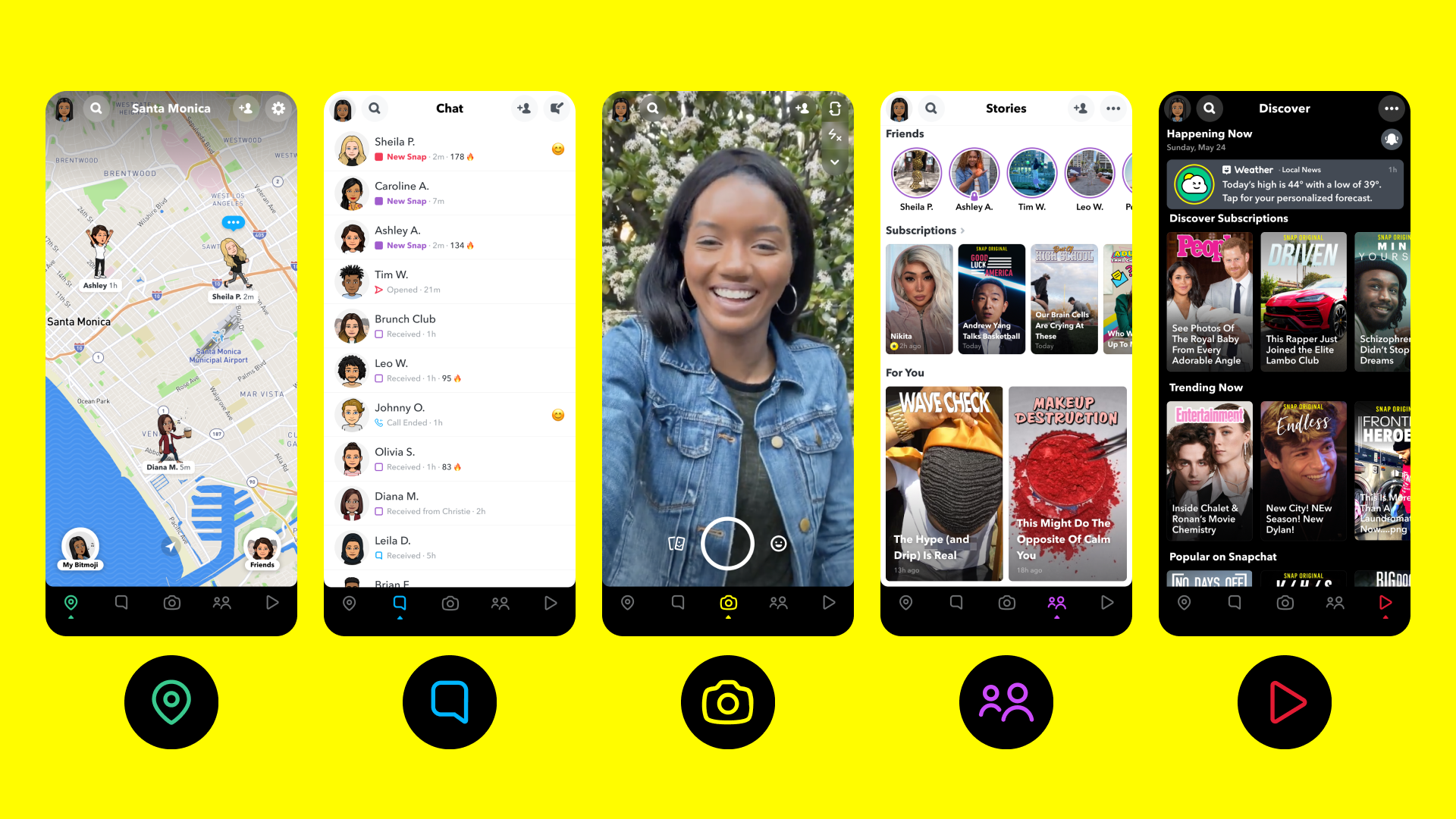 Snapchat is a multi-media instant messaging service widely used among millennials. Unlike other apps, photographs and messages on Snapchat typically only remain accessible to their intended recipients for a short time before disappearing is one of its key advantages. Since its initial focus on peer-to-peer photo sharing, the app has changed to include users' "Stories" comprising twenty-four hours of chronological content and "Discover," which allows businesses to present short-form, ad-supported content. Additionally, users can save pictures in a password-protected folder named "My eyes only." End-to-end encryption has also been applied but in a limited capacity.

It can delete all your messages once the receiver has seen them. If anyone takes a screenshot of your message, you'll also be informed. It is the ideal app for anyone concerned about their internet privacy.

People claim that when hanging out with friends, they would like to use Snapchat more than any other social network. This is because people frequently use it to document special moments with individuals who are dear to them. Some people use Snapchat while they buy, whereas others use it while they go to social gatherings.

In case you're searching for a business super app that works better than the current team chat apps and effectively helps you with its proactive capabilities. If so, you should certainly check with Troop Messenger.

You debate Troop Messenger, a business chat app, and how it can be compared with WeChat alternatives. To emphasize, Troop Messenger aims to empower its users by offering a secure communication platform. Hence, inadvertently following the super app concept of providing various services under one umbrella, Troop Messenger can comply with all your requirements, offering different privileges like conference, audio/ video calls, screen share, remote access, chat, file exchange, live location tracking, etc. It is considered the secured team collaboration tool that prompted defense agencies to employ it as their defense communication tool, owing to its employed world-class security protocols.
Conclusion
I'm hoping that the aforementioned WeChat alternatives piqued your curiosity enough to make you want to delete it and search for an app that offers much better features and higher-quality services. The most beneficial and most secure app compared to the WeChat web, in my opinion, is Clap Messenger. I can sort all my activities and chat with friends and family using only one app because it has all the necessary functions.