This blog is for you since any sane business owner wants to partner with the best platforms, most likely Twilio alternatives, as communication platforms. It provides an in-depth analysis of every Twilio competitor that has advantages or disadvantages over Twilio.
What is Twilio?
Twilio is among the most formidable cloud telephony platforms currently on the market. With the help of cloud-scale Twilio SMS API, MMS, and WhatsApp messaging APIs, organizations may send and receive messages using Twilio's programmable messaging. The emphasis is on communication channels, including voice, email, and others. Using some channels enables developers to build scalable and highly customizable contact centers for enterprises.

The ratings for this platform are overwhelmingly positive, and some customers claim that Twilio's pricing is relatively affordable. It's fantastic at letting you design brand-new communication channels tailored to your requirements.

Here are some of the top Twilio alternatives you should take advantage of.
Best Twilio Alternatives
1. Troop Messenger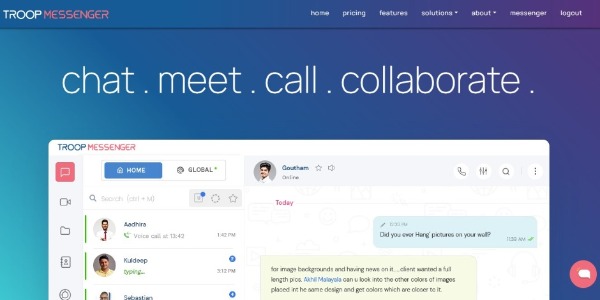 Troop Messenger is one of the well-reputed Twilio alternatives, which in addition to SaaS, chat APIs, and various delivery models can be used as an on-premise chat server.

This instant messaging software, which provides competent real-time messaging APIs, customer support, chat widgets, etc., is used by several enterprises across all industries as their business or team chat app. These technologies are used by numerous businesses, most notably e-commerce sites and especially those with headless architecture.

As suggested above, it supports all domains whose upgraded chat SDK documentation can be integrated into your company messaging platforms to start a live chat conversation with your customers. Developers may easily create simple and efficient in-app chat solutions with the help of this chat API by utilizing the application APIs.

Thanks to its thoughtful design, you can start any conversation which aims to improve your communications. Users are provided with a secure channel for communication, which is its guiding principle. It is way better than Twilio because it is the defense-validated tool that makes this the safest Twilio alternative in India available. Also, it provides a plethora of privileges to the end users compared to Twilio, like audio & video calls, screen sharing, remote access, file sharing, etc. This enables safe communication between you and your user and ensures that the data is stored for easy access.
2. APIExchange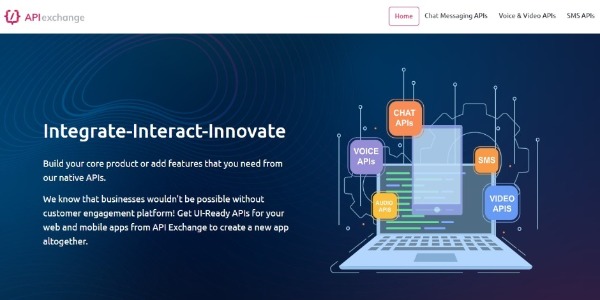 The new rival that outperforms all Twilio alternatives is APIExchange. This is an API provider that aids in developing your main product and adding features using its native APIs. APIexchange introduces a new name to the lineup of API providers with its efficient APIs. They are aware that businesses cannot function without a platform for customer engagement, which is a significant element in Twilio's competitors' emergence soon after the company's start. As a result, they create effective and efficient APIs from API Exchange for your web and mobile apps to create a new app.

This API service provider is oriented to supply all chat- or communication-related APIs, including chat APIs and messaging, as well as video, phone, MMS, and SMS APIs. To allow your customers to contact you with whatever they desire while still properly encrypting the data, you can elect to develop a message-based application that allows you to include in-app messaging, in-app audio & video calls, in-app chat solutions, and in-app chat support. With little coding and few functions, you can quickly make your apps live.
3. Bandwidth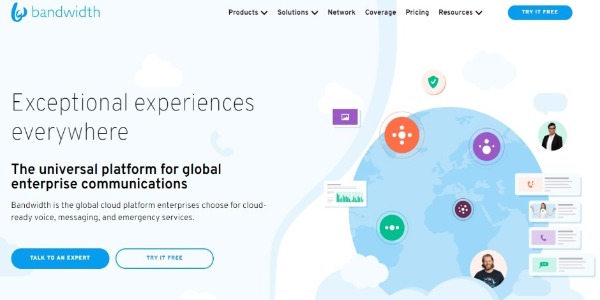 As one of the best Twilio alternatives, Bandwidth is regarded high. This global cloud platform delivers the messaging and emergency services built for the company with unrestricted flexibility. It offers the necessary integrations, enterprise-class APIs, and tools for managing your communications stack wisely. It is based on both telecom and practical software knowledge. It provides flexibility and control wherever you require it.

Long messages may be sent via its communication APIs, including features like emoji support, pin codes, and push notifications. You can quickly inject and integrate these capabilities into any third-party product to benefit from messages. You can configure SMS, send toll-free SMS messages, SMS using a short code, SMS group messages, and support MMS API, allowing you to send graphics. It also offers real-time receipts, allowing you to gather information and observe what works and doesn't.

You can use it to access more than 52 million US phone numbers. Furthermore, the fact that it covers the entire nation makes it easier to connect your system to its secure IP voice network.

The versatile APIs from Bandwidth are equipped to integrate with every component of your communications stack. It is developed on a global network for unparalleled dependability. Additionally, it is based on real-world software and telecom experience. As a result, you can provide clients with outstanding experiences worldwide while providing unmatched reliability and expanding anywhere your business takes you.
4. Telnyx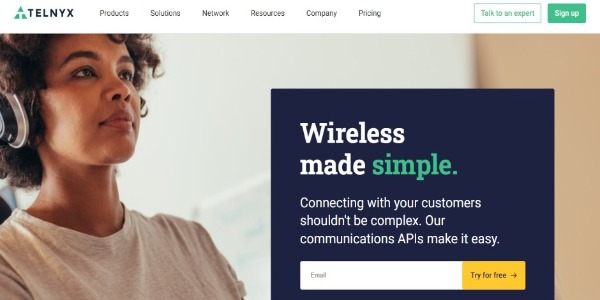 One of the top Twilio competitors is considered to be Telnyx. It is next-generation communication and connectivity platform that provides carrier-grade services on a private, global IP network and works with a simple and direct Mission Control portal and API to let you easily integrate messaging, voice, video, fax, wireless, and more into your applications to connect the people, devices, and business-critical applications that run your company.

Telnyx RESTful APIs are made for quick, straightforward integration. Unlike any Twilio alternative, Telnyx offers more control and ease when building voice, video, wireless, or message capabilities. You can launch what you need more quickly with popular programming language SDKs and code examples.

Your calls are connected the very first time, every time, thanks to Tier-1 interconnects at important international internet hubs. High-speed connections mean avoiding the public internet during calls for less jitter and latency.

For worry-free, legal international communications, the Telnyx network combines local carriers' deep interconnects with global points of presence. Compared to other Twilio alternatives, their cloud-agnostic strategy always depends on one cloud provider. Customers may relax knowing they are safeguarded in a network breakdown.
5. Vonage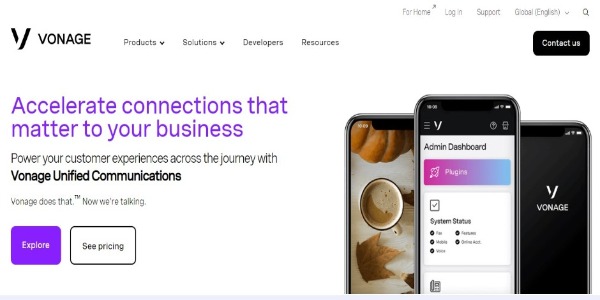 Among the most effective Twilio competitors is Vonage, an American cloud communications company that operates as a subsidiary of Ericsson and provides flexible and scalable phone, message, video, and data capabilities across Unified Communications, Contact Centers, and Communications APIs. You may communicate with your staff using any device, at any time, from anywhere.

Vonage serves as a communication platform (CPaaS) service to organizations and consumers, enabling connections and omnichannel communications between users on any device. To help businesses everywhere stay competitive, it enhances the communication process to be more adaptable, intelligent, and personalized. Its cloud-based contact center desktop is integrated with the CRM, giving representatives access to a complete client history and the knowledge they need for each engagement. Furthermore, its dashboards and analytics assist managers in locating the information and insights required to optimize staffing, improve performance, and increase customer happiness.

In contrast to other alternatives to Twilio, Vonage Contact Center enables you to create stronger client interactions and improved sales outcomes that every organization needs to maximize customer happiness. Customers receive prompt responses from Vonage's broad self-service options, unloading agents, and cutting costs.

Vonage offers the Verint Workforce Management Professional solution for more extensive and complicated contact centers to simplify the challenging forecasting and scheduling process. Vonage is among the best Twilio alternatives because its Verint enables you to expand your options for client engagement and gain new insights, improve customer service, and cut costs.
6. Voxbone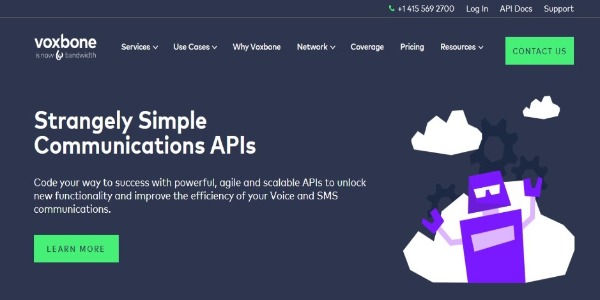 With the help of the company's services, which can be accessed via a web platform or REST API, Voxbone enables telephony applications like conferencing platforms and call centers to place and receive calls, send and receive text messages, and receive faxes in 60+ countries, representing 93% of the world's GDP.
To unlock new features and boost the effectiveness of your voice and SMS interactions, employ strong, flexible, and user-friendly APIs.

These effective instructions enable you to quickly examine their real-time inventory and coverage in over 10,000 cities across 65+ countries.

Regulate the voice interoperability between your communications platform and Voxbone. Additionally, you can use Voice URIs to link its numbers to your platform.

Once created, Voice URIs can be connected to your phone numbers by applying the configuration.
Voxbone claims that as a licensed provider, you may utilize its 15 years of experience with worldwide regulatory matters and the capabilities to simplify your regulatory obligations with its API integration.
Aggregators connect applications with Tier-1 carriers while adhering to the Cellular Telecommunications Industry Association (CTIA) for any app transfer to a carrier.

Some API providers reroute your request over many providers, raising the cost and lowering the transmission quality. Voxbone enables data routing through fewer aggregators to save costs and eliminate communication gaps.
7. TextMagic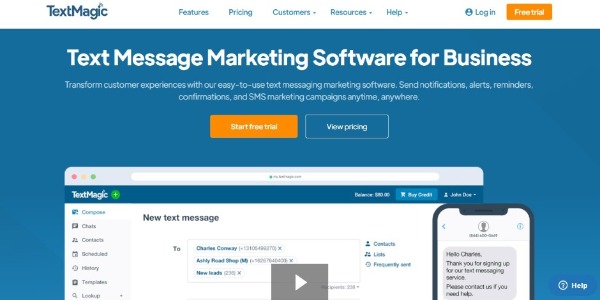 With over 20 years of experience assisting businesses with better communication and mobile marketing, TextMagic makes the list of the best Twilio alternatives. It is a SaaS-based A2P messaging service that enables SMBs to connect with their customers through two-way SMS messages, online texts, SMS software for desktops, gateway SMS via email, and SMS distribution lists.

With the help of user-friendly text message marketing software, improve consumer experiences. Send SMS marketing campaigns, reminders, alerts, and confirmations whenever and wherever you like. You may also send customized SMS texts to your clients, employees, and suppliers using its bulk texting software.

We offer a well-liked SMS text messaging solution that is utilized by companies globally. Sending notifications, alerts, reminders, confirmations, and SMS marketing campaigns is made simple by the tool.

Unlike other Twilio competitors, if you use TextMagic, you may convert emails to SMS and send them to your contacts. You can maintain an SMS distribution list of all the clients, customers, and prospects you'd like to reach.

According to TextMagic, customers send 15.2M text messages each month, with a monthly average delivery rate of 98.4%, 20.5K active business users, and an overall rating of 4.9 stars on review websites.

Due to TextMagic's support for its API, you may not need to look for alternatives for Twilio if you can include it in any third-party application that permits integrations to centralize all of your conversations.
Conclusion
Users may be inclined to offer their clients or consumers the most significant communication platform, but it takes time to narrow down the choices. However, the Twilio alternatives described above adhere to your company's needs. Given that, I firmly encourage you to test them out first to experience the most excellent platforms like Troop Messenger and APIExchange.