In this fast pacing world, every piece of information is available with a swipe of a finger.
But this same information, when not delivered in the right manner and within appropriate timing, has the potential to cause considerable damage to the largest of the organizations.
And that is why enterprises today understand the importance of business collaboration tools. Famous examples of such a tool are Slack and the counterpart Slack competitors-all which facilitate instantaneous team communication for an organized workspace and a streamlined workflow.
Slack- The reigning champ of Business Collaboration tools
Slack is an award-winning, wildly popular collaboration and business messaging application that serves corporate teams as an excellent alternative to emails and phone calls. The powerful messaging features and the easy-to-use interface is not the only reason for its popularity. There are functionalities like threading, instant messaging for business, pinning, document tracking, and lightning-quick navigation that make this an excellent tool.
As impressive as Slack is in multiple functionality dimensions, this article is not about Slack. The article instead talks about Slack Alternatives —which might have you wondering why bother looking at the alternate options when Slack is so great.

Well, the reasons could be plenty. It could be Slack pricing plan or the fact that it has few features and functionality gaps, or it could be some 'extra-great' collaboration tools with extraordinary features that can boost your organization's productivity to new heights, or it could be a few Slack Competitors, which are likely to suit your company's budget affordably.

Whatever the reason, there are two things we are very sure of —First, this article has a compilation of the best collaboration tools, and Second, you must not miss out on the outstanding features these tools can provide for your workplace organization.
Time to replace Slack with these top 11 Slack Competitors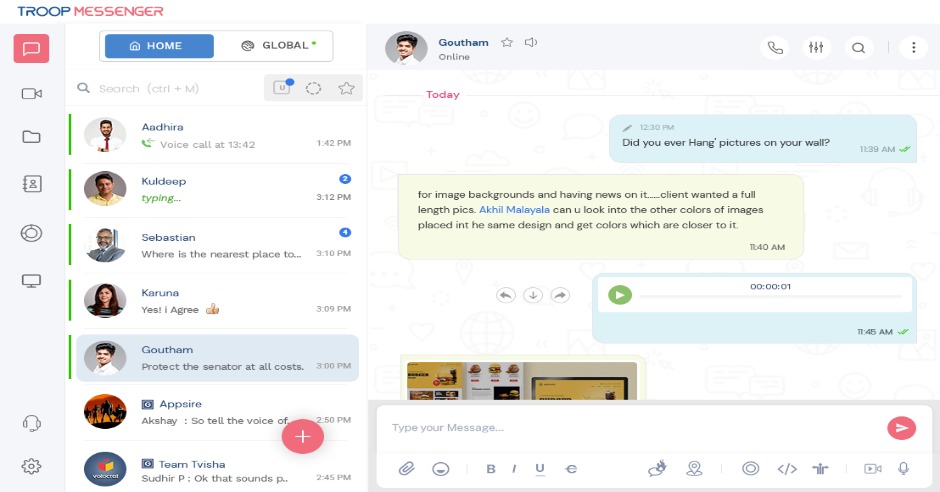 Of course, we're biased, but hey — it is our blog. Here's our #1 Slack Competitor
Troop Messenger is a renowned business messenger application developed to empower communication and collaboration between team members. As Slack's biggest competitor, it provides organizations and businesses with features like instant messaging, video calls, and file sharing in an exclusive and secure environment. Much like Slack, the tool connects the users within their organization irrespective of their time zone, and location, and makes for a robust online-based workforce.
Why Choose Troop Messenger Instead of Slack?
With Troop Messenger, the team members get to avail of direct messaging capabilities and also leverage advanced features like audio or video calls, virtual meetings, screen sharing, and many productivity features that enhance collaboration.

The software is lightning fast, as it connects the members working within an organization at an excellent speed.

Troop Messenger is known for its highly secure firewall, which assures privacy to all the messages, conversations, and file exchanges happening between team members. End-to-end encryption is the reason why no unauthorized party can ever access the data and information shared within the troop messenger application.

The tool has a 'delete and recalls' feature and multiple domain merging options.

To save even more time, the tool has a speech-to-text option, which is again something that can boost productivity at your workplace.

The troop messenger is strictly individual to your organization. The involvement of no external networks or third parties offers an extraordinary level of security.

Troop Messenger is an affordable collaboration tool. The free version alone can fit the need of small businesses with 50 users' access to all the features. The premium version is as low as $1 monthly, per user.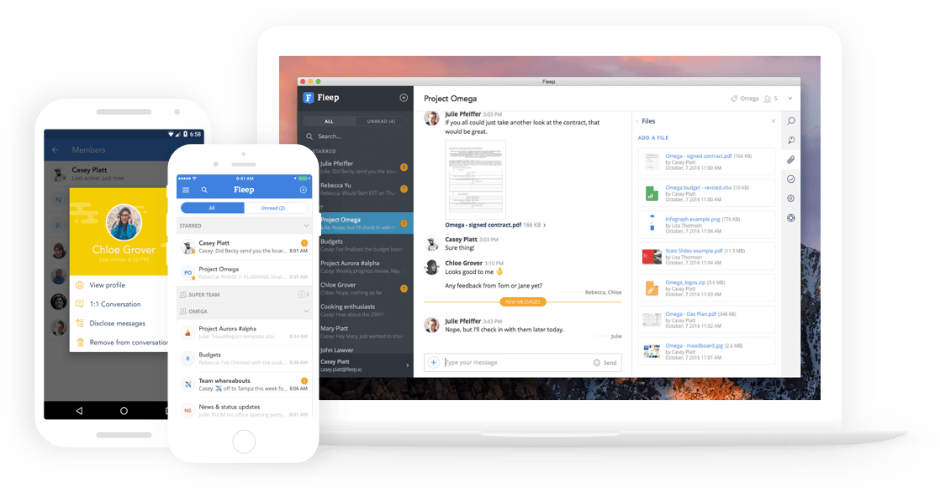 Fleep is one of the team collaboration software that combines business chat with collaboration tools that make multi-tasking easier. The tool works across multiple devices and operating systems, and it is arguably one of the most flexible collaboration solutions for businesses today. The app allows users to connect and share files seamlessly.

Why Choose Fleep over Slack:
One can manage push notifications on both the app and conversation levels.

It's easy to control the email notifications, choose a specific sound for the alerts, and set up silent mode.

Fleep has affordable plans for team collaboration. '

Fleep has an elegant and very carefully designed interface.

The paid plan starts at $5 per member per month.
With Microsoft teams, team collaboration doesn't only get simplified, but it also gets protected to an advanced level. With security that is no match to conventional chatting applications, this software has all the potential to transform the way you are operating and managing business necessities. Not only does it facilitate effective communication, but it also allows the users to customize the workspace and collaborate on built-in Office 365 applications.
Why Choose Microsoft Teams over Slack:
Microsoft Teams team Allows a storage space of 1 TB per organization, and a file upload limit of 15 GB.

Microsoft Teams office 365 package members can use MS teams for Free.

It has in-built integration of all MS Office tools.

The supported platform includes all the major operating systems like iOS, android, windows, and JIRA.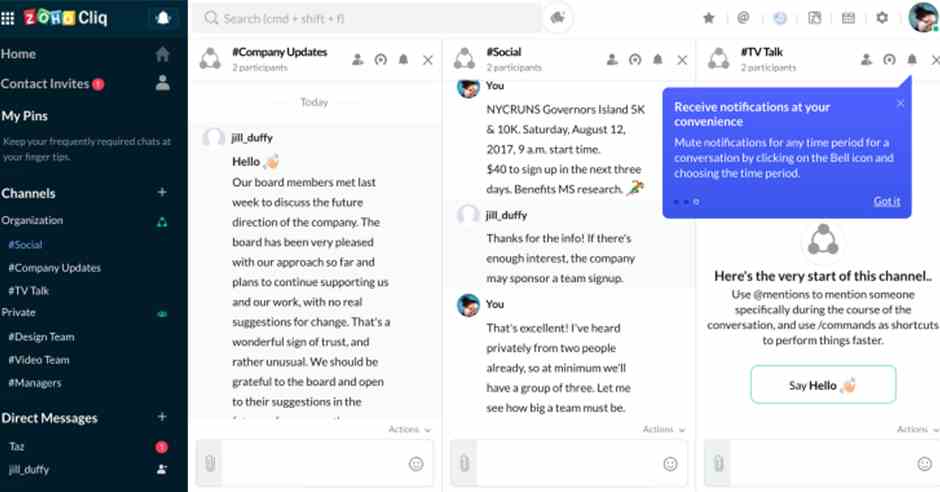 This communication software aims at providing businesses with messaging features that go beyond the functionality limit of the conventional chat application. There has to be a solid reason why small and large companies are using Zoho Cliq as an official team communication tool. It supports multiple channels and displays all of them in one window for easy access and monitoring.
Why Choose Zoho Cliq over Slack:
Zoho Cliq has a wide range of security options that are designed to protect company data and confidential files against security breaches.

Zoho has dedicated customer training features that assure a user makes the most of their investment.

The tool allows users to compile multiple channels into one window for easy access and monitoring.

The UI design and interface allow lightening quick navigation with easy drag and drop file transfer.

The app allows ten effective integration in the free plan.

It offers a free plan with file storage of 100 GB per organization and a searchable message limit of 10k. The paid plan allows file storage of 100 GB per user with a charge of $0.58 monthly, per user.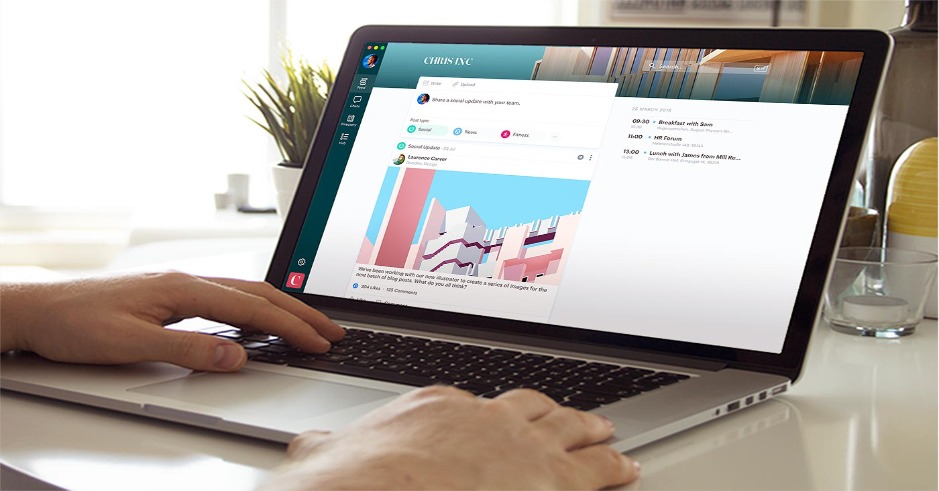 Blink's product offering goes beyond your average internal communication tool; Blink combines powerful integrations, instant messaging, file storage, and more to make the lives of frontline workers easier. No more notice boards in the breakroom and boring paper-based admin forms. Blink is the best way to digitize old processes and for organizations with a distributed workforce to reach and engage their employees on a handy mobile app.
Why Choose Blink Instead of Slack?
Specifically created for companies with a deskless workforce, Blink is perfect for any company across transit, logistics, facilities management, retail, hospitality, construction, and more.

Featuring enterprise-level security, data on Blink is always encrypted. Additional Blink security capabilities range from remote wipes to non-repudiable audit logs, making it a favorite tool for IT departments and HR alike.

In addition to enabling two-way communications and giving digitally disconnected workers a voice, rolling out Blink has been shown to decrease employee turnover by 28% while increasing employee satisfaction.

Blink is mobile-first, but a user-friendly desktop app is available for desk-based colleagues in regional offices and the company HQ.
The admin portal provides internal communications and HR teams with access to engagement analytics, moderation capabilities, identity management, a company directory, and more.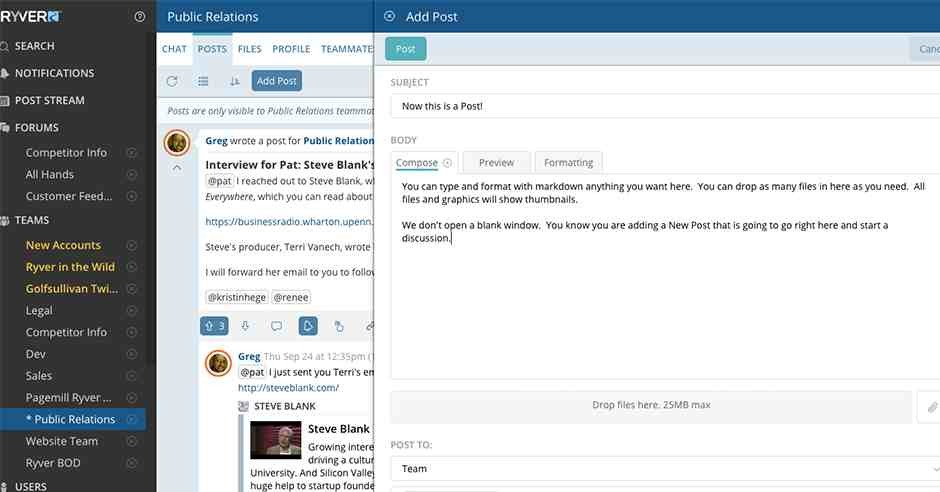 When it is to Integration, Slack wins the battle with easy-to-implement 1000+ integrations. But when it is to task and content management, we are not sure if there are tools that are as competent as Ryver. Through this tool, one can create a task out of inbox messages, start a topic thread, set a reminder, add a reaction, and pin it.
Why Choose Ryver over Slack:
Ryver has an in-built solution for video and audio conversations. And that's one reason why the call quality is so much better.

Search feature and functionality is very simple in Ryver. Unlike slack where the search limit is only up to 10,000 messages, this tool allows an unlimited search. Just type the word you want to look up, and the result will be displayed in a fraction of a second.

Ryver allows users to manage push notifications on both the app and conversation levels. It's easy to control the email notifications, choose separate tones for the alerts, and set up silent mode too.

Ryver has not a freemium plan. The premium plan starts at $99 per month, and the enterprise plan starts at $399 per month.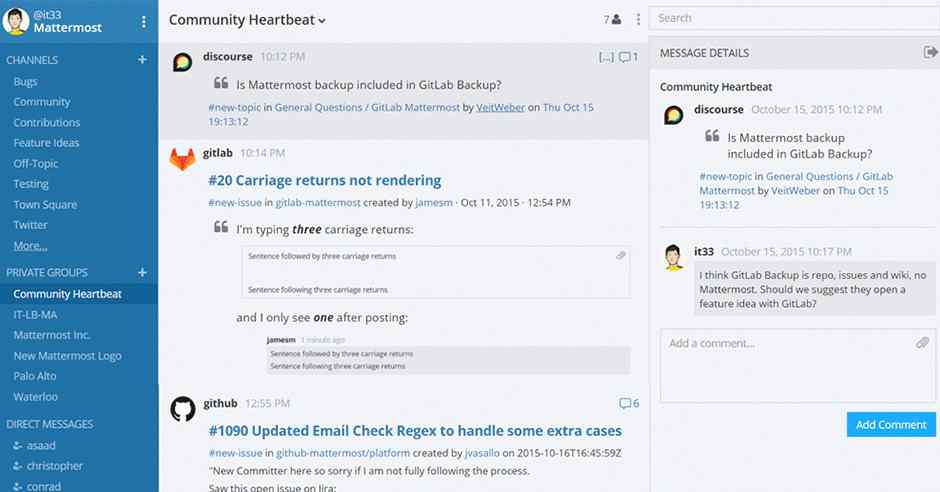 Mattermost, as premium business chat software, is dedicated to providing businesses with premium collaboration solutions. The hybrid, slack competitor's open source, private cloud allows the paid users to avail of configurable, highly encrypted, and scalable messaging solutions across mobile, web, and PC.
Why Choose Mattermost over Slack:
It has exclusive features like brainstorming, task management, discussion boards, discussion threads, push notifications, search, video conferencing, and file sharing.

Mattermost is self-hosted and open source.

The highly secure network assures no data is ever lost.

Enterprise E10 starts at $3.35 per user per month, and Enterprise E20 starts at $8.50 monthly, per user.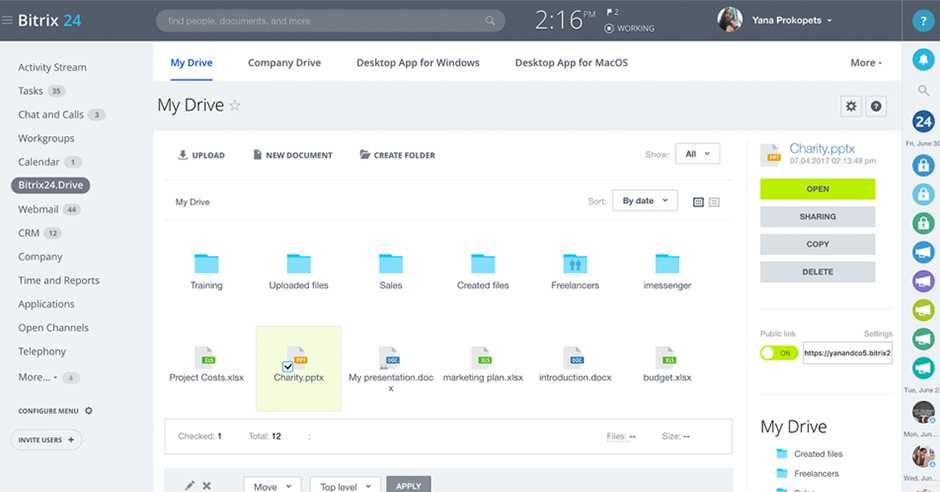 With Bitrix 24, you get to do this effectively and connect with your colleagues over the E2E open-source platform. The software allows team conferencing through video calls, social networking, and project management. It has an E2E secured and encrypted centralized repository that assures that all media shared between the team members are secured and encrypted from cyber-attacks of all kinds.
Why Choose Bitrix24 over Slack:
The tool has cool features like a reminder system, document storage, Internet chat integration, mobile access, and lead scoring.

Collaboration features include social media integration, task management, and segmentation.

The tool is super customizable with streamlined CRM and multi-pipelines.

Bitrix24 has visual workflow tracking features.

The vendor offers excellent community support.

The standard plan is $99 per user per month, and the Professional plan starts at $199/per month monthly, per user.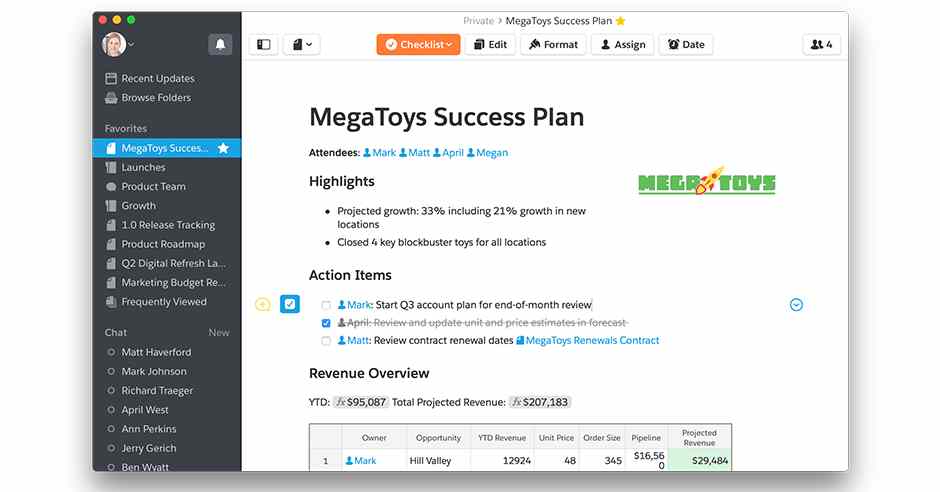 Quip is a simple-to-use and straightforward application with an avenue of features that streamline the work process of an organization. The application makes for a perfect collaboration system that enables the user to become more efficient in project planning and task management, editing documents, taking notes, communicating with team members, and collaborating on team projects.
Why Quip is a great Slack Alternative:
The real-time messaging features are embedded with full-features spreadsheets.

The app can be integrated with Google Docs, Google Drive, Evernote, Dropbox, and a lot many third-party applications.

The documents and media attachments can be easily exported to .doc, .jpg, and PDF versions.

Users can enjoy importing contacts from Google, Hotmail, Outlook, Yahoo, and Gmail.

Quip offers paid plan of $30 per month for a team of five members, and $10 per month for each additional member. For large businesses, the plan starts at $25 per month, per member.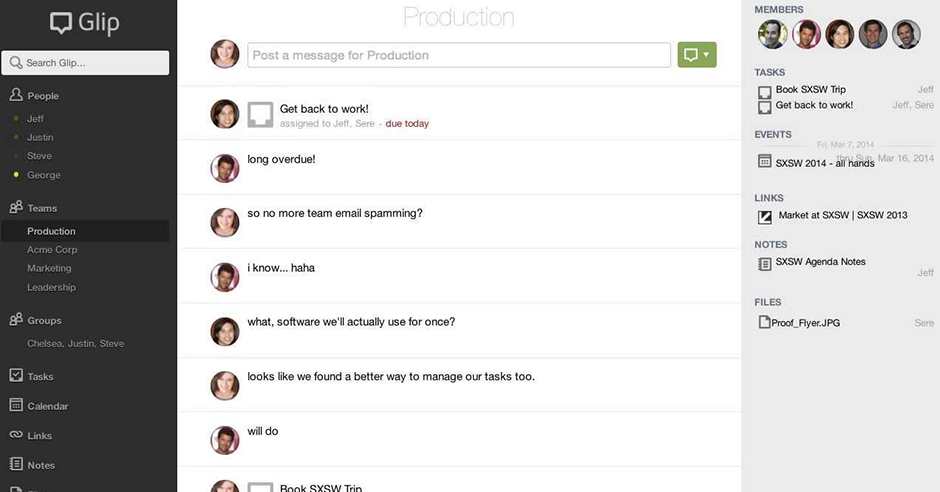 This office chat software allows API integration, notes taking, video conferencing, file sharing, and project management. Using Glip, you can assign tasks, schedule deadlines, send and receive messages, and manage shared files. This application can be used as a central device for managing projects and communicating with the people working on them.
Why Choose Glip over Slack:
This unified productivity software revolves around task management, where the user can assign, edit, and share tasks.

The team chat app has annotation features including creating and sharing notes, documents, and event schedules.

You can attach files and upload them on the preferred cloud services.

The app can be easily paired with the desktop version.

Glip allows unlimited chat, unlimited storage, integration, and unlimited teams. The free plan allows shared video of 500 total minutes, and the paid plan ($5 monthly, per user.) allows shared video of 1000 minutes per user.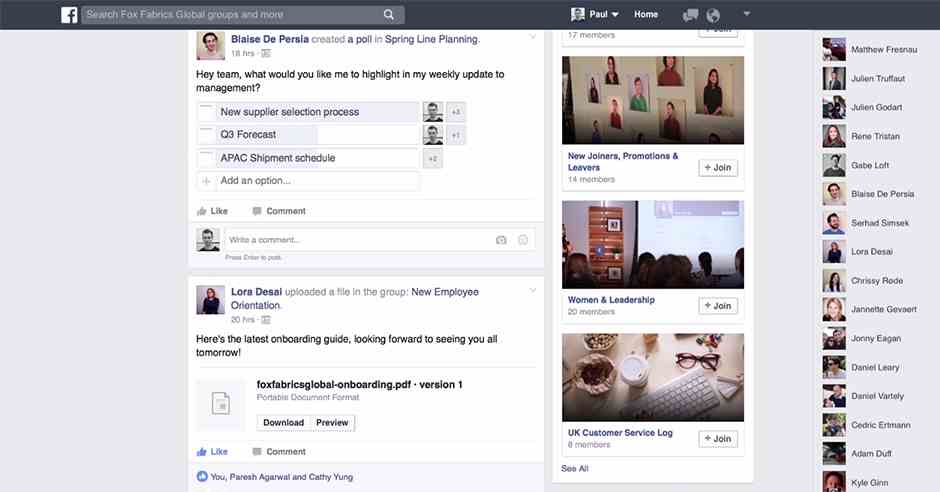 When it is about facilitating communication, Facebook can never stay in the background. The Workplace by Facebook is a platform designed to file businesses of all sizes. Primarily it is a collaboration tool, but it works similarly to how the social media platform works. The only difference is the way it provides a secure workspace where team members can make groups, organize events and share media, and documents, and set reminders for ongoing projects.
Why Choose Facebook Workplace instead of Slack?
Facebook Workplace is known for its easy accessibility. The similar and straightforward interface makes even the novice user an expert. All the features are streamlined in a way that takes no genius to understand how things work.

With easy integration of social media channels, the tool serves as an excellent platform for team collaboration, communication, and event schedule.

The API capabilities of the application help the user to integrate with file storage providers.

This internal chat tool also has live video streaming options and administrative control.

The Standard package allows the user to use it for free, and the premium package costs about $3/user/month.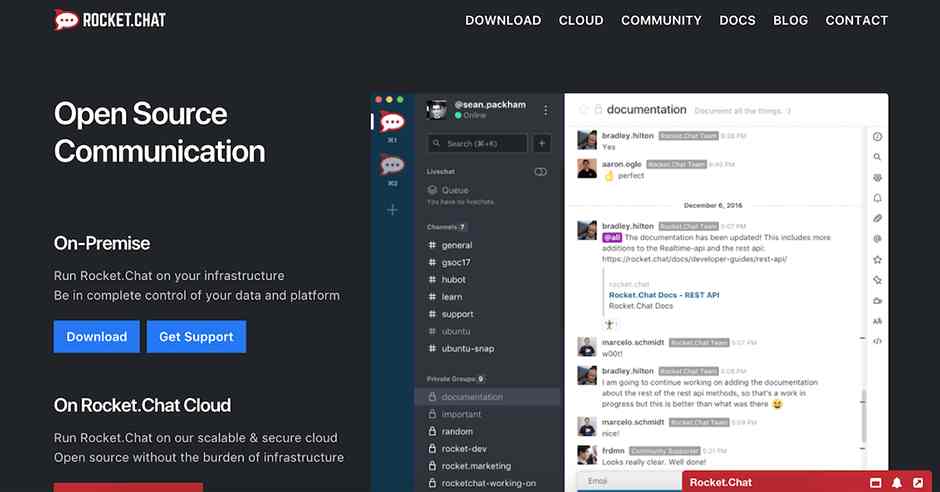 This comprehensive communication tool is developed to facilitate team communication within the workplace. What makes RocketChat better than Slack is its deployment within an organization's Intranet or the Internet. The tool is dedicated to reinforcing task management with the great many collaboration and management features.
Why prefer Rocket Chat over Slack?
It has several productivity tools that make the organization process a lot simpler.

The software has API functionalities that make integration very simple and highly extensible. It facilitates unlimited integration.

The E2E-secured communication feature assures that the messages exchanged between team members are on a private network.

The users have complete control over the profile settings and dashboard appearance.

The paid plan starts at $3 monthly, per user.
Final Verdict
While Slack sure has been the prodigy of the revival of office collaboration tools, things are changing now with next-gen communication apps. If you are a small or medium organization, MatterMost Tool and Workplace by Facebook could be good options because these two tools are cheaper than Slack, and they provide similar and better functionality.
But if you want to experience something extraordinary and 'strictly individual' office software, our advice would be to switch to Troop Messenger. Because with this collaboration tool, you are in complete control of your workplace interaction with secure access to your data. Troop Messenger is an ultimate Slack Competitor. The free version alone can fit the need of your business (as long as your team has fifty or fewer members). Above all else, our final verdict will go in favor of Troop Messenger for the end-to-end encryption and extensive range of features.