You need a self-hosted server to host your enterprise work conversations!
Indeed, self-hosted messenger the only way you bring your teams together to exchange work ideas and discuss more work.
Making your teams rely on personal chat applications at your workplace is no fun when you seriously look for productive outcomes from them you must provide self-hosting chat applications. Instead, give them the best self-hosted chat software like Troop Messenger, Flock, Rocket Chat, Mattermost, etc., to stay informed and monitor all the work routines and updates.
These days, business entities, corporates, startups, SMEs, large enterprises, etc., are bombarded with many collaboration tool options. And, most of the tools are available in the variants of SaaS and Self-Hosting.

Data is crucial for every industry, but enterprise risk management is a true high priority for large enterprises and Governments. That being said, an instant messaging solution that delivers on-premise chat is recommended for such kind of data-specific industries. Let us have a look at the following business collaboration tools that offer chat room software and safeguard the internal communication needs of these entities.
1. Troop Messenger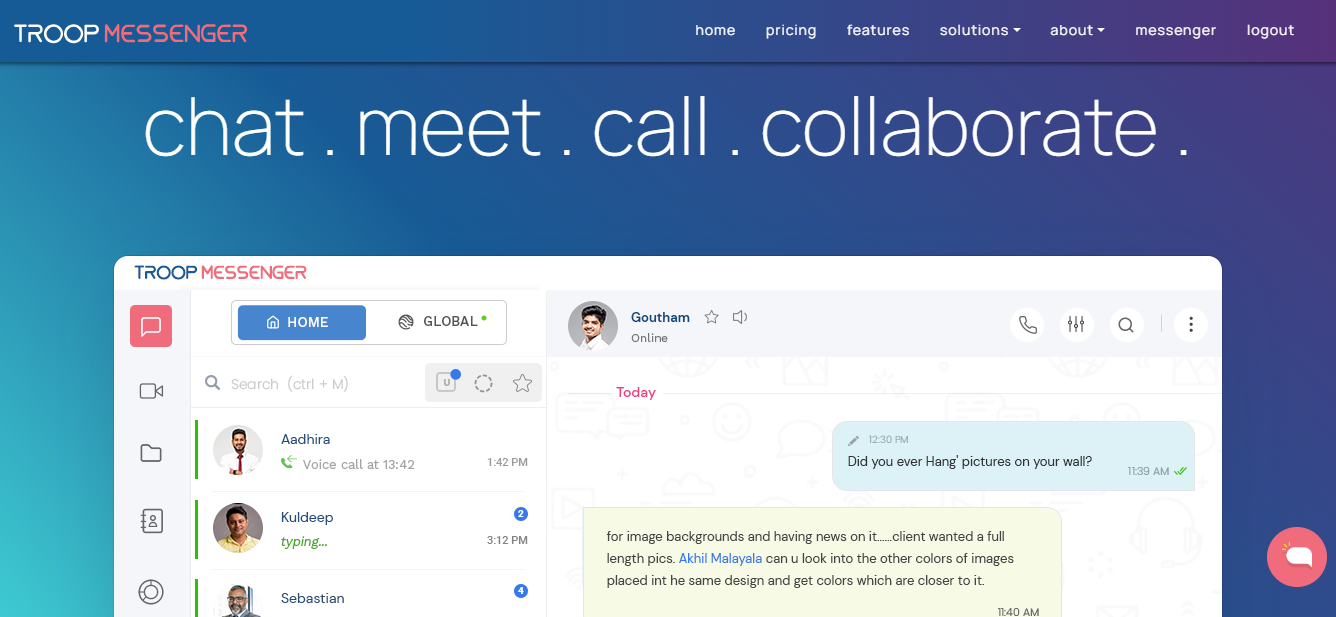 Data-sensitive and regulated industries such as Governments, Defense, Large Enterprises, Manufacturing, Pharma, etc., need a secured chat platform, unlike web-based chat software for their internal office communication to collaborate without compromising on the data they exchange. Troop GRIT is the self-hosted chat server backed up by the chat engine of Troop Messenger. This self-hosted messenger gives them 100% control of the application as they can route the conversations across their networks and databases.
You can get a customized version of hosted messaging to suit the operations of your ecosystem. As this self-hosted chat software supports Air-Gapped Networks, you can be assured of not having any third-party intrusion to access your standard or critical data.
The Deployment suite for Linux and Windows help you with detailed instruction to set it up on your on-premise servers with detailed documentation. This on-premise chat application guides you on the prerequisites for operating systems, databases, and server specifications. This self-hosting chat application will help you on; how to install docker, register, and configure SSL certificate and firewall policies.
Besides providing all the standard and productive features of SaaS, Troop Messenger, the self-managed office chat messenger, comes with Trumpet, File Deck, TM-Monitor (with Lawful Interception), UNITs, User Authorization, etc., as advanced features. End-to-end encryption, Multi-factor authentication, LDAP/SSO, and Role-Based access controls are the exclusive features for user security.
Pros
Comprehensive File Management System-File Deck
End-to-End Encryption
Feature-access controls
Trial License
Guest User-Orange Member
Impressive UI with immersive UX
Pricing
This self-hosted chat app offers pretty affordable pricing to its clients. It starts from $5+; however, the service providers can customize it to you as per your organization's ecosystem and needs.
2. MirrorFly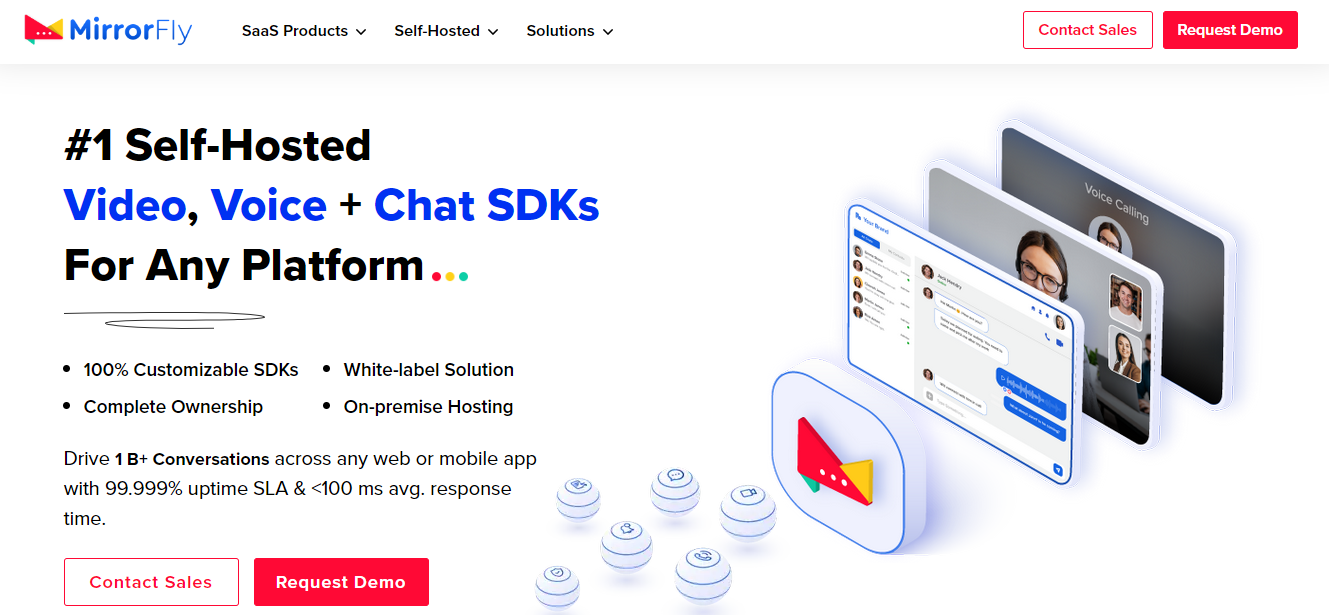 MirrorFly is an in-app communication provider that is popularly known for its feature-rich video, voice, and chat SDKs. This self-hosted chat software offers a wide range of team communication features, including real-time group chat, HQ audio, and HD video calls, file sharing, moderation, presence indicators, push notifications, and user analytics. Businesses of any scale and size can build their white-label web and mobile apps with its 150+ customizable features and deploy apps on their own premise.
When it comes to protecting user data and privacy, MirrorFly ensures that team conversations are protected end-to-end with built-in security protocols like AES-256 and SSL, along with industry-grade privacy regulations. Above this, users can flexibly deploy their apps on their own premises or on MirrorFly's dedicated cloud servers, for maximum security, performance, and server maintenance.
Pros
Provides fully customizable video, voice, and chat features
MirrorFly Chat SDKs are available for a lifetime FREE access
Offers complete white-label solution
Let developers hire a complete dedicated team for full integration support
Provides End-to-End security encryption
Cons
MirrorFly currently does not support the recording of ongoing video sessions
Do not provide options to create meeting agendas
Pricing
MirrorFly adapts a twin pricing model - SaaS and SaaP solutions, tailor-made to suit different business needs. The self-hosting solution permits users 100% customization just for a one-time license cost. On the other hand, the cloud-based pricing model comes with 3 monthly plans - Easy (completely FREE), Essentials (starting at $399), and Premium (starting at $999).
3. Wickr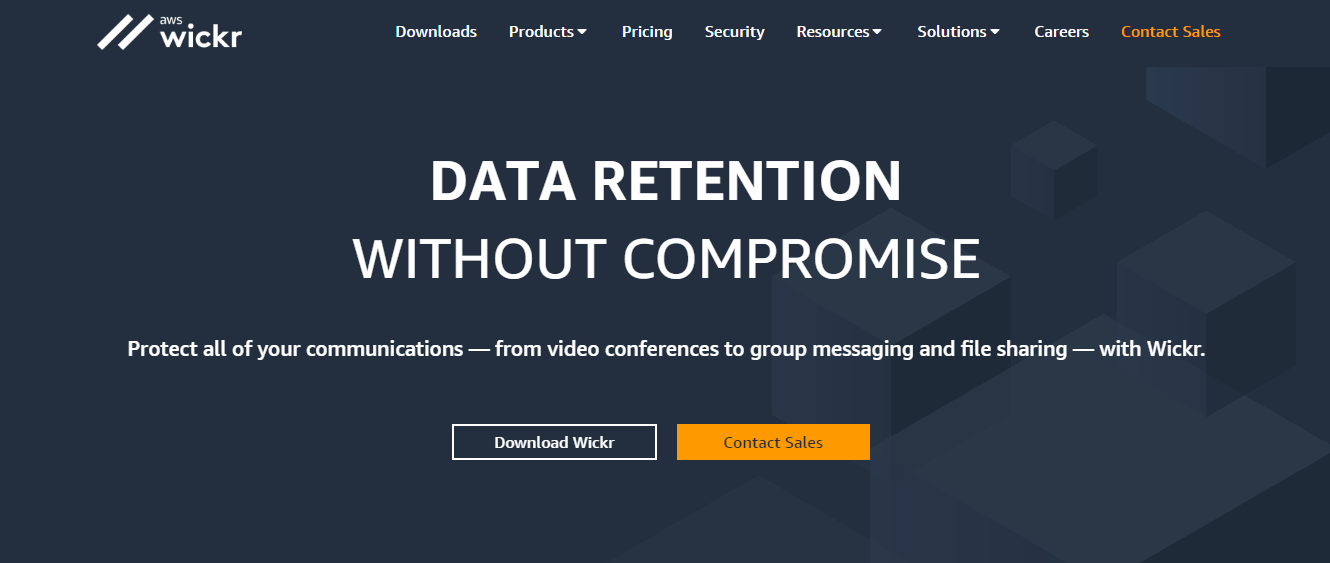 Wickr, an encrypted messaging app, has been acquired by Amazon and is now part of the Amazon Web Services-AWS team. It supports the deployment models of Federated SaaS and On-Premise. This self-hosted messenger is made to serve its customers and partners with its modern collaboration features such as messaging, voice-video calling, file sharing, and others.

Due to the Covid-19 pandemic, the rise of the hybrid work environment has skyrocketed and, the exchange of organizational data between different networks could be a big security threat. With an on-premise chat server like Wickr, all the messages, calls, and files that travel across various devices will be rightly encapsulated and secured.
Pros
This self-hosted chat server provides the client-side E2E encryption
Easy to set-up
You can get started with its free plan
Centralized messaging archived capability
Cons
Limited features in the free plan and the paid plans seem to be expensive.
The code is available on Github, but it's not open-source
Pricing
Wickr offers a free plan for individuals and small teams with up to 10 registered users. The other paid plan includes Silver at $4.99/user/month, Gold at $9.99/user/month, and Platinum at $25.00/user/month.
4. Element.io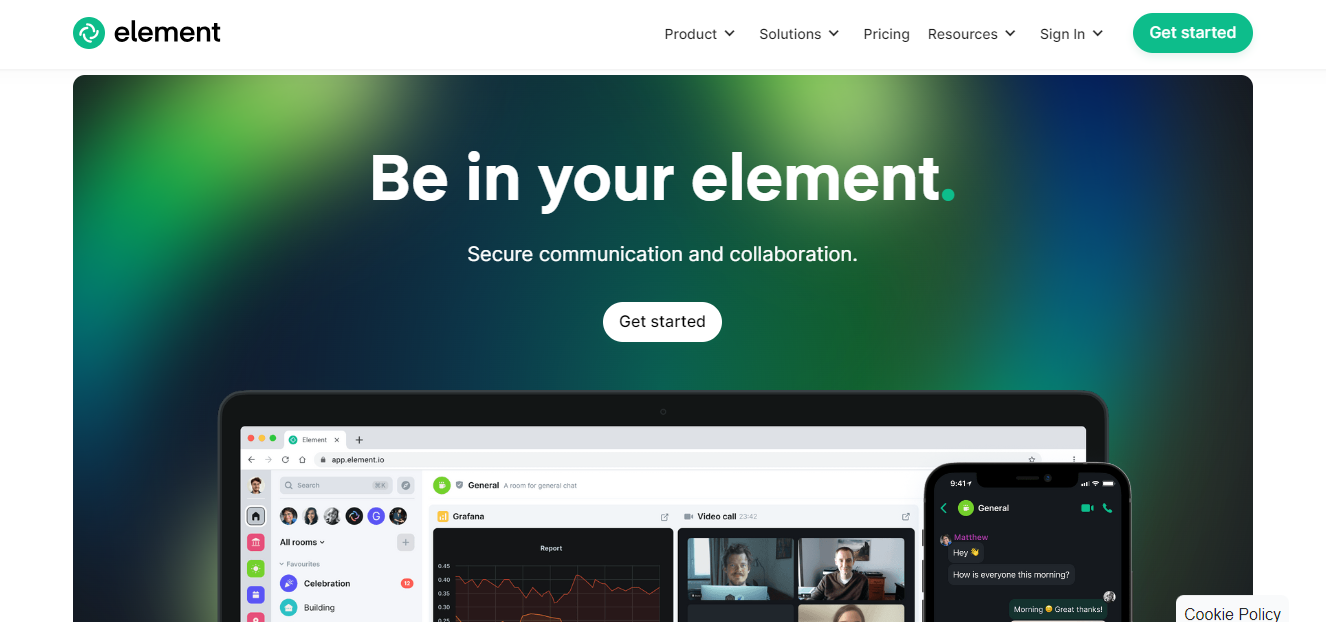 Element.io is been built on Matrix and it is considered the best open-source chat server. It offers personal messaging and enterprise collaboration to provide independent and secure communication. It allows users to bring their WhatsApp, Signal, and Telegram chats into its personal messaging variant, Element One. This open-source enterprise collaboration tool provides end-to-end encryption for your messages along with unlimited audio and video.
The primary advantage of the self-hosted messenger is, that you can be the owner of your data, which means you can store your messages on your end. Enterprises can choose between "hosted by us" in the Element cloud or on-premise deployment models to securely run their work conversations. This self-hosted chat platform provides you with different kinds of rooms, such as private, internal, and public.
Pros
Fully managed to host with integrations and bridging facilities
Made for personal messaging, enterprise collaboration, and communities too
Open-source software and shares the code with everyone
Cost-Effective
Cons
Its desktop app from the SaaS edition should be a little more intuitive
Occasional bugs in its mobile app, but they are manageable
Pricing
To get started with Element, the pricing model starts from $ 3 per user/per month. The other products, such as Element One and Element Enterprise are charged $5 per month for one user and $4 per monthly active user, respectively. It also helps you bridge your existing communication at $0.50 per remote monthly active user.
5. Rocket.Chat

Rocket.Chat is famously known for its open-source team communication. The two delivery models that are available with this tool are; SaaS and Self-Managed. Large Enterprises can hugely benefit from this hosted chat service as it extends high security to message exchanges with two-factor authentication, E2E encryption, SSO, and OAuth providers. An exclusive feature of real-time translation in this free chat software for businesses translates its UI to over 50 languages making users feel native. The self-managed version allows users to download the docker image and install the application on their servers.
Pros
It has an unlimited free plan
It supports endless customizations that include; Integrations, Plugins, Themes, and Powerful APIs
Easy-to-implement data importers
Scale as per your needs
Open source group chat
Cons
Lack of in-depth documentation
Need better support and sales system
Pricing
Rocket Chat provides different pricing structures for Self-Managed and Cloud. For Self-Managed, it has come up with the pricing plans of Community @ Free, Pro @ $3/per user/month, and Enterprise @ Tiered pricing. The Bronze, Silver, and Gold pricing plans of the Cloud/SaaS delivery model come at $2/user/month, $4/user/month, and tiered pricing respectively.
6. Mattermost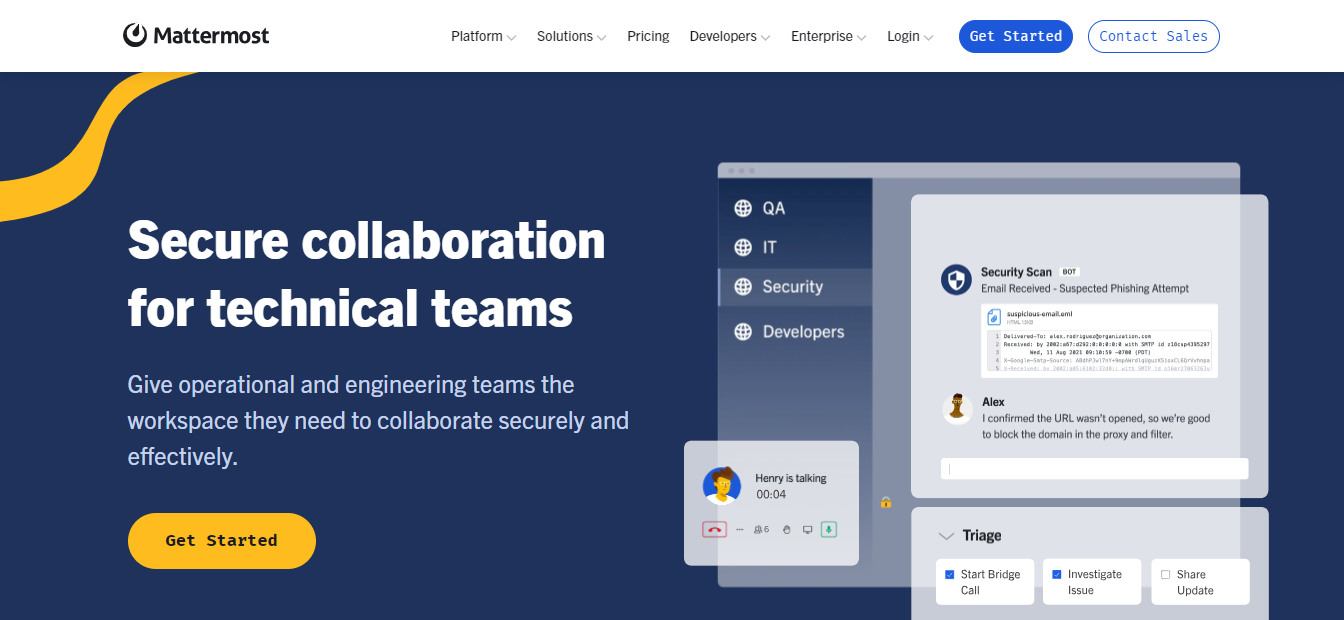 Mattermost is the best open-source chat software that introduces itself as a 'High Trust Messaging for the Enterprise, and it is true. An exceptional self-hosted open-source messaging platform that extends secure communication across industries of all forms and sizes. This private chat software can be deployed on a private cloud within the premises of local servers. Organizations that are highly privacy-conscious believe Mattermost as their flexible partner for all internal instant communications. The tool is popular on GitHub, and it provides an extensive level of documentation that helps in docker installation.
Pros
Build custom workflows
Enables Dev Ops workflows
Enterprise-grade scalability and security
Supports Migration
Cons
Tedious deployment process
No in-app voice-video call feature. Need to integrate.
Pricing
Mattermost comes with two delivery models; cloud and self-hosted. Large Enterprises who are looking for self-hosting can go with a server download that supports both Linux Install and Docker installation. Moving forward, it extends the free 30-day trial of Enterprise Edition(E20). And, the other plans E10 and E20 are priced at $3.25 per user/month and $8.50 per user/month when billed annually.
7. Zulip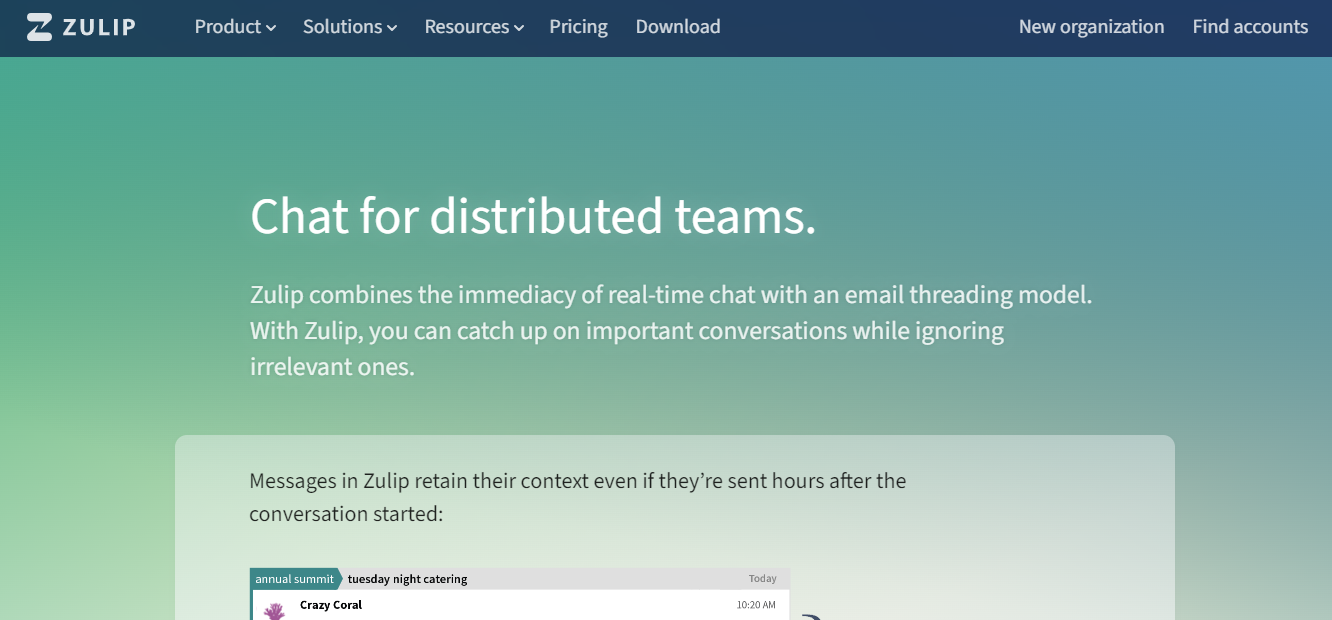 Catching up on only important conversations and ignoring irrelevant ones, is what Zulip says. Open-source software was built by hundreds of developers across the globe. The self-hosted delivery model specifically designed for Large Entities provides an excellent production installation guide that lets users deploy it on their networks. Besides its 90 native integrations, this self-hosted corporate messenger supports more integrations from Hubot, Zapier, and IFTTT. This self-hosted chat app provides excellent user documentation ranging from product installation guides to stream management.
Pros
It has high-quality developer-friendly code.
Build your integrations with its APIs
Unique threading approach
Open-source team chat
Supports migration
Cons
Steep learning curve
Minimalistic features
Pricing
Zulip Cloud and Zulip On-Premise are two different pricing models that it offers. The former comes with Free and Standard Plans at unlimited and $6.67/user/month respectively, and the latter comes with the plans of Community Support as Free and Open source forever. The Enterprise pricing variant of the same varies with the support required. Users need to contact their sales team.
8. Matrix.org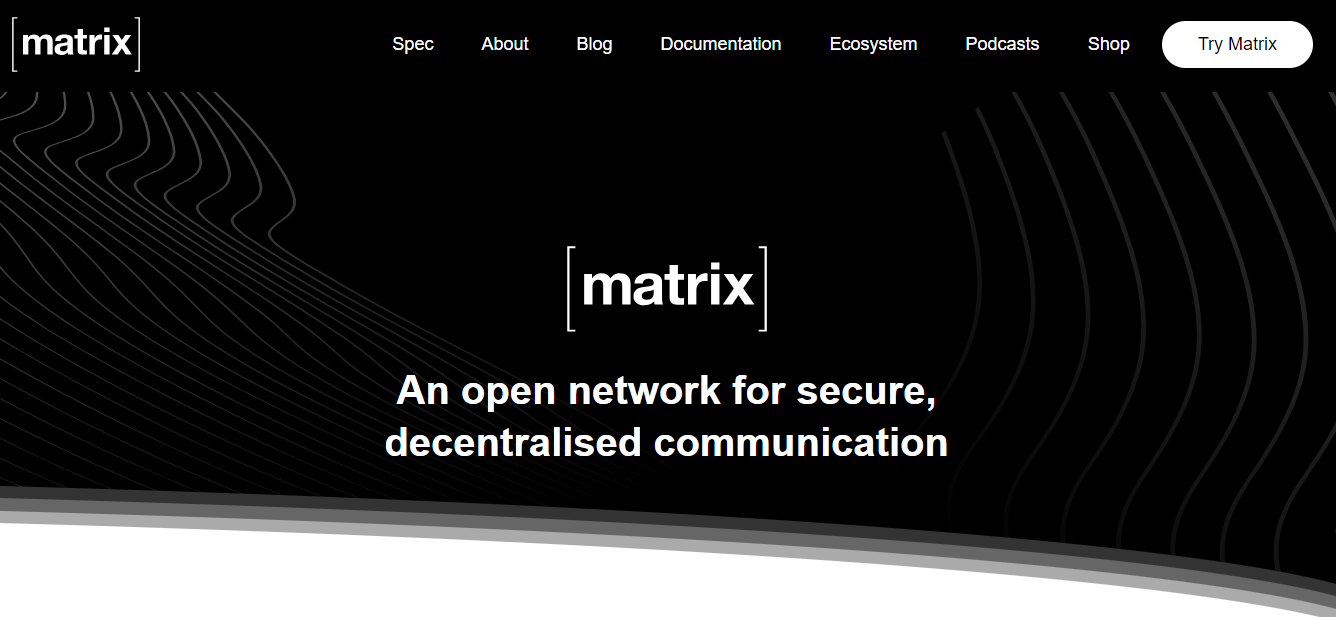 Besides a messaging protocol, Matrix is known as a decentralized conversation store. It replicates the sent message over all the servers where user participation is active. An exceptional self-hosted delivery model that provides strong end-to-end encryption via the Olm and Megolm cryptographic ratchets. This self-hosted instant messenger helps to build your apps, chat rooms, direct chats, and chatbots, with simple RESTful HTTP/JSON APIs.
Pros
Each server has full-level control over users' data.
Open specification of Matrix standard
No single point of control or failure
Supports Bridging
Cons
Not available on the cloud
Pricing
Matrix.org never charges. It's completely free. Its free servers are open to all for public registrations.
9. Lets Chat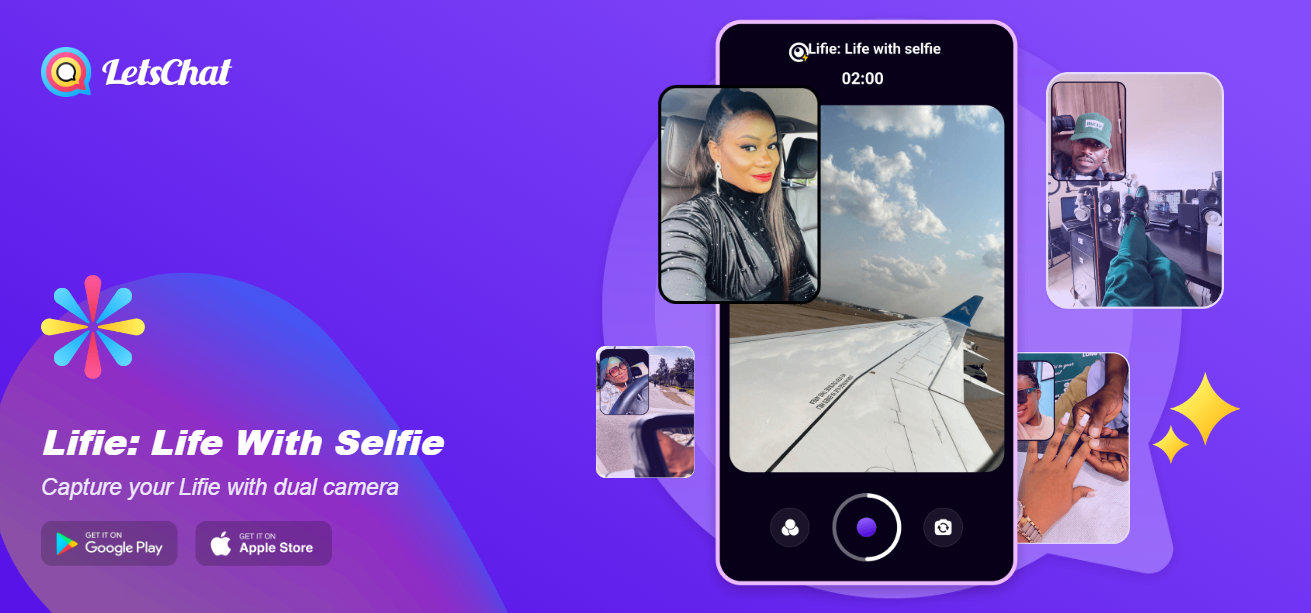 Yours is a small team and want to have full-scale control over your team collaboration. Then Let's Chat is the right self-hosted tool exclusively made for small teams. It runs on Node.js and MongoDB and is deployed easily on your local servers. It supports Docker and Vagrant platform installations. This self-hosted chat server has some interesting features; private/password-protected rooms, Image embeds, transcripts/chat history, and more.
Pros
Supports LDAP/Kerberos Authentication
Supports BYOS (Bring your own server)
It has multiple chat rooms
It is Hubot-friendly
Cons
Not available over the cloud
It doesn't support any integrations.
Pricing
It's free(MIT Licensed)
10. Nextcloud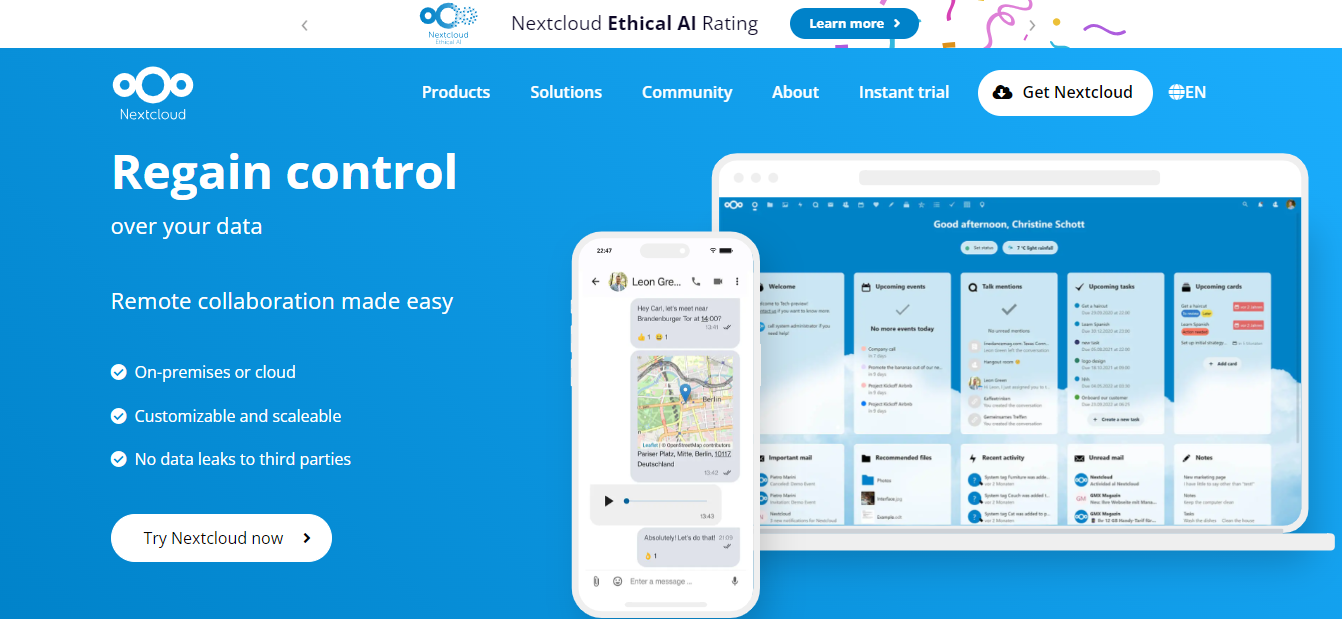 The self-hosted collaboration tool built for protecting user data through multiple layers of security offers a wide range of products like Nextcloud Files, Nextcloud Talk, Nextcloud Groupware, Nextcloud at home, and industry solutions. Nextcloud says, 'control is key to data'. To ensure this, it implements the authentication mechanisms of SAML, Kerberos, and LDAP. It's an open-source application with code available on GitHub for developers.
Pros
It has two variants; Nextcloud at home and Nextcloud at Enterprise.
Adhere to the compliances of HIPPA and GDPR
Enterprise support
Direct access to core Nextcloud Engineering.
Cons
Has fewer issues with deployment on shared hosting
No detailed manual installation guides.
Pricing
Nextcloud offers three pricing plans; Basic, Standard, and Premium. The annual pricing for Basic, Standard, and Premium for 50 users is priced at 1900 euros, 3400 euros, and 4900 euros respectively.
11. Wire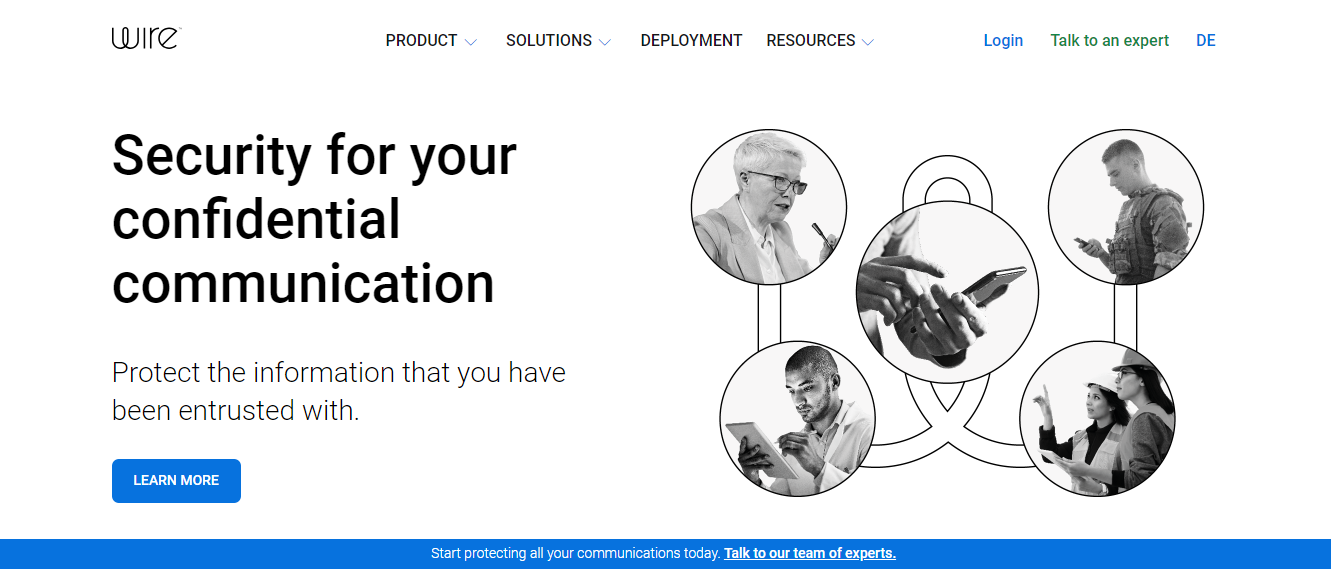 Modernize the way you collaborate, is what Wire says. It offers uncompromised end-to-end security to protect users' communication and data. Wire adheres to the compliances of ISO, CCPA, GDPR, and SOX. It allows the new users or the migrators to adopt it with different deployment options. Cloud, private, and on-premises are three deployment choices available to the users. This self-hosted instant messenger is 100% open-source and its source code is available on GitHub.
Pros
It is independently audited
It provides forward and backward secrecy
Simple privacy policy
No phone number is required, register with an email ID
Cons
The learning curve is steep
Occasionally slow
Pricing
The highly secured team collaboration platform comes in three pricing plans; Wire Pro, Wire Enterprise, and Wire Enterprise Technology. All three plans are charged at 4 euros per user/per month, 8 Euros per user/per month when billed biennially. The users need to contact their team to understand the Wire Enterprise Technology pricing.

12. Jitsi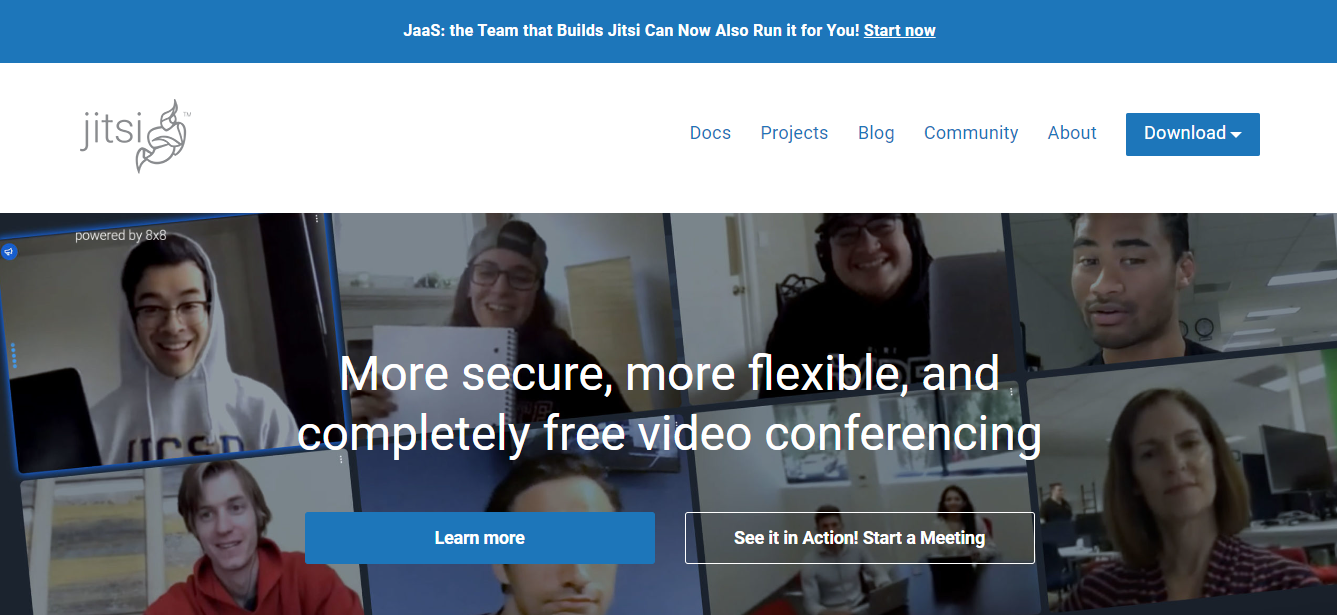 Jitsi is a 100% free multi-platform open-source video conferencing tool that looks good and sounds fantastic. Users/developers worldwide can use Jitsi or build their own apps using its tools. This self-hosted live chat has two projects; jitsi Video Bridge, and jitsi Meet. Both are open-source and WebRTC compatible which allows users to develop high-quality and scalable video conferences.
Pros
Jitsi Desktop allows calls, chat, conferencing, file transfer, and more
It is an open-source community
It encodes/decodes the audio/video flows
Recording and live streaming for Jitsi Meet
Cons
Rare issues with the connections
Pricing
It is 100% free.
13. Tox Chat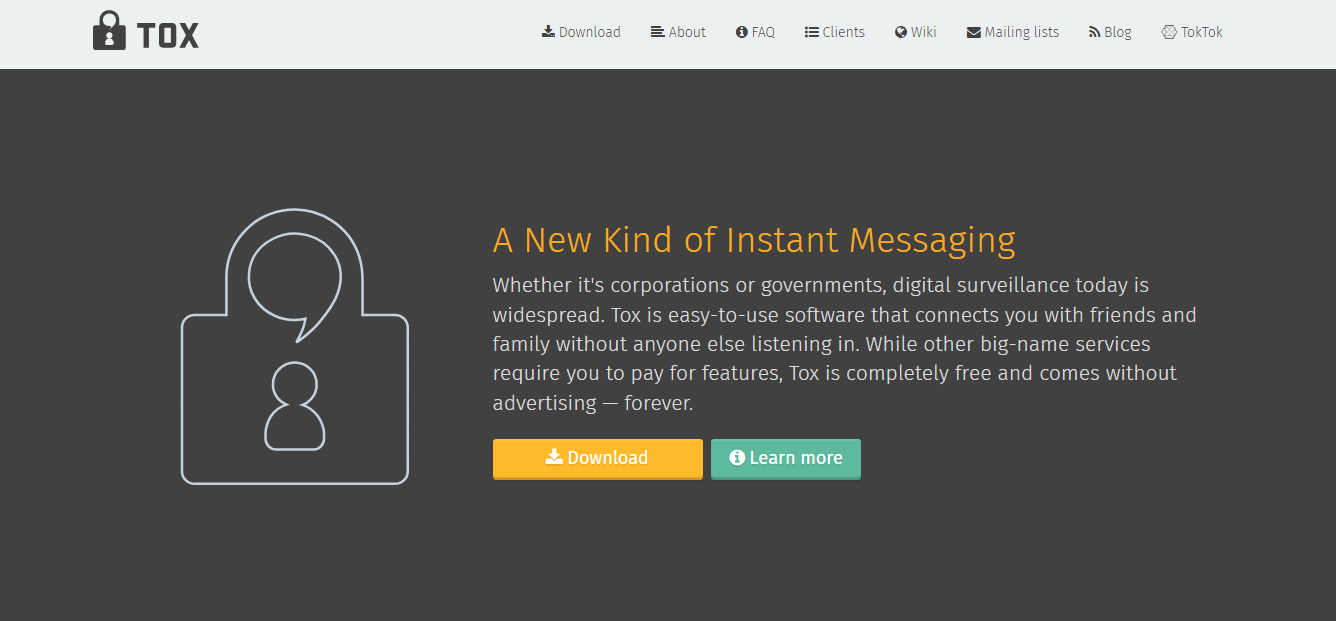 Another instant messaging application for large corporations and governments. TOX is a free, easy-to-use messaging tool that comes without advertising. It's a people-made tool, that is highly encrypted and distributed. The other features of Tox include; voice, video, screen sharing, file sharing, and groups
Pros
A simple and secure messaging tool
Encrypted voice calls
Cons
Your IP is visible to others
Pricing
No corporate interests and no hidden agendas, it's free.
Signing Off
At the end of the day, it is all about how you safeguard your organization's data. Choose a highly secured on-premise collaboration tool that has no access to any third-party vendors.