You are here on a page that talks about 'remote tools for business.'

Would it be too early to say 'Your search ends here?

I guess not!

Because, here, you get to review an impartial analysis of top work-from-home tools for employee monitoring and communication software with pricing details.

This blog post needs your undivided attention.! 5 minutes will be enough.

Let's start with the basics.
As days pass by, working remotely has become a trend now.
In the modern-day, it seems quite possible for an entrepreneur or businessmen to run their businesses remotely.
For an employee, it's now possible to work from home whenever he or she wants and be productive enough. Companies nowadays are focusing on their employee's work-life balance and allowing them to work from their respective houses.
With technological markets enhancing their services every day, there are several productivity tools developed now which allow you to work remotely with the use of newly introduced applications.
This is an optimum way for companies to save money as well when it comes to the usage of computers and electricity. It also helps the employees to become more productive.
Tools and Specifications
There are several tools introduced in today's world that you can consider when it comes to working remotely.
Below listed remote working tools are currently ruling the market because of the services they provide:
1. Troop Messenger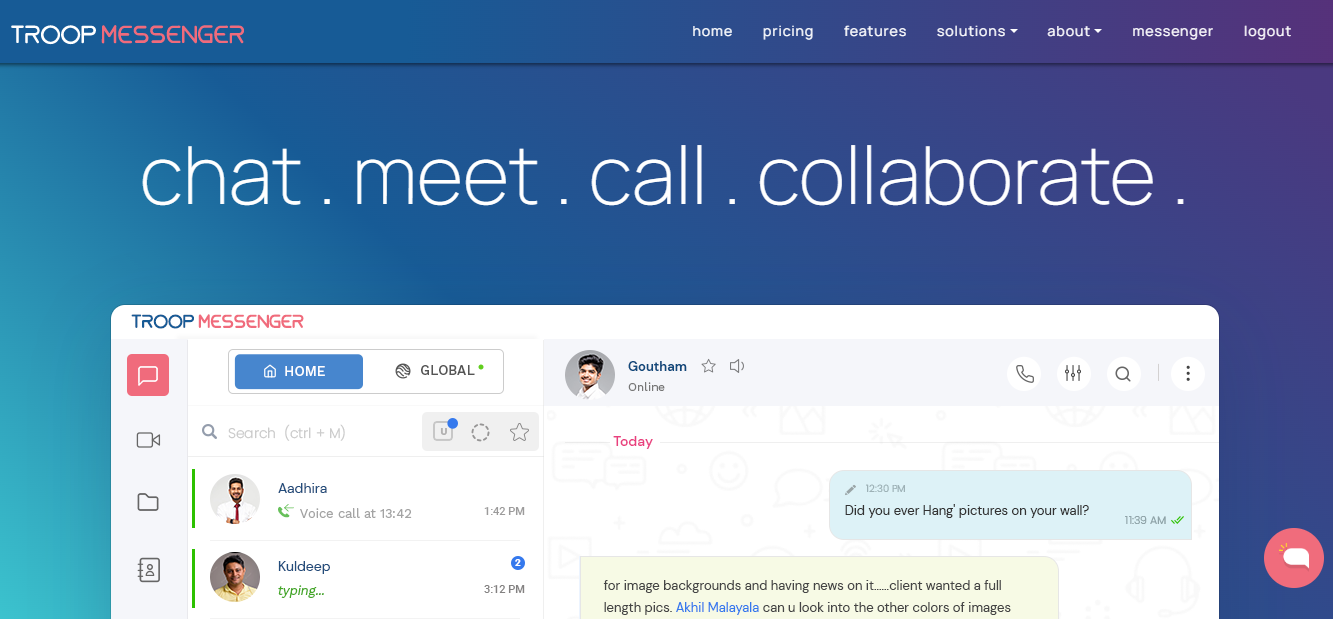 Troop Messenger is a comprehensive messaging application where you can deliver messages instantly. It can work for both small business industries to large-scale industries. With the help of this application, you can connect with your colleagues who may be in different places in the world and cater to your business requirements. You also can get the benefit of upgrading your current technology, in terms of communication to the ultimate next level. The key features are
Pinging users and audio calls

Video calling services

Instant messaging and Customer support services throughout the year

Forming groups to collaborate with all the members of your team.

You can access your desktop app with QR Code Custom login facility.

You can pay about 1 dollar to 5 dollars per month for an active user. This software supports any instant messaging platforms such as Gmail, FaceBook, Skype, etc.

These were some tools that are currently dominating the market, and a lot of companies are availing benefits from using the applications. If you want to make profits and improve your work culture by using technology, the above-listed tools are the best options available for you.
2. Slack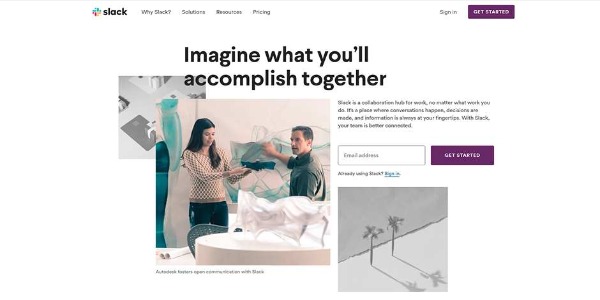 When it comes to managing remotely working teams, communication becomes an important factor for all managers. Slack is a chat-based online platform that can be accessed by your team members to communicate with you or other team members in case of any queries or doubts. A few reasons why you should consider this platform
Brainstorming

File-sharing

Comparing notes and keeping yourselves updated with the recent news of an industry.

It can be linked with any other incorporate platforms such as Basecamp, Zoom, MailChimp, or Skype.
You can onboard the Slack application into your company by investing about 6 dollars to 12 dollars per active user, which is cheap and affordable.
The storage limit set by the Slack providers is about 10,000 messages or 5 GB of data. It is a useful messaging remote tool for your team members which allows you to organize as well as prioritize necessary conversations which have to be addressed immediately.

It can also be installed on your mobile phones. You can also use this software to build simple blocks, incoming webhooks, bots, commands, and so on. These features make the software for all remote workers.
3. Proprofs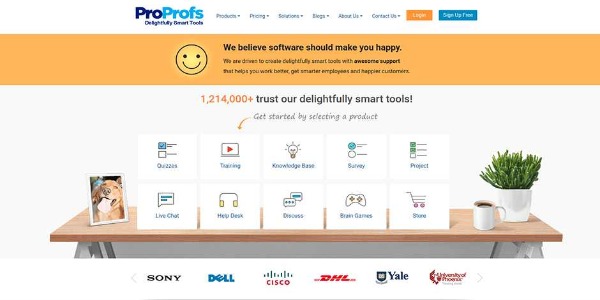 Proprofs knowledge-based software applications can be utilized to empower your team members who are working remotely. The best features of this platform are –
Your teammates can produce user guidelines, FAQs, and documentation for clients and employees.

It develops employee efficiency significantly.

It also promotes sharing knowledge with your team members and keeps them posted about the latest updates.

It also features reporting tools that help the manager in extracting employee statistics and take a decision accordingly.
You can use this application by paying 9 dollars to 80 dollars per active user, based on the services you choose.
This is considered to be one of the best remote tools which have been introduced in the technological market, so far. Some of the best company platforms this software supports are Sony, CISCO, DHL, Ford, Yale, Dell, and so on. The user-friendly navigation within the software makes it the best platform for remote workers to use this software.
4. EveryTimeZone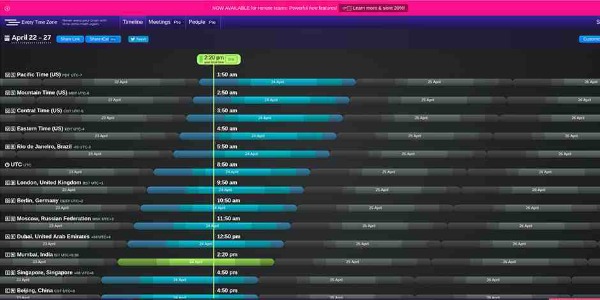 If you are looking for the best remote collaboration tool, then the EveryTimeZone application would be the best tool for you. The advantages of using this application are –
You can keep track of people or team members who are available for you to work with and who are out of reach across the globe.

It helps in solving your problem by displaying the time zones around the world.

Assists in identifying your co-worker's time and determining whether it would overlap with your time zone.

It would cost you about 12 dollars to onboard this application into your firm or company per active user.

It supports systems used in Amazon, CentOS, Debian, Oracle Linux, and so on. Assessing the time zones becomes easier with the help of this software and is considered to be user-friendly. This is why most remote workers across the globe use this software. It has the capability to store about 500GB of data.
5. Zoom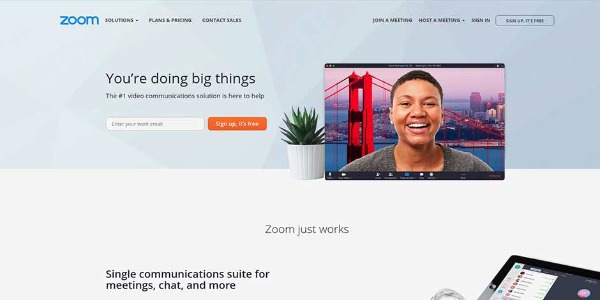 Zoom is considered to be the best application when it comes to remote working tools. The key benefits of using this application are
It helps you to share your screens with your colleagues easily who are working remotely in different places in the world.

A perfect tool for your teammates and permits about 25 participants to share their screens and be a part of it.

Each meeting conducted using this application can last up to 40 minutes.

You can also share files and messages using this application.
While the basic application for business purposes would cost you for an active user about 19.99 dollars per month allowing 100 participants to share their screens, you can also opt for high paid plans ranging between 35 dollars to 260 dollars per month, which would allow about 500 participants to share their respective screens.
This software supports multiple platforms such as Windows, Linux, IOS, Android, and so on. The user-friendly coding structure of the software makes it comfortable for all remote workers to use this software. It can store up to 1GB of data, depending on the plan you choose.
6. Basecamp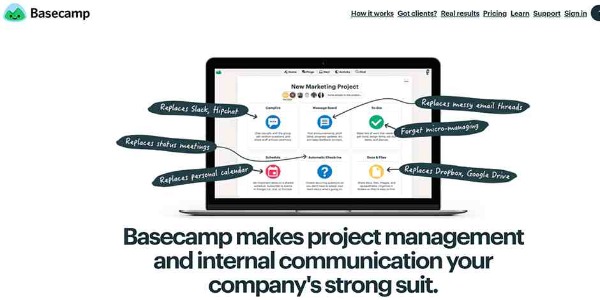 Basecamp is an effective tool for time management criteria, you can use the application to share and save confidential and useful documents. Apart from this, some of the other services offered by Basecamp are
Automatic Check-ins.

To-do-checklist.

Campfires permit users to chat and respond to questions.

The message dashboard is used for making effective discussions for the team. The work can be easily managed by using this application.
You need to pay 99 dollars per active user monthly to onboard this application in your company.
This platform supports web applications, Android applications, podcasts, Mac, etc. The application is easy to use when it comes to installation, which is why it becomes easier for remote workers to use this software.
7. Asana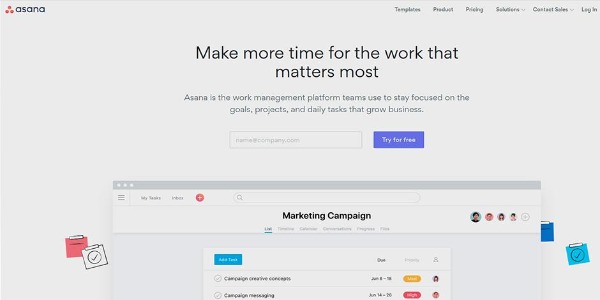 Asana is an effective management remote tool that all your remote workers can make use of. Some of the key benefits of using this application are
It permits you to allocate, cascade, and assign tasks and projects to your teammates easily.

It assists your team members in keeping track of their progress, for the projects assigned to them while also showing the to-do checklists of an individual team member.

You can also upload several attachments from your computer into the shared drives or Google Docs, Dropbox, and many more platforms.
The actual cost to onboard this application in your firm can range between 10 dollars to 12 dollars per active user, every month.

There are numerous platforms that Asana software supports. Some of them are Microsoft Outlook, Adobe Cloud, Salesforce, Litmus, and so on. The software is easy to download and can be accessed from anywhere at any time. For this specific reason, it becomes easier for remote workers to use this application. Even though there are no storage limits if you are using this software, you can upload up to 100MB of files per task.
8. Zapier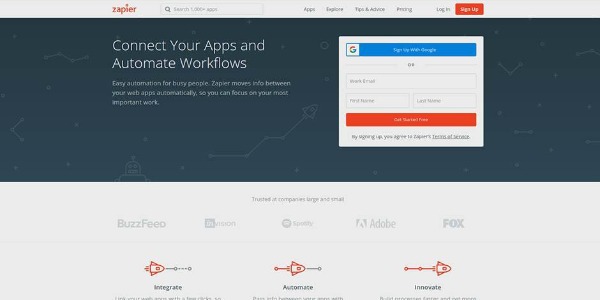 Zapier is an important tool to remotely manage your team when it comes to using tools and applications together. Let's help you in finding out why you need to use this application –
This remote collaboration tool helps in automating your work by connecting all your applications or tools together to ensure that your work becomes easier and smoother.

You can also link website applications which can ease the process of file or data sharing.

You can use this tool to increase the productivity of your team within a short duration of time.

You can also sync different platforms such as Dropbox, Skype, Gmail, Buffer, PayPal, etc. which can be accessed easily, helping you in saving a lot of time for your time.
Onboarding this application would cost you about 50 dollars to about 125 dollars per active user monthly basis.
Using this software, you can connect to thousands of other tools and applications which use their storage capacity to store your data and information.
9. Quip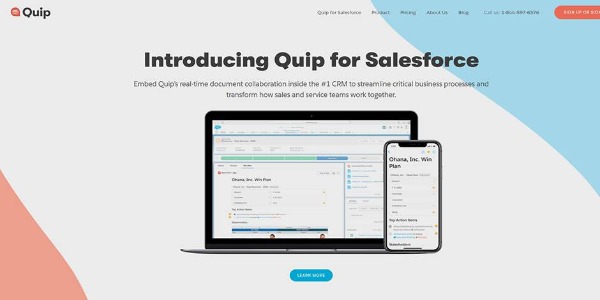 If your team uploads a lot of documents daily on platforms such as Google Docs or Dropbox, you can make use of this remote collaboration tool named Quip. The advantages of using this application are
It would cost you about 30 dollars per month for an active user to onboard this application. You can install this software as it supports platforms such as Jira, TaskRay, PDFfiller, smart sheet, rectify, etc. You can integrate your sales department to work using this application. There are no restrictions when it comes to storage.
10. Dropbox

Considered to be one of the best platforms, which currently dominate the market, Dropbox permits you to invite your team members to interact on folders or files. Some other benefits of using this application are –
This will help you in improving collaboration, streamlining workflows of tasks, securing contents and data, and so on.

You can onboard this application in your company by paying 50 dollars per month for an active user. It's easy to use and upload files. Owing to this feature, it becomes easier for remote workers to download this application and use it for their benefit. It will allow you to store about 2GB of data.
11. Harvest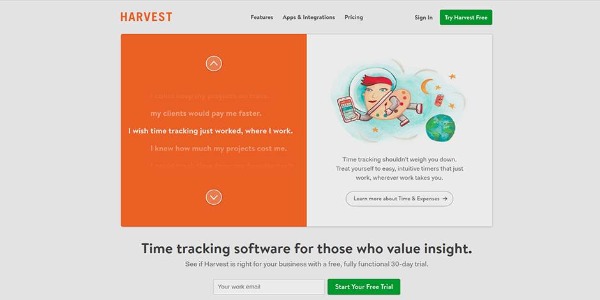 Harvest is Considered to be the best tool for tracking your employee's working time, this application is easy to use.

Why use this application?
This tool provides insight reports which would allow taking an effective decision for your business in terms of profits, invoices, payments, integration with any other preferred tools, and so on.
You can pay about 11 dollars per month for an active user to use this application. You can integrate this software with your applications and tools to increase the productivity of your employees and save time. There are no restrictions when it comes to storage capacity.
12. JotForm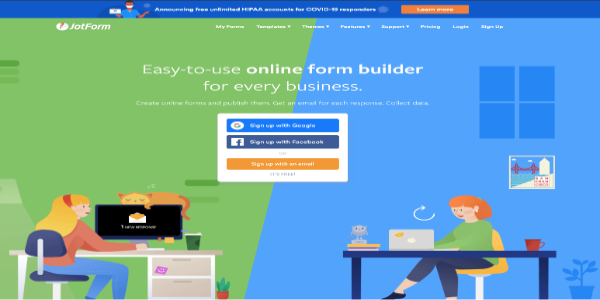 JotForm is simply a productivity tool that many remote workers are utilizing each and every day. With JotForm users can create well-designed online forms so that they can collect the necessary and valuable data for their businesses without having to go into an office space. Here are the remote work-tailored features of JotForm:
Collaboration is very easy, as all the users have to do is share a link with their coworkers so that more than one person can work on the same form at the same time.
JotForm is a HIPAA-compliant solution, which can be very useful for medical professionals who are using JotForm as a telemedicine tool while working from home.
JotForm has hundreds of integrations with your other favorite remote work tools like Slack, Airtable, Square, and PayPal... which can work with JotForm seamlessly.
JotForm Mobile Forms offers an offline mode, in which even if you are collecting data without internet access while working remotely, your entries can still be saved and automatically synced to your JotForm account when you are back online.
You can use JotForm for free for up to 100 monthly submissions! If you are going to need more than that you can receive 1000 submissions per month for $19 a month, 10,000 submissions for $39 a month, and 100,000 submissions for $99 a month. They also offer discounts for nonprofits and students!
13. Rebrandly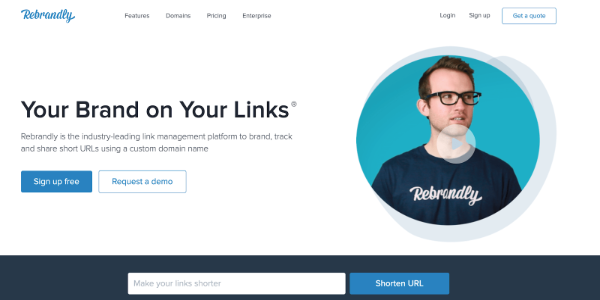 Rebrandly is a link management tool to brand, track, and share short URLs using a custom domain name. This tool enables you to easily create and share branded short links. As a result, you can improve your brand visibility and increase click trust. Key benefits of using this tool include:


It is very easy to use and create new, rebranded links for any URL.
Many features such as QR codes, link retargeting, link analytics, UTM builder, and editable destination URL.
The option to create custom-branded URL links along with the power of remarketing in one tool.
You will also receive handy analytics and insights into how your links perform on any channel.
14. Timely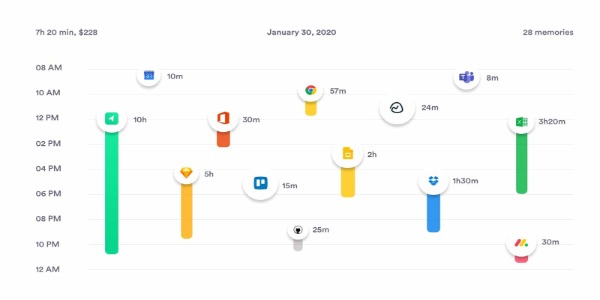 Structure, coordination, and visibility are essential for remote work success. By automatically tracking everyone's time, Timely helps remote teams achieve all three without compromising their productivity. The main features for remote teams include:
An automatic private timeline of everything you work on each day
AI time sheets that expedite reporting on tasks, clients, and projects
The "People Dashboard" – breaking down team capacity, overtime, and hours
Real-time project dashboards for tracking budget spend and activity
A smart planner for visualizing colleague calendars and assigning tasks
An intuitive calendar interface for time boxing your schedule
As an employee-first-time tracking tool, Timely actively protects remote worker privacy and dignity. It supports autonomy and self-management, enabling employees to manage their schedule and productivity on their own terms.

Team plans start at $39/month, with the option to add more seats and scale features as your needs change.

Timely has apps for web, Windows, Mac, Android, and iOS, so you can manage your time fluidly across your work devices."
15. GanttPRO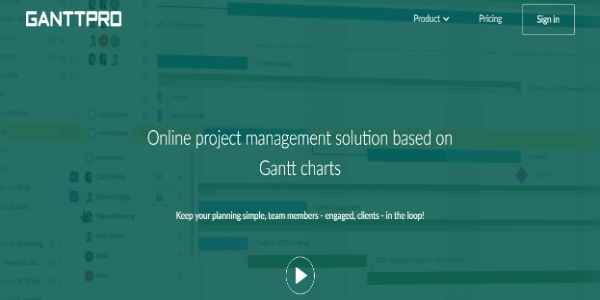 GanttPRO is an elegant and intuitive project management software based on Gantt charts. It solves many project-related challenges for individuals as well as businesses of all sizes, up to enterprise level. No matter where your teammates are, with GanttPRO, everyone will know every detail about their tasks, deadlines, projects, and the goals they follow. The key features are
Project and portfolio management.
Resource allocation and workload management.
Team collaboration through comments, file sharing, and mentions.
Smart budget management based on duration, estimation, actual cost, and time logged.
The Individual plan will cost you $15 per month. Team plans start at $8.90 per user per month.

This is considered to be one of the best Gantt chart makers for project management on the market. Lots of world-known companies such as Sony, Salesforce, NASA, Booking.com, DHL, etc. enjoyed its beautiful and intuitive interface packed with robust management and collaboration features.
16. Kipwise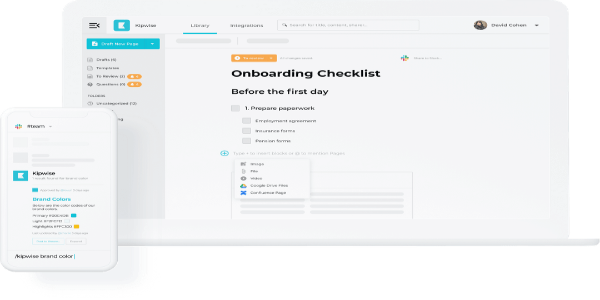 Kipwise helps remote teams share knowledge effectively and reduce communication lag by ensuring teammates from different sides of the world have access to the information that they need. Their key features include:
Powerful Slack integration - Create and search for team knowledge directly in Slack using the handy slash command and Slack Actions. You simply don't need to leave Slack to build up your knowledge hub.
Real-time collaborative editor - Your team can edit the same doc at the same time and create visually appealing documentation with rich embedding options.
Content review process - Set designated reviewers for your content and our system will remind you to review the content to ensure freshness and accuracy.
Kipwise also supports browser extensions and is integrated with many more tools that Remote loves, such as Google Drive, Trello, and Airtable. With Kipwise, you can create structured and visually appealing documentation and retrieve team knowledge easily, wherever you need them.
17. ProofHub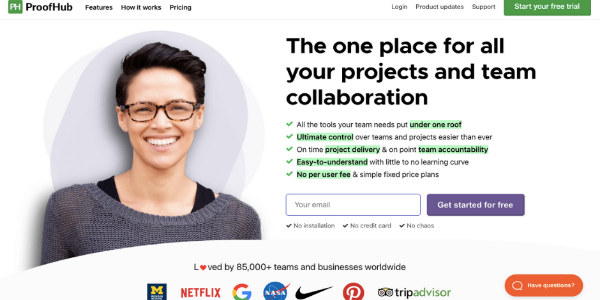 If you're looking for a tool that is packed with all the features in a single location, is easy to use, and has a minimal learning curve then ProofHub can be the best choice for your requirements. ProofHub helps project managers and teams Easily plan, collaborate, organize, and deliver projects of all sizes, on time.
Key advantages of using this software are:
All tools under one roof
Fixed pricing plans
Minimal learning curve
Multilingual interface
Task management
Timesheets
ProofHub is available in two pricing plans - The Essential plan and The Ultimate Control plan. The Essential plan is priced at $45/month, billed annually. This plan allows unlimited users, 15GB storage, and 40 projects. Users get access to all CORE features with this pricing plan. You can also opt for the Ultimate control plan which is priced at $90/month, billed annually. This plan allows unlimited users, unlimited projects, and 100GB of storage. This plan gives you access to premium features that are missing in the Essential plan.
The software is a SaaS tool, and can easily be used on web browsers without installing it. Mobile apps can be installed on Android and iOS-supported mobile devices. All in all, ProofHub is a simple yet powerful tool that is packed with powerful features.
18. CurrentWare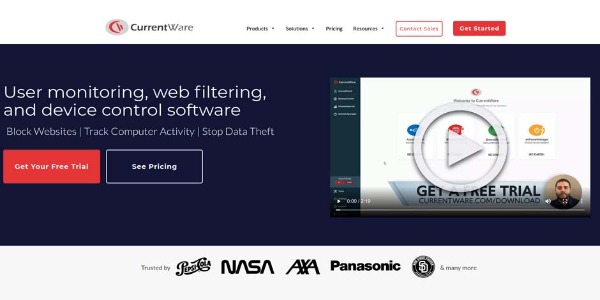 Visibility is a struggle for any remote team. By monitoring the computer activity of your WFH team you can see how they spend their time, the hours they are active, and how engaged they are.
CurrentWare's remote employee monitoring software tracks the websites your WFH team members visit and the applications they use.

For example, if employees are idle for an extended period of time their idle time will be tracked, allowing managers to verify that their off-site employees are working as expected.

CurrentWare's device management tool empower manager can even track logon and logoff times, showing when employees start and stop working on their computers.
19. factoTime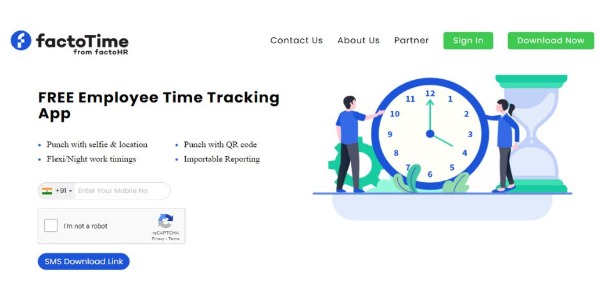 factoTime is a time and attendance management tool for small and medium-sized businesses. With the factoTime mobile app, employees can mark clock in and out punch directly from their mobile phone. The app provides advanced features such as punch with selfie and location, QR code-based, insightful dashboard, and many more.
Key advantages of using this software are:
Advance and secure time clock in/out without extra devices
Mark and manage employee attendance directly from the mobile phone
Automatic salary and payroll calculation
Competence attendance reports
You can use the premium feature by paying $0.99 per month or the elite feature by paying $1.49 per month, based on your selected plan.
The app can be used across all devices, including Windows, Mac, Linux, Android, iOS, and Chrome operating systems.
To Sum-up with
These were some tools that are currently dominating the market and a lot of companies are availing benefits from using the applications. If you want to make profits and improve your work culture by using technology, the above-listed tools are the best options available for you.