Looking for the list of the top, best, and fast-growing SaaS Startups, products & companies in 2023 in India & Worldwide.
Your search ends here.
You can find all the examples of SaaS facts, Saas statistics, Saas Industry, and Saas examples. Read on to know.
Did you know that 73% of businesses plan to launch SaaS products and make all their systems SaaS by 2023?
Swiftly and Smartly, our World is shifting towards the 'Software as a Service era. Some of the best saas companies are already there, while most others are likely to follow.
Vendors and businesses are either building new SaaS products or acquiring existing ones. They are building or acquiring products by adding product descriptions with the help of writing my essays service providers or content writers.
Wait for a couple of more years and your workplace will never be the same again.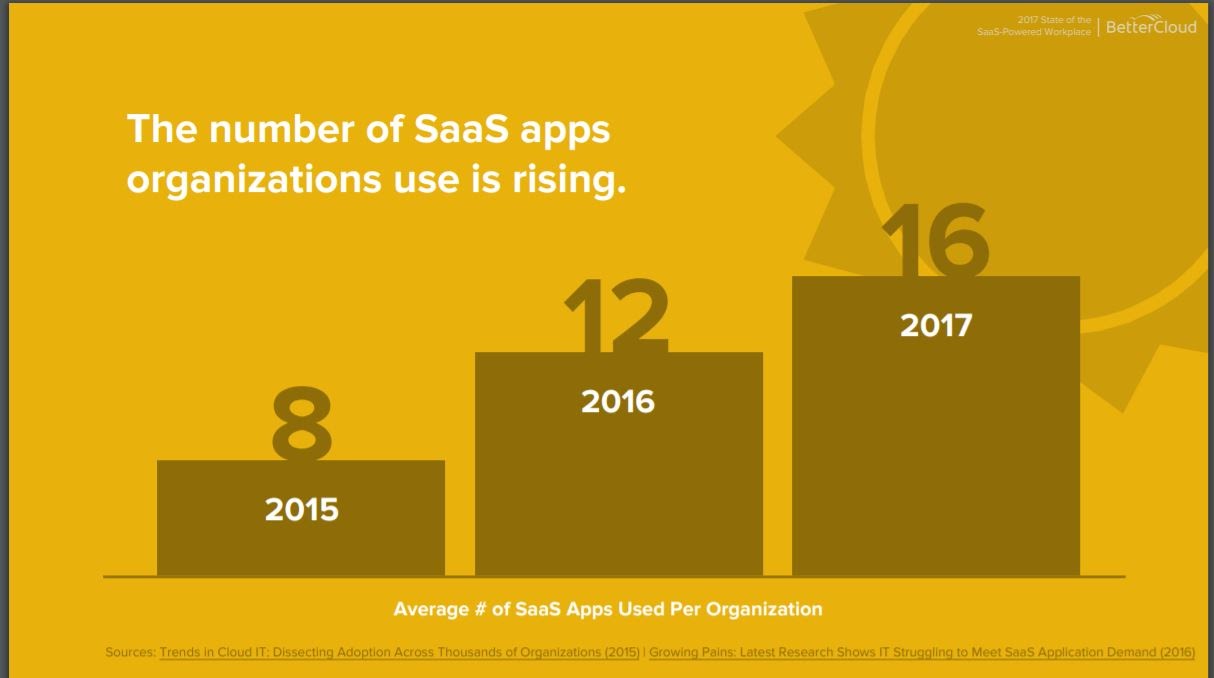 Believe us or not, a new type of workplace has already emerged: SaaS-powered workplaces that rely less on the office desk, and more on the internet connection using a high-speed internet provider.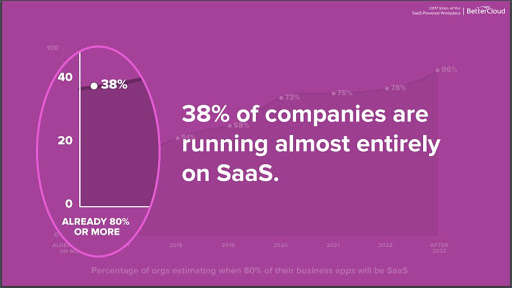 Compared to a conventional company, a SaaS company is 52% more likely to attract better talent, and in that process, succeed more.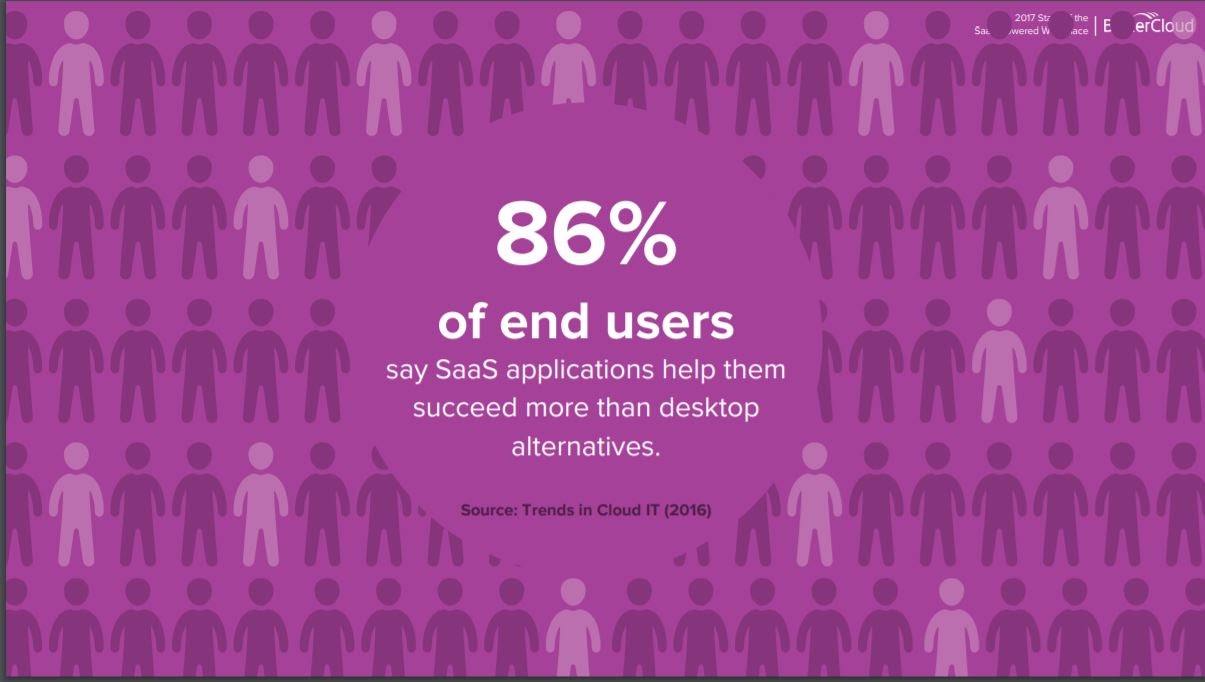 While these statistics may surprise a few people, there's no denying the fact that the way businesses operate, and the way services are consumed are changing.

What is SaaS and its Definition
Software as a Service (SaaS), is one of the variants of cloud-based services where instead of downloading software in your business network or installing it on your PC to run and update, you instead get to access an application directly from the internet browser.
The software application can comprise anything, from unified communications at the workplace to office software among an extensive list of business applications that are available.
Examples of saas companies

BigCommerce
Troop Messenger
Salesforce
Google Apps
Dropbox
MailChimp
Hubspot
ZenDesk
DocuSign
Slack

SaaS Solution: Advantages

For consumers:
The ability to access the software on any device, at any time, anywhere
Better affordability: Subscription basis pricing plans instead of paying a big lump sum upfront
Instant software upgrades access

For companies:
Faster deployment of the solution in the company
Increase in data security and decrease in software piracy
Higher reliability because of scalability options and upgrade on-the-go
Compatibility with different platforms, thus covering a wide audience using Windows, macOS X, Linux, iOS, Android, etc).
SaaS Startups: Facts & Statistics
By the year 2023, the SaaS products market has been forecasted to have a worth of $60.36 billion, at a CAGR of 9% (Technavio).
As per a survey, the number of SaaS products in marketing niches in 2017 was 8,500, which was only about 500 marketing tools in 2007 (PriceIntelligently).
The revenue retention rate of leading SaaS companies is 100% (forentrepreneurs.com).
38% of companies are almost running as SaaS companies (bettercloud.com).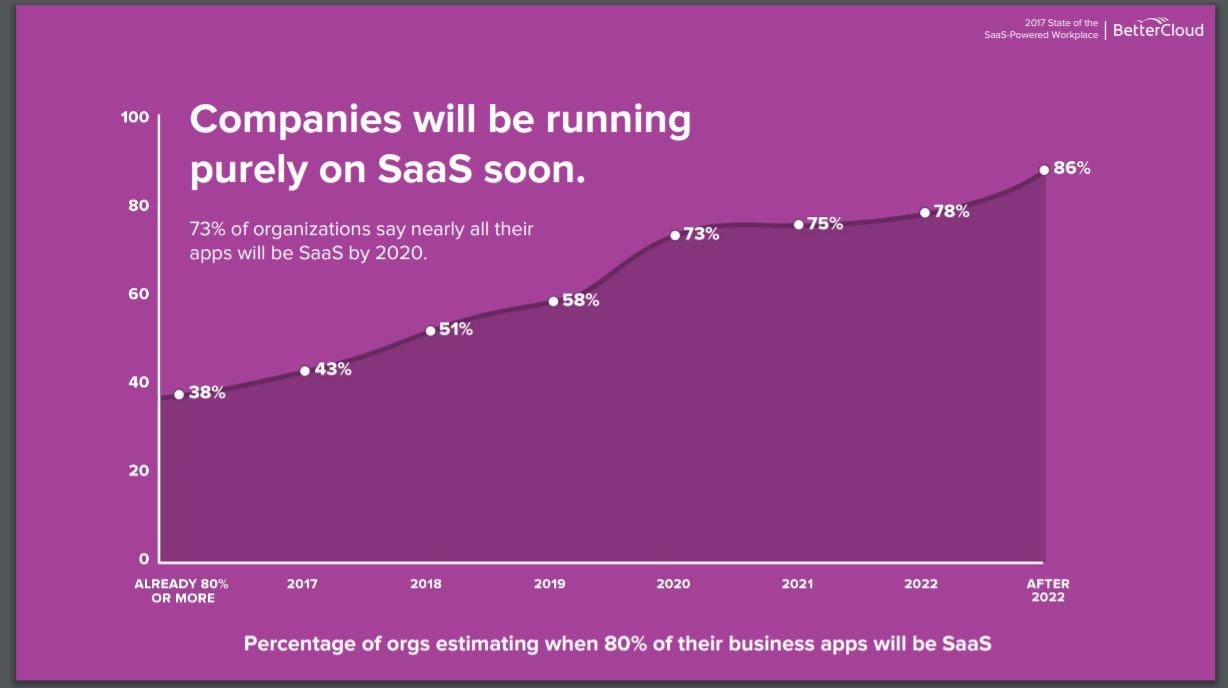 73% of businesses are planning to shift to a SaaS company in the next few years (bettercloud.com).
86% of businesses that are using SaaS products have reported having experienced higher employee engagement. (BetterCloud).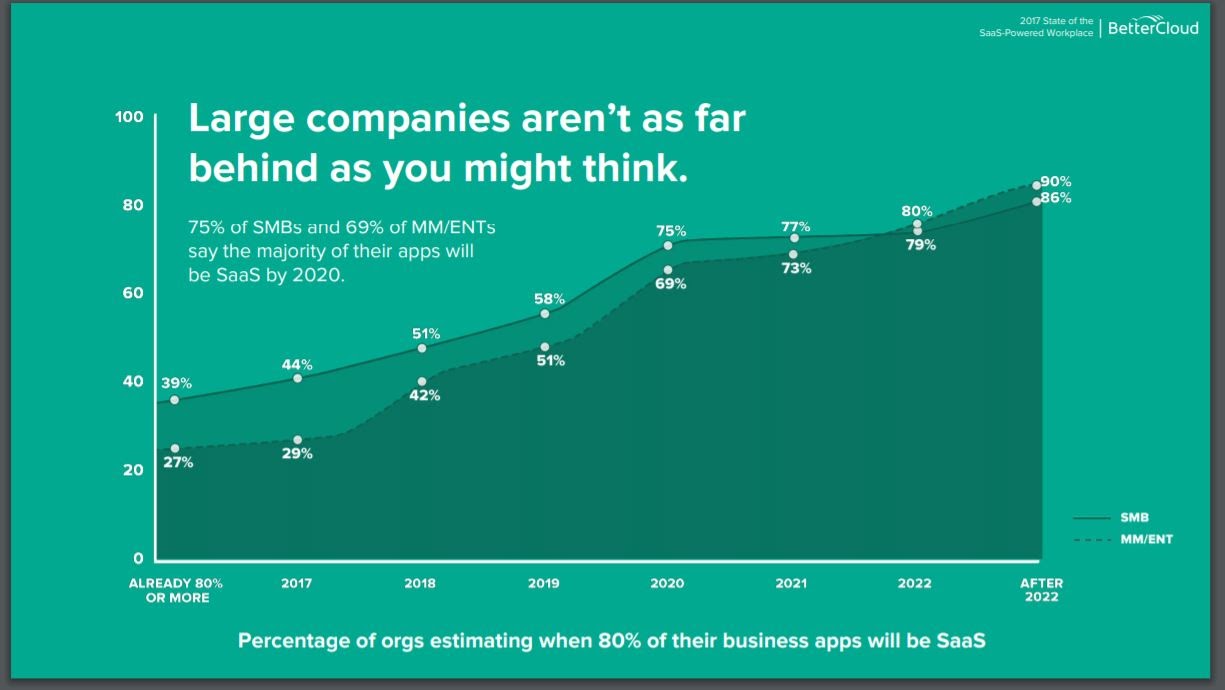 What kind of multiples category do we see for saas companies?

Customer Relationship Management (CRM) Software
Enterprise Resource Planning (ERP) Software
Project Management Software
Email Marketing Software
Workplace Collaboration Software
Workplace Attendance Management Software
Preceding are some of the best SaaS products you can look out for in 2023, and I am certain you can't find such effective information on any of the Saas Product Review Websites.
1. Troop Messenger
About the company: Troop Messenger, as an office chat software, provides clients with a virtual workplace that can be accessed anywhere, anytime, and used for a great deal of communication and collaboration. From one-on-one messaging to audio/video, calling, live location tracking to file sharing, and integrations, there's so much to do with this SaaS product and this is considered one of the fastest-growing saas companies.

USP
High Trust Instant messaging platform designed for security-conscious organizations like Defence, Military, and Government organizations.
Forkout (Send a single message to multiple users/multiple groups at once)
Burnout (private chat conversation window)

What worked for them
Reaching out to customers that are looking for Slack Alternatives
Enhancing security with multi-factor authentication.
Quick response rate
Reduced storage cost
Reaching out to customers with successful case studies
2. Dropbox
About the company: Dropbox is where you bring together all your content and files. More than 450,000 businesses have trusted this SaaS company for its security infrastructure and are considered one of the largest saas companies.

USP
Ability to share photos and files without a USB drive
Team collaboration from anywhere, at any time.

What worked for them
Innovative service and product approach that replaced USB drives and pen drives forever
Easy installation process
Dropbox offers a multi-language support
The app is available on multiple platforms
Simple design
User-friendly interface
High awareness among Internet users
3. MailChimp
About the company: MailChimp is a highly efficient email marketing service provider. Known for its low-cost plans and excellent built-in templates, this SaaS product has helped millions of companies streamline their Email Marketing needs.

USP
Sending 'Superior Auto Responders' is the Unique Selling Point of MailChimp
Specific strategies for customer retention & acquisition
MailChimp repeatedly targets its prospective customers by reminding them about the importance of Emails. According to their website, Email averages $52 ROI for every dollar spent.

All-in-One Marketing Plan
Personalized behavior-based campaigns
Creation of marketing content using different audience tools

What worked for them?
This SaaS product Offers 4 flexible pricing plans for different types of businesses. The Free plan with all the basics for startup businesses helped MailChimp make a mark in the industry.
They nailed it further with additional plans like Essentials, Standard, and Premium: All designed to improve the insights for growing businesses in need of more customers
4. HubSpot CRM
About the product: HubSpot's CRM is designed to offer a sales team a platform to create company profiles and contacts, and neatly organize every detail they need for streamlining communication with the customers. This SaaS product is one of the biggest integrated CRM available in the market.


USP: Easy blending with all the ongoing sales processes is HubSpot CRM's USP. The tool can be easily integrated with:
Microsoft
Google Dynamics
SugarCRM
BaseCRM
Google Chrome
Salesforce
Zapier
Shopify

Specific strategies for customer retention
Free pricing model with all essential features
Frequent mapping out of customer experience
Highlight case studies during their sales and marketing processes.

What worked for them?
Lead Importing
Intuitive Interface
Email and Phone Integration
Drag and Drop Communicator
5. Salesforce
About the company: Much like HubSpot CRM, Salesforce is also a SaaS company that has established a mark as a CRM service provider. This CRM allows businesses to use the cloud for establishing a better connection with their potential customers and client and consider one of the best saas companies to work for

Products Example
Salesforce Sales Cloud
Salesforce Community Cloud
Salesforce Collaboration
Salesforce Commerce Cloud
Salesforce Platform
Salesforce Einstein


USP: Every SaaS product of Salesforce has a different USP, but when viewed as a bigger picture, Salesforce offers a unique experience when it comes to re-shaping a company into an improved and informational organization.
Specific strategies for customer retention
Salesforce has repeatedly worked to be perfectly clear in its marketing messaging.
Making Every Employee a Key Player in the customer retention strategy
Engaging the marketing leaders and Select Journalists
Using the Storytelling technique as a key marketing strategy
6. Slack
About the company: Slack is a messaging application that boasts of having onboard companies like BBC, Oracle, IBM, and more. This workplace collaboration tool is a SaaS product, an outcome of innovation coupled with exclusive marketing hacks.

USP:
One of the primary reasons that led to the growth of Slack is that it never compromised or lost the human touch during its journey toward growth.
With Slack, you get a bright, bubbly UI, with great interactions that have helped the company create a personality for its product. Slack, like a SaaS product, provides a distinguished experience that lingers with each login.


Specific strategies for customer acquisition & retention
Fair Pricing Policy
Growth acceleration via thousands of integrations
Great implementation of customer feedback

What worked for them?
Slack didn't build too many features but rather focused on establishing a few of them very well.
For example, they focused on the three main features: Search, Synchronisation, and File Sharing.
These three features have given Slack a real competitive edge in a market that has witnessed the entry of many tech giants.
7. Time Dynamo
About the Product: Time Dynamo is a workforce attendance management software designed to ease the efforts needed for employee attendance and recording in a large enterprise. And it is considered one of the top SaaS products in its niche.

Tvisha Technologies, an Indian-based SaaS company which is known for developing the best software products has developed Time Dynamo, which cuts down on labor costs by tracking the presence and absence of employees.
USPs

Biometric Integration
Attendance Tracking
Analytics and User Report
Payroll and HCM Integration

Specific strategies for customer retention

What worked for them?
The SaaS product's ability to allow real-time attendance has helped it get an identity in the market. The company reached potential clients and frequently reminded them of the importance of a one-stop resolution and a 'to-go' software for attendance management.
8. accessiBe

About the company: accessiBe provides a variety of AI-Powered solutions for testing and remediating for web accessibility. accessiBe's full suite of web accessibility solutions enable businesses of all sizes, from solopreneur to large corporations, to take part in global inclusion efforts and to make their websites available to all users, including those with disabilities. A market leader, accessiBe is relied on by businesses that strive to comply with web accessibility standards and regulations (i.e. WCAG and ADA).
USP
The push to make the Internet a more inclusive space
What worked for them?
Section 508 of the Rehabilitation Act of 1973 (that came into effect in 2018), mandates that every online platform run by federal bodies be made accessible to all users
The E.U. adopting WCAG 2.0 as the standard for the new European Accessibility Act, EAA, which will become law in 2025.
9. Atlassian Jira
About the company: Atlassian is a SaaS company with several SaaS products. Atlassian Jira is one of the project management tools that is used by agile teams. This SaaS product is built for software teams that are planning to plan, release and track great software.

USP
Roadmaps for communicating plans with the stakeholders and employees
Kanban boards for full visibility
Easier configuration

What worked for them?
The agile reporting feature has worked in favor of Atlassian Jira since it allows teams to have access to over a dozen of real-time reports and also out-of-the-box and actionable insights into their team's performance:
Sprint Report
Version Report
Velocity Chart
Burnup Chart
Calculative flow diagram
10. ActiveCampaign
About the company:ActiveCampaign is a market-leading email marketing, CRM, and sales automation SaaS tool. Their platform empowers businesses to craft, automate, and optimize their email marketing campaigns while keeping track of customer behaviors and adjusting strategies accordingly.
USP
ActiveCampaign stands out with its superior blend of CRM, sales automation, and email marketing, providing businesses with a complete suite of tools for customer engagement and conversion.
AI-driven features allow businesses to predict customer content preferences and tailor messages for more personalized interactions.
An intuitive email designer and multi-channel marketing support, ensuring that campaigns can effectively reach customers across various platforms.
Specific strategies for customer retention & acquisition
ActiveCampaign continually emphasizes the importance of personalized customer interactions. As stated on their website, businesses can increase engagement rates by 74% through personalized email marketing.

Their robust CRM capabilities aid in customer retention by offering businesses comprehensive insights into customer behaviors, enabling targeted and effective marketing efforts.
What worked for them?
ActiveCampaign's comprehensive marketing and sales platform has significantly influenced its success. ActiveCampaign has become an invaluable tool for businesses aiming to enhance their customer engagement and boost conversions by offering flexible pricing plans catering to different business sizes and needs. Their emphasis on personalized, multi-channel marketing resonates with today's businesses striving for more targeted and effective customer outreach.
11. Click2Magic
About the Product: Click2Magic, a SaaS product, is a Live Chat Support Application by Tvisha Technologies, an Indian-based SaaS company. Using Click2Magic, you can seamlessly connect with your customers and simultaneously resolve their queries.


USP: Agents get to stay in touch with the customers and resolve queries even when they are not at their desks, i.e., anytime and from anywhere.


What worked for them?
Help Centre for valuable customers through Mobile and Web Applications
Provide Support even when agents are on the move
Availability for both iOS and Android devices
12. GitHub
About the Company: GitHub is a software development platform. Using GitHub, you can host and review codes, build software, and manage projects alongside 40 million developers. GitHub, as a SaaS product, offers users the to take collaboration to the next level with many administrative and security features designed especially for teams.


USP: Bring together teams to work through problems, share ideas, and learn from each other along the way.


Specific strategies for customer retention

What worked for them?
Facilitating integration of tools that a user has been using through integrations
Freemium pricing plans
Welcoming Open Source
13. Pluralsight Skills
About the Company: PluralSight is considered one of the best SaaS providers, which is a technology Skill platform that provides web development training, IT certification learning, and on-demand skill training for employees to help their careers move forward.


Using this SaaS product, you can upskill your team into better workflow efficiency and modern roles


USPs: Training modules trusted by software companies, B2B SaaS companies, etc of different sizes to help them scale their business further.


What worked for them
Targeting the companies that faced backlash due to unskilled labor
Making Skill Development a strategic priority
Safeguarding against the security threats
Software Dev Teams
IT OPS teams
14. Workday
About the company: Workday is an enterprise-level SaaS company with multiple SaaS products used for financial management, human resource management, and planning. With this B2B SaaS product, employers can oversee time tracking, employee data, expense management, financial accounting, and procurement.


USP:
A single, comprehensive, and all-in-one system for three things: HR, Planning, and Finance software development.
Handling of accounting tasks from an analytical perspective, native accounting functions
What worked for them?
Onboarding popular SaaS companies like TripAdvisor, Netflix, Airbnb, and National Geographic.
Offering an Easy-to-Interpret Dashboard Visualisation
Personalizing each employee's education with interactive materials and tailored lessons
15. Survey Monkey
About the Company: Survey Monkey, a SaaS product, helps companies from different industries get the feedback they need, and seek answers to the questions they've been waiting for, and simultaneously ensures prioritizing trust, and sustaining data security.
USP
Turn feedback into Action
Easy to measure feedback
Fully White-labeled Surveys
Employee Engagement features
Market Research features for keeping track of industry and market trends
What worked for them?

Onboarding leading companies like Hp, Box, Lyft, and more.
Quick Insights into survey results with summaries and automation charts
Analysis of text responses with Sentiment Analysis and Work Cloud
Fastest Survey Creation
Customization with dozens of survey themes
16. iBuzr
About the Product: iBUZR is a non-intrusive messaging platform developed by Tvisha Technologies, a SaaS company, sans the bother of being disturbed constantly. Users can exchange texts, images, audio messaging, and videos for free.


USPs:
Quick Messaging: You can choose from existing templates to send a reply or create your own message as well.


What worked for them:
iBUZR meets the need of modern-tech savvy and extremely busy people who find it annoying to type long sentences as a reply and would rather want something direct and ready-made to communicate.
17. Veeva
About the company: Veeva Systems is a CRM app that has been built on Salesforce and is specifically designed for businesses in the biotechnology and pharmaceutical industries.


Using Veeva as an excellent SaaS product, pharmaceutical companies can manage their sales, follow health industry regulations, and also control their operations.


USP
Account Identifier for an additional way of labeling accounts
Coaching reports
Surveys
Account plan dashboard that helps manage activities around key accounts
What worked for them?
Offering Veeva CRM for iPhone and Android phones
Offering actionable insights through deploying questionnaires
Targeting a specific industry
18. Splunk
About the Company: Splunk is a SaaS product that captures, correlates, and indexes real-time data into a searchable repository that is used for generating graphs, reports, visualizations, and alerts as well. It's chiefly a horizontal technology that is used for web analytics and application management.


USP
Turn Data into Action
Get a Complete View of relevant data from the organization's system
Designed for a data-driven future

What worked for them?
Faster Investigations enable users to fix issues in real-time
Reduced downtime that keeps a mission-critical app up and running
Faster time to innovate and improve app release
Engaging with the community of experts
19. Paycom
About the Company: With Paycom, you can pay your employees on time and accurately. The payments are processed faster so that your efforts to hire, retain, and engage employees are never blemished by errors.


USP
Eliminate the frustration of manual data entry
One system of record for all employees
Online payroll processes
Payroll Tax management
Payroll Analytics
Employee managed data

What worked for them?
Communicating what the market wants and cares about
Highlighting all the advantages of SaaS products in a classy way
Telling a story about their product
20. Wix
About the Company: Wix is a highly intuitive and easy-to-use website builder. It has a great many features that make designing easy and offers good value for money. This SaaS product is recommended for website builders of different niches.

USPs
Over 500 designer-made templates
Drag and Drop tool for customization requirements
Custom Domains
Mobile-Friendly

What worked for them
Offering a platform where one can create a website and manage the business as well- at one place and connect with other marketplaces like Wix eBay Integration, and Wix Etsy Integration.
Facility to build customer relationships right from the website.
Dedicated Support team to help customers along the way.
21. TaskRabbit
About the Company: Taskrabbit, a SaaS company, connects everyday service providers like plumbers, carpenters, movers, and electricians with house owners, which means the people who need those services.
With TaskRabbit, you can get more done in less time by connecting you instantly with skilled taskers that can do odd jobs and errands, so you can be more productive at your job.


USP

Everyday life is made easier by connecting taskers and people seeking help for odd tasks.


What worked for them?
Facilitating an easier interaction between both parties
GPS location tracking
Easy selection of taskers through genuine reviews
22. Teem
About the Company: Teem is a space booking software that makes it easier for businesses to plan and schedule seminars, workshops, conferences, and meetings. With this SaaS product, you can facilitate a seamless and very flexible booking wherever and whenever you want.


USPs
Seamless space booking wherever and whenever you want.
Secure and effortless visitor management

What worked for them
Analytics that help businesses create a better workplace experience
Web-based visitor experience to improve security and save time
Navigation and wayfinding solutions that make it easy for attendants to find their way
23. HelpCrunch
About the Company: HelpCrunch is an omnichannel customer communication tool that combines live chat, a help desk, email automation, popups, and a knowledge base. With HelpCrunch, you can deliver proactive customer service in real-time, create email marketing campaigns, and boost sales without switching between channels.


USPs:
Omnichannel customer communication platform
Shared inbox
Continuous communication
Proactive engagement

What worked for them?
Technological and financial partnership with UniSender
Integration with Slack, WordPress, Squarespace, Shopify, and others
Regular new feature releases (custom inboxes, snooze chat, and mobile SDKs are the most recent ones)
Best-in-class chat customization
Great customer support
24. Lessons Learned
To summarise, we can say that a significant number of SaaS Startups have made it big in the last few years.


The credit goes to the rapid development of software-related technologies, the growing number of users, product innovation, and the smart marketing techniques these companies have employed.


We can see that the majority of these SaaS companies have launched products that reduce manual labor by integrating a smart solution.


SaaS companies are now on a runaway train. There's no sign of stopping.
As a result, we are going to witness a new variety of workplaces, called the SaaS-empowered workplace.
SaaS products are certainly creating incredible benefits, including increasing employee satisfaction, bolstering communication, and reducing costs.
25. Timely
About the Product: Timely is an automatic time-tracking software designed to help individuals and teams work on tasks that matter.

Memory AI, a Norwegian-based SaaS company, has developed Timely, which minimizes time logging efforts with its automatic and smart suggestions.

USPs
Automatic time tracking
Time reporting and analytics
Mobile time tracking
Integrations with popular calendars, to-do lists, and project management software
Specific strategies for customer retention
Re-engagement of customers
Leveraging customer feedback
Delivering on the promise

What worked for them?
The SaaS product's ability to automatically track time has helped it get an identity in the market. The company reached potential clients and frequently reminded them of the importance of a one-stop resolution and the easiest hassle-free software for time management
26. Social Champ
About the company: Social Champ is one of the social media management tools with support for multiple different social media networks. The tool provides incredible automation features for scheduling and posting content, including Auto-RSS feeds, bulk upload, social media calendar, and many others!
USP:
One of the primary reasons for the success of Social Champ is its ability to strengthen and grow with its customer base by taking their feedback into account.
With Social Champ, you get a gorgeous UI, which is not only vibrant but also very easy to navigate.
Social Champ has pretty reasonable pricing as well, with plans for all sizes of enterprises.
Specific strategies for customer acquisition & retention
Transparent pricing policy
Live customer support at all times
Email follow-up timely
27. HopperHQ
About the company:HopperHQ is the perfect tool for all social media managers who want to get more organized since it provides features and tools like Instagram and Facebook scheduling, Instagram Grid planning, TikTok or Instagram analytics, and more. This healthy system of social media scheduling allows you to connect and engage with your audience in a more effective way.

Products Example:
Calendar planner
Phone preview
Draft posts
Image Editor
Post creator, and more.
USP: Each feature and tool of Hopper HQ has its own USP. All combined, it turns into your all-in-one tool for effective social media scheduling and engagement improvements. Reach out to your audience in a faster way!
Specific strategies for customer acquisition
Hopper allows you to craft unique messages for your audience.
Helps understand and build your own marketing strategy.
Gives you the advantage of engaging more customers via an individual approach.
What worked for them?
Social Champ worked on a customer-centric policy that focused on providing a solution for the problems that the users faced. The tool also was very clear about what they offer and how they offer it. Additionally, the tool provided the two most important features for social media management, which are posting and scheduling. Lastly, a clean design with a focus on the features was a winning bet!
With these points in mind, it is safe to assume that SaaS companies are the future, and in order to be future-ready, we need to learn a lot from these successful SaaS products that have made their mark in the highly competitive industry.
28. CallHippo
About the company: CallHippo is an easy-to-use virtual phone system. Trusted by 5000+ global brands, this SaaS product is known for its intelligence and extensive features. With over 85 integrations and business phone numbers in 50+ countries, CallHippo helps businesses enhance their communication and connectivity.
USP:
User-friendly interface
Extensive features
Competitive Pricing
29. Seller Snap Repricer & Analytics Tool
About the product: Seller Snap's AI-powered Amazon Repricer and Analytics Tool is driven by Game Theory principles. They apply a cooperative strategy to repricing in order to secure your entitled Amazon Buy Box share and maximize profits. The AI repricer analyzes thousands of price decisions every minute to detect the behavior of your competitors and automatically selects the optimal strategy to outsmart your competition while avoiding price wars.
USP:
Automated repricing, no set-up needed, does not require Amazon sellers to configure rules and conditions.
Expert customer support around the clock.
Integrations with InventoryLab, SkuVault, Seller Cloud, and EZ Cloud.
Specific strategies for customer acquisition & retention
Growth acceleration via different programs.
Open to customer feedback and implementation of the feedback.
Very personalized customer service.
What worked for them?
In-depth analytics to help customers understand how they can grow their Amazon business.
Expert customer support and knowledge of Amazon selling.
Regular new feature launches and updates.
30. Phonexa
About the company: Phonexa is an all-in-one suite for marketing automation that empowers companies to optimize web, call, email, and SMS campaigns, all while having the ability to enhance consumer journeys every step of the way. With an advanced cloud-based platform that combines multiple technologies under one roof, Phonexa stands as a robust solution for companies looking to make data-driven decisions and optimize their ROI. Phonexa's lead management features are uniquely designed to take your lead tracking, distribution, and analytics to the next level.
USP
A singular suite of tracking solutions for performance marketing.
Secure environment for businesses to scale and thrive.
Single intuitive dashboard as part of a multi-channel marketing suite.
Access to lead details that offer a more in-depth understanding of lead traffic and campaign performance.
Tiered pricing plans.
Specific strategies for customer acquisition & retention
Excellent customer support
Interactive instructions and consultations
Guided onboarding
Easy access to the knowledge base
Free integrations with major platforms
Customizable pricing plans
What worked for them?
Granular reporting that offers deep insights into calls and other marketing efforts
Robust and flexible software
Effortless integrations with major platforms and existing tech stack
Extensive analytical tools
Exportable data
31. ProofHub
About the product: ProofHub is a highly-acclaimed project management and team collaboration tool used by teams of all sizes and from all sectors across the globe. Used by more than 85,000 teams globally, ProofHub is a simple, easy-to-use tool with a small learning curve. Tools for collaboration, task management, project management, and more are available for ProofHub users. Some essential features include to-do lists, Kanban boards, milestones, calendaring, debates, notes, Gantt charts, and forms.
USP:
ProofHub gives users ultimate control and centralizes all project details, making work more accessible and easy for users.
ProofHub consolidates everything needed to manage a team into one single tool and reduces constant back and forth for users.
ProofHub allows users to visualize project progress and understand project data easily. This helps promote better accountability and transparency within a team.
ProofHub offers teams amazing collaboration tools such as chat, discussions, announcements, etc which facilitate proper communication within a team.
By adopting a constant workflow and boards, you can raise the productivity of your team members.
Even new users can readily learn how to use the tools that ProofHub provides because they are clear-cut and uncomplicated.
What worked for them?
An intuitive tool with an easy-to-use interface.
Centralized management of all work-related data.
Affordable pricing plans based on team needs.
A proofing tool that eliminates the scope of human error.
Conclusion
B2B SaaS companies have continued to grow and evolve in recent years, and 2023 promises to be no different. With advances in technology and the increasing demand for cloud-based solutions, these companies are well-positioned to capitalize on the growing needs of businesses across a range of industries.
From enterprise software to marketing and sales automation, the 31 top B2B SaaS companies listed here represent some of the most innovative and forward-thinking organizations in the industry. With a focus on cutting-edge technologies, exceptional customer service, and a commitment to delivering real value to their clients, these companies are poised for continued growth and success in the years ahead.
Whether you are a business owner looking for new tools to streamline your operations or an investor seeking opportunities in the fast-growing SaaS market, these companies are definitely worth keeping an eye on in 2023 and beyond.