You are here - On a page that talks about 'Slack Alternatives,' conversely which are competitors to Slack.
Especially during a pandemic, since both the Slack free plans and premium plans didn't offer a video call, users started looking for Slack app alternatives.
Would it be too early to say 'Your search ends here'?
I guess not.
Because, here, you get to review an unbiased analysis of top Slack alternatives.
We have used these alternatives in the past because Slack didn't turn out to be the 100% solution for our virtual team. Our experiments with apps like Slack helped us develop a better understanding of the features and functionalities of each.
In search of the perfect software similar to Slack or beyond, we dug things up - from pros to cons, pricing to supporting platforms, and eventually decided to share our experience through an article.
When it comes to office communication tools, there's nothing like 'One For All.'
What worked for one team, may not work for you.
You'd need to do the research, just like we did. But do you have enough time to waste?
I don't think so.
And that's the intent behind writing this blog. We have done the homework for you. We remember the lessons learned during the time we were experimenting with different Slack alternatives. With further analysis, we reviewed all those platforms like Slack again and conducted an unbiased comparison.
We are so excited for you to check these nine apps that are similar to Slack and are Slack competitors, yet more powerful when it comes to changing the virtual collaboration game!
Giving an informed choice to the user would benefit them to choose the best one that suits their team size. We have tried to bring you the best alternatives to Slack, ranging from the industry's big players like Microsoft Teams, and Ryver to the latest entrant on the block, the Troop Messenger. At the same juncture, as we could not list out all Slack alternatives here, we ask you to find more resources and tools of an app like Slack from Reddit for more reliable discussions.
Besides that, the new-age instant messenger app for business, the Troop Messenger is making waves across the globe with its unique combination of team collaborative features.
Troop Messenger - a slack alternative has been designed as feature-packed. Amazing feature implementation coupled with high-end security makes Troop Messenger look taller in the corresponding market and with a business identity; this team chat app is apt to take your business communication to the next level of collaboration.
Eventually, these and many more, have come to pitch themselves as good Slack alternatives, providing variety and economical options for the user community.
Apart from Troop Messenger, the following tools are some of the best Slack alternatives.
Best Slack Alternatives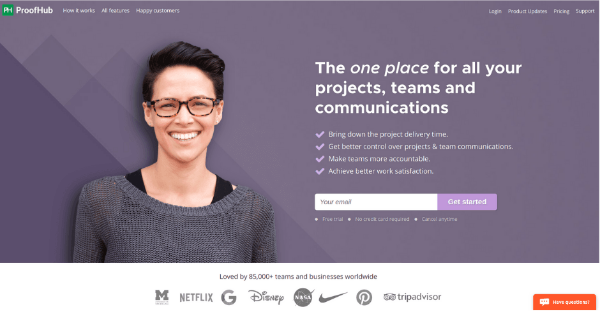 ProofHub is a powerful Slack alternative that comes with impressive team communication functionalities. This office chat software serves as the perfect place for every conversation and brings sanity to the way you and your teams communicate within the office or with clients. It integrates with many third-party applications to give you an edge over others along with SSL security encryption. If you are looking for a secure platform, this tool could be the best Slack alternative.


Top Features
One-on-one and group chat.
Online discussions and @mentions.
Enhance admin controls.
Easy and secure file-sharing.
Multilingual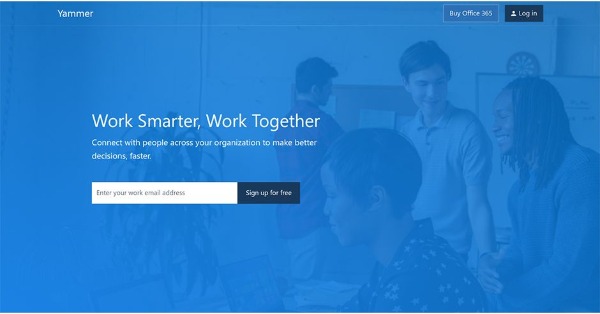 Want to "Work smarter, work together"? Then Yammer is the perfect alternative to Slack. This collaborative chat software is much more than a mere office chat app. It provides for collaboration in a community to share ideas and solve problems half the time.
Among other things, a Yammer user can Join and create groups relevant to their work and interests.
Top Features
Get answers to questions even when not sure whom to ask.
Safely collaborate with contractors, customers or sister companies.
Keep docs, photos, and videos in context by adding them to conversations.
Stay connected with Yammer's iOS or Android mobile app.
After Microsoft acquired Yammer, the prices have been revised down from $15 to $3 per user per month.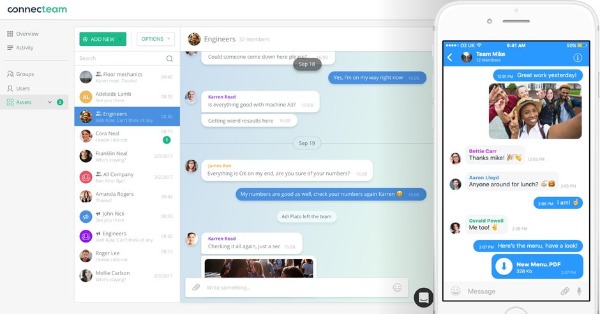 Connecteam is a great solution for any business, especially if most employees are non-desk or not tech-savvy. This easy-to-use tool takes just a few minutes to set up and it packs awesome features, such as automated group management by pre-set rules, advanced conversation settings for personal or team chat, channels, and more.
What we loved the most about Connecteam's chat is that it integrates with other Connecteam features, such as their employee directory, job scheduling, time clock, and more.
Top Features
Easy to use and user friendly
Automatic team chat management
Advanced conversation settings
Desktop interface for system admins
Integrated seamlessly with other Connecteam products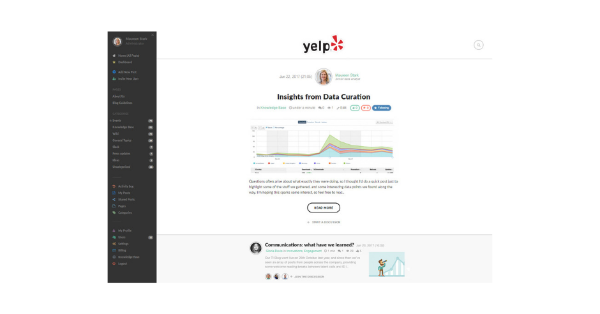 BlogIn is a beautifully simple internal blog and knowledge-sharing platform for teams of all sizes. The internal blog acts as a central information hub or a 'virtual bulletin board' for the company, allowing all employees to stay in the loop with what's going on in and around the office.
In addition, the blog opens a new, transparent, two-way communication channel inside an organization, where everyone can ask a question and get the information they need to make faster and smarter decisions.
The internal blog is intuitive and easy to use, so everyone can quickly get on board, which is one of the reasons why it works so well as an internal communication tool.
Top Features
Share internal news and knowledge
improve internal communication
Share files
boost company culture
enables transparent, two-way communication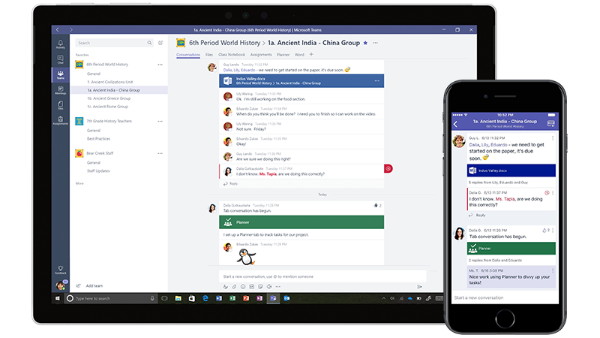 Microsoft Teams stands out as one of the best Slack competitors with its promising user interface. The best part of this workplace collaboration application is we can integrate the tools of Office 365 for enhanced productivity. The users who use Office 365 have Microsoft Teams included in it. Besides that, Microsoft Teams free version is limited features available to the users.
A shared workspace like Microsoft Teams allows users to chat, share files, integrate other applications, and collaborate with their teammates to make decisions as a team. The user is facilitated to use built-in tools of Office 365 like Word, Excel, PowerPoint, and Share point at a pricing of $ 5 per user per month and $12/per user/per month.
Top Features
Work-place friendly.
Simple to understand User Interface.
Seamless integrations.
Desktop interface for system admins
Part of Office 365 Business Essentials and Office 365 Business Premium.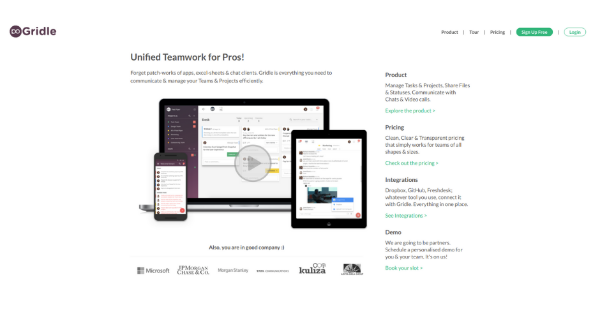 Are you tired of juggling between multiple team communication and collaboration tools? Do you wish to have all the tasks & project management and communications in one single tool?
Well, there is Gridle, which has it all. It is a one-stop solution for all your team communication and collaboration needs.
Developed in Ahmedabad, India, this product packs a lot many features at way cheaper prices and has become one of the most sought-after alternatives to Slack.
Top Features
Task management
Project management
Status and file sharing
Chat and video calling
Unlimited users
30+ integrations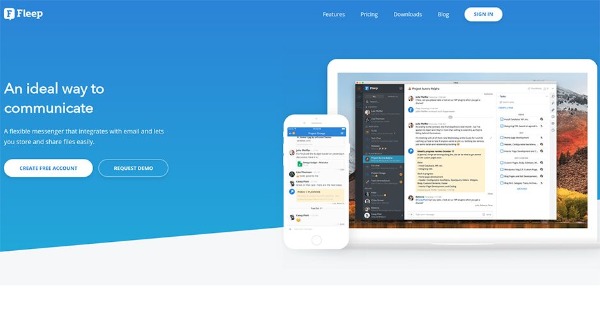 Well, this is not what I am saying, but the creator of Fleep! Well, this is open-source software developed for ultimate project communication. Billed as one of the easiest-to-use apps of this genre, Fleep is pretty straightforward and on top of it has no ads to distract.
Fleep users can Create, assign, search, and track tasks with Fleep's native task management tool Pin important messages to the side of each conversation so everyone can see and edit them.
Meeting notes, important links, contact details, etc. Find all shared photos and files in the conversation's file drawer on the side tab, next to each conversation flow. It is more like Mattermost though.
Just check someone's profile to see when they were last active. Make audio-video calls and share the screen for faster working Seamlessly integrate to create easy-to-follow notification feeds so that all the important stuff is together in one place.
Top Features
Unlimited conversations
100 GB file storage
Document/file sharing
Native apps
User account management
Premium conversations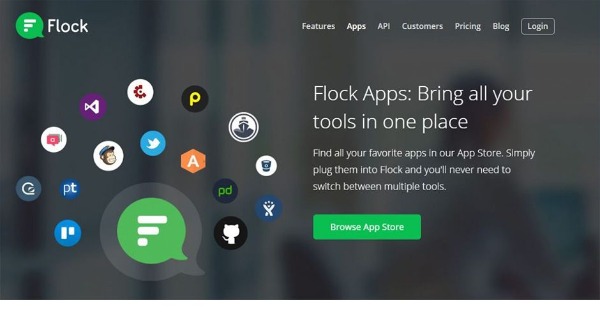 That is the flagship announcement from Flock, which has multiple unique features, GitHub integration being the leader of the pack. Users can collaborate on to one to one basis as well as make and receive group audio/video calls in a jiff.
It is cloud-based and is hosted by Amazon Web Services.
The data security is ensured by up-to-date technology of TLS 1.2 encryption. Flock offers three different types of plans for users to suit various segments of customers.
Top Features
20GBfile storage per licensed user
Enhanced admin controls
Dedicated support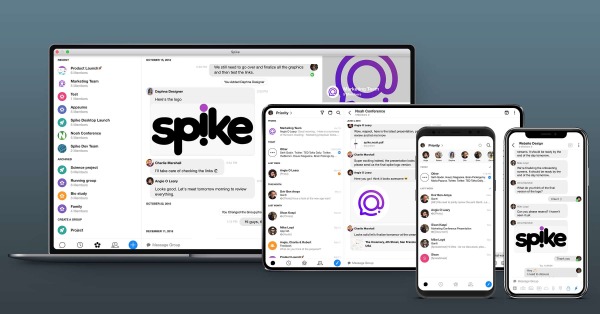 Spike is everything you need to communicate and collaborate in 1 unified workspace. It brings your email, group chat, team collaboration, tasks, calendars, and calls, into a single app. Their Conversational email makes correspondences appear in chat form, eliminating repeating headers, signatures, and threads, so you can focus on what matters. They keep adding new amazing and time-saving features to boost your productivity and make collaboration seamless.
Whether you have one, two, or more email identities, Spike takes all your inboxes and puts them into one easy-to-use app so you can manage them all in one place. Its Priority Inbox allows you to pick your priority contacts so they stay at the forefront of your inbox while placing non-essential emails like newsletters and promotions to "Other".
The app even boasts seamless Cloud integration, visual file management, an integrated calendar, Groups, and super stealth encryption. You will never need to download another app to stay in touch ever again!
Spike works seamlessly with your existing email account (O365, G-suite, and IMAP) on iOS, Android Mac, Windows PC, and web browsers.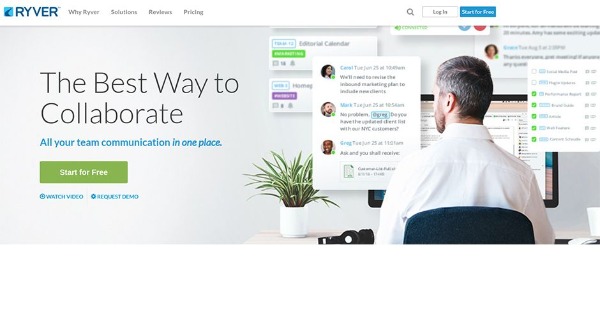 Ryver is another ideal team communication and team management app which combines the best of team communication tools with an intuitive task manager. It allows putting "All your team communication in one place."
It is a one-stop solution that is designed solely to eradicate the usage of multiple applications and email for internal communication. They made the platform simple, reliable, and effective. Ryver's Task Manager is "where Conversations Take Action" – claims the app. The features are very well developed to ensure seamless communication and follow-up.
Some of the best have been mentioned below:
Top Features
Every Private Team and every Open Forum can have a task board.
Each Ryver user gets their own personal task board that only he or she can see.
Add detailed checklists to each task.
Create a different set of Tasks for each team. No limit on the number of teams or the number of tasks.
Assign tasks to one or more team members, set deadlines, and be alerted as deadlines approach. Keep your teams on track at all times.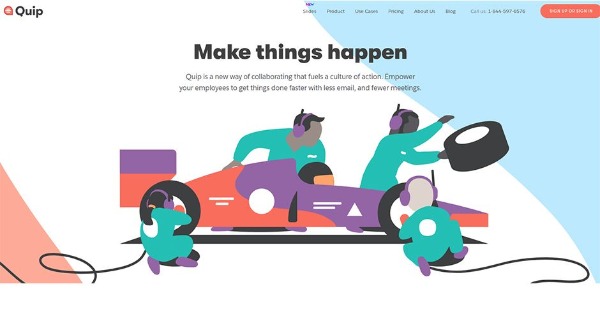 Quip comes along with full-suite collaboration software to make things easy for users. It facilitates "get more done with your team every day" by combining documents, spreadsheets, checklists, and team chat in one place.
Founded in 2013 by two "super nerds" - Bret Taylor and Kevin Gibbs – Quip was absorbed by Salesforce in 2016.
Quip combines teamwork and communication in one central hub that is accessible across devices. It is also one of the strongest Microsoft Teams alternatives. It cuts down the time lag in communication and collaboration, thereby increasing team productivity.
Top Features
Unlimited Docs and Slides + Live Apps*
Secure Mobile Collaboration
Integrations, Support, and More...
Reliable Cloud-Delivered Teamwork
Spreadsheets for teams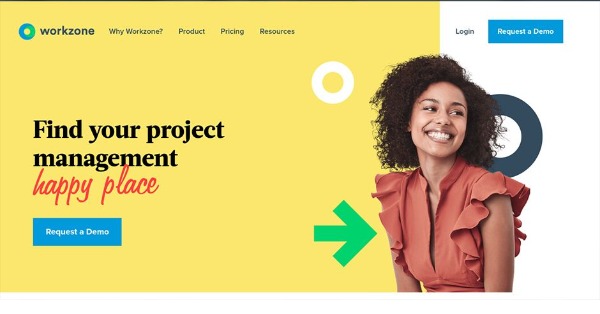 This is one of the top chat and project management tools around the market. Around early 2000, Workzone carved a niche for itself among users for its sheer ease of use and efficient design. Apart from the outstanding features, WorkZone is known for its amazing customer service.
Every single feature is vetted for real-world use because project management is not more complicated than it needs to be. There's nothing you can't do with Workzone as far as project management is concerned. Why settle for less?
Top Features
Visibility across organization
Easy and Secure file sharing
Personal to-do lists and automatic reminder emails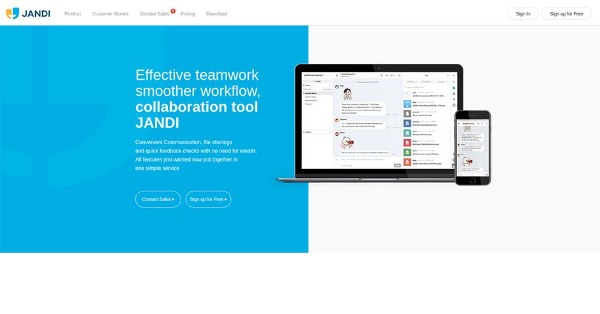 Jandi is a teamwork collaboration tool for a smoother workflow. It provides for convenient communication, file sharing, and quick feedback checks. It effectively replaces the email client with its easy features such as
Top Features
Chat Rooms for different teams, locations, and topics.
Easy search filters for quick access
Enhanced Admin controls
Faster and reliable integration of diverse services
Foolproof protocols to ensure data security
Data storage and transfer through AWS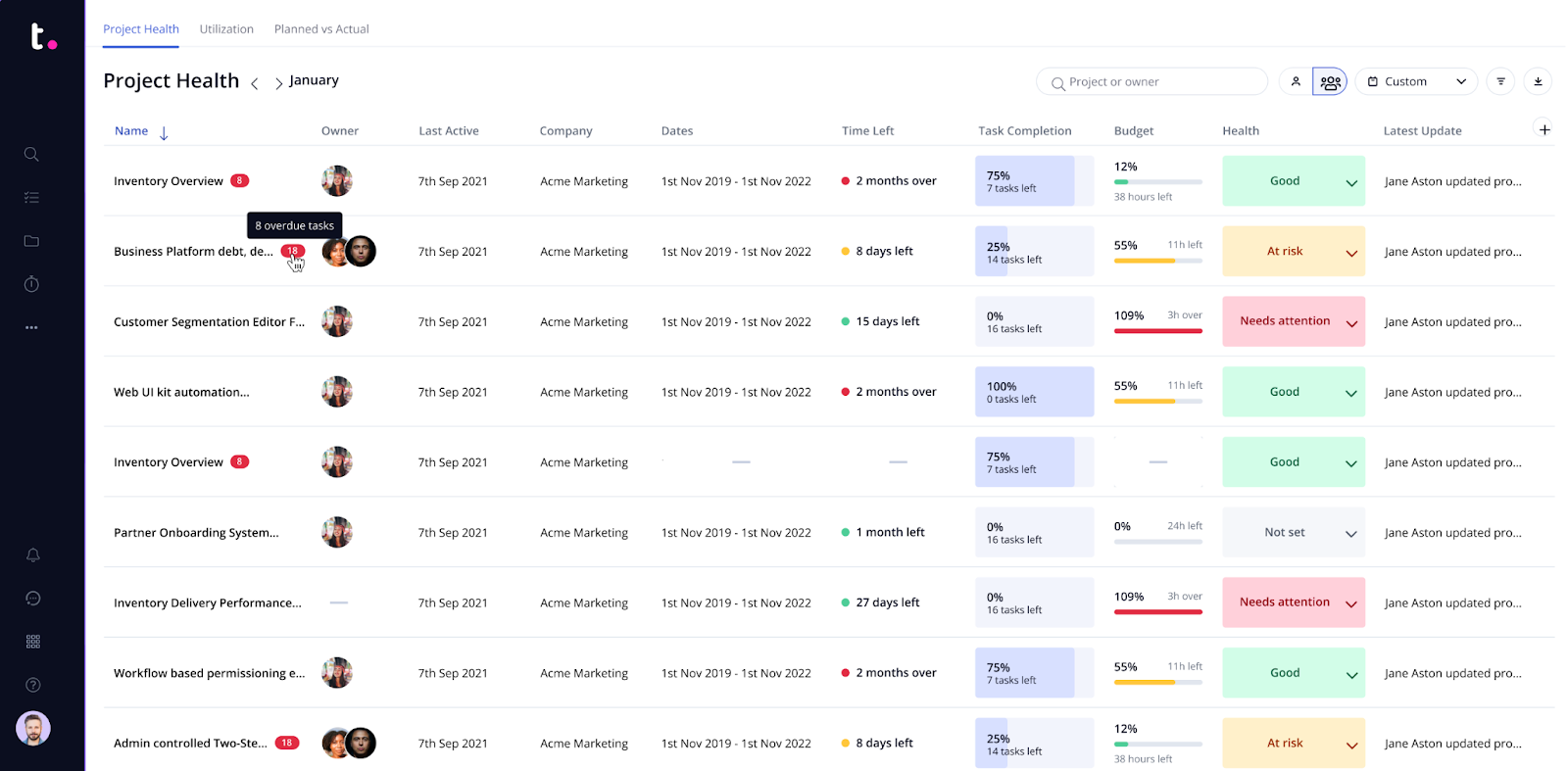 Teamwork is a project management platform built to help agencies manage the entire lifecycle of their client work in one place. Teamwork provides all of the features you'd expect, as well as integrated time tracking, financial management, robust reporting, and free access for clients, to ensure your projects are delivered on time and on budget.
Tired of having to switch between platforms? You no longer have to! Stop using disparate tools that waste time and manage all of your client work in one platform.
Break work and projects into tasks and layers of subtasks so nothing slips through the cracks and everyone knows what to do and when it's done.
Top Features
Project management
Task management
Resource & Workload Management
Time Tracking
Kanban Boards
Financial management
Conclusion
Apart from these best Slack alternatives, there are several more available, both in the free zone as well as paid plans. The wide range of options presents a fair degree of flexibility for users to choose from.
However, it can also make it tough to take a call. Nevertheless, these alternatives give a good bird's eye view of the various options and features on affordable terms. Make your choice!
Disclaimer:

The aim of the article is to be informative. We intend users take an informed decision for an effective and productive experience. The comparison shown in the blog is only towards that end and has no intention of pitting one against the other team collaboration app brands. Readers are advised to consult and confirm from the respective service providers regarding details of features, prices and their policies before utilising any of their services.