Many of us are very much aware that TeamViewer helps us connect to any device from anywhere at any time! However, if you're excited to explore the free alternatives to TeamViewer?


We hear you


Fortunately, when it comes to finding a suitable alternative to TeamViewer, there are several options available that offer similar functionality. Additionally, you can find discussions about these alternatives on platforms like Reddit.


Before we explore the top TeamViewer alternatives, it's worth reviewing why TeamViewer may not always be the ideal choice.
Why are people looking for Software or Programs like TeamViewer?
One of the reasons why TeamViewer users want to migrate to a different remote desktop access software is that it is not free for commercial use. The plans are expensive. But that's not the only reason for seeking free TeamViewer alternatives:


TeamViewer has a proxy limitation - which means that if you are working for a customer and require a proxy server, the app wouldn't allow you to do so.
The software has a limitation with file transfer or size issues too. So if you are in a web meeting with a client and need to send a large size, you can't rely on TeamViewer for file transfer, which can be very annoying, unlike with another free alternative to TeamViewer.
File Transfer speed on TeamViewer is slower than other apps like TeamViewer, and files usually get stuck on calculating.
Unlike the perfect TeamViewer replacement such as AnyDesk and other TeamViewer alternatives, TeamViewer's Linux version's performance is not apt.
In the free version, the app lags so much despite having a great internet connection.
A lot of users have reported that the app has been compromised by third-party access, leading to the personal information theft of many users, which means that TeamViewer will need to up its game in terms of security features.


As TeamViewer lags from Time to Time and doesn't work properly through the proxy servers, it's a perfect time to shop around.

If you want a TeamViewer alternative that's among the best remote desktop access software, keep reading. We've gone out to the remote desktop access market and reviewed the pros and cons of ten apps that can act as a TeamViewer alternative.
1. Troop Messenger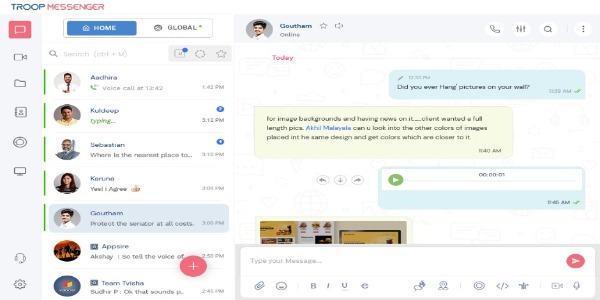 Troop Messenger is the best Team Viewer alternative that allows users to connect with remote teams with lightning speed.

This advanced screen-sharing feature enhances the user experience with the ability to initiate one-to-one and group audio-video calling better explain the contents of the screen. Different users from different parts of the globe can share their screens via their desktop, web, and mobile.

While presenting the screen contents to remote users, one can highlight the required section with the help of screen annotation.


Troop Messenger is better than TeamViewer because it supports a wide range of use cases such as providing a live chat app to sites through chat APIs, and the users can avail many privileges like conducting team meetings, webinars, online classes, etc., they can talk, meet face-to-face, and share their screen contents.
Why choose Troop Messenger's Remote Screen Sharing?
Can choose to share the contents of the entire screen, application window, or any Chrome tabs.
Can initiate an audio-video call to talk and have face-to-face interactions while presenting the remote screen.
Can switch from an audio call to a video call while sharing a screen.
Can add more users to the call while sharing the screen.
Can end the audio or video call alone.
Can exit self.
Can stop sharing your screen while continuing the audio or video calling.
2. Anydesk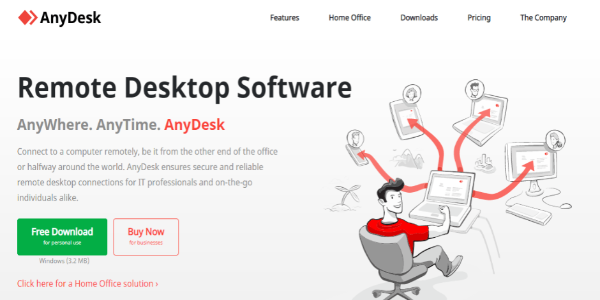 AnyDesk is considered the best alternative for TeamViewer which allows its users to connect to a distant computer remotely, be it the next-door buddy or halfway around the world. This TeamViewer alternative ensures reliable remote connections to desktops for both on-the-go individuals and IT professionals.


AnyDesk developers worked devotedly to make it a TeamViewer competitor; as a result, it became extremely fast but put some restrictions on access to the network. It uses bandwidth and band-with rates effectively to achieve high performance.
| | |
| --- | --- |
| Pros | Cons |
| Lightweight and fast interface | Copy-Paste function freezes sometimes |
| Mobile app connectivity | Occasional issues with adjustment of resolutions |
| Full-screen mode available | Session limits |
| Network customization (portable options) | Shows the entire screen to the connected user |
Supported Platform: Windows, Android, Linux, FreeBSD, Raspberry Pi, iOS, and macOS

Pricing:
Free for personal use
Lite Plan: US$10.99 per month
Professional: US$20.99 per month
Power: US$52.99 per month
3. LogMeIn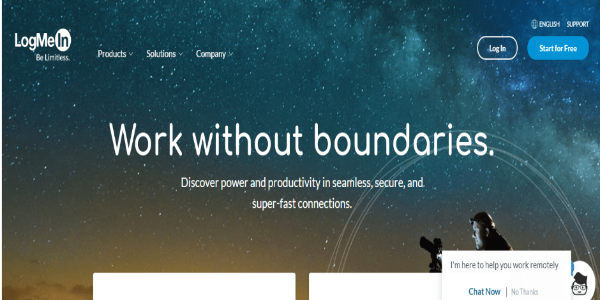 LogMeIn is software like Teamviewer, that is cloud-based and functions as a powerful endpoint management tool with remote support. It provides high-quality services through a wide range of solutions like LogMeIn Pro, LogMeIn Central, and LogMeIn Rescue.


One of the best features of this app like TeamViewer is the Multi-monitor Display, which can allow the presentation of multiple remote monitors in 1:1 size. For security-conscious organizations, password management features are a great add-on, where you can get complimentary access to LastPass so that all accounts are stored in the password vault.
| | |
| --- | --- |
| Pros | Cons |
| 1 TB file storage for seamless storing of files and remote access. | Reporting feature needs some bug-fixing |
| Allows printing of remote documents from a local printer | File transfer speed is not optimum |
| 99.9% uptime: reliable control | Pricing could be better |
| TLS 1.2 Security & AES-256-bit encryption | |
| Endpoint infrastructure management | |
| Uses BitDefender as an antivirus tool to protect user's privacy | |
| Password Management Feature | |

Supported Platform: PC, iOS, Android, and Mac OS, and more

Pricing for LogMeIn Pro:
Individuals: US$30 per user per month, access up to 2 desktop
PowerUsers: US$70 per user per month, access up to 5 desktop/computers
small businesses: US$129 per user per month, access to up to 10 desktops/computers
4. Chrome Remote Desktop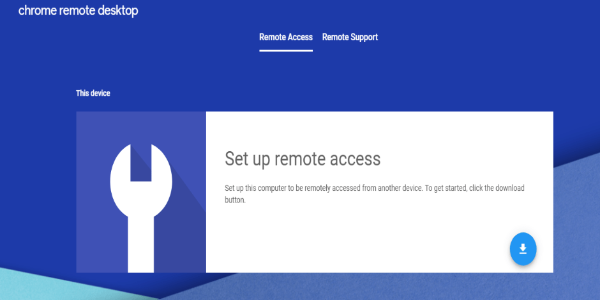 Chrome Remote Desktop is one of the best free alternatives to TeamViewer free - in other words, it is the best open-source TeamViewer alternative and completely free to use. The tool offers two different elements, including remote support and remote access. The simple and interactive interface makes it easy for non-technical users to make a connection.


Furthermore, Chrome Remote Desktop supports both spontaneous access and also unattended access. It's highly secure and compatible with multiple devices. So if you are looking for a TeamViewer alternative open-source tool Chrome Desktop could be your ideal tool.
| | |
| --- | --- |
| Pros | Cons |
| Blazing fast speed and Two-step set up | Chrome Remote doesn't work with browsers other than Google Chrome. Hence, to use it you've to have Google Chrome. |
| Full-screen mode is available | Doesn't allow drag & drop file transfer from one desktop to another |
| It's free of charge, unlike other proprietary remote desktop access services | No multi-monitor support |
| Can function even when the host is not logged in | No multi-session support |
| Highly Secure | Cannot reboot the remote machine |

Supported Platform: Web, Android, and iOS

Pricing: Free

5. WebEx Remote Access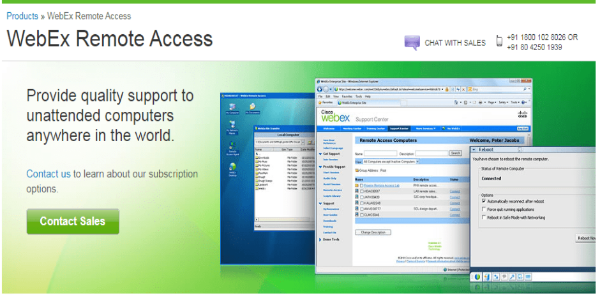 Cisco's WebEx Remote access is one of the premium replacements for TeamViewer. It is often touted as the pioneer of remote desktop access. Not only does it allow real-time access to the remote screen but also makes it easy for users to view and control the extended servers, and point-of-sale systems, and improve remote support effectiveness.

WebEx Remote Access users can create distributed remote access networks and keep pace with changes in regulatory issues without investing in expensive data transferring systems. It also enables users to manage company software and hardware proactively and reduce maintenance delays. WebEx, as an alternative to TeamViewer, makes it easy for users to transfer files, reconnect, and reboot as required to resolve problems.
| | |
| --- | --- |
| Pros | Cons |
| Drag-and-drop interface for file transfers | Start-up time is slow |
| Comprehensive session logs | Occasional trouble during session set-up |
| Available in nine languages | |
| Record, edit, and playback the remote access sessions | |
| Works across firewalls | |
| WebEx Remote Access is Customised for the Windows OS | |
| Support multiple computers – over thousands of connections at one time | |
| Enterprise-grade security - passwords at the site level, 128-bit SSL, Block out machines, and AES encryption | |

SupportedPlatform: Access from any web browser


Pricing: Custom pricing
6. Join.me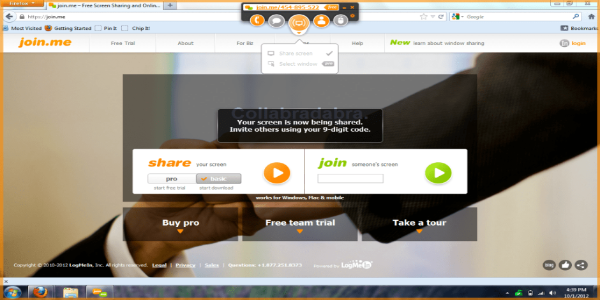 Join.me is a remote desktop software that enables users to customize their online meeting and screen-sharing experiences by claiming a personalized URL. Moreover, the users can also customize the meeting background and get their own personal link for notifications. Join Me also has Whiteboarding features that allow real-time discussions and interactions.


Join.me's a mobile app that allows users to host a meeting from multiple types of devices. Its integration with Google Calendar and Outlook makes it easy for users to Schedule sessions with one click. Using Join Me, you can initiate an audio or video conferencing session from anywhere in the world with reliable support and high-quality audio and video.
| | |
| --- | --- |
| Pros | Cons |
| No need to install a software | Pricing |
| Free trial available | Sometimes the audio becomes choppy |
| One-Click Screen Sharing | The lite version doesn't support web video streaming |
| High-quality audio, toll-free blends, recording, scheduling, and remote control, | |
| 24/7 admin control on the account | |
| Responsive, Reliable, and Easy-to-use interface that allows hassle-free sharing of files and graphics | |
Supported Platform: All Web Browsers, Android, iOS, macOS, Windows, Linux, and more

Pricing:
Lite: $10 (allows access up to 5 computers)
Pro: $20 (allows access up to 15 computers)
Premium: $30 (No limit)
7. Splashtop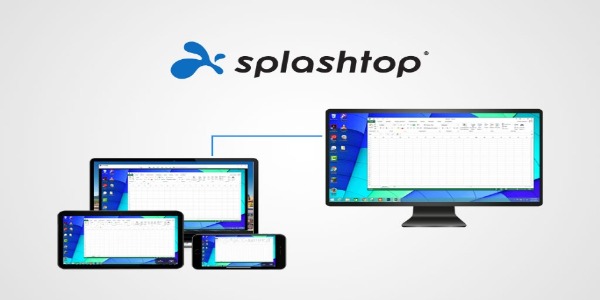 Splashtop's main feature is remote desktop access for individuals, IT teams, support teams, and business professionals. It's a great alternative to TeamViewer since Splashtop offers excellent on-demand customer support. It is a simple, powerful, and cost-effective solution for remote desktop access.
| | |
| --- | --- |
| Pros | Cons |
| Reliable, Fast, and HD remote desktop connections | Occasional lagging issue |
| All remote desktop connections are protected by device authentication and multiple 2nd-level passwords | The user interface is not as interactive |
| Encrypted with 256-bit AES and TLS | iOS app supports all languages except French and Italian |
| Easy migration from other remote desktop services like LogMeIn and TeamViewer, which makes it a better alternative to TeamViewer | |
| Includes both attended and unattended access | |
| On-demand support | |

supported platform: Windows, Chromebook, Mac, iOS, Android, & more

Pricing:
Business AccessSolo: US$5 per month, billed annually, allows access up to 2 computers
BusinessAccessPro: US$8.25 per month per user, billed annually, allows access up to 10 computers
BusinessAccessPro, VolumeLicenses: US$4.54 per month per user, billed annually

8. Ammyy Admin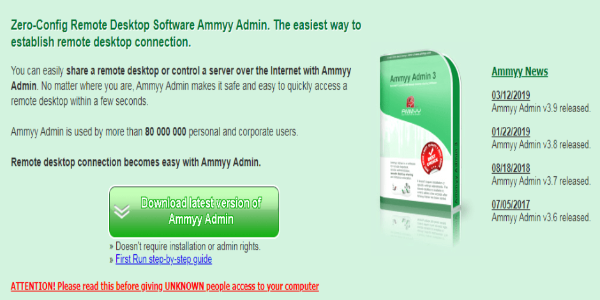 What makes Ammyy Admin a superior TeamViewer alternative is its Zeo configuration requirement. With Ammyy Admin you don't have to install software or set up anything. Ammyy Admin users can swiftly control and give access to remote desktops, from anywhere, at any time.


Ammyy Admin also has a wide variety of plans for different corporate needs. It is undoubtedly the quickest way to run a remote desktop connection without following any additional set-up steps.
| | |
| --- | --- |
| Pros | Cons |
| No installation needed | Poor Customer Support |
| Supports HTTPS proxy | No full-screen mode |
| Access servers and network computers remotely | Limited security features |
| High-quality data transfer (built-in file manager) on a remote server | Basic chat function |
| Built-in voice chat | Limited shortcut and remote keys |
| Highly compatible with Windows | |
SupportedPlatform: Web, Android, and iOS

Pricing:
Free for Personal Use
Starter v3 plan at US$33.90 (One-Time fee)
Premium v3 plan at US$66.90 (One-Time fee)
9. VNC Connect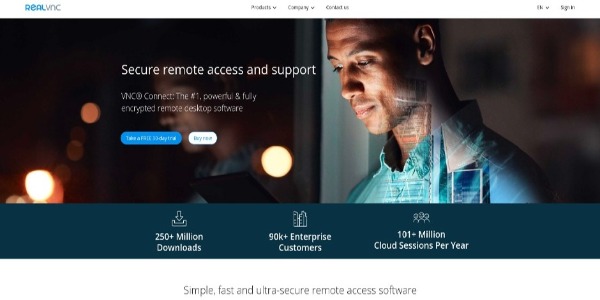 When we talk about TeamViewer competitors, one of the best options is VNC Connect. This application appeals more to the small business sectors. It has a security feature with password protection and two-factor authentication. This app can be helpful for the user because of its high-speed streaming for remote access across cloud and offline connections.
It may not compete with TeamViewer alternative's free plans since VNC Connect lacks web conferencing features in the basic plan, its paid version gives control over unlimited devices, and standard features like data transfer and chat.
We can consider the paid version of VNC Connect as a good competitor to TeamViewer. Because it provides a quick and efficient service to the user.
| | |
| --- | --- |
| Pros | Cons |
| Flexible in use | Not transparent to the firewall |
| Provides remote access | Lacks web conferencing |
| Very good security features | High-speed Internet required |
| Provides quick service | The initial set-up process is quite complex |
| High-speed streaming | Slightly challenging program |
SupportedPlatform: Web, Android, and iOS
Pricing:
Home: Free for non-commercial use
Professional- Instant support: 16.99$ /per month
Enterprise- Device Access: 4.59$ per remote computer /per month
Enterprise- Instant Support: 33.49$ /per month
10. Mikogo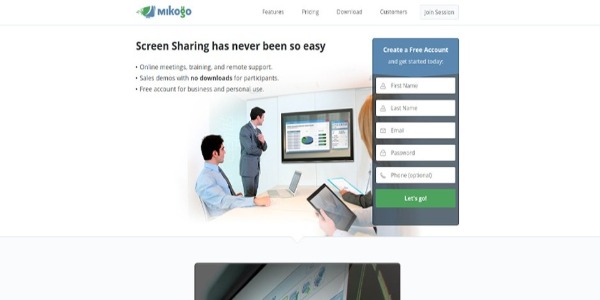 There are many applications that we count as TeamViewer competitors. Mikogo is one of them. It is used for screen sharing, and desktop sharing to streamline web conferencing, online meetings, etc. It also allows the users to record the screen, website integration, schedule the meetings, company logo branding, web conferencing, etc.
In Mikogo, you can share your pdf documents or application windows with up to 25 participants in real-time. It also provides high-quality VOIP ad teleconferencing for many users.
You can also schedule meetings in advance and send calendar invitations to other users. It also provides facilities for recording the session for future reference. Mikogo also supports multiple monitors up to 4 screens.
So, we can say Mikogo is one of the TeamViewer competitors for its TeamViewer similar kind of features and advanced technology.
| | |
| --- | --- |
| Pros | Cons |
| Real-time access, chat & File transfer | Sends file size up to 200MB only |
| Remote keyboard & mouse control | Doesn't work at numerous customer sites |
| High-quality teleconference | Sharing up to 25 meeting participants |
| Session scheduler & session recording | Slow downloads and screen refreshes |
| Multi-user collaboration | Supports up to 4 screens |
| Multiple monitor support | |
Supported Platform: Apple IOS, Android, PC
Pricing:
Free Trial
Basic Annual: 156$
Professional Annual: 228$
Professional Lifetime: 456$
What is the best TeamViewer alternative?
Fortunately, when it comes to finding the best or right TeamViewer alternative, there are a variety of options. Apart from ensuring seamless access and control, these tools can also help you to avail real-time chat and collaboration that can bolster employee engagement and customer experience.

Given the choice, I would prefer to go with Troop Messenger because it offers more than just an alternative to TeamViewer. It is a comprehensive team collaboration tool that eliminates the need for relying on multiple tools for different requirements.
Finally, it's worth considering these 10 tools as alternatives to TeamViewer. It's challenging to determine the absolute best alternative since the requirements vary for each business and organization. Whatever choice you make when replacing TeamViewer, prioritize security and easy accessibility as top priorities.