If you're still using emails to exchange work messages,
who better than you can understand the problem of endless email chains, annoying CC's, and accidental Reply All's?
While emails have a certain charm,
they're not the best tool for internal communication.
If you use email for work chat, reviewing all the conversations about a single project requires sifting through multiple email chains.
However, in a dedicated team chat app, you'll save time by seeing all the conversations and documents about a project in one place — a thread or a channel.


What is Team chat Software

Here's what Benjamin Sternsmith, Area Vice President of Sales, Lyft Business says about using Email for office messaging:
"You can't have a good conversation over email – it's not quick enough. Coming together in a team chat app, channels or threads allows us to easily discuss day-to-day management topics. That's invaluable."
Team Chat Software's: Benefits & features
The choice is simple. You could get buried in endless email threads.
Or you could get work done in team chat apps (in real-time). While team chat software allows teams to enable seamless communication, the right tool and its smart use can really help them zoom past the competition.
Part of this is about higher efficiency and better productivity. With a centralized workspace, conversation and collaboration happen faster —Got a query while you're at work? Type a short text, get an equally short response, and get back to work.
Team chat apps also assure that all team members can participate in, or at least, review relevant conversations, while also ignoring files or text that aren't relevant to them.
Hence, more and more businesses today are looking for digital solutions for team communication and collaboration. Take a look at these numbers: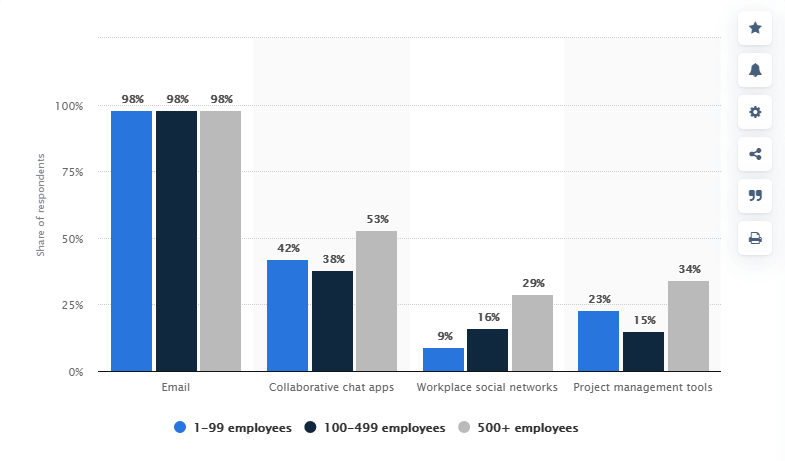 According to a Statista 2016 worldwide Survey, 53 percent of businesses, globally, had onboarded their employees on a common team collaboration tool. Since then, this number only increased

A Gartner study predicted that the team chats app market will reach $4.9 billion by 2021 and by 2022, 70% of teams will rely on work chat apps to get their work done every day — and thanks to COVID-19, businesses have already moved to the technology frontier.
Team Chat Software's: 2020 Tools
All in all, team messaging apps are no longer limited to organizing team conversations and searching topics but have become a way of life too. And I know you've learned that too, or why else would you still be here?


Dozens of internal messaging applications are available, and they can cut down the overwhelm of email and also eliminate a lot of the headache. But with so many apps out there, it can be hard to know which one you should use.


In this article, we'll help you cut through the clutter and walk you through our picks for the best team chat software currently on the market. We reviewed and tested over twenty-eight team chat apps, and these eleven are the ones we'd recommend.
Team Chat Software's: How To Pick
But before we jump to the tools section, let's answer some of the FAQs about office chat programs, their usage, features, and more.




Q1. What Are The Benefits Of Team Chat Software?
Well, we already know remote collaboration tools are crucial for businesses to operate remotely. But there's more to business chat tools than meets the eyes. Below are some of the proven benefits of using chat room software for your business:
Improved Communication Between Team Members:
No points for explaining, the team chat software is designed to improve communication. With features such as instant messaging, calling, voice recording, file sharing, and screen sharing, communication between team members is never compromised.


Internal messaging that combines different modes of communication and information exchange into one thread or channel, can that can easily be integrated with other office tools, is important for reducing the distraction of app-switch or task-switching.


With these tools at hand, access to shared updates, information, and project links becomes faster as well. An ideal work chat app will be available across multiple OS and devices so that whether your teammates love Android or apple, they won't be left out.


Better Employee Management:
Needless to say, best group chat apps are the ones that allow teams to monitor and track employee's progress with visuals, graphs, and analytics. In this way, these tools increase employee engagement, and hence, boost an individual's productivity too.


Features such as effective internal communication, actionable feedback, and user generated solutions through idea boards and forums, and real-time access to information builds a more engaged, informed, and connected workforce — all the things a team needs to bridge the disconnect between remote employees and managers.
The whole point of using these tools is easing the work and organizing it. With workplace chat apps, team members can schedule meetings, discuss current tasks, ask for feedback, and plan ahead. In short, streamline it all.


The ability to share files, add tasks, and integrate other apps also streamlines workflow by making everything accessible within one application. It also helps teams to share and redistribute workloads more effectively.


Take, file sharing feature, for example that allows you to use file hosting, sharing, and storage services of your choice without leaving the app. The best team chat apps include dynamic filter and search functions and let teams refer to files, texts, and multimedia easily.


Effective Project Management:
Proper communication is directly proportional to effective project management. When teams communicate effectively, they not only reduce the chances of errors or confusion but also pave the way for timely project delivery.


Quality team communication software has the best features to increase efficiency of project management. At any given time, you and your team can communicate with coworkers and create to-do lists for projects and request information on the status.


With a good team communication software, your teams can make collaboration easier and streamline business processes. It cuts the need for constant meetings since users can ask questions and access the right information anytime, with a few clicks.


When an admin has in-place a set of instructions and regulations for employees to review tasks, update managers on their progress, get reminders of the ETD, it all increases accountability and increases team member's sense of responsibility.



Q2. What Makes a Great Team Chat App?
While instant messaging and calling are the selling points of most office chat apps, these features alone don't make such tools great. The best team chat apps are the ones that have these following functionalities:
1. One-Stop Unified Communication Via Organised Channels:
Keeping track of correspondence, third-party vendors, and company data is overwhelming when team communication is spread out across different platforms or modes — emails, phone calls, and text messages. An ideal team chat app centralizes all of the internal communication into one unified space for better employee experience.


The best team chat apps unifies and organizes conversations in a way that enables easy access to information by the right people at the right time. Some messages or documents need to be seen by everyone in the team, and others need to happen at an individual or group level. A team chat app takes care of this — through features that allow admins to add or remove team members only in the threads, groups, or channels relevant to them.


2. Option to Collaborate with Vendors, Suppliers, & Freelancers:
Besides the internal messaging features, a great team chat app allows you to securely connect with vendors, suppliers, clients, and freelancers without posing your company a threat of security breach and information misuse. Through this feature, you can limit the vendor/client's access to specific contacts, features, and information.


Take, for Example, Troop Messenger, it has an 'Orange Member' feature using which admins can invite anyone outside of their internal team.


These orange members can be prospective clients, vendors, suppliers, or freelancers.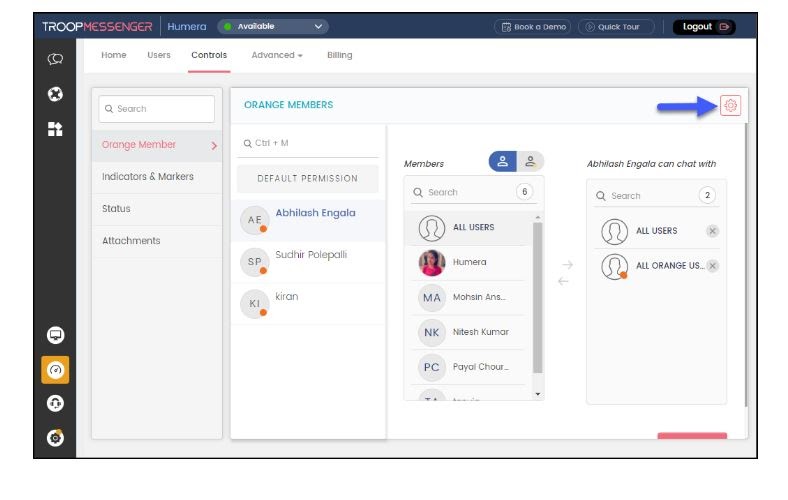 Admins also have the privilege to set conditions for an orange member and decide the features, contacts, and information accessible to them.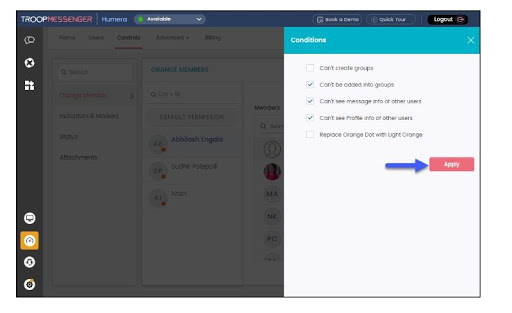 3. Advanced Search with Filtering Features
When it comes to managing communication and collaboration on team chat apps, I don't think there's anything that could be more frustrating than finding a particular text, document, or link that was shared months ago.


When you have a team of, let's say, 200 members, can you scan through all the conversations to find a document that was shared one month ago? Without appropriate filters, you'll only end up overwhelmed with the amount of information that's exchanged in the workplace chat app.


With universal search or advanced filtering features, your team can quickly find past conversations for relevant information. Take, for example, Slack and Troop Messenger — both these interoffice messaging apps have advanced filters that make searching super easy.


Where Slack allows you to use search modifiers for making searching easy, Troop Messenger has different types of filters to serve the same purpose — Filter by Image, Video, File, Link, Contact, Location, Read Receipt, Respond Later, and Flag.
4. Easy to Control and Navigate
This is perhaps the basic one. But would you ever consider onboarding your team or employees on a work instant messenger that has a clunky interface or too steep a learning curve? I bet not. An office messenger that lacks good navigation is counterproductive and will probably result in frustration.


Your members need to be able to navigate through the dashboard, conversations, integrations, and files easily. For this, the user interface must be neat, clean, and without unnecessary clutter.


5. Rich API directory or Integrations
Now this one is as important as others mentioned above, or perhaps more, if your team requires access to multiple apps to accomplish the projects. For example, you may need access to Google Drive or Dropbox where all your files are stored.


Now, normally, if you'd be using a basic chat app, you'll have to switch to Google Drive or Dropbox to access those files. But with an office messaging app, you can access, edit, or share the files from many more apps without switching between apps.



6. High Security & Privacy Chat
With the constant data theft, system hacks, and security breaches that data-sensitive companies get subjected to, it's important for employers to implement a highly-secure, E2E Encrypted team chat application.


Most of the popular remote collaboration tools now offer a highly secure medium for teams to communicate and collaborate while meeting the ever-changing security and compliance needs. For example, Mattermost uses TLS encryption for both in-transit and at-rest data transmission.


Another security feature that's grabbing headlines is Troop Messenger's Privacy Chat feature where two individuals can chat in an incognito window that expires after a stipulated time, and the data isn't stored anywhere.


These 11 team chat software, in our opinion, are the only tools in the market that offer the best balance of all these great features.

11 Team Chat Software for a Chat-Powered Workplace


Supported Platform: Windows, Web, Android, Linux, Mac OS, and iOS.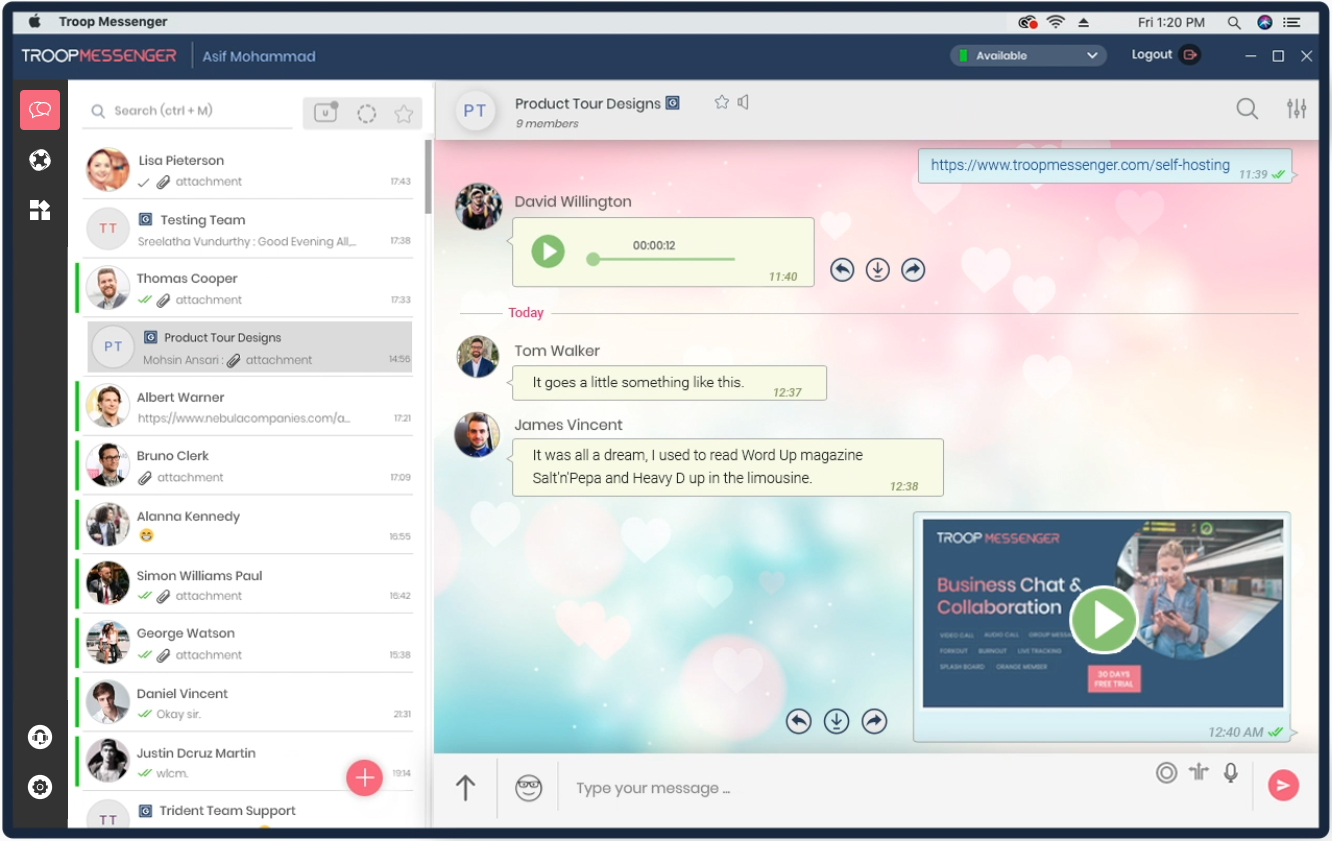 Highlights:
Some of the features that make Troop Messenger a robust team chat app is custom administrative control, option to add guests (orange members), privacy chat in a confidential window, and Self-hosting options.


Summary:
With Troop Messenger, teams collaborate on a single interface through features such as — one-on-one conversations, group conversations,
audio messaging, voice-video calls, screen sharing, forkout, and integrations.


It is one of the strongest team chat apps in terms of features. You get access to all the chat app functionalities and also an option to compartmentalize collaboration through 'forkout' and 'orange member' features.


Through Forkout, you can send messages to select groups or people, at once, by filtering out people who the text is not relevant for. And via, Orange member feature, you can add third party members/vendors/freelancers by allowing them restricted access to the app.


Troop Messenger allows you to integrate with Google Drive, JIRA, GitHub, LDAP, Dropbox and if you want more, you can build automations with the APIs. Robust security, fingerprint access, End-to-End encryption add up to its list of features.


The tool has a 'privacy chat' (Burnout) feature that allows users to chat confidentially in an incognito window where chat history gets deleted after the stipulated time.


Also, Troop Messenger has a generous pricing plan for both the self-hosting and SaaS delivery models — starting as low as $1 per user/month. So Troop Messenger could be a great deal for budget-conscious organizations.
Slack - Powered Workplace Chat App
Supported Platform:
iOS, macOS, Linux, Android, Windows, and Web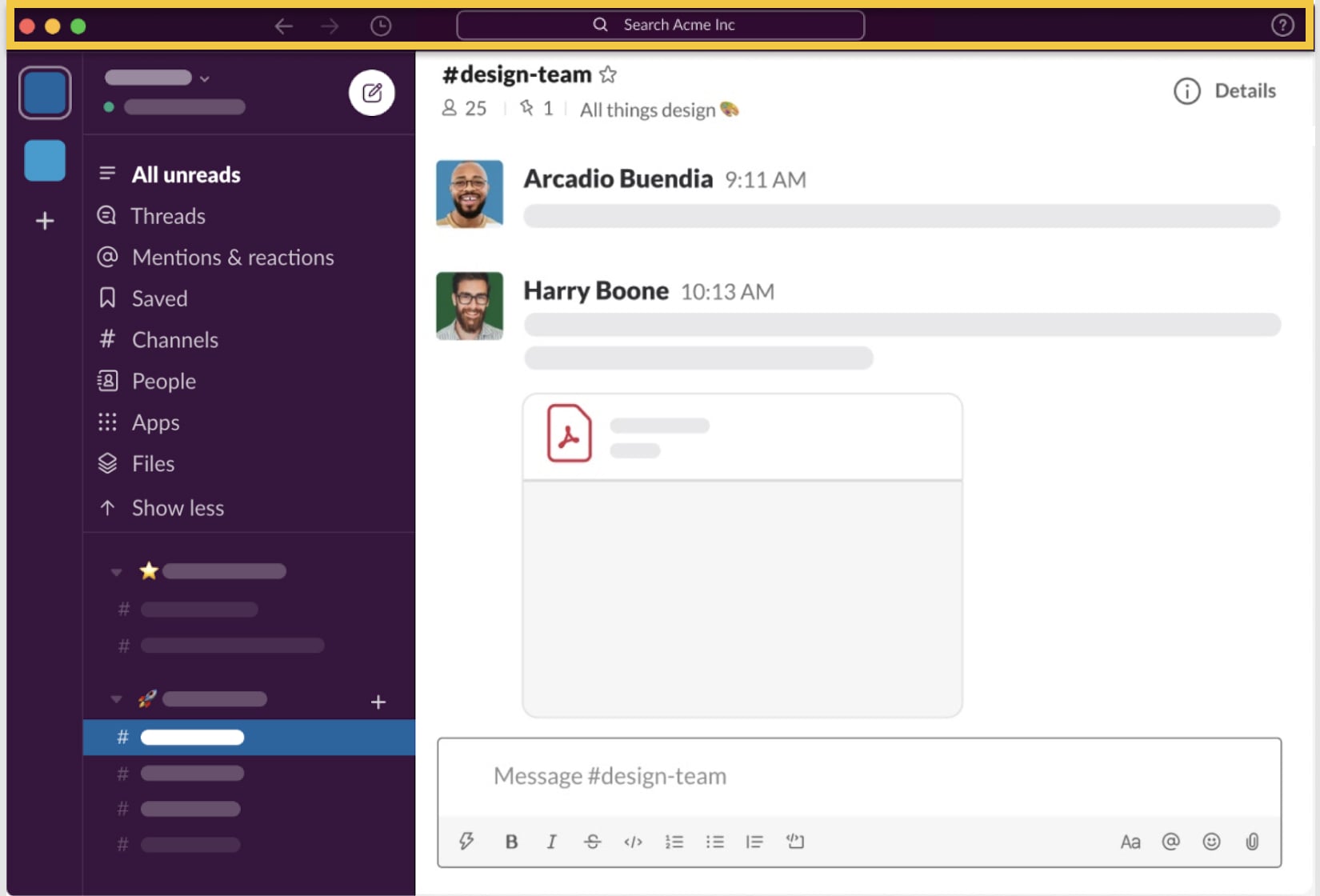 Highlights:
Slack, popularly known as team messaging free app, covers your instant messaging basics while supporting seamless integrations, file sharing, and video calling.


Summary:
Launched in 2013, Slack is ahead in the team chat apps space. It has been praised for having over 2000 integration, a very powerful search capability, and intuitive UX.


On Slack, each team has a general channel where they interact for group/mass communication. But, usually, the day-to-day conversations happen in specific channels created according to the project or task. Team members can dedicate any of the channels they want to be in and receive notifications from.


Furthermore, Slack makes searching very convenient with the multiple search modifiers that team members can use to filter through the conversations and find what they need. Useful features like drag-and drop file sharing, clever design, one-click audio or video call, and emoji reactions make Slack a favourite team chat app.


However, some users call their interaction with this chat app a love-hate relationship. It's mainly because notifications aren't as easy to handle. Bulks of channels mean bulk of notification, and that can both overwhelm and confuse the users.


Furthermore, Slack's biggest downside is its pricing — most competitors and users highlight that it doesn't come as a part of a broader software bundle and yet, Slack charges more than a standalone app should. Take a look at the pricing:


Supported Platform: iOS, macOS, Linux, Android, Windows, and Web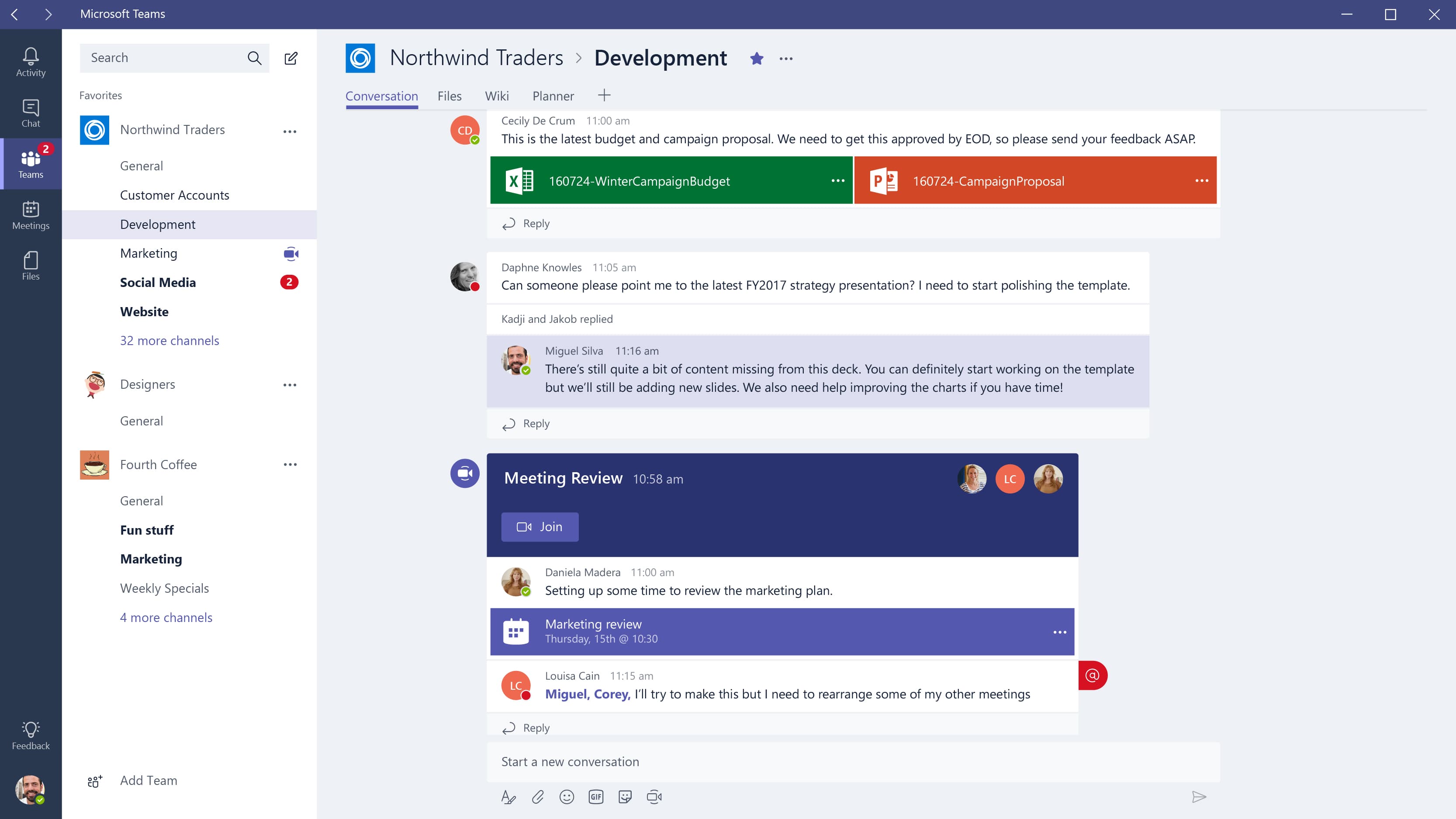 Highlights:
Some of the best features of MS teams include online meeting and video calling, real-time collaboration with Office 365 apps, background blur, and screen sharing.


Summary:
MS Teams brings together all your team members in a shared workspace where they can chat, call, and collaborate on documents and apps.


In MS teams, every team is divided into different channels. Discussions or conversations in these channels are further forced into threads — breaking chats down yet another level. In short, there's hierarchy that helps maintain a tidy interface.


Key features of Microsoft Teams are audio and video calls. Users can schedule meetings ahead and also hop on to spontaneous conferences or calls — and the best part, all these features are available in the freemium version.


There's also an option to record the meeting, however, this feature is only available for paid users. And needless to day, the key emphasis is tight integration with MS Office 365 Suit, using which all teams can collaborate on documents, appointments, notes, calendars, and more.


At the same time, Microsoft Teams has a it's own downfall. It's tricky to set up. You'd need to hire a dedicated IT staff to implement it for your workplace chat, but considering the size of companies MS Teams is built for, that shouldn't be much of a barrier.

Mattermost - Self-Hosted Team Chat
Supported Platform:
iOS, macOS, Linux, Android, Windows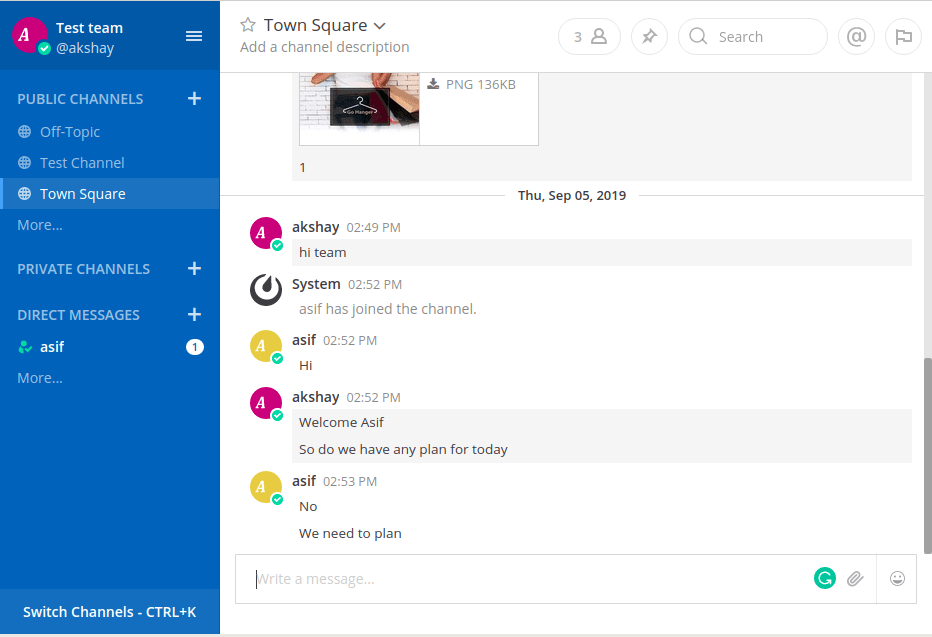 Highlights:
What sets Mattermost apart from other competitors is multi-factor authentication, Enterprise grade security, custom branding, and threaded messaging.


Summary:
If you're too conscious about your team's conversations and can't risk others spying on your chats by hosting them on a third-party server, I think you'd love mattermost.


It's an open source app, which means, team can install it on their own company's servers. It's one of the most feature-rich self-hosted team chat apps we came across.


Mattermost's basic features include One-to-one and group messaging, unlimited search history, and file sharing. In mattermost, conversations are segmented into different channels and threads break them further.


Search feature, with multiple filters, is complete and useful. The interface looks somewhat like Slack — even the keyboard shortcuts, modifiers, and emoji reactions are essentially the same.


Samepage - Threaded Team Chat App
Supported Platform: Windows, Android, iOS, and macOS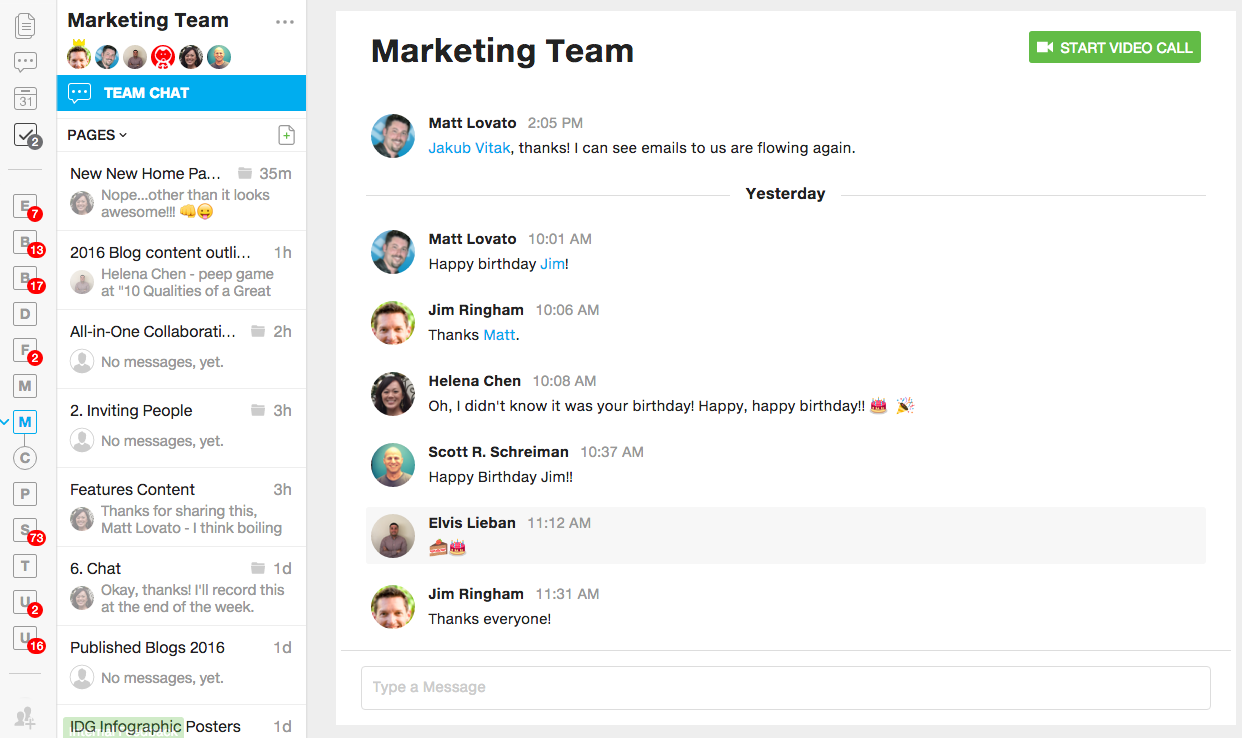 Highlights:
Built for remote teams, Samepage allows co-workers to write, chat, call, collaborate, and manage projects via one centralised space.

Summary:
Samepage, as one of the most promising team communication apps, facilitates collaboration, chat, project management, running meetings, video conferencing, and real-time document collaboration.


Businesses are using Samepage to participate in real time brainstorming sessions and collaborate via spreadsheets, diagrams, videos, images, text, task board. Samepage chat directly integrates with it's collaborative canvas that keeps conversations and canvas together, prevents teams from losing track of discussions and work in real-time to produce better results.


Apart from the team communication features, Samepage offers calendars and tasks to keep projects moving forward through kanban boards, sheets, mind maps, pages, and agendas. Tasks can be assigned to co-workers according to priority level, recurrences reminders, and with due dates.


Rocket Chat: Omnichannel Team Chat App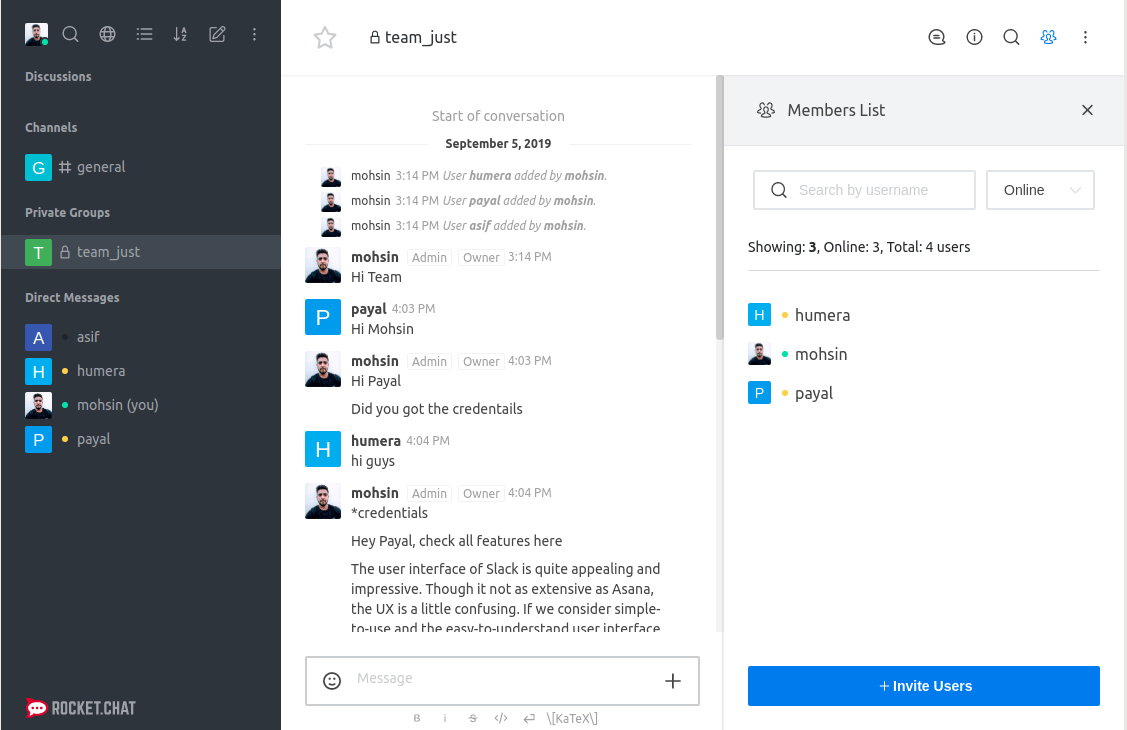 Supported Platform:
iOS, Linux, Android, Windows, and macOS

Highlights:
RocketChat highlights include automatic real-time message translation, admin transparent, and asynchronous team chat.


Summary:
RocketChat is one of the most popular open-source and free interoffice messaging apps in the market. It allows team members to collaborate via real-time file sharing, chatting, and audio or video conferencing.


The app segments chats into public channels, private channels, and direct messages. It has standard instant messaging features like emoji, @mentions, file uploads or sharing, and GIFs.


But the main factor that differentiates RocketChat from other team chat software like Slack or MS Teams is it is completely open source — which means if your team has software development skills, they can change the app and customize it however you prefer.


Another exciting feature of RocketChat is it includes an impressive multilingual support and also lets you integrate the Google Translation API to facilitate real-time translation of texts. These translations are obviously not 100% correct but they still help a great deal for companies dealing with global clients.
Supported Platform: Android, iOS, macOS, and Web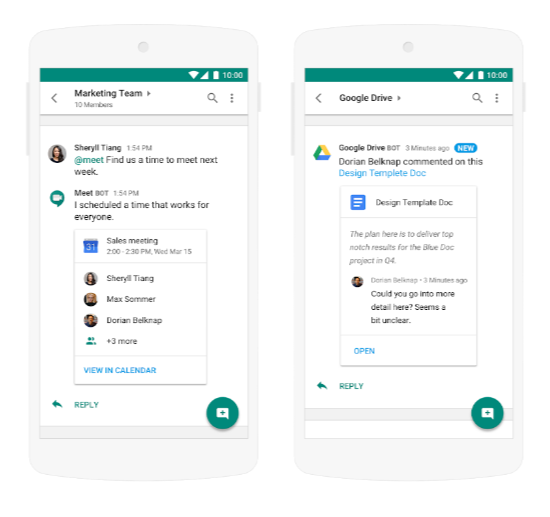 Highlights:
Some highlights of Google Chat includes screen sharing, HD group conferencing calls, and custom administrative controls.


Summary:
Earlier named 'Hangouts Chat,' this collaboration app by Google is a free group chat app for business owners and entrepreneurs who want basic workplace chat features like texting, audio, and video calling, and file sharing. It's offered to G Suite customers at no additional cost.


In Google chat, conversations are broken into threads, that creates a clutter-free chat space. Teams are allowed to add as many rooms as they wish, and users can join or leave them whenever they wish.


Where Google Chat really shines is the option to organize a meeting via Google Meet and scheduling it through Google Calendar. Search is also strong — there are a wide range of filters and results appear in real-time as you type.


Google Chat's only drawback as a team chat app is the interface. It could work more on design. Some simple tasks like reviewing lists of public rooms are buried behind multiple clicks. But it's a solid choice if your team already has G-Suite.
Ryver - The project-focused Team Chat App
Supported Platform: iOS, Windows, Mac, and Android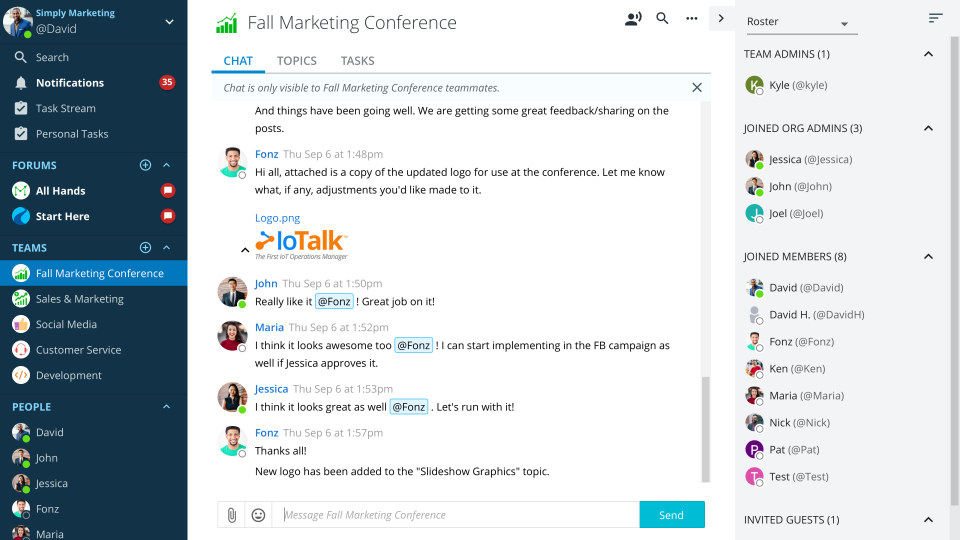 Highlights:
Some of the highlights include screen-sharing, clear audio, and video, automated daily process, and the option to add details in tasks through tags, checklists, and assignments.
Summary:
Ryver is an easy-to-use, intuitive team chat app that brings all your workplace communications in one place. It's USP is the proprietary ART that eliminates slow, error-prone human response with AI-powered automated response.

In Ryver, chats are organised into Teams, People Forums, which are indirectly Channels, direct messages, and group messages.

Within each Ryver group, there are segments such as Chats, Tasks, and Topics — Chats, as we know is instant messaging, Topics means threads for different types of discussions, and tasks are kanban-style boards where teams can organize, create, and complete different tasks.

In Ryver, you'll find other essential features of a team chat app, but this app, mainly, is an attempt to integrate project management features within the team chat programme.

Discord: For Team Chat for Communities
Supported Platform: iOS, Windows, Mac, and Android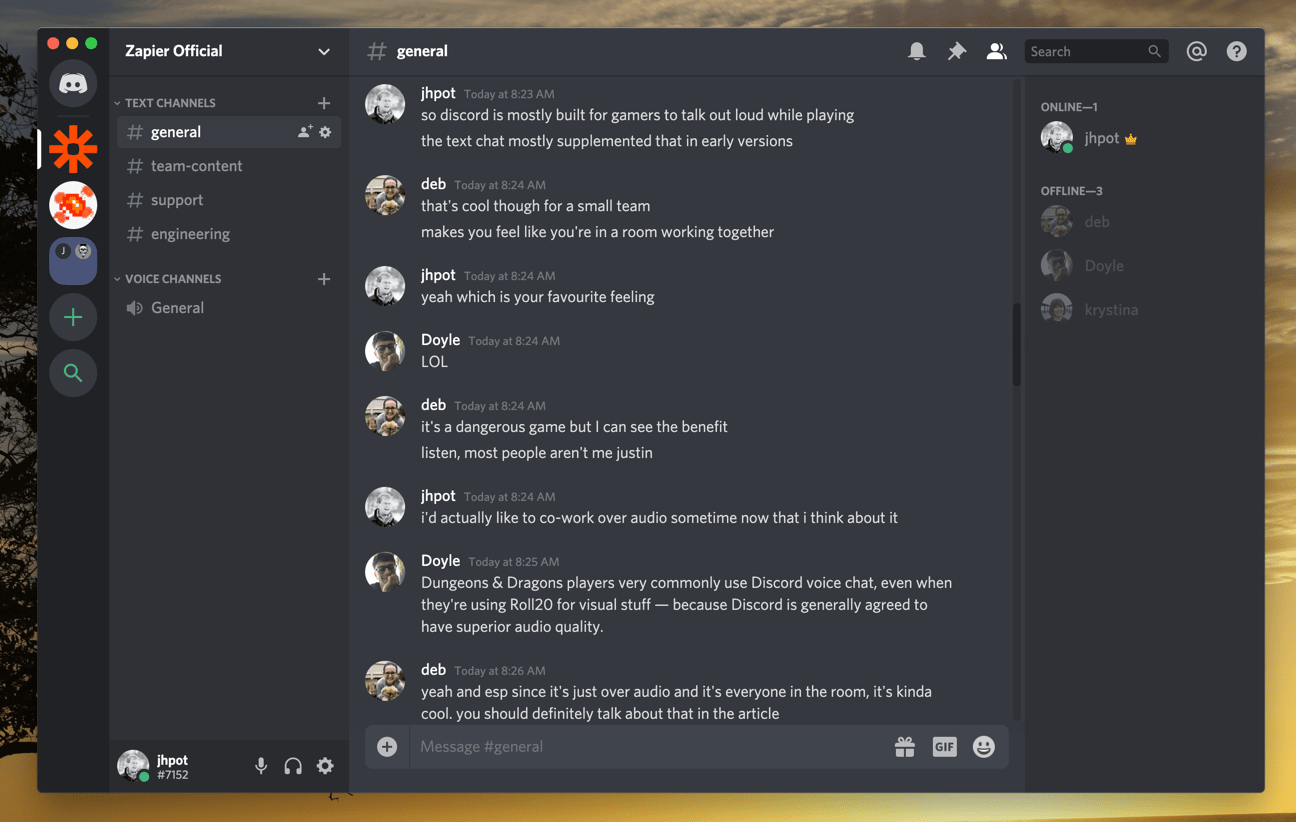 Highlights:
Discord, now also known as a team discussion app, is mainly developed for gamers. But with it's outstanding screen sharing and video calling capabilities, it's being used for different businesses for remote collaboration.

Summary:
Discord now has a lot of communication or collaboration specific features but it works as a team chat app for one solid reason: excellent audio and video quality.

The app has text channels the same as app team chat apps but there's no option to segment the conversations within channels. Discord USP is the voice channel or audio chats where users can go for on-phone calls and switch back to texting whenever needed.

Discord's audio quality makes it a great pick for teams that need to speak frequently over the phone call. The app also offers an option to opt-out of sound sharing during a video call or screen sharing. You can opt-in or opt-out of sound sharing by toggling the sound icon between Off and On.

Furthermore, the screen sharing features with multiple participants make it even more suited for remote businesses. There's an option to swap from screen share to video. At any time during the conversation, you can swap between the two. When swapping your computer screen, you can opt for which monitor screen to share. You can also opt for sharing only a specific application window.

Podium: Messaging Tool for Local Business
Supported Platform: Windows, Android, Linux, and macOS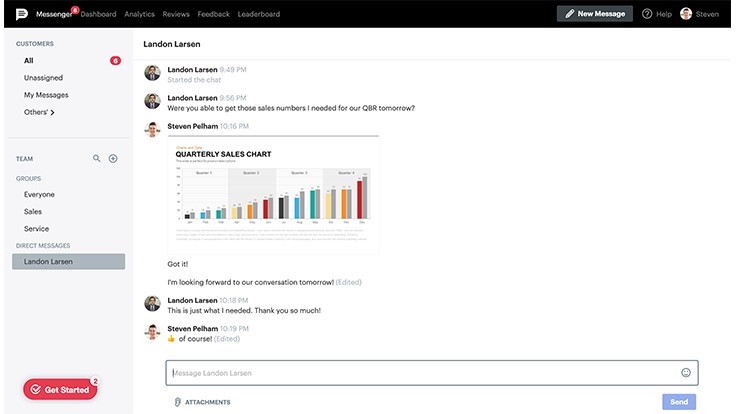 Highlights:
Podium is a convenient team chat and collaboration tool that facilities employee interaction and communication with features such as DMs, Group messaging, and file sharing.


Summary:
To keep the conversations organised, the podium uses threads. What sets it apart from other apps is that it lets you keep all your messages from Google, SMS, Facebook messenger into one central space — which means you can respond and manage each message from a single platform.

While sending messages, users have an option to choose from ready-to-send options or choose their own templates. There's also an option to send automated messages, assign conversations, and set permissions to give right people access to the right conversation or files.

The video conferencing feature in Podium is implemented via a third-party service. The app has no freemium version, and there's no pricing plan as such. You've to get in touch with them and share your teams' requirements to get a pricing quote.

Pricing: Custom plans as per business's communication needs

Teamwork - Teamwork Chat App
Supported Platform: Android, Windows, MacOS, iOS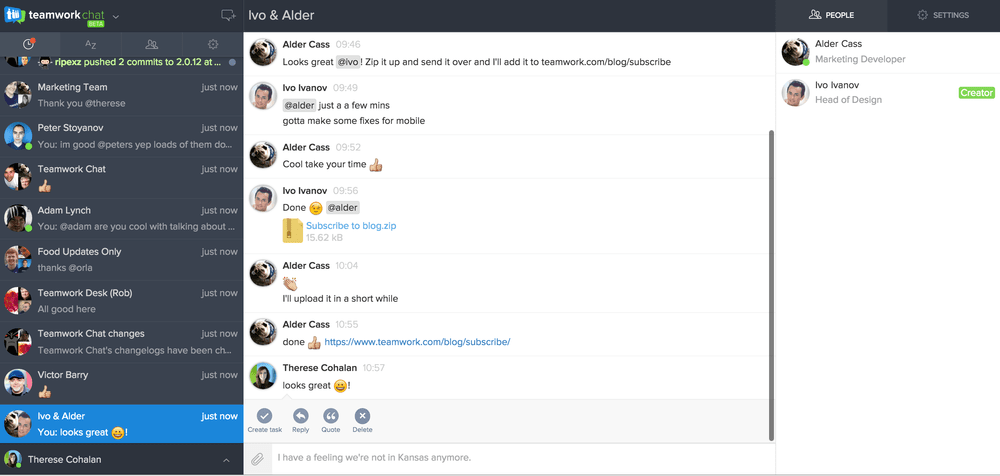 Highlights:
With Teamwork Chat, you can bring all your team members to one centralised space where they can collaborate through better group communication, discuss feedback and solve problems.

Summary:
Teamwork chat lets you turn messages into tasks and turn communication into workflows across the organization. With one centralised space for team members to share ideas and receive feedback, teams on Teamwork can reach a consensus faster, and also make better decisions.

The app has an intuitive layout and features for a team communication app. Speaking of pricing, Teamwork chat offers an affordable package, especially compared to other team chat apps available in the market.

Teamwork Chat pays attention to user privacy and data security as well. Furthermore, you can also integrate Teamwork chat with other apps you love. What I love about Teamwork Chat is its DND feature — it allows users to remove all distractions by muting all the push, desktop notifications, and email so you won't be interrupted

Teamwork chat also has features such as dedicated project channels where teams can share ideas, resolve issues, and make informed decisions to keep the project moving forward. You can also star the channels to bookmark conversations for easy access.
HeySpace - All-in-One Chat App
Supported Platform: Windows, macOS, Ubuntu, Android, iOS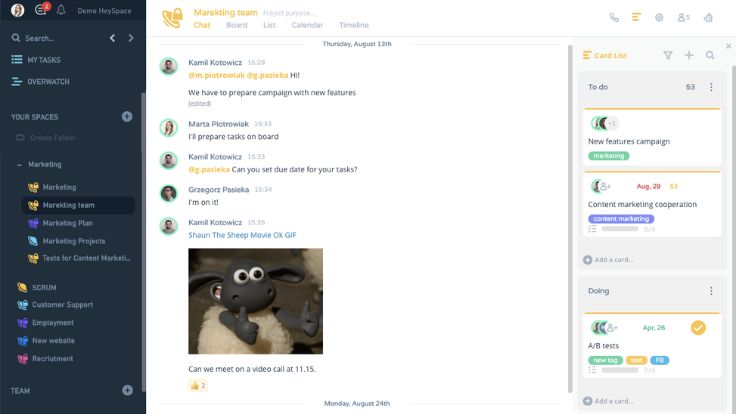 Highlights:
Collaboration tool for communication and project management for teams of all sizes.
Summary:
HeySpace combines two functions - communication and task management, which allows you to save time and better manage your team. The communication feature is very extensive, because it offers direct communication, in groups, in Spaces (i.e. in projects), and in the chat module of each task. Thanks to this, there is order, and only people interested in the topic participate in the conversations.
The application allows you to set private and public Spaces, and to mention the person with the @ sign. In addition, you can vote with emotes, send gifs, add files and quickly convert messages to a task when one of your colleagues comes up with a great idea.
HeySpace, as mentioned above, offers task management based on the Kanban methodology. Each project is a separate Space with chat, board, list, calendar, and timeline views. The form of tasks was adopted by cards in which you can include all important information, such as a description, checklist, files, start, and end dates, and assign people.
HeySpace is a straightforward and quick tool to learn. It allows you to improve communication and strengthen relationships in the team.
Some More FAQs about Team Chat Software

How To Pick The Best Business Chat App For Your Team?
Well, there's no button-solution for this one. At the end of the day, choosing the best team chat app depends on your team's requirements and collaboration needs.

Let's say, Team A needs to integrate multiple apps to accomplish its projects. So, in this scenario, they'd need a tool that allows seamless integration with third party apps — hence, Slack should be their go-to tool.

Similarly, if Team B requires to collaborate frequently with vendors or suppliers, but cannot risk making them a part of the internal team, then they'd need an app that allows the feature to add guest members — hence, Troop Messenger should be the choice.

Now, if Team C requires basic instant messaging and file sharing features but cannot afford monthly or yearly cost, then they can opt for a free group chat app — Google Chat can be a safe option.

All in all, the selection of the best business chat app depends on your needs. So, if you want to choose one that fits the bill, you follow the five-step approach:
Make a list of essential features your team needs
Read about the features, pros, and cons of the best team chat app
Compare who's offering what, and ask the service provider for a trial
Onboard your team on the selected app for a month, and seek feedback about the ease of use from everyone
If all members find the app helpful and convenient, purchase the monthly/yearly subscription

How Do You Use Team Chat Applications
Well, using a team chat app or onboarding teammates is pretty easy in most of the remote collaboration tools. Thankfully, all the eleven tools mentioned above have dedicated videos, guides, and tutorials that make onboarding easy and 'learning how to use the app' even easier.

Just add the phrase 'How to Use' before your favorite team chat app, and browse Google, you'll find guides and videos right away. For example, Troop Messenger has a rich directory of all the How-tos, FAQs, and Videos on using the app effectively.

Similarly, if you want to learn about using Slack or Mattermost, you can find heaps of useful guides and videos online.
Can Admin see The Team or WorkChat
It depends from app to app. Where some team chats software allows admins to access all DMs exchanged between team members, others won't. For example, in Slack, team owners can request access to the whole Slack message history, including the direct messages and private channels.

Similarly, in Troop Messengers, admins can track and monitor message exchanges between employees by enabling TM Monitor for a specific time period.
Putting it All Together
Some of the team communication apps out there are foundational -- things like instant messaging, audio or video conferencing, file sharing, and CRM. However, other group communication apps are more specialized, with features such as confidential chat windows, project management tools, vendor collaboration, time tracker, and more.

I hope this article helped you differentiate between such apps and learn what's good, better, or the best. The ultimate choice, obviously, depends on your company's communication & collaboration requirements, your team's strength, and the budget.