"You can use the free version of Slack for as long as you like and there's no limit to the number of members who can be invited, without looking at Slack pricing."
That's what Slack's pricing page reads once you get started. In all its PRs and advertisements', Slack has time and again claimed that its free tier offers an unlimited number of users.
In short, Slack unapologetically mentions that there is no limit. You can add 'as many people as you want to.
But is the aforementioned information about Slack Free User Limit really true?




Is Slack Misleading people about its Free 'Unlimited Plan'?
We came across a couple of Slack users who have reported that there's a limit with the Slack free plan, despite what Slack says.
For Example, David Chen, who wanted to build a massive Slack community of 10K+ users, found that the service starts fizzling out at around 5000 users, and poops out completely after onboarding 8,500 users.
Quincy Larson added 8462 users to his Slack channel, and after that, the channel stopped accepting new users.
8462 sure is a great number for a medium-sized community - but it's a limit, which Slack has disguised so far, and done nothing to disclose.
Users hoping to build a 10k+ community through Slack's freemium plan should look for a Slack alternative, or better than Slack.
This brings us to our next question:
Should you Pay for Slack?
Slack is a great office collaboration tool, without any doubt. For many businesses operating virtually, Slack has offered benefits they can't live without.
Slack boosts work productivity. It has the most user-friendly UI and UX, and it is relatively easier to navigate through.

And then, to top it all, Slack paid plans enable 1200+ integrations. In a literal sense, it is a process automation heaven. If you implement enough apps, you'll be able to complete 95% of your work requirements inside Slack.
That's cool, right?

But here's the thing - there are as many Slack Alternatives that are offering similar features, get there are no apps like Slack that offer a plethora of integrations.
Some of these alternatives are cheaper than Slack while some others are more expensive.
Since most of the Slack alternatives are doing pretty much the same job, it is natural to wonder whether or not it is worth paying for Slack.
And that's the intent behind writing this article. Sit tight and read as we tear down slack's pricing plans, and help you make a better decision in selecting an appropriate Slack package. An important note, Slack pricing in India differs from Slack's global price, so be advised to check the appropriate pricing page, according to your location.
Tearing Down Slack's Pricing: Freemium Vs Paid Plans
The secret of Slack's pricing model is very much evident on their pricing page.


Slack Pricing Teardown of Freemium Plan Model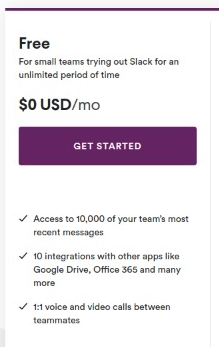 Ideal For: Individual Use, Small Groups
Pricing: $US0

To emphasize, it is the cheapest Slack plan. When new customer joins Slack, they have multiple options to choose from. It is free as long as you want a Slack Workspace with an unlimited number of people.
In the free slack pricing plans, you don't have to pay a penny but you are restricted with limited features nevertheless, you can opt for the Slack pro plan or other plans anytime for more features.
Onboarding your team using Slack's free version sounds cool. I hope it does answer your question "is Slack free?" But this freemium plan has limitations:
1. 10k searchable messages
This may seem enough for very small teams or members who don't use team chats that often. But even for small-sized teams, the 10k limit is insufficient.
If you're a team of 10 people, who generate about 2k messages a week, chances are you won't be able to restore any of the conversations after a month.
Imagine you need to report a document you shared with your colleague for two months, but not being able to refer back to it because you've reached the 10k
limit. You'll have to upgrade to a standard plan to reveal search message history.
2. 1-to-1 video calls
If your slack workspace works on the freemium plan, forget about conducting team conferences because you cannot do more than 1-to-1 video calls, unlike other free Slack alternatives.
You cannot host big meetings or webinars. Now that can be a real bummer!
3. 10 apps & integrations
Integrations make Slack better and more powerful, which negates the competitor's Slack. It has been constantly adding new tools and with paid plans, Slack integrates with almost every popular tool.
With Freemium, you've access to 10 integrations. If you want to use the 11th integration, you'll have to delete the old integration and stay within the limit of 10 integrations.
4. Two-factor authentication
Whether you choose a freemium or a paid plan, Slack won't let its users compromise with security. For an added security layer, all Slack users can turn on 2FA for their Slack account.
This means that if your password is stolen or compromised, you'll have peace of mind that only you'll be able to log in again.

Freemium Plan Verdict: If you can compromise with limited searchable messages and limited integrations, rather than looking for Slack alternative free tools you can opt for this tool. Since it could be a great pick for small-sized teams.
Slack Pricing Teardown of Standard Subscription Model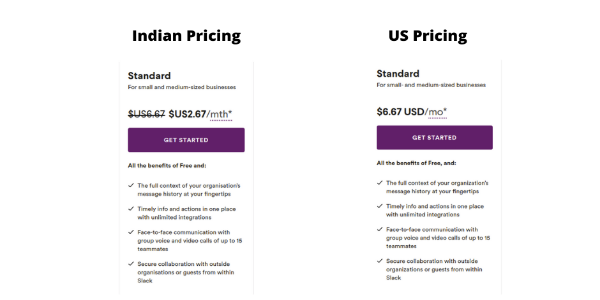 Ideal For: Small and Medium-Sized Businesses
Global Pricing: $US6.67 per active user per month billed annually. Or $US8 per active user per month billed monthly.
Pricing For Indian Customers: Slack price in India quotes $US2.67 per active user per month billed annually Or $US3.20 per active user per month billed monthly.
Considering Slack's cost, if you can spend $US2.67 per active user per month, you can get rid of the above limitations, and enjoy additional features. You can avail of benefits like Unlimited message archive, Group calls (up to 15 participants) with screen sharing, Unlimited apps, Guest accounts, and shared channels.

1. Full archive: There are no 10k messages limit with the Standard plan. Your team's entire message history is now in one place and the entire conversation is searchable.
2. Unlimited apps: Again, Standard Subscribers of Slack educational pricing can integrate applications beyond the number 10. Integrate Slack with as many as 1000+ tools from different categories and bring all your work into one place. You don't have to miss out on anything.
3. Google authentication: A standard plan makes it easy for Slack users to log in to their Workspace. Hence, it reduces the password load. Those who use G Suite can have their team members sign in to Slack Workspace using their existing Google sign-on.
4. Guest access: Slack's Standard pricing plan makes it easy for companies to connect with vendors, retailers, and people from outside the company. Such people can be given guest access and invited to one or multiple Slack channels.

Additional Benefits of Standard Plan:
Custom retention policies
Forward emails into Slack
Priority support
Group voice and video calls
User groups
Custom profiles Screen sharing
Slack Pricing Teardown of Business+ Subscription Model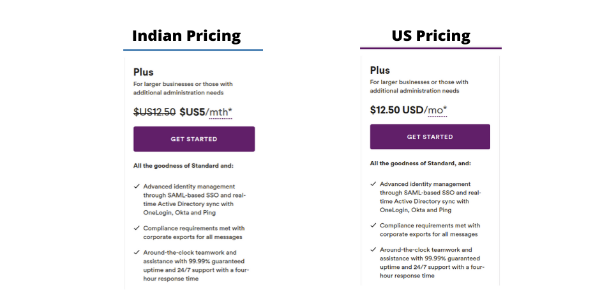 Ideal For: Large-Sized Businesses that require advanced admin control
Global Pricing: $US12.50 per active user per month billed annually.
Pricing (For Indian Customers): $US5 per person per month billed annually. Or $US6 per person per month billed monthly.
Slack has a Plus Plan for large businesses and companies with a requirement for business-level features that can help the teams grow. Apart from all the benefits of a standard subscription, Slack's Plus users can avail of exclusive features like:
Keep a little, keep a lot: With a plus plan, Slack users get the option to customize their archival preferences and message retention. There's more to control as compared to the standard plan.


With the above said Slack pricing in India may or may not differ in feature provision. Through custom message retention settings, they get a flexible option when it comes to deciding how many messages they want to keep, and how much history they want to delete. There's also an option to keep a tab of deletion logs and message edits.

1. Data exports: The data export feature is great for companies who have got legal obligations to archive messages, or businesses operating in a regulated industry.


Team admins of leaders, on Slack Plus Plan, can request access to the entire team's message history. The history can be either direct messages between team members or conversations in private channels.

2. SSO and provisioning: With the Plus plan, you get to Integrate Slack workspace with your existing SAML 2.0 identity provider. This is suitable for companies that wish to ensure secure access to their team.


Apart from SAML, Plus members also have a built-in connection to many SSO providers. There is also an option to use a custom or own SAML solution.
3. 99.99% uptime: With 99.99% uptime, Slack is operational irrespective of the time zone. For the plus subscribers, Slack assures providing guaranteed uptime, an industry-leading standard of server availability, and a financially backed service level agreement (SLA).
4. 24/7 support: With the standard plan, you get priority support, which means your queries will be catered to before the queries are made by freemium subscribers.


And with the Plus plan, you can reach the support team anytime, and have access to 24/7 coverage and guaranteed response, in the shortest time possible, from their customer experience team.
Slack Pricing Teardown of Enterprise-Grade Mode
Ideal For: Very Large Sized Businesses that require advanced admin control Businesses operating in highly regulated industries Enterprises requiring unlimited workspace with centralized control.
Pricing: There's no standard or flat rate for slack enterprise grid pricing. It depends on the specific requirements and other factors. You'd need to contact the Slack Sales team to get an estimate.
1. Scale with unlimited workspaces
Considering the nature of large enterprises, a single Slack workspace might be insufficient.


Hence, Slack for business pricing is specially designed to provide multiple teams of an organization with a focused and separate place to work.


Unlimited workspaces in Slack provide teams and their members access to the people, appropriate information, and apps which matter the most to their projects.
2. Build bridges between teams
With an Enterprise plan, businesses can centralize control to create communication structures. The structure mirrors the way your organization works.


Channels from different workspaces can be shared when needed, and you can also collaborate with outside vendors whenever required.
3. Find information across your company
As an admin of all workspaces of your organization, you can also enable members of any team or selected workspace to find the data, content, information, and people they need to get work done with.


You can provide them with access to direct messaging, organization-wide search, and announcement channels.
4. Fine-tune your security settings
From a single view and centralized control, the chief administrators of all workspaces can manage security, structure, policy, and compliance for the whole organization.


The same can be done for specific workspaces. In short, the organization admin has complete control of the security and compliance of any or all workspaces.


And If you are looking for a cheaper Slack Alternative…

As I mentioned earlier, there are as many as 20+ Slack Alternatives that are offering similar features.
Some of these alternatives are cheaper than Slack while some others are more expensive. One of the best Slack Alternatives I can recommend is Microsoft Teams and Troop Messenger.
If you're looking for a cheaper team communication tool that helps you automate your workflow as well, then Troop Messenger can be a decent choice.
By the way, you can try out Troop Messenger right now. For free! Just sign up and you get to Experience a 30-Day Enterprise Free Trial.
Final Words
Slack pricing tiers aren't the best, but with the features and extensive integration it has got to offer, it'd be unfair to say it's not worth it.


The real power of Slack lies in its integrations and apps, which no other Slack-like app can facilitate for its users. With Slack, you can do so much more. If your work requires team collaboration, you must check how much Slack costs and select a subscription plan accordingly, because eventually there's so much for you and your team.

Slack and its integrations will save your team time and increase productivity. So if you are looking to improve the time efficiency and productivity of your team, Slack is the right tool.


And if you're looking for a communication tool, then you can opt for Troop Messenger, and avail of similar benefits.