I'm sure you know why content marketing is important, it's time to figure out the best strategies that may help you win your customers and take charge! Also, it's time-tested that SaaS email marketing and content marketing are both crucial components of SaaS marketing.
Content Marketing costs 62% less than any outbound or traditional marketing method, and yet it generates approximately 3 times as many leads as conventional marketing. In terms of C2C, B2C, and B2B lead generation, e-commerce sites have also benefited significantly.
It's cheaper and more efficient.
Do you still need more reasons to trust content marketing over any other marketing strategy?
I know it's not easy to convince you unless I talk about facts. So, here are some benefits of content marketing:


Conversion rates are 6 times higher for companies that adopt content marketing strategies.
86% of SaaS organizations have specific departments or someone in charge of checking over their content marketing strategy.
58% of marketers believe 'original' written content outdoes videos and visuals
The vast majority of SaaS marketers are now embracing content marketing strategy. A good SaaS marketer knows that content marketing can aid their company in achieving brand visibility, lead generation, and nurturing the leads simultaneously.
I am not asking you to abandon traditional marketing, but if you are into the SaaS business, you must pay attention to creating high-quality, experience-based, top-notch content.
At Troop Messenger, we tried over a dozen of content marketing strategies. There were times when we failed to generate the desired results. Our blog posts won't appear in the search results, let alone appear on the front page.
We failed to stay ahead of CM trends. It was challenging because there are hundreds of things, trends, and strategies to watch over every week.
It took us a while to understand the 3 Cs of SaaS Content Marketing:
Consistency,
Consistency,
and Consistency.
It took us a while to understand that we needed to be directly involved in content creation. Gradually, we resorted to creating content that encouraged visitors to click on our site link, visit the homepage, and subscribe.
Keeping in mind all of our failure stories, the lessons we learned, and the different strategies we employed, I have created this guide for you. It's the only SaaS content marketing guide you'd need!
How to create a content marketing strategy? Let's find out here
A. We Leveraged the Power of Google by Mastering Keyword Research
There has been an ongoing debate on the usability of Keyword Research Planners. Some say it is dead. Others argue it's the best thing. I say it's Google is smart, and all the algorithms are designed in a way it enhances a reader's readability and helps them with the article with search results that carry 'phrases' and 'keywords' a person adds in the search bars.
Keyword Research Might not be the almighty thing but it is an important factor.

There are keyword research services tools like Ahrefs' Keyword Explorer that can help you rank your article by using selective keywords. Such tools allow a thorough keyword analysis and backlinking as well.
Step 1: Check the Search Volume
SV (Search Volume) represents the number of times people have typed a specific keyword into Google. SV is important as long as you do not wish to create a content strategy with keywords nobody is looking for.
It's simple as selling a product in a market. You'd sell a product only if it is in demand, right? So, with SV, you know about the demand.


When it comes to keyword search volume, there are two primary factors to take into consideration: volume and competitiveness.
Keywords with higher volumes mean more potential exposure (or impression share), but will likely be much more competitive.
This, in turn, makes it harder to rank for these terms as you'll probably be going up against popular and well-established sites.
If you're a new website, you may want to begin by targeting low-volume (or medium), low-competition keywords as a starting point to establish some domain authority.
if you're a well-established site, you can delve into the more competitive territory (medium to high SV) to maintain your edge.
In the image below, we did SV for the term 'flock vs Slack,' using Ahrefs' Keyword Planner. This Keyword is super easy to rank and the user intent is high too. SV for 'Flock Vs Slack' is 250 with 306 Clicks and 91% Organic Clicks. Hence it'd be easy to use this phrase.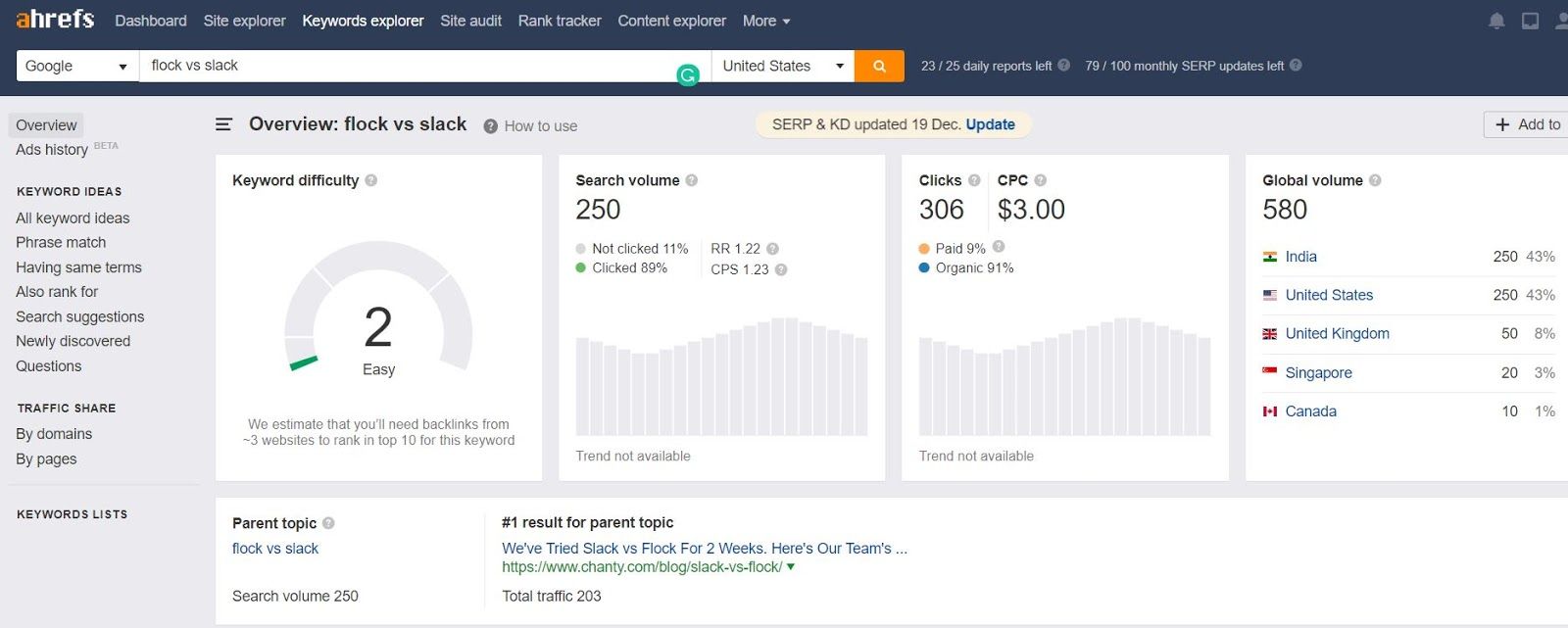 Using the Ahrefs Keyword Planner, we also analyzed SERP position history to find our competitors who are targeting the same phrase and the articles they've curated around it.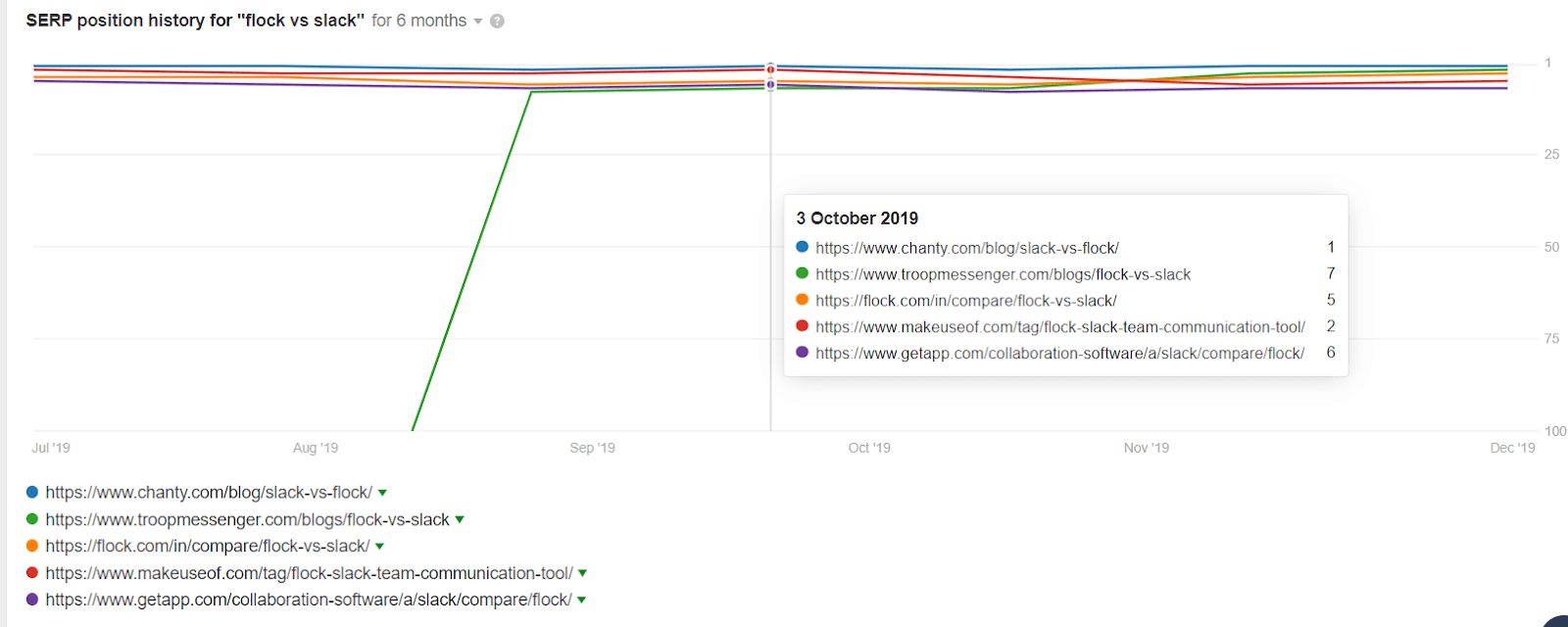 Step 2: Check for Keyword Difficulty Level
Finding the SV is only half the battle. It takes you to popular keywords with the insane competition. Hence, at this point, you can use other keyword software like Ahrefs or SemRush.
Keyword Difficulty Level, abbreviated as KD, is an important metric since it shows how difficult it's going to be for a blog to have a top ranking using a particular keyword.
KD metric takes into account the amount of backlink that points to the URLs in the top 10 search engines. Hence,


At Troop Messenger, we use Ahrefs to check KD for the popular keywords we pick in Step 1.
Ahrefs KD helps find the 'low-hanging fruit' by giving us an estimate of how hard it will be for us to rank among the top-ranking pages.
We did a KD search for the term 'Flock Vs. Slack,' which has KD of 2, 250 SV, and we'd need to create about 3 website backlinks to rank in the top 10 for this keyword.
Since Flock & Slack are already popular, we used these keywords to rank our application Troop Messenger. The term 'Flock Vs. Slack' is super easy to rank and the user intent is also very high.
Don't believe us? Google Search the term 'Flock Vs. Slack', and you'll find us there: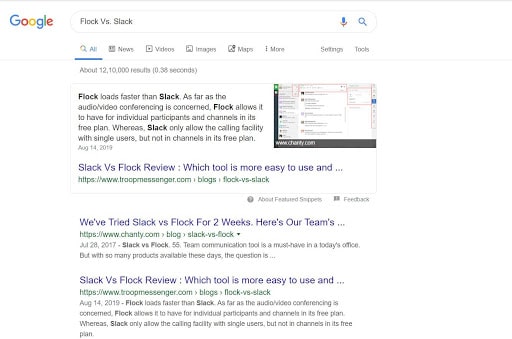 Step 3: Check for the Intent
To understand Intent, you need to have an understanding of user behavior. An intent represents a user's intent (purpose) for the search. It shows what a user is most likely to do when they are searching Google with a particular phase. For SaaS, keyword intent reflects 'How ready a user is from buying their products/services?'
To be specific, it's a guessing game since you cannot be sure. Hence, this is the part where you have to apply common sense as well.
For instance, the search intent behind 'cost-effective office collaboration tools' shows that the buyer already knows about Slack and Flock, and they are looking for a more efficient and cost-effective tool. It's easy to convert this specific audience since we are offering just what they want.


When we search for keywords for our Troop Messenger blog, we come across different keywords to find user intent.

People looking for office chat applications like ours usually search with phrases like 'Slack,' 'Team Chat Apps,' and 'Slack Alternatives.
Search Intent for 'Slack' represents the user intent of those who are mainly interested in Slack and would neglect the other's name on the list. Hence, for us, user intent is low here.
People searching with 'Slack Alternative' means they are looking for something other than that. With our blog, we show them what benefits they get by using us as a Slack Alternative (keyword intent is high here).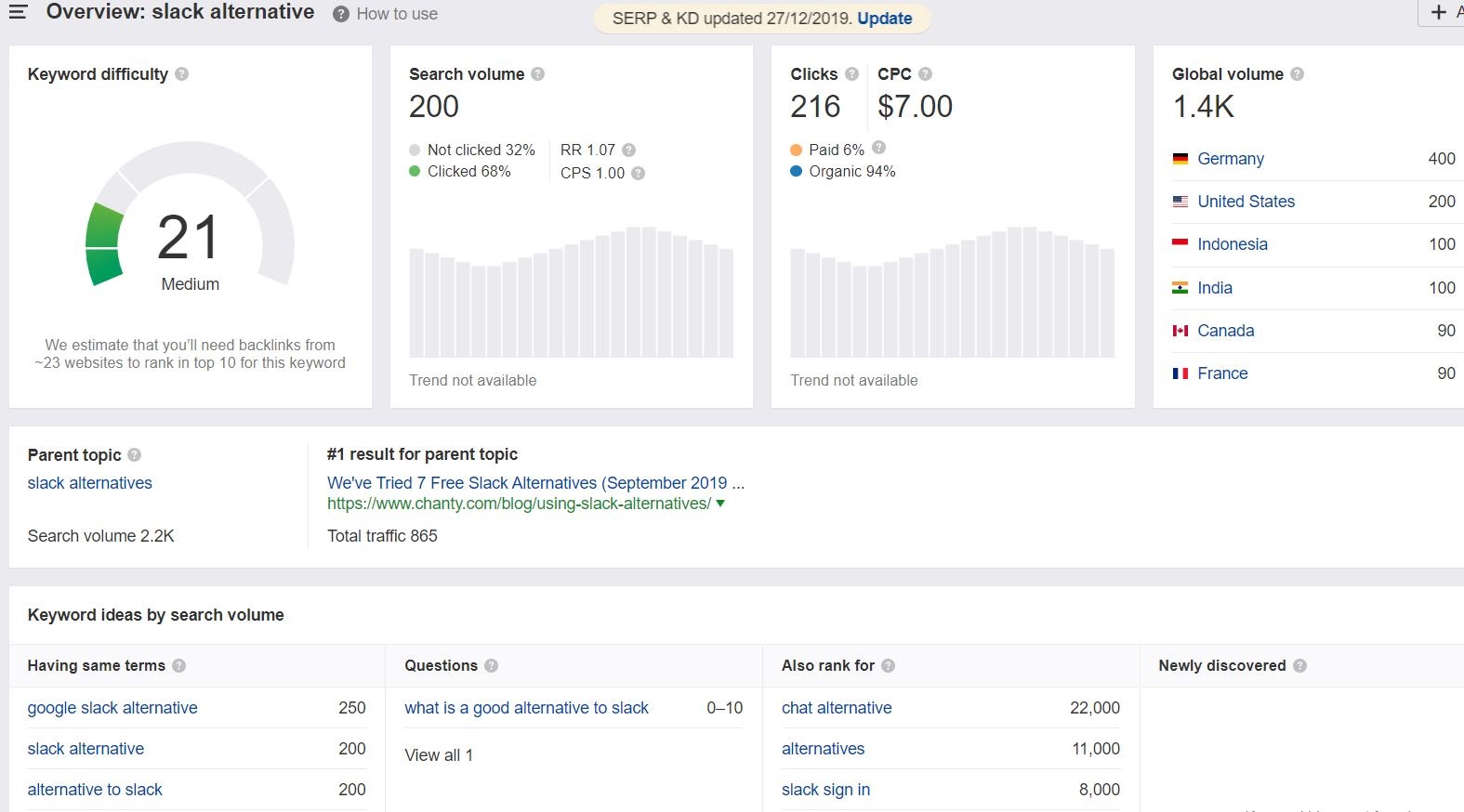 B. Leverage the Power of Google & Google Tools
Can you create any content marketing strategy without abiding by 'Google and its algorithm? I bet not.
If you want your content to rank high and your SaaS products/services to appear in the top search results, you've to distribute your content thoroughly. It starts with spending at least 50% of your resources.
Google should be the ultimate content distribution channel where you create and publish content relevant to your product and niche.
Let's take Groove for example. They created content for an exhaustive list of marketing keywords and brought them to the top of search results. Groove promoted its content through Facebook and other Social Media Channels, but it's Google where they first created a base. From creating customer-oriented how-to-articles to tutorials, Groove did it all.
At Troop Messenger, we leverage the power of content distribution via Google and we make thorough use of Google tools. We know Google results can either make or break our business.
1. Google Analytics
I'm sure you must have set some goals for your content marketing strategies, and with Google Analytics, you can take a step to reassess your situation.
At Troop Messenger, we've been using Google Analytics to get a snapshot of our performance over time.
Here's what you can analyze with this tool:


Audience engagement
Active Users
User explorer based on demographics, interest, behavior, mobile, and technology
Average time on page
Page Views
Unique Page Views
All of this will give you a clear idea of what's working and what is not, in regard to your type of content, topic selection, etc.

2. Google Trends
We all find it difficult to continually come up with a fresh set of ideas and topics. This is why we have made a habit of checking the trends alongside brainstorming new ideas.
Here's what you can do with Google Trends:


Explore a new topic
Browse what's trending using time filters
Realtime Search Trends for Web, YouTube, and Image Search.

You don't need a specific action plan for using this tool. Just type in the category and see what Google pulls out from trending topics in your niche.

3. Create Blog Posts that Won't Put Readers to Sleep
When you are curating any type of content, remember that the attention span of a human is only about 12 seconds. Hence you've to grab their attention right with the first few lines.
You cannot take a risk by creating something that has nothing unique. People do not have enough patience to read an article that is crowded, has long sentences, and is boring.
So, before anything else, you must create content that your prospects truly want to read. Here's a five-step strategy to create the kind of content which makes you closer to the SaaS marketing goals.
Step 1: Research. Research. Research.
Every single SaaS content marketing strategy must start with thorough research. Don't think your imagination can be the only source of ideas. You might be creative, but you still have to find what others are looking for.
For the research, Google's Suggest Feature can be highly useful.
Start by searching for a phrase (office chat software) related to your product.
Now Scroll to the page bottom.
Here you'll see similar searches that are based on user data.
Try to understand the intent behind these searches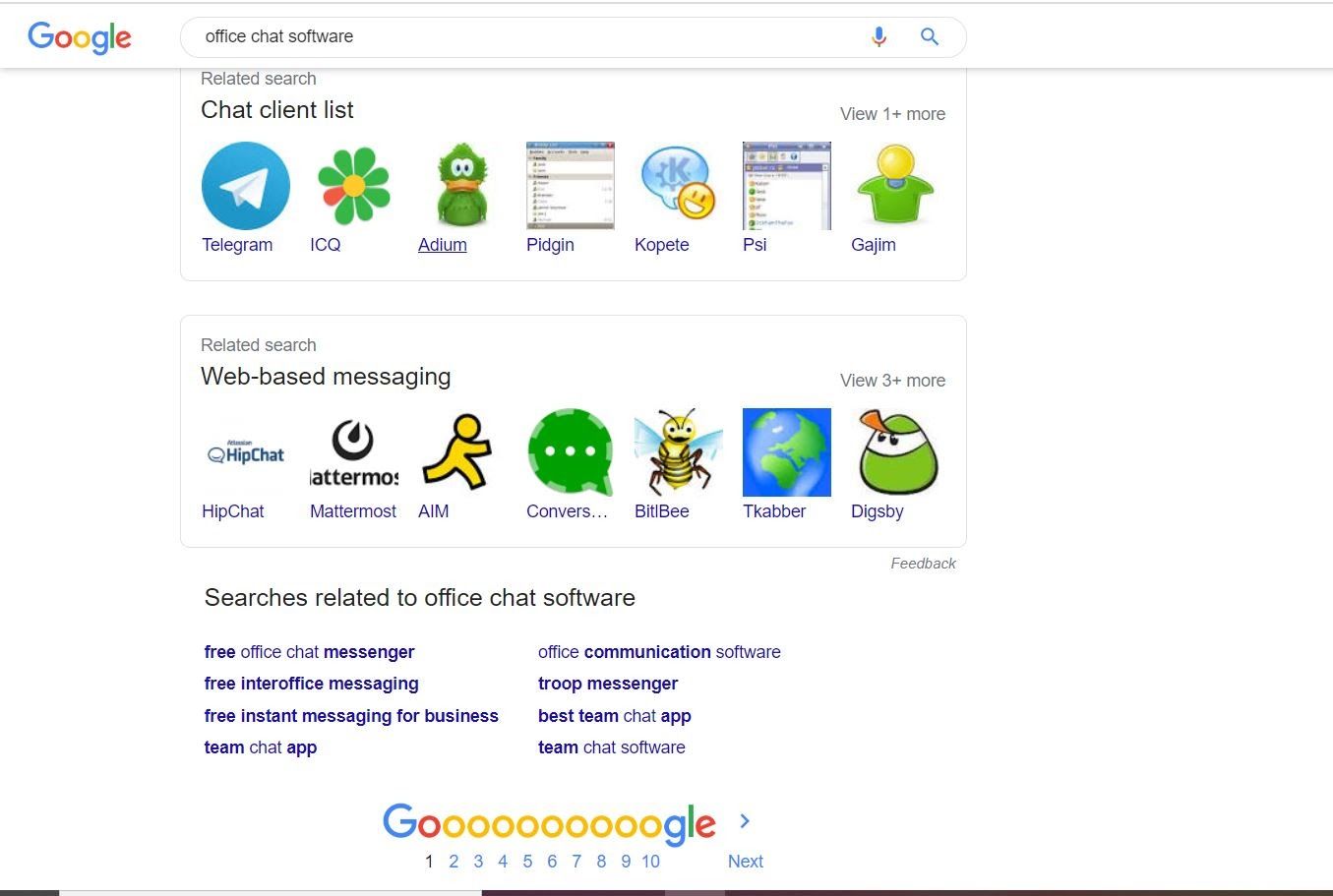 At Troop Messenger, we further narrow topic research by reviewing our competitor's content via BuzzSumo. This tool helps us find the content that is performing best in our field.
You can also use BuzzSumo for content insights, generate ideas, perform the influencers, monitor your performance, and create high-performing content.
Steps to reviewing the content of your competitors:
In the Content Analysis Search Bar, Enter your competitor's name:
When you hit enter, BuzzSumo will display an analysis of all content published on that domain. You can review the topics that got your competitor's maximum engagement.
In the image below we did a blog content analysis for our competitor Flock.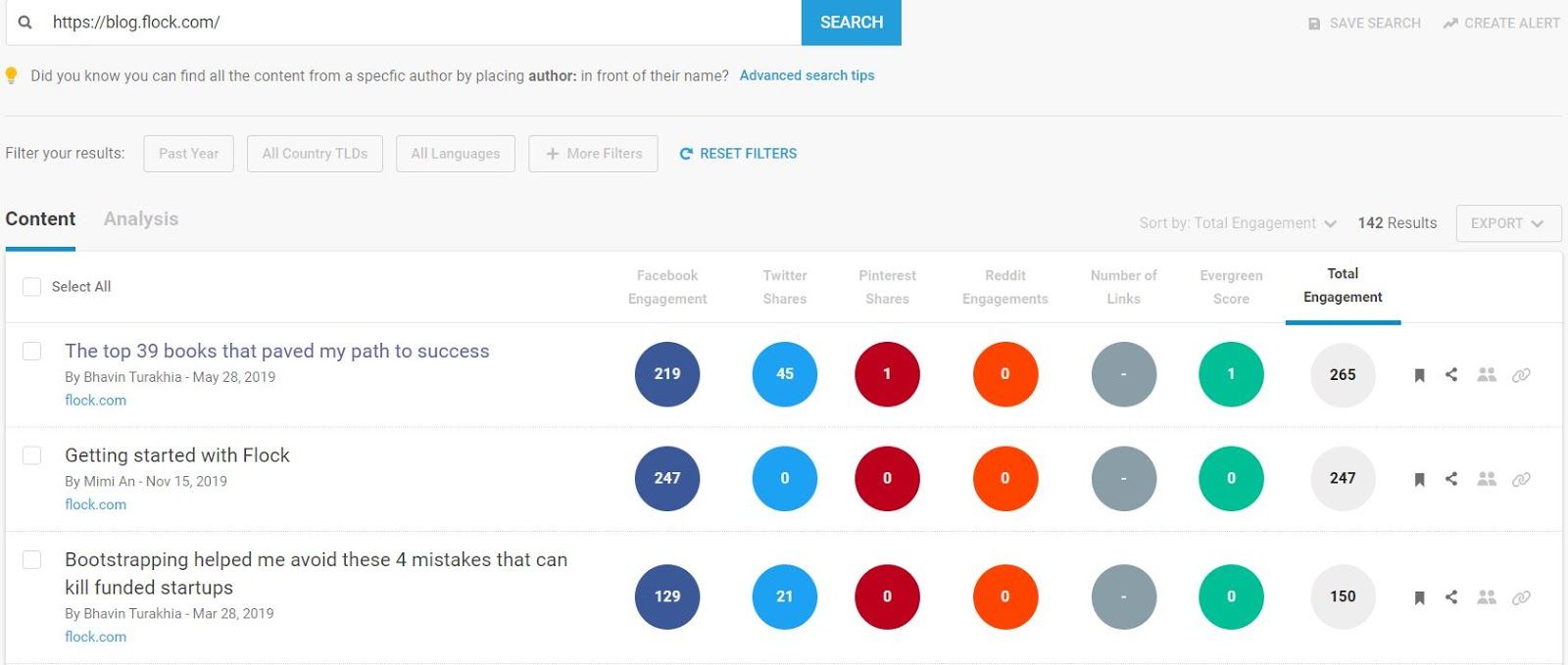 Review the formats and Networks that are working
Apart from topics, you can use BuzzSumo for digging into social networks and see where your competitors' content is gaining traction. See which social media platform has driven the most engagement.
In Flock's case, it's Twitter chiefly.
Review the content by Backlinks
You can also sort your search by the 'number of backlinks and find the articles that have driven the most links.
Research who is linking and sharing your competitor's content
Social engagements always amplify content. More the engagement, the wider will be the audience reach. With BuzzSumo, you can review the people who shared content on social media from a competitor's site.
This can be done by narrowing search results for 'Influencers' and choosing 'Search Content Shared.'
Use these search results to create and curate high-quality content on the same topic, and target a similar audience.

Step 2: Curate Content for Every Phase of The Buyer's Journey
The content or blog post you create should be curated around each phase of your buyer's journey. Since the goal of SaaS content marketing is to provide the target audience with valuable information, use your blog for the sales funnels. Help your customers understand why your product or services Click here to learn more about sales funnels.
Usually, content marketers mainly create content to create awareness and generate traffic. But that is not the right approach. Content should be used in the entire marketing funnel. Like other SaaS companies, Troop Messenger also needs a full-funnel strategy for executing a thorough marketing plan.
Awareness:
In this stage, we created content to target all top keywords related to the office collaboration tools and promoted engaging, entertaining, and informative content to attract the target audience.
We also run campaigns for awareness so that customers would know more about products and engage as well. We do create campaign posters, and before we sent them to our customers we choose a unique campaign poster template and see how it goes with our products.
if it will suitable then only we finalized the campaign and send it to customers.
Goal: The goal of this phase was to help people discover how Troop Messenger can solve their problems of office collaboration and virtual workplace management.
Lead Generation:
Once we made the customers aware of our existence, we generated leads by providing them with gated, high-value, and free content. Brands that are good at lead nurturing, easily generate over 50% more sales, and that too at a 33% lower cost.
Hence, at this phase, we continued educating our customers and solving their problems with 'How To' content. We delivered facts and data to help prospects overcome their concerns.
For Lead Generation, we also highlighted our USPs so the prospects see why we are the best Slack Alternative.
Goal: Get prospects to engage with our brands and trust our services more and more.
Trial Sign-ups:

Since we offer a free trial for 30 days, this stage helped us attract customers into availing of the freebies. It's a crucial step, and we also highlighted this as a testing phase since the customer's feedback after the trial helps us further improve the product.
Goal: Trial Sign-ups aimed to encourage our users to install the application, try the software, and decide for themselves.
Conversion to Paid Customers:
We continued creating content around the special features of premium plans, the benefits, testimonials of clients and businesses who've been using the paid plan, and what changed for them.
We deliver high-quality content either through newsletters or blogs and continue educating and engaging about the more valuable features of our software.
Goal: After the trial period ends, it's all about convincing them to opt for a paid subscription.
Customer Retention:
Customer Retention is an important step to retaining customers. We do this by constantly providing the value we promised to our customers in the initial phase of their journey.
We created content that further educates each of the customers about all the functionalities. At our blog, we provide guides and step-by-step tutorials targeted at guiding customers on 'how to get the most of our SaaS product.'
Goal: Continue helping customers to be successful at using the different features of Troop Messenger and avail benefits.
Step 3: Create Something Unique
As I said before, it's all about uniqueness. A thousand words can earn you traffic for a while, but if your content is not unique, why will people turn up to read?
There's no shortcut. You have to put in maximum work if you wish to achieve better visibility. If you wish to earn a great response, you must create content that offers something unique. Even a lengthy post cannot guarantee the top spot you desire.
If you want to evaluate the uniqueness of your content, before publishing the content online you can rely on a plagiarism checker free.
Plagiarism needs to be dealt with before publishing your text online for readers. If your content gets accused of plagiarism, forget about the visibility or ranking, and your website might get penalized too. So, to avoid it, you need to check it and paraphrase the duplicate text manually or use tools like paraphrasingtool.ai.
Go big or go home.
For SaaS business, I suggest writing a high-quality and experience-based article. Here are some of the ideas that worked for us:


Comparison Articles of alternatives: pros and cons of our competitors or rival's product alternatives.
Feedback articles: It's where our team members shared their feedback after using a couple of office chat alternatives
Vote/Score article: We make our team members vote for the alternative they like using the most.
Verdict articles: It's where we compare different features of different tools and tell the readers who won in terms of a specific feature.
Screenshots article: After thoroughly using an alternative, we make screenshots of features/things we like or dislike while using the tool.

Step 4: Repurpose Your Blog Posts
There are different ways in which content is shared. Some SaaS businesses still prefer sharing information through written content, while others rely more on video tutorials.

At Troop Messenger, we leverage the benefits through brief posts that focus on special tasks. We have repurposed our blogs into start-to-finish guides.

As a content creator, you can further repurpose content for different audiences. Your audience might be willing to listen, watch, or read the content. Different formats are good as long as they engagingly provide information.

Here are different ways to repurpose your blog posts:


Creating a Pinterest or Instagram instructographic Creating a Pinterest or Schedule Instagram posts instructographic
Republish old posts.
Repost to social media handles such as tweets or Facebook posts.
Repost on Quora as an answer to questions.
Reuse blog posts as an email series (for example, 11 days projects)
Create an Ebook
Host a Webinar
Reuse blog posts as Reddit Answers

D. We use our blog posts as a conversion machine

If you have a blog dedicated to promoting your SaaS startup, and yet there is no medium to convert blog post readers into paid customers, you need to review your content marketing strategies.
Most blogs fail at converting readers into customers because there's no dedicated place where they can turn into a customer unless they scroll down to the very end. It's important to write articles that convert. We did the same thing at Troop Messenger. We change the position of a few things:
Call to Action:

CTA's are the most integral part of a SaaS business. Hence, don't make your CTA stubbed in a corner of the page, or somewhere far in a crowded place. It has to be visible.
The best practice is to put CTA as a fixed menu. It has to be visible enough to catch attention. At Troop Messenger, we have implemented a fixed menu with our call to action button, which encourages the readers to try our office chat application.
Sign-Up prompts: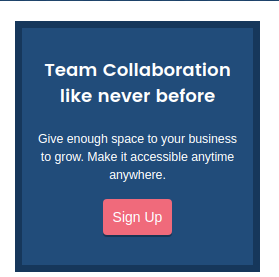 While your readers are reading the content your team has drafted, remind them that they can get all the benefits by signing up. Sign-up prompts are a good way to convert customers. By implementing sign-up prompts, not only did we grow our email list, but we also succeeded in increasing the opt-in rates.

E. Here's How We Get Our Blog Posts to Rank Higher in Search Results:
For any content to rank high in Google, quality backlinks act as a backbone. Often called Inbound Links, these are the links directed toward your website.
The more high authority backlinks, the more important will your content be in the Google algorithm's consideration.
Google considers such a website more important and gives better credit by showing them first on the result page after a query.
At Troop, we follow the backlink mantra religiously, and frequently create content relevant to our niche (SaaS products) and generate backlinks with the same process.
1. Guest Blogging to create backlinks:
You have to understand the importance of guest blogging. It lets you share your expertise and at the same time, build your authority too. With the backlinks, you can also boost your SERP rankings.
Since we started Troop Messenger from scratch, we resorted to guest blogging to get our monthly traffic. From 'Top Office Messenger Applications,' to 'Growth Hacking strategies, and 'Startup Funding Ideas', we've created guest blogs on a vast range of topics.
We use the staircase blogging strategy:


With this strategy in mind, we create high-quality content for websites (third-party blogs) that have a decent number of traffic.
We pitched guest blogging ideas to reasonably popular blogs
We continued writing for these sites where the competition wasn't too intense, and following the same approach, we built for us a great writing portfolio.
At Troop Messenger, we didn't guest post only for the sake of backlinking, but also to showcase our expertise and to present our product to a bigger audience.
2. Blogger Email Outreach Strategy:
What Should be the Next Step After Guest Blogging?
If you are one of those entrepreneurs who want to scale your posts and reach a wider audience, Blogger Outreach should be the answer.
Sounds Alien?
Let me explain.
Blogger outreach is a method of putting your content across relevant industrialists, bloggers, and experts from your niche, by sending them a personalized email.
The objective of these emails is to convince these experts with a larger audience to talk about your content. Give you a shout-out!
Blogger Email Outreach = Broadcasting.
Two things you need to keep in mind when trying the blogger outreach strategy:


Choose your target very carefully
Use Content Explorer to reach people linked to articles from the same niche and topic
Craft your pitch to evoke curiosity with the subject line
Make sure to send them a highly personalized email
Explain why you're contacting them
Avoid Fake Flattery
Always End with a clear CTA


Examples of Some of the best outreach subject lines:

3. High-Quality-Captioned Visuals:
We create our images for every blog post. By designing great visuals, featured images, and infographics, we manage to grab your reader's attention. But the trick here is to optimize the image.


Don't leave it uncaptioned. Add the link.
Your images should be easily available online. Choose the right alt tag.
Add the best keyword that fits with your image and put it with the alt text.
I suggest using a long-tail phrase/keyword as an alt tag.
4. Reddit Marketing
Reddit has about 1 million communities and 51 million unique users. It has proven to be the most intimidating social network for us. At Troop Messenger, We frequently post in relevant subreddit and get engaged with the users in the subreddit.
Subreddits:
There are subreddits (categories) for almost anything you can think of. Each is identified by https://reddit.com/r/subreddit
With a helpful search feature, you can search for a subreddit of your choice using keywords.
Once you find a handful of relevant subreddits, start using Reddit for real.
Reddit sure looks like the early 2000s message board, but it has a reputation many other social media platforms still fail to match. It's a huge aggregator. Here's what you can do with Reddit:
Submit links (repurpose your blog posts) that are relevant to a specific community.
You can also submit self-posts, which are posted as original contributions by the users.
Text posts enable a user to submit original content, which helps drive quality traffic.
Redditors can either downvote or upvote your submission, which generates a karma score. This Karma score works wonders for Reddit's credibility. Hence, avoid getting downvotes as less as possible.
The only way to have a good karma score is a submission of valuable content.
In our subreddit, we also host AMA (Ask Me Anything) where Redditors ask questions, and we answer, which helps us establish a relationship.
5. Quora Marketing
Quora has 300 Million Users. Unbelievable, right?
When we launched Troop Messenger, we were looking for ways to confirm authority in our niche, create brand awareness, and increase organic traffic. We did it all via Quora.
Through Quora, we searched for specific topics related to our business. We targeted questions that appeared in Google searches.
We also created a few questions to collaborate with many industry influences.
We answered questions with authority and passion and added links to our website for those who wanted to read more.
Paid Advertisement, where we targeted users topic-wise, further helped us increase conversions and clicks.
With Quora, we succeeded in highlighting our position as an industry leader, built valuable relationships, and drove traffic to our website.
Conclusion
There's no denying the fact that content marketing has evolved into an integral element of marketing for pretty much all types of business. Especially for SaaS, content marketing has become one of the standard practices.
Want to escalate your SaaS business to new heights? You cannot do it without strategic content marketing tactics.
Sharing Educational and Informative content with the target audience is important, which is why 'content' is a crucial tool for SaaS products and their marketing.
With content marketing, not only can a company effectively educate its customers on how their product works, but also encourage them towards giving it a try to avail of the benefits.