The evolving world didn't stop at social chat apps and social websites to make communication easier; it also expanded to business communication, such as effective office chat apps like Troop Messenger and project management tools that would make business and team communication easier.
Seven in every ten entrepreneurs believe that the biggest obstacle to their company's success is inadequate communication between the team members.

Delegating tasks, managing mega-projects, and maintaining continuous collaboration with the team members are some of the most crucial responsibilities of a team leader. The same responsibilities can result in a 'lost chance' in the absence of proper communication with all team members and apt collaboration throughout the project.

Of course, any task completion or project management becomes a lot simpler when the company has the right set of tools to execute, control, and manage all processes of project management. That's the reason why all companies today swear by project management tools.

With the majority of companies adopting software project management tools, there has been an increasing demand for team collaboration tools. But with over a hundred project management tools available at a swipe of a finger, the selection of the right management tool can be a daunting experience. These tools are available with different features, unique functionalities, and distinct pricing-which can all be very confusing if you don't know what will fit your business needs.

To simplify the selection, we have made an unbiased comparison of the sixteen best project management tools and software. Follow this article, learn about the exclusive features of each tool, and make your decision after going over the pros and cons we've listed below: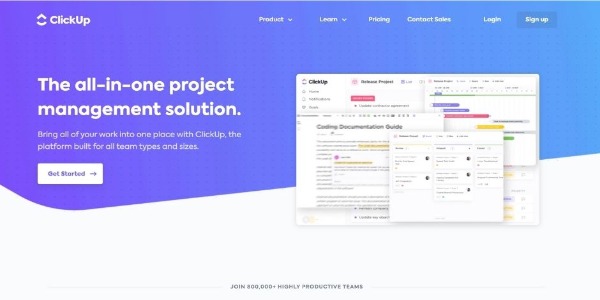 ClickUp is a versatile project management platform that is designed to save your company one day each week. By helping your team plan and executes upcoming projects and collaborate on ongoing work, it lives up to that promise.
Why ClickUp is suited as the best Project management software tool of 2023:
ClickUp is the ideal project management platform because it shows all the relevant information you need to accomplish your work from a single place, allowing you to manage the flow of your work with ease.
Tasks store all the attachments, assignees, comments, due dates, statuses, and other info you need to get up-to-date on a project's progress.
ClickUp offers built-in integrations with tools like Slack, Dropbox, Email, and Google Drive, in addition to 1000+ 3rd-party integrations.
Updating in real-time, ClickUp keeps your entire team on the same page at all times.
ClickUp has five pricing tiers billed per user, monthly: Free Forever (Free); Unlimited ($5); Business ($12); Business Plus ($19); and Enterprise (Contact Sales Team).
ClickUp Pros:
Customizable views
Affordable pricing for any team size
Assigned comments
Customizable Dashboards and reporting
24/7 Support
ProProfs Project Cons:
Less customizable mobile app
Unlimited storage only available on paid plans
Rating: 4.6/5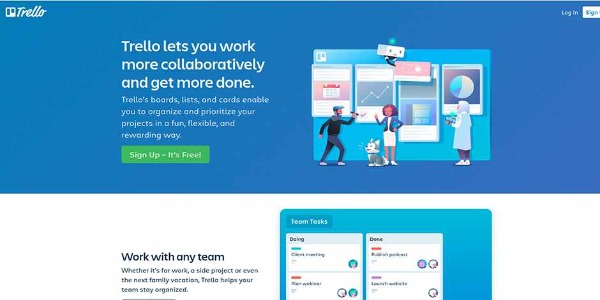 Trello, is hands down, one of the most popular task management tools with features that promise to boost your company's productivity, and make task assigning, project tracking, and management more straightforward than ever.
Why Trello is suited as the best Project management software tool of 2023:
Trello is best for project management as it allows the user to create a board, add steps in the workflow, assign tasks, invite the team, and track the work progress on the same card.
The user can dive into detail by adding attachments, checklists, sharing files, and project due dates to each card-all of which make collaboration very easy.
Integration with Slack, Dropbox, Evernote, Google Drive, and other productivity applications
Irrespective of where you go, the tool stays synced across your devices.
Trello has Business and Enterprise plans, both priced at $9.99 and $20.83 per user, monthly.
Business and Enterprise plans have a per-file attachment limit of 250MB.

Trello Pros
Unlimited team boards
Unlimited scheduled commands
Custom stickers and background
2-Factor authentication
Easy Data Export
Trello Cons
No Gantt Chart
Tasks get limited to only one board
It's available only on iPhone and Android
Rating: 4.5/5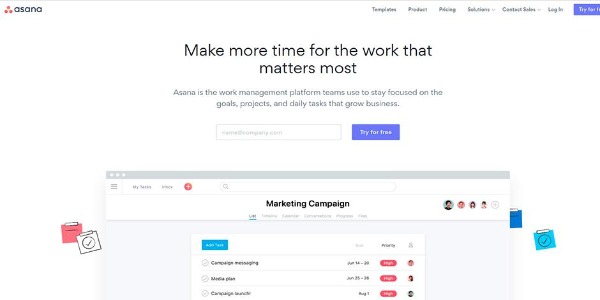 This work management tool can scale your business tasks to a new level of productivity and efficiency. The platform is designed in a way a user can easily follow the assignments and projects through each stage, eliminate roadblocks, and structure projects as required.
Why Asana is suited as the best Project management software tool of 2023:
Task assigning and organization is way more straightforward with Asana as it allows users to set goals and create milestones.
One can assign tasks and share details with team members.
Allows creation of visual projects, pinpoints risks, and implements changes.
Premium and Business plans are priced at $9.99 and $19.99 per user, monthly.

Asana Pros:
Task and list view
Due dates and Assignees
Calendar and board view
Advanced search and milestone reporting
Private projects and teams

Asana Cons:
UI delays
No-time tracking
No multi-member tasks
Rating: 4.5/5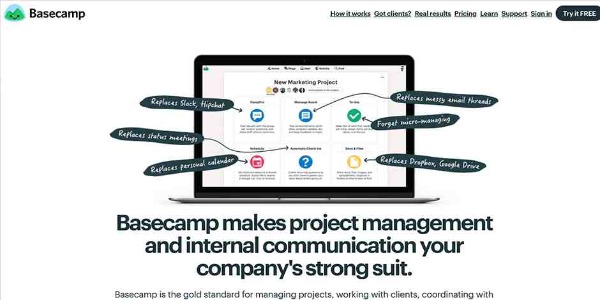 This tool covers all aspects of business management. It makes communication with the internal and external teams easy and allows project management on the board. It's great for managing small and mid-size projects because of multiple collaboration tools which help the job get done.
Why Basecamp is suited as the best Project management software tool of 2023:
The tool has a very simple UI, and the support is excellent.
The setup to manage the task, report to clients, and seek an update from team members is as smooth as it can be.
The Automatic check-in feature allows the team leader to keep track of tasks in progress.
The tool allows 500 GB of file storage with unlimited projects and users.
Basecamp has a one-for-all plan of $99 per month, per enterprise. This is irrespective of the total number of people working in the company.
Basecamp Pros:
Centralized feedback and discussion
Automatically progress summary
To-dos
One-for-all plan of $99 per month
Basecamp Pros:
Too much simplicity
No tags
No reporting and time tracking
Cluttered organization of attachments
Rating: 4/5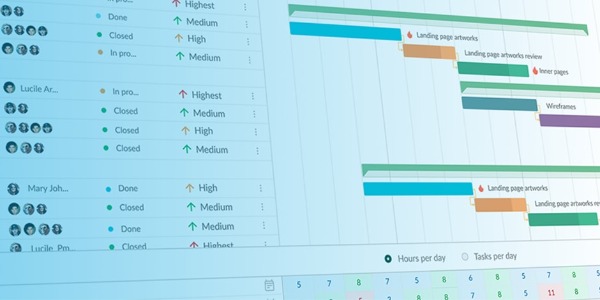 GanttPRO is one of the most popular online Gantt chart tools with more than 350K registered users. For individuals and teams from all over the world, it makes task and project management as well as team collaboration and resource management much easier and smoother.
The Gantt chart timeline gives a clear picture of a plan that is very simple to track and follow.
Why GanttPRO is suited as the best Project management software of 2023:
GanttPRO provides a visually appealing picture of all the tasks with their dates. It turns task assignments, progress and time tracking, deadlines,s and cost management into enjoyable activities.
The tool allows teams to collaborate on critical issues right inside one workspace: comment on tasks, attach files, and receive notifications.
Export and Sharing features allow having plans at hand at any moment.
Projects can be managed with the most appropriate time view thanks to the Zoom option: from hours to years.
The ready-made professional templates are a good start for most industries: software development, construction, marketing, event planning, education, manufacturing, and many more.
GanttPRO has one of the easiest setups with a very intuitive interface. The learning curve is very short even for a novice.
GanttPRO pros:
Gantt chart timeline with a short learning curve.
Kanban view as an alternative to Gantt charts.
Resource management and team collaboration.
Time tracking.
Personal calendars.
Tasks dependencies and milestone management.
Reports.
GanttPRO cons:
No mobile app.
Not rich in integrations.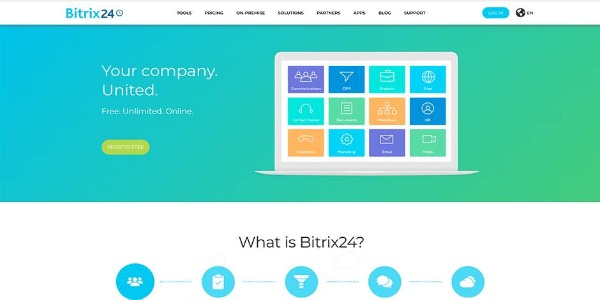 Bitrix24 offers state-of-the-art team communication with exclusive project and task management. With this online project management tool, companies have the freedom to manage clients, assign tasks, track project milestones, and enjoy secured internal communication.
Why Bitrix24 is suited as the best Project management software tool of 2023:
It has the majority of collaboration and communication features like the social intranet, user groups, document management, chat, video, and email integration.
Bitrix24 has an exclusive HR management system.
A Customizable Kanban board is available for project tracking
It's a powerful CRM tool with features like lead and pipeline management and sales automation
Online storage limits up to 50 GB and 100 GB in CRM+ and standard plans.
CRM+ and standard plans are priced at $69 and $199 for all users of a company, monthly.
Bitrix24 Pros:
Gantt Charts
Task Dependencies & Project Workgroups
Multichannel customer helpdesk
Automatic time tracking & Task templates
Bitrix24 Cons:
A bit complicated to use because of the extensive features
Lacks fine-tuning configuration
Rating: 4.8/5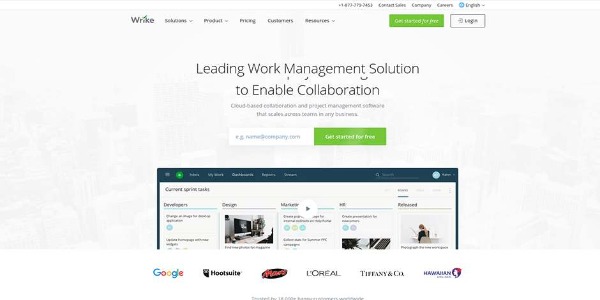 This leading project management tool has features that simplify workflow, streamline project tracking, and increase the productivity of team members through centralized collaboration. It lets you create, collaborate, plan, customize, and plan everything that needs your team members to be on the same page.
Why Wrike is suited as the best Project management software tool of 2023:
The tools allow a project plan to turn into a robust strategy and a schedule into a streamlined workflow.
Wrike has advanced project management features that align your team and set priorities and work faster.
The app allows easy integration with Google, Salesforce, Github, JIRA, Gmail, Microsoft One Drive, and Adobe Creative Cloud.
The business plan allows storage space of up to 50 GB and a 15 GB monthly video upload limit.
The professional and business features can be availed at $9.80 and $24.80 per user, monthly.
Wrike has advanced add-on features like Wrike Extension, Wrike Proof, Wrike Resource, and Wrike Lock.

Wrike Pros:
Shareable dashboards
Subtask Management
Gantt Chart and Graphical analysis
Calendars and Time Tracking
Real-time scheduled notifications and shared reports
Advanced Integration
Wrike Cons:
Difficult breaking up of tasks
Cluttered interface
Rating: 4.6/5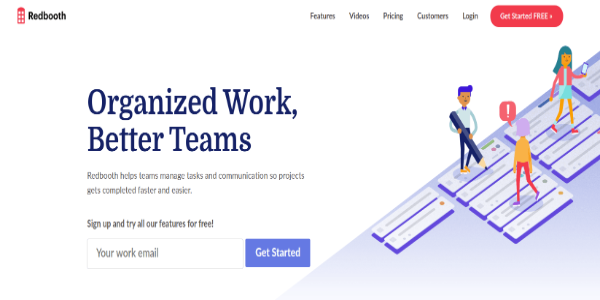 This management tool facilitates file organization ensuring smooth communication between team members. The best thing is easy accessibility and navigation which allows users to check, edit, and update ongoing tasks.
Why Redbooth is suited as the best Project management software tool of 2023:
It has an interactive dashboard with all the necessary details
One can create tasks, make comments, add files, edit due dates, and manage the task as needed.
Managers can catch a glimpse of who's doing what.
All files are centrally located.
Integration with Box, Slack, Dropbox, Google Drive, Zapier, and Zendesk.
Pro and Business plans are priced monthly at $9 and $15 per user.
The business plan has a storage limit of 50 GB, but with the Enterprise plan, it can be exceeded by up to 500 GB.

Redbooth Pros:
Unlimited Workspace
Resource Management
Time Tracking
Success Manager
Advanced Subtasks

Redbooth Cons:
No advanced feature for task management
No recurring task
Non-customizable workspace
Rating: 4/5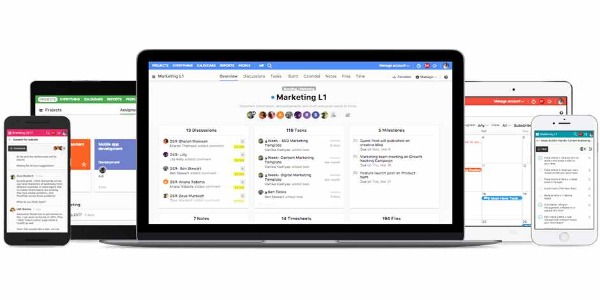 ProofHub is an all-in-one task management tool compact with numerous contemporary features that can address your business necessities in real-time. The unified business tool has features that can speed up your workplace processes, document review procedures, generate reports, simplify tasks through boards and workflows, and give a visual timeline through Gantt Charts.
Why ProofHub is suited as the best Project management software tool of 2023:
Proofing, White-labeling, Custom roles, Multilingual interface, Kanban boards, Task management, Gantt charts, Time tracking, and file management are the elite feature.
Proofhub allows integration with Google Calendar, Google Drive, Box, iCal, Freshbooks, Onedrive, Evernote, and Outlook applications.
The Ultimate control plan allows unlimited users, unlimited projects, and a storage capacity of 100 GB with all the core features.
The Essential and Ultimate Control Plan starts at $45 and $89 per month, per team.
Users can opt for IP restrictions to avoid unauthorized access to their accounts.
The supported platform includes Windows and Android.
ProofHub Pros:
Advanced Search
Notes taking
Project Manager and Templates
Discussions and Chat
In-app Notifications
API to connect with third-party tools
File Versioning

ProofHub Cons:
Not very user-friendly
Comparatively slow in uploading and downloading
Too many notifications
Rating: 4.7/5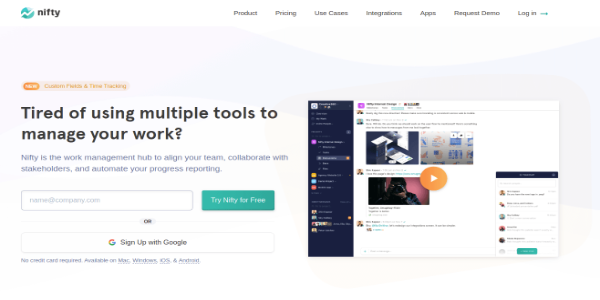 Nifty brings entire organizations together by offering a single workspace to collaborate on and manage the different departments of the organization. A cross-organizational Project Overview feature gives leadership insights into high-level sprint timelines which can turn into a task-level deep-dive analysis of any project in just a few clicks. For regular team members, Nifty provides intuitive core features such as project discussions, milestones, tasks, docs, and files. In order to make their work easier and also to keep stakeholders aligned on project objectives. Direct messaging and group chats provide streamless teamwide communication to bridge the gap between planning and delivery. The nifty free version allows access to all core features, 3 members, 2 active projects, and storage of 1 GB per user, plus the Self-Serve Help Center.


Nifty Pros:
Unlimited tasks and milestones
Kanban and list task views
Custom documents and Google Docs built-in Files
Time tracking
Team chat and discussions



Nifty Cons:
No reach direct integrations
No recurring task
No calendar task view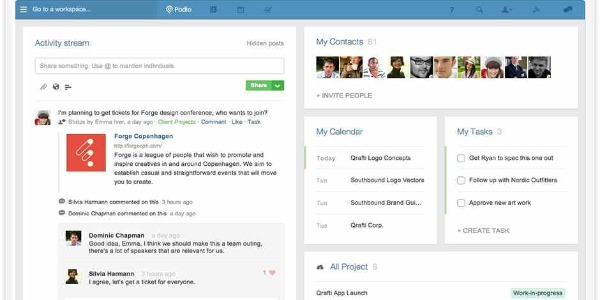 This web-based task management software is one of the best business collaboration tools which has numerous customizable options that facilitate project completion on time. Companies can add different workplaces depending on their work requirement, and through these features team members can collaborate efficiently.
Why Podio is suited as the best Project management tool of 2023:
Podio assures streamlining your business tasks in a way everything is organized, and there is no room for distraction and confusion
Structured task management is where one can assign work, discuss the details, attach files, and add comments.
Seamless integration with GoToMeeting, Dropbox, Google Drive, Email, and Excel.
Podio frontend is developed on the API, which makes integration of API operations simple.
Podio is free for a team of five members. The primary plans are priced monthly at $9 and $14 per user.
Podio Pros:
Feedback and review workflow with clients
Automated calculations and progress reporting
Insight to improve operational productivity
Compatible with iPhone and Android
Podio Cons:
No time tracking
Difficult interface
Rating: 4.3/5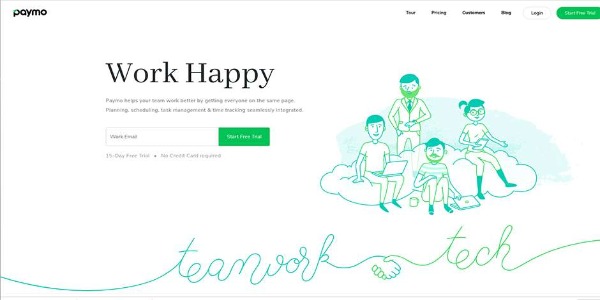 This is one of the best project management tools that allow your team members to work efficiently by getting them all on the same page. The key features include project planning, task scheduling, time tracking, and project management.
Why Paymo is suited as the best Project management software tool of 2023:
Prime features of the free version include Kanban and meta Kanban boards, to-do lists, file sharing, and community support.
For small businesses, Paymo has features like advanced reporting, integrations, project templates, and advanced task management.
Paymo supports integration and API with primary social interaction and collaboration tools.
The small-office plan has a storage limit of 50 GB, whereas the Business plan offers unlimited storage.
Small-office and Business plans can be availed at $9.56 and $15.16 per user, monthly.

Paymo Pros:
Invoice and Estimate features
API and Integration
Resource Scheduling & Gantt Charts
Online Remote Assistance

Paymo Cons:
Difficult to navigate
Difficult to learn for beginners
Rating: 4.2/5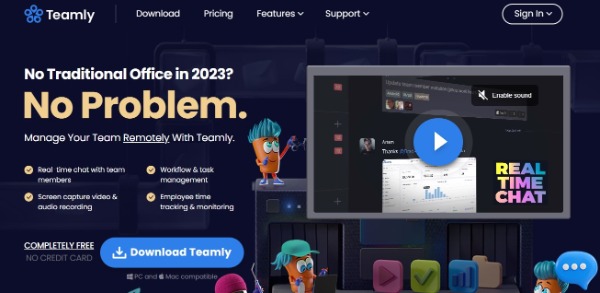 Teamly is a remote team management software that simplifies the process of managing a team remotely. With real-time chat, workflow, task management, screen capture video and audio recording, and employee time tracking and monitoring, Teamly is the perfect solution for managing your team efficiently and effectively.
Why Teamly is suited as the best Project management software tool of 2023:
Has all the functionality you need to effectively manage a remote team
Bypasses steep learning curves and eliminates team member frustration
Makes team collaboration a snap with instant chat and virtual chat rooms
Effortlessly stay on top of tasks, projects, & timelines with user-friendly Kanban boards
Calculates payroll quickly & easily with built-in time tracking and monitoring
Teamly Pros:
The easy-to-use interface that makes remote team management simple
Real-time chat and task management
Screen capture video and audio recording
Employee time tracking and monitoring
Professional checklists and SOPs with done-for-you templates
Agantty Cons:
Rating: 4.8/5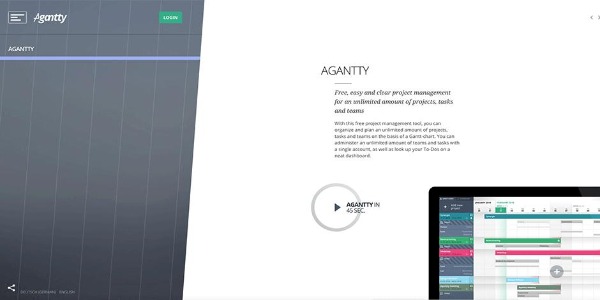 With Agantty, you can manage and organize projects, teams, and tasks through Gantt charts and Graphical representation. You can monitor and administer numerous tasks and teams through a single account, and look up to an organized dashboard.
Why Agantty is suited as the best Project management software tool of 2023:
With Agantty, you can create as many projects as you want, and drag them to the Gantt chart view for visual tracking of the project process.
The task can be grouped very easily, and multiple members can be invited to assign parts and access rights.
The tool guarantees a high level of data protection and encrypted file transfer
This is the only free tool with premium features.
Agantty Pros:
Project creation
Task assigning
Inviting partners and friends
Teamwork
Drag and Drop
Task progress tracking
Available for free

Agantty Cons:
Difficult breaking up of tasks
No API
No Integration
No Speed Optimization
Rating: 4.4/5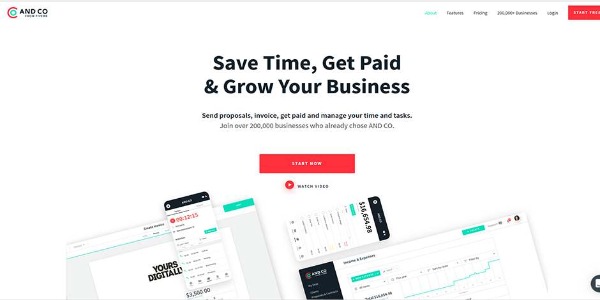 And Co from Fiverr is one of the high-rated tools that have a great many features. Not only does this software has invoicing, proposal, and contract features, but it works more like a project management tool with features that help users manage ongoing tasks and completing the project within the due date.
Why AND CO is suited as the best Project management software tool of 2023:
It is an excellent tool for freelancers who work on Platforms like Fiverr and require to keep track of their ongoing projects.
Task management is made easy with features like proposal and contract, payment and invoicing, expense tracking, and time tracking and report generation.
There's a free plan that allows one active user, and the paid plan starts at $18 per user, monthly.
Integration with Asana, Google Docs, Slack, MailChimp, and Dropbox.
AND CO pros:
Customizable invoice
Set recurring tasks
Time-sheet sharing
Multi-device syncing and tracking
Contact management and time-tracking

AND CO cons:
No Gantt Chart
Very Limited Integration
Rating: 4.3/5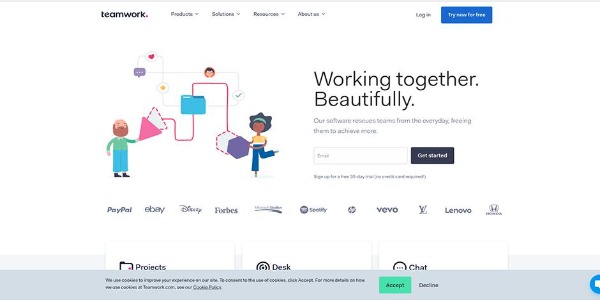 Teamwork has an appealing and eye-catching design which is similar to Trello and Basecamp. Apart from the sharable notes, direct messaging, tagging, and invoice generation, some features let you create milestones for ongoing projects and assign tasks through email.
Why Teamwork is suited as the best Project management software tool of 2023:
Gantt charts, reports, time tracking, and subtasks reporting are the key features.
The tool facilitates integration with email, iCal, Google Calendar, and Microsoft Outlook.
The tool allows excellent document management with Dropbox, SVN, FTP, and Google Drive.
It is compatible with iPhones, Windows phones, and Android phones.
There are monthly pro and premium packages priced at $9 and $15 per user.
With the premium package file space of 250 GB is available, and with the Enterprise plan, the limit exceeds 500 GB.
Teamwork Pros:
Helpdesk for improved customer care
Team communication software
Documentation management
Automated marketing workflows
Teamwork Cons:
Inability to import tasks of large size
Comparatively slow and time-consuming
Rating: 4.2/5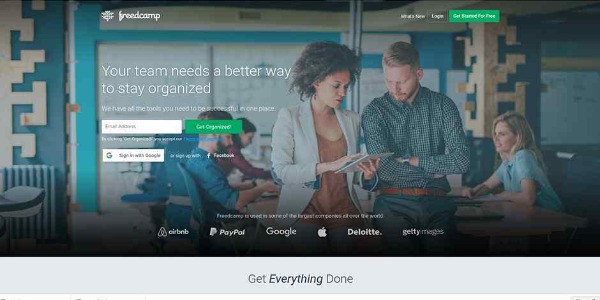 Get all your business needs in one place with Freedcamp as this is one of those tools that simplify business organization at an advanced level. Not only does this tool boasts task lists, Kanban boards, and Gantt Chart, but it also has all the other features you need to accomplish your business goals on time.
Why Freedcamp is suited as the best Project management software tool of 2023:
Key Features include a drag-and-drop tool, task and subtasks management, and personal and private tasking.
Task Management features include a calendar, milestone setting, discussion board, documentation, social communication, time management, and issue tracking.
Supported Platforms are the App Store and Google Play Store.
There are three packages titled Minimalist, Freelancer, and Business package, each priced at $1.49, $3.49, and $7.49 per active user, monthly, and billed annually.
Freedcamp Pros:
Invoice Generation for clients
Project Templates
CRM solution
Task Board and Widget Board
Backups
White Label
Freedcamp Cons:
No reporting features
No time tracking
No Gantt Chart
Rating: 4/5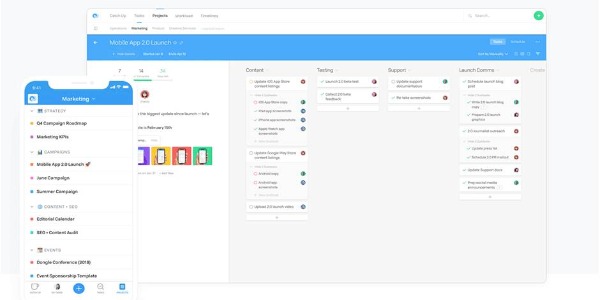 This is a visual task management app whose main functionality is to provide high-level project transparency to the team members. The tool covers all workplace task that involves delegating responsibilities, scheduling timeline for the work that needs to be done, and keeping track of progress made.
Why Flow is suited as the best Project management software tool of 2023:
Key Features include project planning, priority setting, and task tracking.
Kanban boards for simple checklists.
Project dashboard for project tracking.
Visual mapping of deadlines and task progress.
Easy management of resources and workload balancing.
The basic Flow plan is available at $4.79, and the pro plan starts at $7.099 per user, monthly.
Flow Pros:
Team Collaboration
Resource management
Project tracking
Catch-up feature
All Integrations
Public API
Unlimited tasks and Projects

Flow Cons:
No Gantt Chart
Difficult to get used to
Rating: 4.6/5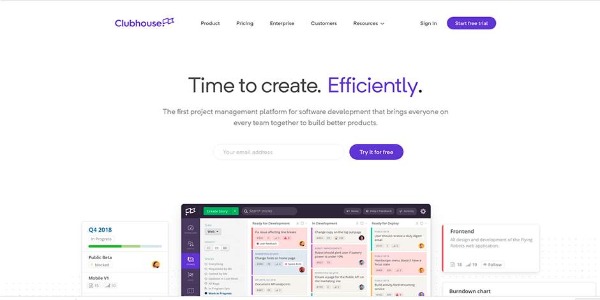 This is an easy-to-use tool specially designed for software development companies. The interface is straightforward, with no crammed features, and just a simple UI. What makes it great for Software developers is the predictive analytics, real-time project management, and tracking.
Why Clubhouse is suited as the best Project management software tool of 2023:
Anyone can create a project, add tasks, assign roles, set milestones, and track progress.
Team members can reflect on daily chores through Kanban boards while focusing on the big picture.
For teams of up to ten members, the monthly plan of $8.33 is available.
For teams of up to ten members, a monthly plan of $8.50 per user is available.
One can chart the project update and generate a progress report.
Clubhouse Pros:
API Access
Unlimited workspaces
App integration
Dedicated account management

Clubhouse Cons:
No innovative feature
No time tracking functionality
Rating: 4.1/5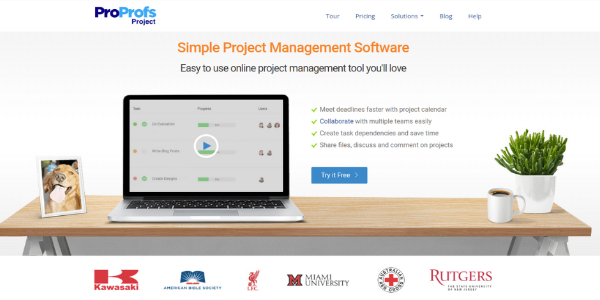 ProProfs Project is a simple project management software that has an easy-to-use and understandable UI. The PM software also has all the tools to streamline workflow, improve team communication, monitor team performance, and bill clients automatically. Manage your projects, teams, clients, and other stakeholders on a single platform with ProProfs Project.
Why ProProfs Project is suited as the Best Project Management Software Tool of 2023:
It has two views - a single dashboard to view all your projects and their progress and a calendar view with which you can visualize milestones alongside your team easily
ProProfs Project has features like time tracking and timesheet entries that help in project and resource management.
Collaboration is really easy using ProProfs Project with features like Task Comments, Shared Calendar, Email Notifications, and File Sharing.
Assign tasks to relevant teams and ensure they stay informed of all updates with task permissions.
ProProfs Project offers four pricing plans, ranging from a Forever Free plan to an Unlimited Plan priced at $199/month.
ProProfs Project Pros:
Easy-to-understand UI
Extremely feature-rich
Instant, insightful reporting
Accurate, automated invoicing
ProProfs Project Cons:
Kanban view still underway
Non-customizable email notifications
Rating: 4.5/5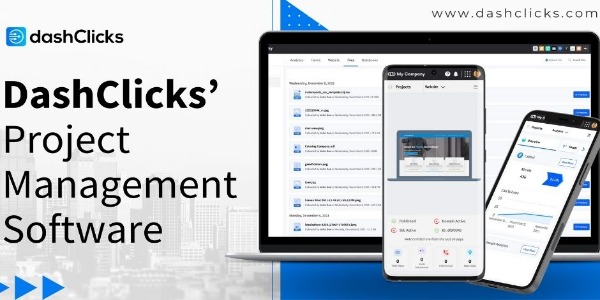 "Projects" by DashClicks is a project management software crafted especially for agencies. It offers the most convenient and robust way to manage your teams, projects, customers, and more.
With the help of the software, you can upload and manage files for your client's projects. You can also create and manage notebooks for your client's projects.


Another remarkable feature of the Projects app is that it enables you to manage unlimited projects within it.
Why DashClicks is suited as the best Project management tool of 2023:
The software lets you automate the creation of a new project.
You can automate the creation and sending of onboarding documents to your clients with the help of the software.
You can view analytics associated with your client's marketing campaigns within the software.
The software lets you manage your client's website.
You can choose a forever-free plan. Paid plans start from $97 USD a month.
DashClicks' Project Pros:
Available for a free trial; no credit card is required
A forever-free plan is available
Both the free and paid plans include unlimited projects
Auto project creation
Automate onboarding docs
DashClicks' Project Cons:
The free plan provides limited file storage (100 MB)
Can be a bit complicated to use because of its extensive features
22. Financial Cents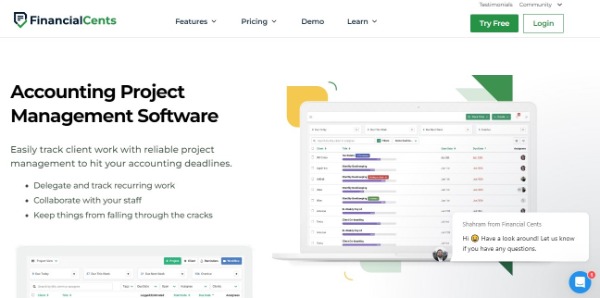 This accounting project management software is a cloud-based solution that makes it easy for accounting firms to manage client work, collaborate with staff, and hit their deadlines.

The software can scale your accounting firm task to a new level of productivity and efficiency.
Why Financial Cents is suited as the best project management software for the accounting firm of 2023:
Keep things from slipping through the cracks by easily tracking the status of client work, who's working on what, and all your deadlines in one simple view.
Use automated requests and reminders with a secure upload and no client login required.
Keep all communication, documents, notes, email, and client info stored in one place so your team can access it and get their work done.
Financial Cents Pros:
Project management and task management
Workflow Automation
Email Management
Client Database
Client Portal
Document Management
Time Tracking & Billing
Available on Desktop
14-days trial
Financial Cents Cons:
Rating: 4.8/5
Summing Up
Companies trust in project management software to ensure all tasks are done on time, the project meets the deadline, and the workload is balanced for standard time management. Since these tools ensure project success, enhance the efficiency of resources, and increase organizational productivity, they are becoming an integral part of the majority of small, mid-size, and larger enterprises. Not only do these tools help with project estimation, tracking, and planning, but they also have collaboration features that make task assignment and resource scheduling very simple.

Though we've shortlisted the best of the project management tools, the final selection of one app can still be overwhelming. Be advised to ensure compatibility, and examine your requirements with the tools and their features before selecting one.