Being productive when working remotely can be challenging if you are underprepared without the right tools to help your business. In addition, it would disrupt coordination between internal teams on tasks and cause problems around collaboration for meetings, performance reviews, and planning for existing and newer projects.
Fortunately, with the fast-paced evolution of digital technology, there are multiple remote working tools for you and your teams to explore. This article lists the most recommendable and dependable remote working tools that will help ensure uninterrupted and sustained productivity.
Let's check them out!
Top remote working tools for teams in 2023
Fyle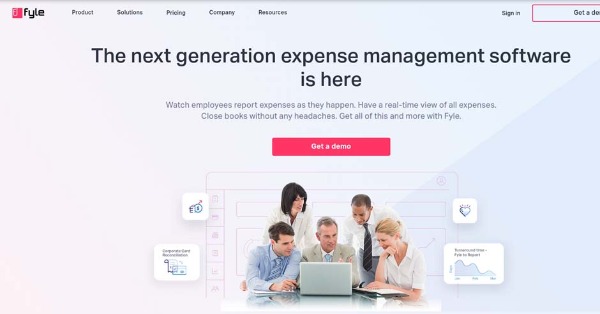 Does your remote workforce struggle with reporting their expenses on time? If so, you should check out Fyle, a cloud-based expense management software. The tool has features like a receipt scanner, expense tracking from everyday apps, automatic credit card reconciliation, and a robust policy engine that can simplify the entire expense management process.
With Fyle, employees can use the receipt scanning app to capture and convert paper receipts into digital expense reports for seamless submissions. For digital invoices, employees can track and report their expenses via Slack, Gmail, and Outlook add-ons. Finance teams also do not need to spend hours reconciling their credit card expenses manually. Instead, Fyle automatically reconciles every credit card spend with the transaction details without manual intervention. The expense report tool also comes with a real-time policy engine that audits every expense at the source of expense creation. With Fyle, both your employees and Finance teams can collaborate on expense management tasks to close the reimbursement cycle on time.
Price: Fyle's pricing plan starts at $4.99/ month for Standard plan users, $8.99/ month for Business plan users, and custom pricing for Enterprise plan users.
Troop Messenger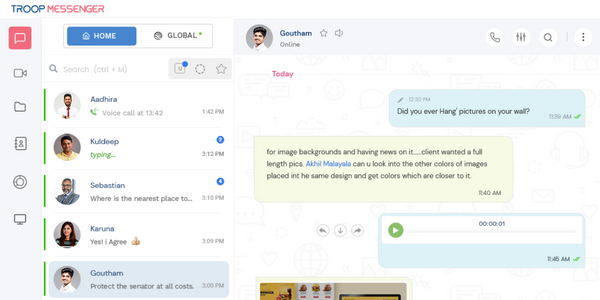 Troop Messenger is a widely trusted remote collaboration tool by the Military, Governments, and business enterprises for exchanging work conversations in a secure environment. It helps office teams to stay connected via multi-platforms from anywhere, any device, and at any time through text conversations, HD audio-video calls, remote screen share, and control, face-to-face online work meetings, and other time-saving work productive features.
Besides letting project teams engage in unlimited virtual business meetings, Troop Messenger's group audio-video calling and conferencing provides an additional feature for developers, the Jointly-code, where a group of coders simultaneously write and edit code. The users of Troop Messenger can take control of the remote desktop, where they can access files and edit them. Being a participant in the remote screen share, you don't have to request host approval for sharing the contents of your screen. In addition, it allows unlimited participants in the group call.
Pricing: Troop Messenger comes with an enterprise free trial for one month, premium at $2.5 per user/per month, and Enterprise at $ 5 per user/per month. Also, it is planning to bring a free plan for small teams at $0/per user/per month soon!
Zoom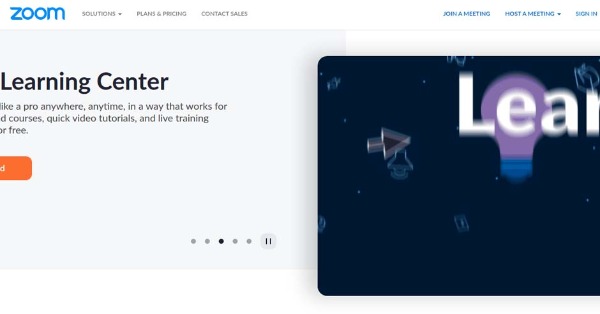 Zoom is a widely- popular video conferencing tool that can help remote workers connect over HD video calls and webinars. Zoom's video call feature has screen-sharing capabilities to help remote teams conduct detailed and engaging meetings. In addition, businesses can also use it to host group meetings and 1x1s with team members. You can also record sessions and search transcripts for easy access and documentation. Zoom also comes with cloud storage for video recordings that you can share with the rest of the team.
Hosting webinars is also straightforward with the video conferencing tool. With Zoom, you can host up to 10,000 attendees and broadcast the webinars to social media. To keep the audience engaged, you can also use interactive features like polls and chat.
Pricing: Zoom has a free plan that supports up to 100 participants. Their paid versions start at $14.99/month per host for more participants.
Slack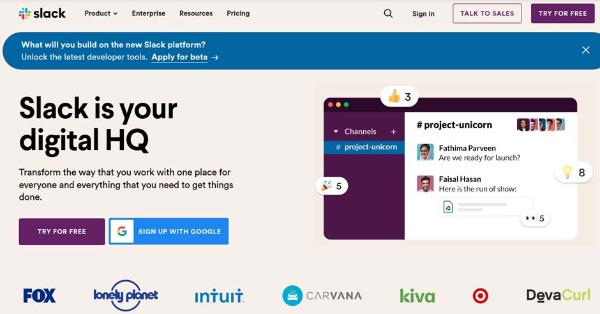 Slack is another widely-known communication tool for remote working. Teams can create dedicated channels to discuss progress around ongoing operations, simplify workflows, and stay in sync with each other. Employees can also create separate channels to communicate and collaborate with external vendors through Slack. Remote workers can also get on a quick chat to discuss time-sensitive tasks via their huddle feature.

Slack also comes with a powerful searchable feature, through which you can view discussions, easily search and find project-specific files and documents, and keep a tab on tasks. Through this communication software, teams can stay organized and keep each other in the loop no matter where they work.
Pricing: Slack has a free plan, and their paid plans start at $US2.67/month for Pro users and $US5/month for Business users. Enterprise Grid users can contact the sales team for custom pricing.
Hive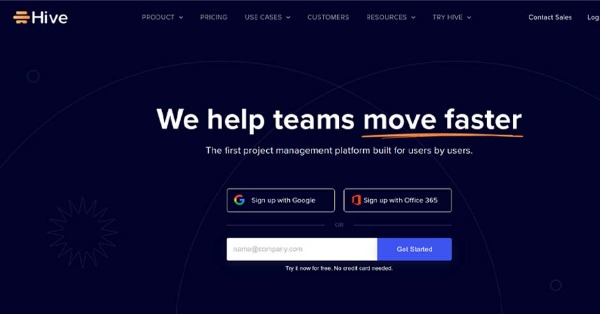 Hive is a project management tool built to enhance teamwork. Using the software, remote working teams can simplify workflows for complex processes. They can also manage and oversee multiple projects using task lists, Gantt charts, Kanban boards, or calendar views. In addition, employees can track all their tasks and deadlines and manage multiple projects using the Portfolio view.

Using Hive, project managers can collect and store information promptly from their employees under one platform. Employees can also tag teammates and notify them once they review and enter feedback. In addition, with the software's time tracking feature, they can keep track of how teammates are doing and make their processes more efficient.
Pricing: Hive has a free plan for up to 2 users. Their paid versions for Hive Teams start at $12/month and a custom pricing for Enterprises.
Daylite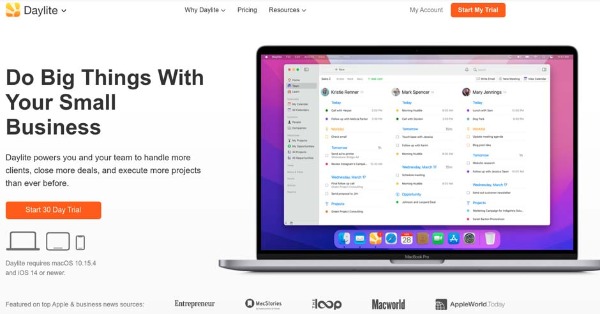 Daylite by Marketcircle is a CRM and project management tool that can improve your collaboration with remote teammates. The software helps you track and update multiple projects efficiently. In addition, it allows you to share project details, next steps, and meeting notes, delegate tasks, and help your team work better with fewer meetings and interruptions.

Through the tool, you can organize all details of your projects, track project milestones, and gain visibility of the project and your teammates' schedules. As project managers, you can also assign tasks to team members, get notified once they complete the task, and set up customizable recurring tasks weekly, monthly, or bi-monthly. With Daylite, you can empower your remote team and set them up for success even when you're working from different spaces.
Pricing: Daylite is priced at ​​$39.99 per month/seat with a 30-day free trial.
Time Doctor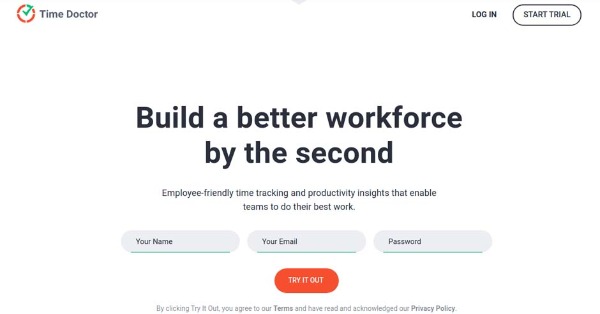 Time Doctor is a time-tracking tool perfect for small, medium, or large organizations that function as fully or partially remote businesses. It combines a wide range of remote working tools ranging from time-tracking and project management to payroll. The payroll feature is also fully customizable, includes various payroll periods, and supports all currencies. With these features, your employees can create seamless timesheets and payroll processes.

Using their time tracking feature, you can also create a summary of the time employees spent on each project, client, and task. You can use their time-tracking report to diagnose time-wasting tasks and tweak the process accordingly to improve productivity. In addition, you can ensure your estimated budgets align with your projects through their project management features. Create tasks, assign projects, and review progress – all in one place.
Pricing: Time Doctor's pricing starts at $7 per month and offers a 14-day trial package.
Podcastle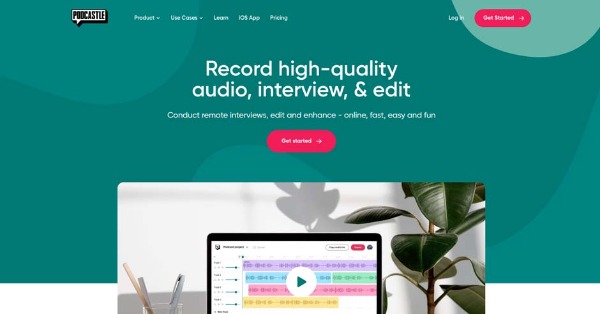 Podcastle is an audio recording and editing software designed to make recording, editing, and publishing podcasts easier. Anybody with a computer or laptop can use it. Whether you're someone who's been wanting to start your own podcast but have been too intimidated by the complicated process or somebody who wants to take their existing podcasting skills up a level, Podcastle can help! Podcastle has a user-friendly interface that makes it easy for beginners to create their own podcasts from start to finish in just minutes.

It also has advanced features for professionals such as voice enhancement, noise reduction, and echo cancellation. You can download Podcastle on any device - your computer or laptop, tablet, phone, etc., so you'll never be without it. Podcastle also makes it easy to export your files in popular formats such as WAV or MP3 so that they can be played on any device!
Pricing: Podcastle has a free forever plan and their paid plans Storyteller and Podcastle Pro, start at $11.99 & $23.99 per month.
Weje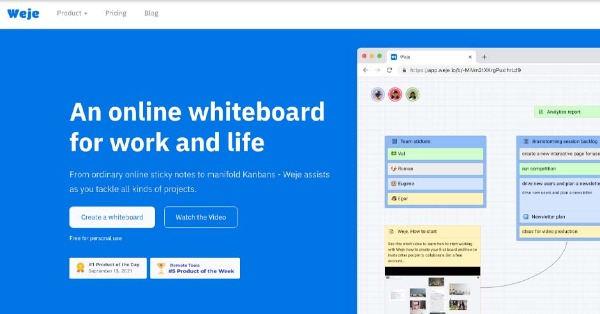 Weje is a project management tool with team collaboration features. Easily organize different files and work on them directly on cozy boards. You can easily manage your team members, delegate tasks and drag To-dos and drop them to Dones in the Weje workspace. Share, collaborate, and enjoy results!
You can organize different diagrams like a Flowchart or methodologies as a Kanban. Here you can easily share your ideas and workflows with your team. Weje can be everything for you, a project management tool, a planner, or a solution for presentations and reporting. As a use case, you can create neat boards and present them to your investors.
Pricing: Weje has a free forever plan with Unlimited boards. To upgrade to their paid plans personal & business, which start at $4 & $7 per user/month.
TimeCamp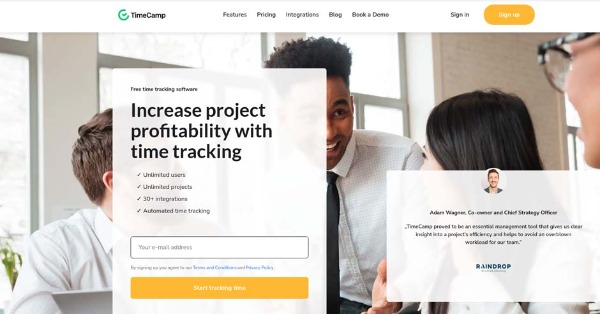 TimeCamp is a free timesheet software that seamlessly fills the timesheets with time entries. It works in the background and automatically tracks time (and computer activities if the feature is enabled). No matter if you choose the web timer, desktop, or mobile app of a browser plugin, you can be sure the work time will be recorded accurately.
You can choose from two types of timesheets - daily, with a time entry one after another, or weekly, a chart presenting the entries of time blocks.
TimeCamp is packed with many different features to streamline daily project and time management - a unique project tree structure with unlimited projects and tasks, robust reporting with preset and custom reports, attendance management with timesheet approvals, and many more. It also allows you to generate invoices based on tracked time and send them straight to your clients.
Pricing: TimeCamp offers a free plan and their paid plans with advanced features start at $5.25 per user per month, billed annually.
nTask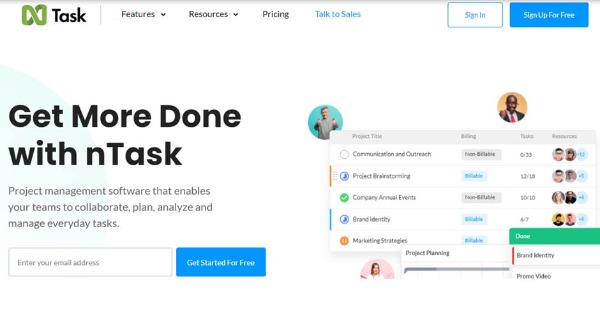 nTask is a robust project management and productivity tool used by remote teams to plan, analyze, manage, and collaborate on everyday tasks. The platform helps individuals and teams to create multiple workspaces, and add team members to them for collaboration on work. Business creates separate workspaces for each department and project giving the ability to store everything in one place. The top nTask features include; Kanban Boards, Gantt charts, Project management, to-do list, team communication, and meeting note-keeping.

Team members can tag other people in the workspace for task assignments, set due dates, give priorities, and track time spent on each task. It enables the remote teams to share comments, send files, and get real-time notifications and alerts. The software can be used for issue tracking, risk management, and as a CRM to manage the contact details of clients.
Pricing: nTask has a free plan for up to 5 users. The Premium plan is at $3/user per month, and the Business plan is at $8/user per month. There is also an Enterprise custom plan available.
Krisp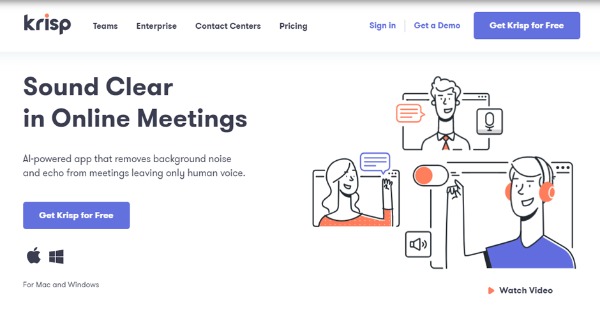 Krisp is a trusted tool for remote teams that helps improve virtual team communication and have more productive meetings. It offers enterprise team solutions for companies in different industries and sizes. Krisp is meant to reduce noise and cancel any voice distractions during virtual meetings as well as conferences. Even if you want to cancel noises such as dogs barking or kids screaming, the platform has solutions for everything.
The Krisp technology is based on AI and powered by a deep neural network. How does it work? It simply adds an extra protection layer between your physical microphone/speaker and conferencing apps. Moreover, the platform is private and safe meaning that it won't collect any voice data. Krisp also offers solutions for contact centers so that they can provide better customer service, solve issues with confidence, and avoid any background noise. This technology will help businesses improve their agent productivity and boost overall business growth.
Pricing: Krisp offers a Free plan for professionals working remotely sometimes. It also has a Teams plan which costs $5/user monthly and an Enterprise plan which comes with excellent security and control.
Teamwork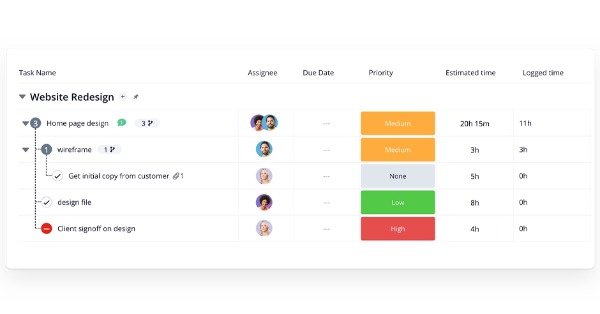 Teamwork is a project management tool that allows you to see everything in one place so you can effortlessly manage your team, projects, clients, and freelancers. Teamwork has all the advanced features you need from time tracking to budgeting to resource allocation. It doesn't matter if you're working from home or the office, Teamwork gives you everything you need to stay connected and keep communication flowing. When you're working remotely, you need to communicate clearly and concisely. Remove the need for email by keeping all project communications in one place through instant chat.
Organized document sharing allows you to capture ideas, take notes, add comments on docs, and collaborate easily with real-time editing with Notebooks. Integrate all your favorite tools you're already using, so you can run everything in one place. Maximize your time by automating your workflows and cutting out repetitive tasks.

Pricing: Teamwork has a free plan for individuals and small teams getting started with project management. The Deliver plan starts at €10 per user per month, and Grow plan is at €18 per user per month. There is also a Scale custom plan available. Start your free 30-day trial today!
Choose the right tools for your remote team today!
Modern tech tools help improve existing processes, save time and money, avoid burnout, and increase employee morale. You can establish strong and clear communication between your remote team members by picking the right tools for them. Once done, you can expect your remote workforce to be more productive, engaged, and efficient, even with them working miles away from each other.