Do you need confusion about selecting the appropriate Microsoft Teams pricing plan suitable for business and adhering to its requirements? This blog evaluates its pricing plans, which will make take an informed decision.
What is Microsoft Teams?
Microsoft Teams is undoubtedly one of the best team chat applications available today. As the self-explanatory brand name suggests, Microsoft developed it, and it is currently one of the top team chat apps available.

During the pandemic, it saw a surge in transited users from other instant messaging services from educational institutions and sales businesses. Zoom only allowed for 40 minutes, whereas Microsoft Teams' free download model allowed for up to 100 individuals with a 60-minute time limit. Like any team chat app, it is available for multiple platforms like iOS, Android, Windows, and macOS, including Microsoft Teams download for pc.
Is Microsoft Teams free?
That's what Microsoft Teams is saying since they announced their remote collaboration app as a 'Free' tool. Microsoft Teams pricing has become quite a buzz.


By consistently claiming to offer all the core features of Microsoft Teams' free plan, Troop Messenger aims to answer the common question of hundreds of prospective users: Is Teams free? The aforementioned details provide a response to this query.
Is Microsoft Teams really free for Business?
Is Microsoft Teams free to use? Evey general user is hugely contemplating this question. If you want to know Microsoft Teams' free plan can facilitate schools, then you are in the right place. You don't need Office 365 to use the MS Team app and also you don't need a license to use Microsoft Teams.


I won't say that Microsoft Teams is misleading its users with the tagline, but it's safe to say the statement is vague. With the foregoing in mind, you may feel is MS Teams free. To answer your query, you can open a free Teams account. With that said Team Free account has some limitations compared to other Microsoft Teams subscription plans. Below are some of the cons, pertaining to the Microsoft Teams free version which would answer, is Teams free for personal use? If so to what extent:
The storage limit in the free plan is 5 GB per user. This space fills so quickly that you'd have to upgrade eventually.
Free plans have poor downtime. No guarantee of 99.9% Uptime, unlike the paid plans.
With the free plan, you cannot record meetings.
There's a limit to the number of people that can be added.

And there's more.
I'll go through how much Microsoft Teams subscription costs later in this blog. But let's take a look at how COVID-19 has impacted Microsoft Teams' usage and growth.
Quick Comparison of Pricing Plans: India vs the United States
Here, is the comparison between Microsoft Teams plans for both India and the United States - I hope it will answer your query ' Do you have to pay for Microsoft Teams?
India
Microsoft Teams (free)
Microsoft 365 Business Basic
(formerly Office 365 Business Essentials)
Microsoft 365 Business Standard
(formerly Office 365 Business Premium)
Office 365 E3
Free
Rs. 125.00 user/month
Rs. 660.00 user/month
Rs. 1, 320.00 user/month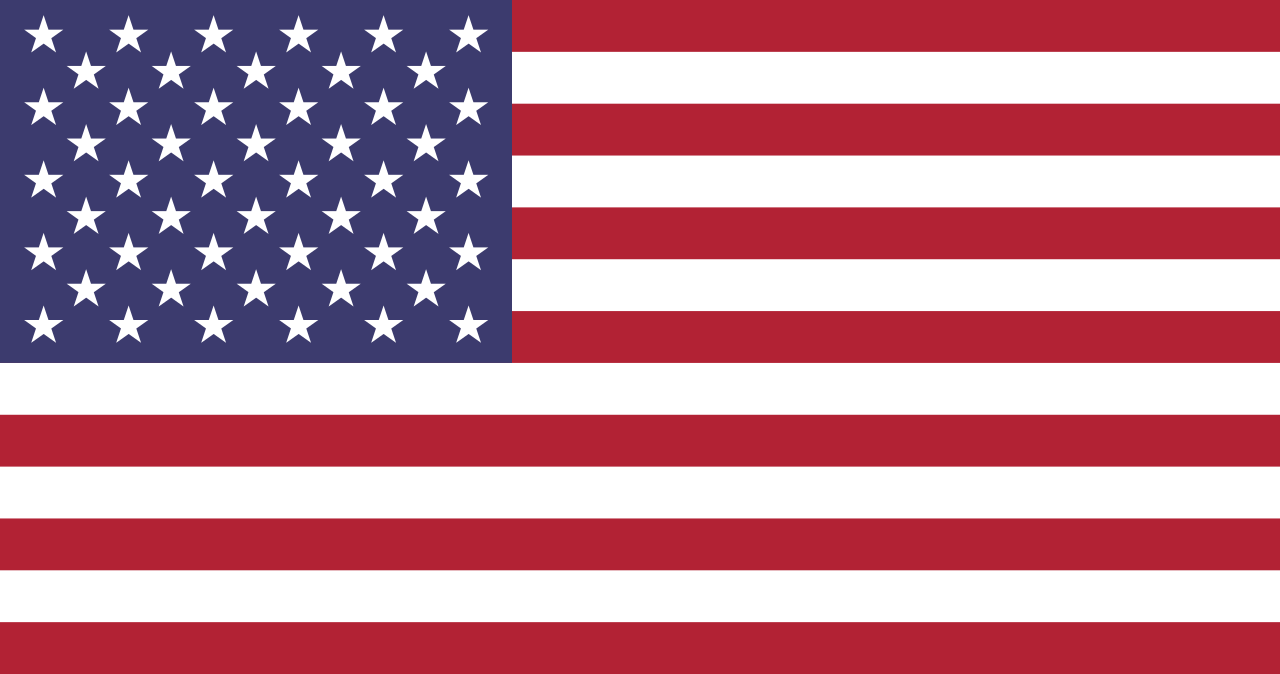 United States
Microsoft Teams (free)
Microsoft 365 Business Basic
(formerly Office 365 Business Essentials)
Microsoft 365 Business Standard
(formerly Office 365 Business Premium)
Office 365 E3
Free
$5.00 user/month
$12.50 user/month
$20.00 user/month
MS Teams Growth During COVID-19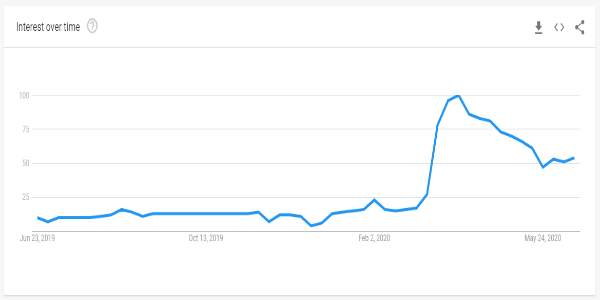 Due to the COVID-19 pandemic and the sudden shift toward the work-from-home model, MS Teams passed 75 million daily active users in April 2020, with its Microsoft Teams free account.


According to the data economy, Microsoft recorded 12 Million new users since remote workers increased during the COVID-19 pandemic.


Here's what Jared Spataro, Corporate Vice President for Microsoft 365 said about the influx of customers:
"It is very clear that enabling remote work is more important than ever, and that it will continue to have lasting value beyond the COVID-19 outbreak. 20 customers have more than 100,000 employees actively using Teams, including Ernst & Young, SAP, Pfizer, and Continental AG, as well as Accenture, which has 440,000 employees actively using Teams."

Considering the high demand and to show support during these unprecedented times, Microsoft decided to update some of their Microsoft teams' plans, especially the free plan.
But the question is:
"Do Microsoft Teams cost money?", I am sure this question may have appeared silly, but the preceding question is worth to refer. Is Microsoft Teams' free plan worth it? What features can you avail yourself of via the free version? What are the limitations of the new updated free plan?


I'll answer all that and more in this article. Let's begin with key features and how they are different for both free and paid customers:
Q1: How many members are allowed with its free plan?
Maximum Members
The maximum member limit is probably the first thing that comes to an admin's mind before deciding which remote collaboration app to use. Let's take a look at Teams free and paid.


Microsoft Teams Paid
If you have got a large organization, MS Teams' paid plan works fine. As per, MS Teams pricing plans, there's no limit to the number of users that can be added. All in all, its maximum users are potentially unlimited with the enterprise plan.


Microsoft Teams Free
The maximum member limit for free teams was previously 300, but Microsoft recently increased it to 500,000 users per organization. This update addresses the question of whether Teams is free.
"Microsoft revealed that Teams now support an increase to 5,000 members per team. The new maximum will help large organizations like Accenture (the largest user of Teams)."
Q2: Is Microsoft Teams offering unlimited file Storage?
File Storage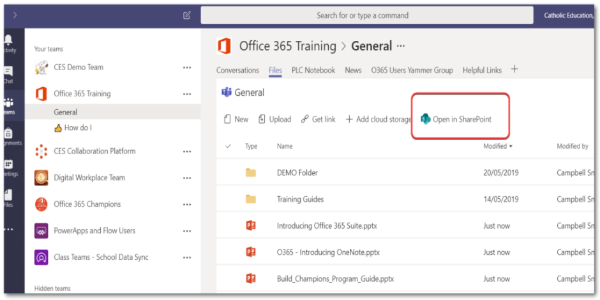 At Microsoft Teams, files shared in a channel are stored in the SharePoint folder of a team. These files can then be found in the files tab of each channel.


Files shared in the group chat or private chat are stored in the OneDrive folder. This can be found in the files tab on a conversation.


Microsoft Teams Paid
To its paid users, MS Teams provides storage of 1 TB per user.
Microsoft Teams Free
When it comes to Microsoft Teams' cost, free users are provided with a storage space of 2 GB per user, along with an additional 10 GB of shared space. However, this allocation may not be sufficient, leading to requests for upgrading to access more storage.
Q3: What is Microsoft Team's free meeting time limit?
Video Conferencing
With Microsoft Teams, you can elevate your meetings to the next level by utilizing web, audio, and video conferencing capabilities across various devices of your preference.
By leveraging Microsoft Teams, you can enhance the effectiveness of your meetings through the seamless sharing of context and content, along with the option to utilize AI for assistance. Furthermore, you can enjoy the same level of compliance and security provided by Microsoft 365. Don't overlook this category, as it will familiarize you with Teams' free meeting limit.
Microsoft Teams Paid
Apart from hosting video, audio, and web conference, paid users to get more features like note-taking, screen sharing, instant messaging, and meeting scheduling. As per Microsoft Teams pricing plans, they can hold large meetings, presentations, and company-wide events with up to 10,000 attendees.
The video conferencing function, which is the most common use, has a time limit of 8 hrs.

Microsoft Teams Free
When it comes to video conferencing, there are a few limitations for Microsoft Teams' free users. For example, the free plan lacks core features such as meeting recording and phone calls. And for the live events, only 250 attendees are allowed if you're hosting the meeting via a free account.
Q4: What is Microsoft Teams Meeting Recording Limitations?
Meeting Recording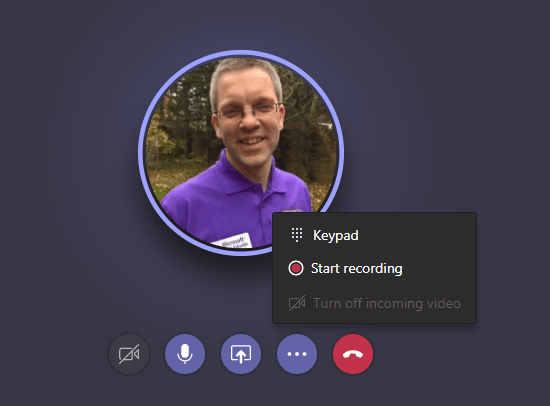 With MS teams, you can record the meetings by capturing them through screen sharing activity, and audio, and video features. The recorded videos are stored in the cloud and it is saved into the Microsoft Stream.

Microsoft Teams Paid
Recording the meetings is simple in Microsoft Team. You simply have to host or join a meeting. Once the meeting starts, you can go to:
Meeting controls > More options > Start recording
MS teams allow users to record group calls and meetings. However, the one-on-one calls cannot be recorded yet. Another limitation of the Microsoft team recording feature is that the shared notes and whiteboards cannot be captured in the recordings.

Microsoft Teams Free
Unlike other core features, the meeting recording feature is only available for Microsoft Teams paid users. Free users cannot record the meetings. Microsoft team's free meeting duration is 0 minutes.
SLA Uptime
Run by Microsoft, Microsoft Teams claims that it provides customers with a Service Level Agreement. But it's not the same for all users.

Microsoft Teams Paid
To its paid users, Microsoft Teams offers a service credit SLA against a 99.9 Uptime per month SLA. It is the same with the majority of Office 365 services that also offer a 99.9% SLA.

Microsoft Teams Free
The free MS Team users are not assured of the 99.9% SLA. There's no mention of uptime for free users, but it's apparent and obvious that paid users get an uptime priority.


Take a look at the down detector's report of MS Teams' most reported problems — serve connection stands at 45%.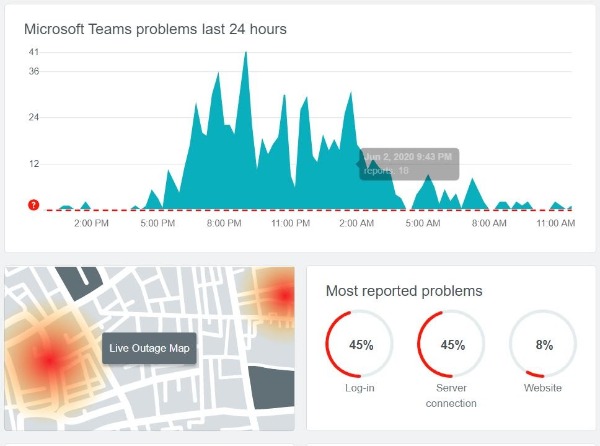 User Setting Configuration
As a paid Microsoft Teams user, you can leverage the team policy feature to exercise control over user capabilities in channels within your organization. Microsoft Teams excels in offering the capacity to manage and restrict access, empowering you with control over user privileges within Teams.

Microsoft Teams Paid
Considering MS Teams pricing plans, the user setting configuration feature is available only for Microsoft Teams paid users.

For example, an admin can choose whether a user is allowed to discover private teams or contacts in search results. Similarly, they can control content views in the team gallery and restrict a member's ability to create private channels.


Team Policies can be managed through MS Teams admin center> Teams policies in Microsoft Teams.

Microsoft Teams Free
Like other important features, the user setting configuration feature is also unavailable in the free plan. You'd need to upgrade to the paid plan to gain the ability to show this level of control.
Usage Reporting
Teams usage report features available in the MS Teams admin center give admins an overview of the user and user activity in Teams. The reports include a list of active channels, active users, guests, messages, and more.
It gives admin an option to quickly see how many users across their organization are using the app to collaborate and communicate and collaborate.

Microsoft Teams Paid
Admins with a paid subscription can run different reports and get insights into how their employees are using Teams.


An organization can use these reports and information to get a better understanding of usage patterns, inform the training efforts, improve communication gaps, and help make business decisions. You can get the usage report through:
MS Teams Admin Centre > Analytics & Reports > Usage Reports > Teams Usage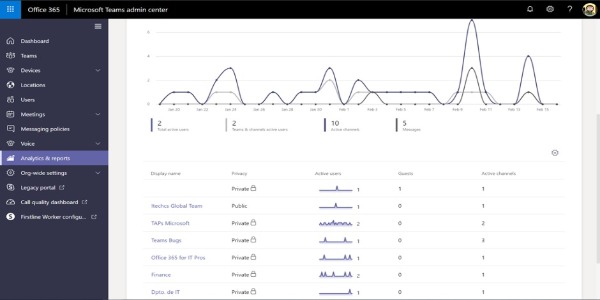 Microsoft Teams Free
The usage reporting feature is not available for free users.
Summing Up
Here's a summary of all the differences between Microsoft Teams Free and Paid plans:
| | | |
| --- | --- | --- |
| Features | MS Teams Free | MS Teams Paid |
| Maximum members | 500,000 per org | Potentially unlimited with an enterprise license |
| File storage | 5 GB/user and 10 GB of shared storage | 1 TB/user |
| Guest access | | |
| Video calls | Up to 250 participants | Up to 10,000 participants |
| Channel meetings | | |
| Screen sharing | | |
| Scheduled meetings | | |
| Meeting recording | X | Available with Microsoft Stream |
| Administration | | |
| Admin tools for managing users and apps | X | |
| Usage reporting for Microsoft 365 services | X | |
| 99.9% financially-backed SLA uptime | X | |
| Configurable user settings and policies | X | |

All things considered, Microsoft Teams' Free plan is a solid option. While the price is not a concern, it does come with restrictions on important features necessary for remote collaboration.



Here's a table taken from Microsoft Teams' official site with all the maximum limits for MS Teams:
(Note: Microsoft Teams time limit for the free plan is not disclosed)
| | |
| --- | --- |
| Feature | Maximum limit |
| Number of teams a user can create | Subject to a 250 object limit¹ |
| Number of teams a user can be a member of | 1,000 |
| Number of members in a team | 10,000 |
| Number of owners per team | 100 |
| Number of org-wide teams allowed in a tenant | 5 |
| Number of members in an org-wide team | 5,000 |
| Number of teams a global admin can create | 500,000 |
| Number of teams a Microsoft 365 or Office 365 organization can have | 500,000² |
| Number of channels per team | 200 (includes deleted channels)³ |
When it comes to Microsoft Teams' cost, there are various options available to obtain these great features at a lower price. Exploring discounted plans, bundled subscriptions, or opting for specific feature-focused packages can help you achieve cost-effective access to the desired capabilities.

Troop Messenger as an Alternative to Microsoft Teams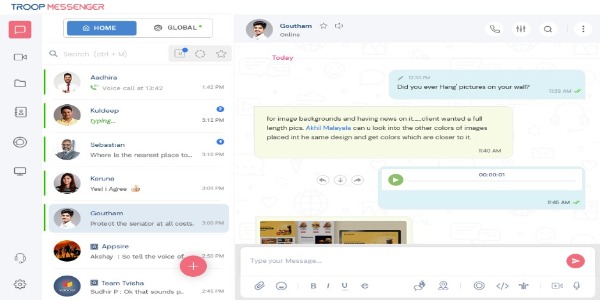 Troop Messenger offers a comprehensive set of essential remote collaboration features including instant messaging, unlimited members and groups, video conferencing, screen sharing, orange members, and integrations. It provides tough competition to Microsoft Teams with its neck-to-neck feature lineup.
How is Troop Messenger Different From Microsoft Teams?
Privacy Chat: It allows team members to chat in private within a stipulated time period. The conversation gets deleted automatically once the timer expires.
Advanced Search: Filter history by image, video, file, link, contact, URL, and location to trim down the search fast and easily.
Secure: Passcode Security Pin and FingerPrint access
Live Location Tracking: This allows you to share your real-time location with the participants of an individual chat for a specific amount of time
Orange Member: This feature encourages a provision to add other company employees, vendors, or customers to be a part of the application or organization with their respective business or public domain mail ids
Pricing: Troop gives you all Microsoft Teams' paid features at the most competitive price in the market. Starting at $1 per user per month, it's the cheapest remote collaboration tool you'll come across.
Storage: Unlike MS Teams' free plan where you get 2GB Storage, TM offers 1 TB storage to the Enterprise account and 150 GB to the premium account.
All in all, I hope you learned that is Teams free for personal use. Nevertheless, Microsoft Teams makes for a great collaboration app but if you cannot afford to buy a paid subscription since Microsoft Team's license cost is high compared to other tools and still want to avail core features, you should consider giving Troop Messenger a try.