Slack and Mattermost need no introduction as two of the most popular workplace communication apps.
Slack, which stepped into the SaaS world as a platform for gamers to communicate, reported 10 million daily active users.
Mattermost, an open-source Slack competitor, recently closed a $20 million funding to create new integrations and plugins.
So far, Slack's strongest pursuit has been its extensive third-party app directory (2000+ integrations, mind you!)
With Mattermost receiving massive funding, it is sure to leverage its identity as one of the strongest Slack competitors.
In this battle of On-Premise vs Cloud-based Workplace Communication Apps, it'd be interesting to see who takes over whom.
That is why we decided to review both this software and write detailed feedback on each of the important features.



Why are People Comparing Slack with Mattermost?
While both Slack & Mattermost provide an agile solution for modern collaboration, there is one major difference:


Mattermost's self-hosted approach offers organizations unmatched security, privacy, complete control, and legal compliance. The teams on Mattermost get to have complete control over their data.


Security concerns still remain the number one barrier to cloud computing deployment. Though Slack offers robust security & protection features, it's still not a great match to the security of On-premise Mattermost.


But that is not the only difference between On-Premise Mattermost and Cloud-Based Slack.

Both of these workplace communication apps have different specifications. What is great for one organization may not be good for another.
1. Mattermost vs Slack: Basic Features
Slack
In Slack, collaboration happens in channels, that can be divided by project, client, teams, and any other requirement of your team.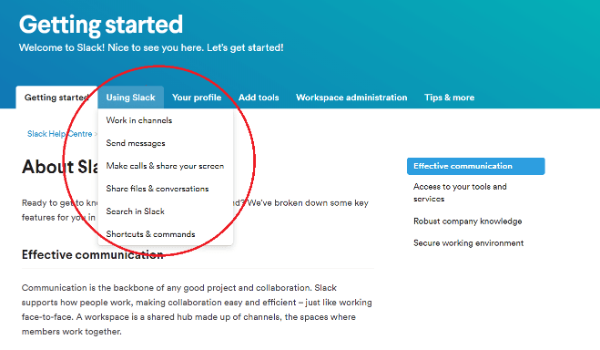 Highlights
Create, Join, and channels with clients, vendors, and partners
Threads to keep side conversations from derailing the topic
Voice and Video calls, and Screen Sharing
Integrated File Sharing of PDFs, images, videos, and more
Notifications
Advanced Search
Emoji Reactions
In-Line Linking
Do Not Disturb

Mattermost
Same as Slack, Mattermost is also equipped with all modern end-user features that increase productivity and efficiency.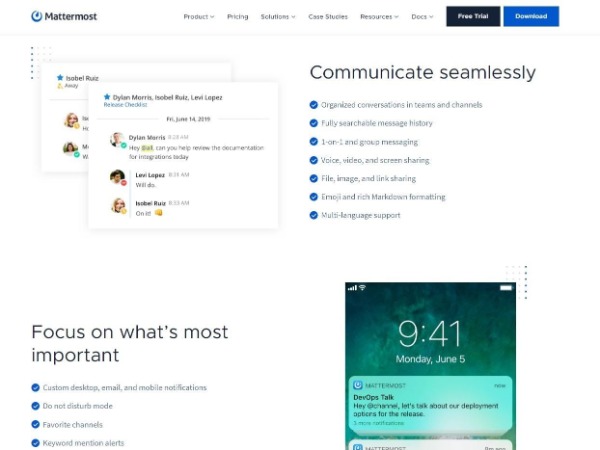 Highlights
One-to-one and group messaging
Video calling and Screen Sharing
File sharing
Private/public channel-based organization
Multi-team support
Threaded discussions
Unlimited search
Advanced expression via rich text formatting
Link previews
Emojis, custom emojis, emoji reactions
2. Mattermost vs Slack: Core Integrations and API Library
Slack
When it comes to integrations, there's still no tough competitor for Slack. The app directory has over 2,000 applications that can be integrated into Slack.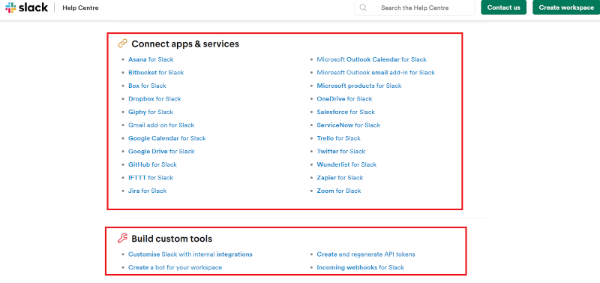 Extensive range of categories: Slack allows integrations with apps from the following categories:
Analytics
Communication
Design
Developer Tools
File Management
Health & Wellness
HR & Team
Culture Marketing
Office Management
Finance Productivity
Project Management
Sales
1. Daily Tools: Dropbox, Google Drive, Outlook Calendar, Microsoft OneDrive, and more
2. Essential Apps: GitHub, SimplePoll, Zapier, Zendesk, and more
3. Bots: JiraCloud, Kiara, Kipwise, Kyber, Trello, Troops, and more
4. Incoming webhooks for Slack
5. Create a bot for your workspace
6. Customize Slack with internal integrations
7. Create and regenerate API tokens

Mattermost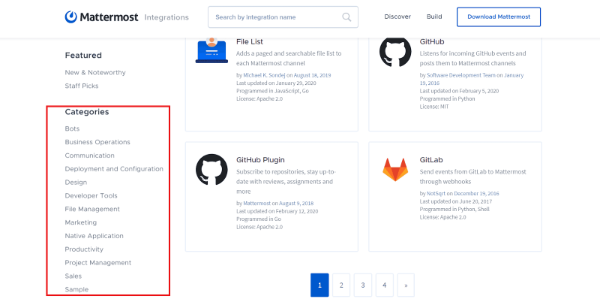 Mattermost also offers core integrations with important tools that help accelerate workflow and improve productivity.
Over 100s of apps are available for easy integration
DevOps integration set
OAuth 2.0 applications
Custom slash commands
Bots and developer toolkit
Incoming and outgoing webhooks
Plugins and extensions
Robust API library

3. Mattermost vs Slack: Security and Compliance
Slack
Slack offers a state-of-the-art set of security protection features to give users the reliable control, visibility, and flexibility they require for managing all their data security challenges, without having to compromise its agility.
Single sign-on (SSO)
User and group provisioning
Two-factor authentication
Domain claiming
Custom session duration
Identity and device management
Information and data governance
Risk-management capabilities

Slack's Compliance certifications
ISO/IEC 27001
ISO/IEC 27017
ISO/IEC 27018
EU/U.S. Privacy Shield Swiss/U.S. Privacy Shield
SOC 2&3
HIPAA compliance, including e-PHI
FedRank and FINRA 17a-4 configurable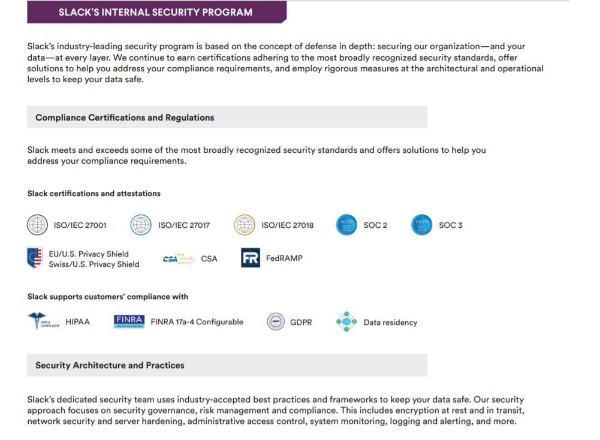 Mattermost
If Slack rules in terms of Integration, Mattermost does the same in terms of Security and Compliance. It is the industry's most secure and flexible instant messaging app that addresses the most challenging private messaging security needs.


Data is Encrypted-at-rest/in-transit
Layered security for on-premises installation with SSL, VPN, and DMZ
Advanced mobile security
Internal data storage on MySQL or PostgreSQL
Database Ownership
2048-bit RSA TLS encryption (AES-256) for data transmissions
Compliance auditing with oversight
Central console data retention policies creation
SSO (single sign-on)
MFA (multi-factor authentication)
CBA (certificate-based authentication)
CBA with or without SAML

Key Differences between Slack and Mattermost Security features: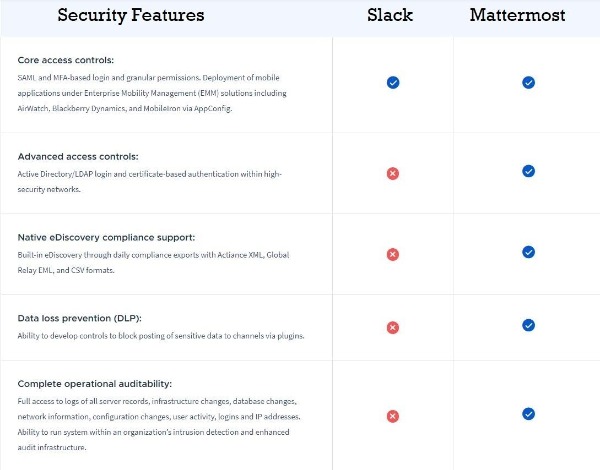 4. Mattermost vs Slack: Advanced Search and Commands
Slack
Slack members can increase their collaboration efficiency and productivity by using the slash commands that act as a shortcut for particular actions in Slack.


For example, you can type a slash command in the message field, and press enters to send it. Here are a few examples of slash commands for the workspace:


| | |
| --- | --- |
| /apps* | To search for apps directory |
| /archive | To archive the channel |
| /away* | To toggle your status as away |
| /dnd [time] | To start a DND session |
| /feedback [your text] | To share your feedback |
| | |
| --- | --- |
| /invite @someone [#channel] | To send invites for joining a channel |
| /join [#channel] | To Join a channel |
| /leave (or /close or /part) | To leave a channel |
| /mute | To mute a channel |
| /remove (or /kick) @someone | To remove someone from a channel |
| /search [your text]* | To search Slack messages |
| /star* | To start the current conversation or a channel |
| /status | To set your status |
| /topic [text] | To set the channel topic |
Mattermost
Mattermost also makes the search easy through specific search modifiers. Some of these have been mentioned below:
From: and In Use

From

to find messages from a specific user and

In

to find posts within a specific channel
Exclusion Symbol: Using the exclusion symbol (-) will exclude all the posts containing that specific word from your search results.
Before: After: and On Use

Before:

After:

and

On

to find the posts and messages shared before, after, and on a specified date.
Quotation Marks:

"Quotation marks"

is used to return search results for a specific term
Hashtags: Mattermost users can search for any posts with a specific hashtag by clicking the hashtag or simply typing it with the

#

symbol into the search bar.
Wildcard: Wildcard searches can be done by using the character

*

after any word
5. Mattermost vs Slack: Configuring Notifications
Slack
Notifications are a strong pursuit of Slack, which keeps its users informed about things that require their attention.


Slack users get a notification when they receive a Direct message, someone mentions them in a channel, someone uses their keywords, and from Slackbot.


You can configure your Slack notification by following the below steps:


Notification Appearance:
Workspace name>Preferences> Advanced>Other Options>Untick the box next to the Leave app running in the notification area when the window is closed.
Channel Specific & DM notifications:
Channel > Cog Icon > Notifications Preference> Choose your Notifications Preference
Email Notifications:
Workspace name>Preferences>Notifications>When I'm not active on desktop>Send me Email Notifications
Mattermost
Email, Mobile, and Desktop notifications notify Mattermost users of activity in their Mattermost workspace. Same as Slack, you get notified about DMs, Mentions, Channel activities, and any configured keywords.

Email Notifications Configuration on Mattermost:
Account Settings > Notifications > Email Notifications.
Desktop Notifications Configuration on Mattermost:
Account Settings > Notifications > Desktop Notifications > Send Desktop Notifications.
Mobile Push Notifications Configuration on Mattermost:
Account Settings > Notifications > Mobile Push Notifications > Send mobile push notifications.
Browser Notifications:
Channel Menu > Notification Preferences > Mute channel

6. Mattermost vs Slack: Interface Customisation
Slack
Multi-language Support for 5 Languages
Customize Slackbot responses, themes, welcome messages, and Emoji
Sidebar Customization

Mattermost
Multi-language Support for 16 Languages
White labeling to customize the user interface, fonts, and on-screen text
UI and UX customization
Customize help and support links
Customize logo in email notifications

Key Takeaways
Slack
Slack is great for companies that wish to streamline workflow and improvise their communication. It is recommended for businesses that are not so concerned about privacy, security, and data ownership.


It's not recommended for those organizations looking to scale their messaging and communication solutions deeply into their existing systems.
Choose Slack If you need
Robust integration with a wide variety of tools
Advanced Search Functionality
Polished User Experience
Syntax Coloring
@mentions
Multiple channels for multiple groups
Emoji reaction that limits posts and notifications
Local time of each participant
Drag and Drop files in Channels
Flexibility with notification setting
Inline Link Preview
Slackbot extensible chat robot
Multiple teams in one workspace
Self-Chatting
IRC connectivity over SSL
Creation of diagrams, flowcharts, org charts, UML, and infographics
Mattermost
Mattermost, as an on-premise solution addresses several of the pain points that an organization experiences with collaboration tools in terms of security, privacy, scalability, legal compliance, and scalability.


You can deploy it wherever you wish, and private, hybrid clouds, and public. But it is not an ideal solution for organizations concerned with productivity. Unlike Slack, Mattermost offers a very limited set of integrations.
Choose Mattermost if your priorities are



Self-Hosted Collaboration Platform
Variable Data retention policies
Advanced access controls
Native eDiscovery Compliance Support
Multi-language Support
UI-UX Customization
Security from any third-party monitoring
Private cloud deployment to Azure, AWS,
One-Liner Docker Install
Open Source tool
Custom themes
Markdown Support
Transparent System updates
White-labeling Office Chat App

Can't Make a Choice Yet? Try Troop Messenger
If you can't make a choice between an on-premise Mattermost and cloud-based Slack, we've got you covered.


At Troop Messenger, we offer you the benefits of both Mattermost and SaaS. Troop Messenger delivers end-to-end application management with its on-premise delivery model.


Hence, security-conscious organizations like the military and government agencies can have full-scale data security and complete privacy with no third-party access.


Troop Messenger's Advantage Over Slack:
3 Delivery Model:
SaaS
Self-Hosting/On-Premise
Chat APIs

1. Burnout Window (Incognito Chat)
2. Global Search
3. Advanced Search
4. Search by Location, Contacts, URLs, Time Filters
5. High-End Security Pin
6. Fingerprint Access
7. Forkout (At one go, send a single message to multiple users & groups)
8. Live Location Tracking
Troop Messenger's Advantage Over Mattermost:
3 Delivery Model:
SaaS
Self-Hosting/On-Premise
Chat APIs
1. Departmental Groups for Self-Hosting
2. Burnout Window (Incognito Chat)
3. Guest Access
4. Self-Messaging
5. Search by Location, Contacts, URLs, Time Filters, Images, Videos, Files
6. Passcode Security Pin
7. Fizzle Out (Sent message gets deleted automatically in a stipulated time)
Signing Off
If you are a security-conscious large organization that loves to be in control of your data, I would strongly recommend MatterMost. It's a go-to collaboration app for organizations for whom data security is above all else.


If your team is all about boosting productivity and therefore are subject to many third-party apps, APIs, and bots then $US6. 67 per active user per month is a great option for the value proposition.


And if you cannot decide between the on-premise Mattermost and cloud-based Slack, then Troop Messenger is definitely a great pick. This new-age slack alternative comprises powerful features that have been exclusively designed to reach every workplace.