Email clients disappearing into instant messaging software.


Standard text messaging is now passing, especially with the explosion of messaging applications that give businesses a new way to connect with employees, team members, and all stakeholders.
For businesses, cloud-based instant messaging platforms are crucial for communication and project collaboration, especially when the employer is working with remote employees, freelancers, or on projects that require round-the-clock attention.
That's why the majority of companies are using instant messaging software.
What are Instant Messaging Programs?
To put it simply; instant messaging programs allow users to exchange messages in real-time. Both small and large-scale businesses today are using instant messaging software to share information, collaborate with team members, and forge a virtual decision-making platform.
The primary purpose of using instant messaging software for business is to ensure a customized workplace collaboration with secure and rapid communication between all stakeholders, especially in a London IT company where efficient communication is crucial for project success.
Knowing how Instant Messaging apps are the need of the hour, we evaluated the features of Fourteen favorite team messaging tools and reviewed them based on their functionality. Through this article, we'll share with you the business messenger applications your team can choose for external and internal communication.
Follow this article for an in-depth analysis of each of these instant messaging apps.
Having powered up the external messaging requirements, your next initiative towards streamlining business communication should be to strengthen communication and collaboration within the company.
This can be easily achieved through the internal instant messaging software as described below:
1. Troop Messenger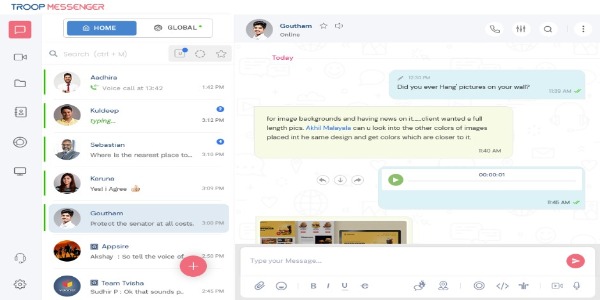 Free - Group Chats - limitation (5)
Paid - Unlimited ($1/user/month)
Troop Messenger's mission was intertwined with the inception of this solution to provide users with a safe platform where they may communicate about everything, from trivial to crucial topics. While most platforms seek to deceive potential users with their poor features and collect their business data, it is one of the few that strikes a balance between the necessity of functionality and security. All your business communication will be saved securely for your future reference.

Troop Messenger is one of the few products that support an on-premise delivery option, even though most of the world's population uses alternative models. Since it promotes security, Troop Messenger intends to be made available as a self-hosted chat server. On the other hand, clients can request SaaS, chat APIs & SDK models, and custom application development models for Troop Messenger.

Troop Messenger could be your ideal business messaging software if you're seeking an all-in-one app that prevents your staff from dispersing between different apps for various communication channels. It is a widely used instant messaging solution that serves government agencies, international space agencies, defense organizations, political parties, corporate companies, and so on.
Unlike other business messaging apps, this tool is packed with contemporary features. This user-friendly office messaging application has some interactive features like:
Unlimited Groups, Unlimited message history, and message retrieval are some of the best features which Whatsapp doesn't support
This instant messaging software allows screen sharing and face-to-face interaction over presentations and projects, To-Dos, and deadlines.
Admin can have complete control over users' accessible features. The dashboard feature allows for easy supervision.
2. NuovoTeam PTT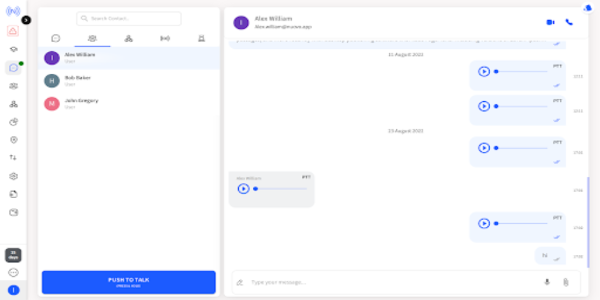 Free - 14 days trial
Paid - $5/user/month
For those of you who love the simplicity and speed offered by walkie-talkie radios, NuovoTeam is a Push-to-Talk app that allows you to turn your smartphone into a walkie-talkie. But what's impressive is that you can connect with anyone, anywhere over cellular networks. NuovoTeam is the ultimate team communication tool that lets you leverage multiple modes of individual and group communication including instant messaging, calling, multi-media sharing, and much more.
Here's why you'd love NuovoTeam:
Share instant text messages, images, videos, files, and locations
Leverage fast-paced 1-1 or group connectivity
Sync your phonebooks for easy contact management
No smartphone? No worries. NuovoTeam's Desktop PTT allows you to make PTT calls using your PC or any machine with a Chrome browser.
3. respond.io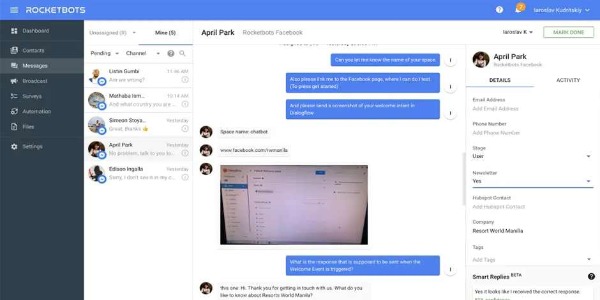 Free - Unlimited messages
Paid - Unlimited ($19 /user/month)
respond.io is an all-in-one messenger for business. It is a useful instant messaging application that lets you manage all the chats in one CRM with AI-powered messaging, broadcasts, and surveys. If you're looking for a WhatsApp Business with multiple users Solution, respond.io is a great choice.
respond.io is a perfect medium for organizing all the messaging apps in one place.
It functions with AI that supports over 15 languages and suggests AI smart replies during a conversation.
Target broadcast features and chat automation let users craft and deliver messages to the right people at the right time.
One can deploy respond.io on WeChat, Slack, Facebook Messenger, Kik, and other instant messaging apps.
This corporate instant messaging combines the personality of humans and the speed of computers to create a powerful messaging platform that facilitates communication in the most efficient way.
4. Skype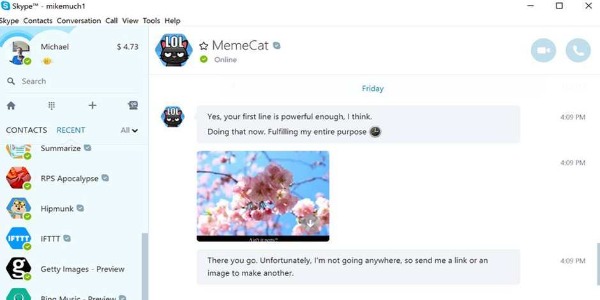 Skype is FREE for use by up to 25 people.
Starting from: $2.00/month
There's a solid reason why hundreds of millions of employers use Skype to collaborate with their clients and employees. Skype is the ultimate solution for smooth communication, which serves both as a conference software and instant messenger for business.

Audio and Video HD calling, smart messaging, Screen sharing, call recording, private conversations, Live subtitles, and phone calls- you can do it all with Skype.
Skype allows the editing of sent messages or the deletion of messaging altogether.
This instant messaging platform is compatible with Phones, tablets, desktops, the Web, Xbox, and Alexa too.
Some of the exclusive features of Skype include Skype call forwarding, instant messaging, chat history back-up, location sharing, background blurring, Voicemail, and Skype call recording.
Skype also allows users to search specific texts within a conversation. This can be done by selecting a find button under the chat header or pressing Command + F on Mac, and Ctrl + F on Windows.
Skype for Business is a great way of hosting professional online meetings. With Office 365 in-built integration, the host can access and share all office apps including Word, PowerPoint, Excel, OneNote, and Outlook.
Skype for Business has powerful features like Whiteboard, PowerPoint upload, Built-in IM, Screen Sharing, URL invites, and an unlimited number of meetings.
The Office 365 Business plan starts at $8.25 per user per month.
Microsoft, making this decision, to make sure that its users have a strong Skype for Business alternative, in the form of Microsoft Teams. Teams, actually, are the obvious way forward. It is both advanced and intuitively built with numerous easy-to-use features.
5. ProofHub


Free trial
Pro plan: $89 per month with no per-user fee

If you are looking for more than just a team chat app, ProofHub is a great option for corporate instant messaging. Packed with powerful task management and collaboration features, it replaces the many apps you use to plan, collaborate and keep your teams and work organized. It lets leaders and managers have ultimate control over their teams, tasks, projects, and communications.
Here's why teams love using ProofHub:
Multiple views - List view, Kanban board view, Gantt chart view (timeline view), and also Calendar view for added flexibility.
It has a powerful proofing tool to review, proof, and annotate files with markup tools.
Group messaging with file sharing.
Seamless integration with apps like FreshBooks Classic, FreshBooks, QuickBooks, Google Calendar, iCal, Box, Dropbox, Google Drive, OneDrive, and Outlook.
6. SmartTask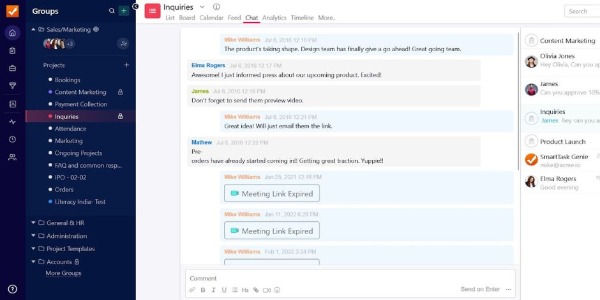 SmartTask is a free task management software that offers different team communication & collaboration features such as group chatting, video conferencing, audio calling, task commenting, tagging, file sharing, and automated check-ins. If you are looking for an all-in-one project and task management platform that can also help you streamline internal communication in your organization, then SmartTask is the right tool for you.
Here's why teams use SmartTask:
Task Management - Tasks & Subtasks, Reminders, Dependencies.
Project Management - Milestones, Custom Fields, Task Auto-Scheduling.
Main Views - Task List, Board, Calendar, Timeline, Portfolio, Workload Views.
Team Collaboration - Group Chatting, Video Conferencing, Audio Calling, Automated Check-Ins, Commenting, Tagging, and File Sharing.
Time Tracking - Time logs, Task Estimates, Budget Tracking.
CRM - Attach Task Contacts, Call Tracking, and Track inquiries through the sales pipeline.
Analytics - Custom Dashboards, Project Summary.
7. Slack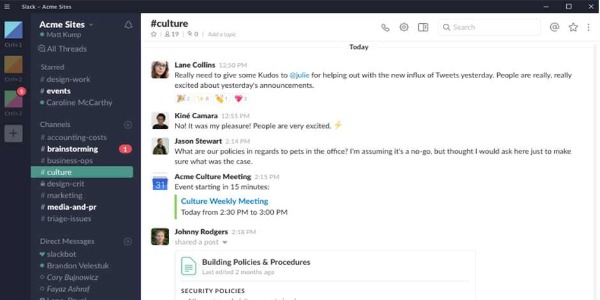 File Storage - 5GB per workspace
Message Visibility - 10K most recent messages
Slack is the ultimate tool for business communication and collaboration. It is a widely used instant messaging app, and businesses all over the world rely on this tool to streamline work irrespective of the geographical locations of the team members. Use Slack for business because:
Apart from direct messaging and threading features, Slack has an integration directory of over 1500 applications, unlike other instant messaging apps for business.
This business instant messaging software supports two-factor authentication for additional security and data encryption features too.
This business instant messaging solution allows collaboration beyond colleagues by enabling users to share channels with clients, partners, and vendors.
With Slack, users can customize communication based on topics, team members, projects, and other factors.
Slack is one of the highly secured communication tools, for it uses robust measures like SSO and 2FA to encrypt the data and protect it against cyber threats.
This business messaging app allows you to create custom bots to automate tasks and messages. You need to have the basic technical knowledge to configure a bot. Otherwise, you can contact a reliable Node.js development company and give them instructions.

8. Brosix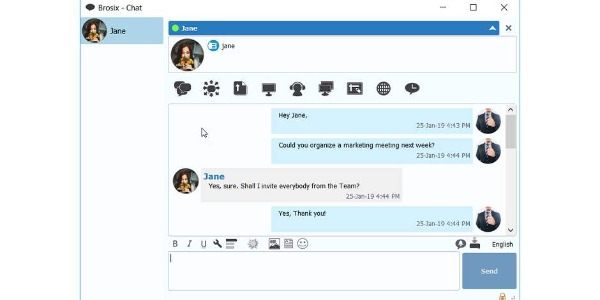 Pro Plan – $ 2.10 per user/m
Ultimate – $ 2.99 per user/m
With Brosix as an instant messenger, you get to do a lot more than texting and multimedia sharing. Using Brosix as a business messaging application, your company can gain complete control of a business network and have an encrypted communication channel.
This enterprise instant messaging solution has a complete range of collaboration features that facilitate business communication: offline messages, video and voice chat, whiteboard, file transfer, screen sharing, malware, and virus protection, and real-time monitoring.
Communication channels are fully encrypted for additional security. Brosix uses the P2P file transfer to keep users' data safe from being breached.
With unlimited file sharing, you are sure to witness efficient collaboration, productivity benefits, and easy project management.
This instant messaging app facilitates employers or team managers with full control over users' accessible features, privileges, and contact lists.
It is a perfect instant messaging tool for those who want a strong, secure, simple, cost-effective, and reliable business communication solution.
9. Google Hangouts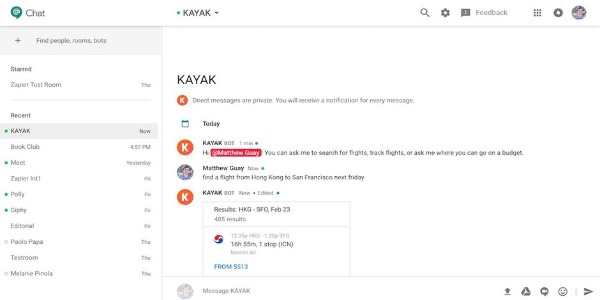 Free 14-Day Trial
Basic: Professional office suite with 30GB storage
Given the reputation of Google Applications, you can safely rely on Hangouts for all your internal communication. If you are looking for free instant messaging for business, Google Hangouts could be the best option. Not only does this instant messaging software offers a user-friendly chat service, but it is also packed with some of the amazing features listed below:
Google Hangouts as an office messenger allow deep integration with the G-suite application, which is a perfect way of supporting your business needs.
This business messaging software is compatible with Android, Windows, Apple devices, and computers: which makes it the perfect tool for handling the communication needs of corporate environments.
This is one of the few business messaging apps that supports integration with Gmail supports threaded messages and creates bots with the app itself. It has no trouble integrating with major business applications and systems.
Hangout supports group conferencing for up to fifteen people, screen-sharing options, and phone calls.
For companies that require video broadcasting, the Hangout on Air Feature is a great feature. It is an efficient way for businesses to conduct talk shows, and live seminars and stream video calls live through YouTube.
10. Flock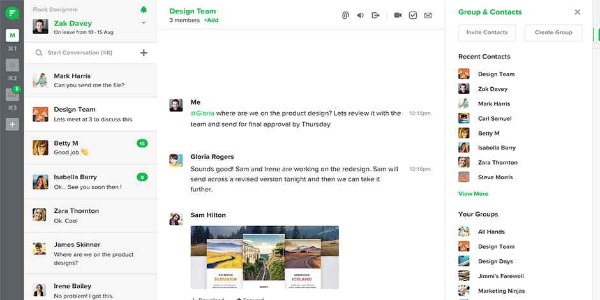 Free Plan - Search up to 10K messages
Paid - Unlimited ($2.13 /user/month)
Flock is one of the widely used instant messaging tools, that is recommended for companies that wish to make teamwork conversations effortless. With a significant number of collaborative features, Flock can be an integral part of your business network. The users get to stay on top of their projects and create and share notes within the chat box. Other features include:
Integration with third-party apps your team needs. Examples- GitHub, Google Drive, Jira, Trello, Google Calendar, Twitter, and many more.
Create polls, get feedback and opinion, and set reminders to enhance your team's productivity.
With drag-and-drop features, communicate with your team through visual aids, pin important files and messages, and access them whenever needed.
Flock also allows users to build their own applications via Flock API. From pop-ups and widgets to sidebar and slash commands, you can add distinctive features to these apps.
Flock strictly controls user rights and data through TLS 1.2 data encryption and Amazon Web Services hosting.
11. Ryver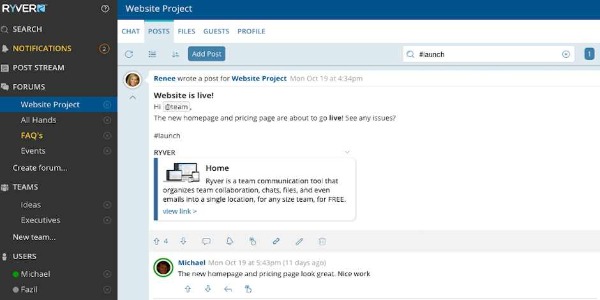 FREE 14-Day Trial
Paid - $49 /user/month up to 12 users/mo
Business Collaboration has never been easier. With Ryver, you can manage your team's interaction in a simple, easy, and affordable manner.
Group messaging allows unlimited file sharing, unlimited chats, and infinite conversation searching.
With internal messaging software, you can avail of unlimited free calling and crisp and clear audio and video calls with shared screen space.
Task management feature includes unlimited personal and team task boards, tags, checklists, and assignments.
Ryver employs Active Response Technology which reduces error-prone human response and eliminates slow reaction by replacing it with an automated and powerful response system.
Easy integration with other tools like Dropbox, Evernote, Gmail, Hangouts, and more.
12. Wrike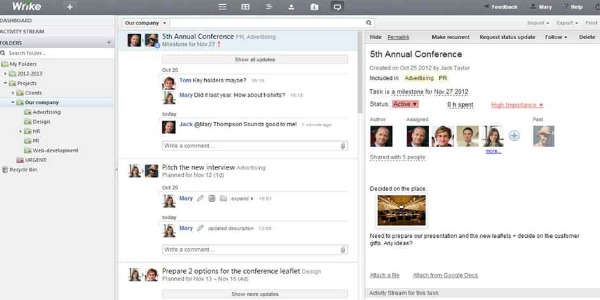 Free - 5 User
Paid - 5-20 Users ($9.80/user/month)
For those of you who want a lot more than instant messaging, Wrike should be the ultimate pick. Bundled with great interactive features, Wrike lets you communicate with your team members, share updates, and work together on projects. Here's what makes Wrike the best cloud-based instant messaging.
Consolidate to-dos, customize the dashboard, create Gantt charts, set a timeline, and manage daily work with ease.
Wrike has a collaborative proof tool that allows users to approve and review digital documents and eliminate all chances of miscommunication.
Share interactive, real-time reports, and edit, or review them regularly.
13. Nifty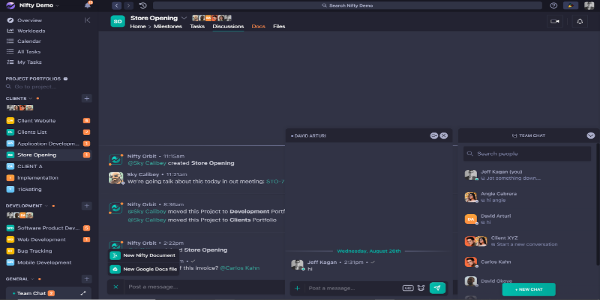 Free: 7-day trial
Paid: $39.99 a month for up to 10 users

Managing projects and collaborating with teammates and clients has never been easier to accomplish with Nifty. Nifty enables users to drag and drop files, images, and documents into discussion threads as well as reference a task id to ensure that no work falls through the cracks due to poor collaboration. Their bucket-tier pricing makes it a very economical solution for teams as well.

Group messaging allows team members to make specific chatting hubs to ensure that conversations stay on the correct topic.

Kanban discussion boards enable teams the ability to communicate and comment on individual tasks.

Embedded discussion channels allow each project to have a discussion thread that helps teams remain on schedule.

Nifty has a nice proofing feature that lets everyone comment on files uploaded directly into Nifty.

With Nifty you can also start a Zoom call by simply clicking on the camera button on top of each discussion thread saving teams loads of time in scheduling video meetings.
What do you think?
Communication and collaboration play crucial roles in all facets of the business. Not only does regular communication helps build a capable team, but also contributes to the development of the company.
The reason businesses use these instant messaging tools is to generate leads, engage with employees and team members virtually, and manage tasks efficiently. But do keep one thing in mind, when choosing the appropriate instant messaging software for business, it's essential to consider your company's culture, team size, and project types. With that said, instant messaging for business must also boost team collaboration and work productivity.