Do you know that during the pandemic, some free live chat apps in India rescued the majority of businesses akin to online chat apps emphasizing the value of team communication while working remotely, amid the pandemic? These applications and website chat apps became an essential tool for keeping in touch with customers, clients, vendors, and others.

Most businesses believe that creating an app or website will aid in their marketing and virtual presence. Undoubtedly, the answer is "yes," but having a virtual presence is only the beginning. It also needs to extend to answering visitors' questions, or else prospective users may turn to your competitors since you don't give your customers a resource where they can obtain the answers with a few clicks, and not every business has personnel on call to provide round-the-clock support, live chat app is the only option to keep your visitors engaged.
With that said, don't even consider trying to persuade your visitors to use a different website or a free online chat app because doing so eventually ruins your own business. Imagine that you are utilizing a free video chat app to communicate with a visitor, while your competitor is using a live chat app. Which visitor do you think will become a prospective customer? Hence, a live chat app is highly advisable.
What is a Live Chat App or Software?
The live chat app is designed to make it easier for your teams to communicate with website visitors, potential users, current users, and others. These Live chat apps help in responding to user inquiries. As a result, your customers will make an informed choice about signing up for or using your services.

Depending on the company's choices or operating hours, live chat help can be provided by an Artificial Intelligence (AI) or a person through a small chat box. Businesses can offer live chat help via their website, SMS, Facebook Messenger, and other chatting apps.
What are the benefits of installing a free chat for your website?
You may be aware of how excellent your product or service is, but boasting about it on your website or the mobile app won't help customers adopt it; all they need is for their inquiries to be satisfactorily addressed, which you can do using any free live chat app.

According to the trade researcher, companies using live chat apps have seen growth in their customer base, while companies predicted to fail instead found fresh success.
Live chat platforms with AI capabilities offer nonstop customer service without human participation.
It helps clients resolve problems quickly and resume their tasks right away.
It has been demonstrated that live chat help is more effective than calls, emails, and other methods.
Some live chat programs can alert your staff to frequent visitors, their behavior, and others.
Conversations can carry on from where they left off and the live chat tools can also be integrated into your native customer service solution.
Saves both your budget and the team's productive time.
The live chat application provides a remarkable customer experience while assisting you in providing good customer service via live chat.
Best 9 Free Live Chat App, Software, and Free Trials in India
Here are some of the most popular free live chat apps in India that are widely used; chances are good that you'll find your app on our list.
Free Live Chat Apps in India
1. Click2Magic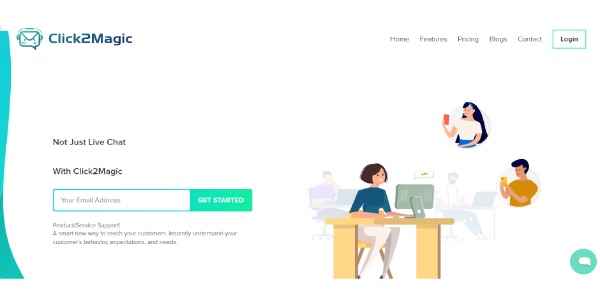 Click2Magic is considered one of the best free live chat apps in India. This is a free chat app in India that helps all businesses, micro to large companies manage website visitor engagement operations on a centralized platform. It also allows your team members to evaluate prospective leads and convert them into potential customers. From a single platform, it enables managers to keep tabs on customer expectations, observe purchasing trends, and track visitor behavior, on that account it made it to the list of best live chat apps.

Using this free Indian live chat app, companies can integrate chatbots into their websites and mobile applications to respond to client inquiries. Administrators can configure automated replies, check the status of leads, modify or delete prospect information, and set up role-based permissions. Hence, it is the best live chat app for website and mobile apps Additionally, this free chat software allows employees to check chat history, set up a typing indicator, tag information, display location information, add notes, and automatically route inquiries to the proper staff members from a single UI. As per the reviews, Click2Magic is the finest free chatting app in India that facilitates users with efficient privileges.
Features
Instant lead alerts
Canned responses
24/7 live chat support
Rating and tagging
Widget customization
2. Appy Pie Live Chat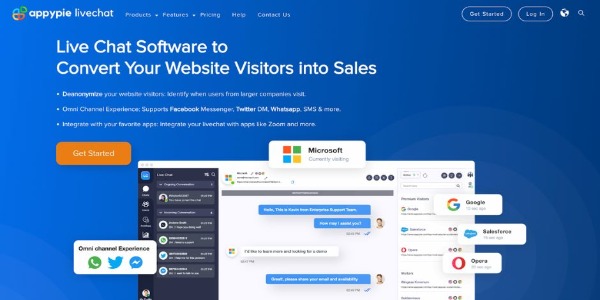 Appy Pie Live Chat is live chat software that allows businesses to communicate with their website visitors in real-time. It provides a variety of features, such as chatbots, canned responses, conversational tagging, and more, to assist businesses in providing a better customer experience. From observing customer behavior to live chat support, it helps businesses to keep tabs on their website visitor's activities. It also encourages visitors to stay longer on the website by optimizing the visitor experience.

Online businesses can use Appy Pie Live Chat to improve their customer support services and convert website visitors into paying customers. This free chat software has a simple reporting dashboard that provides quick insights into your customer support performance. Appy Pie Live Chat easily integrates with popular CRM and help desk software. Using Appy Pie Live Chat businesses can reduce the overall cost of their customer support operations and increase repeat business. This is the best free chat software for websites suited for small businesses.
Features
In-built AI-powered live chat
Canned responses
Third-party app integration
Real-time visitor monitoring
Email notifications
Auto-assign chats to agents
Detailed reporting and analytics
3. Tidio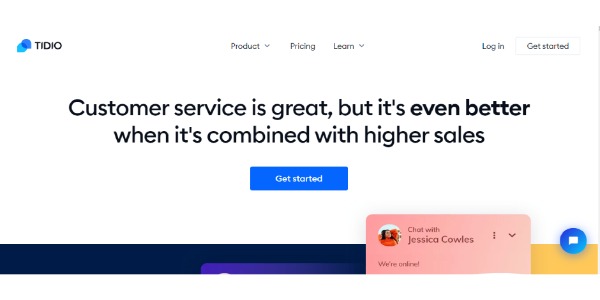 Tidio is a free web chat software that can connect you to any website or platform through specialized plugins without requiring any coding. The Tidio live chat widget adapts to the displays of your clients so they can communicate with you on their tablets and mobile devices. Additionally, they can be altered in terms of positioning and color to match the aesthetics of your website.

With this live chat app for websites, you can build chatbots to automate your messages. Other features include a single shared inbox and preset responses for quick responses. Tidio may integrate many applications, including WordPress, Wix, and others.

Micro and small businesses can avail advantages of Tidio's free plan, which allows up to 3 chat operators additionally chatbots to have unlimited chats with 100 unique visitors per month, and it will enable you to send up to 500 automated emails a month. Considering all, Tidio can support CRMs and email automation tools to provide your customers with a tailored customer support experience.

It is one best live chat mobile apps whose free plan allows up to 3 chat operators and extra chatbots to have unlimited chats among 100 unique monthly visitors. In addition, This free chat app will enable you to send up to 500 automated emails per month, which has prompted a few micro and small businesses to use it as a free live chat app in India. It can enable email automation technologies and CRMs to give your customers a customized customer service experience.
Features
Suitable for micro and small businesses
Good customer support
Website visitor tracking
Canned responses
Routing
4. Smartsupp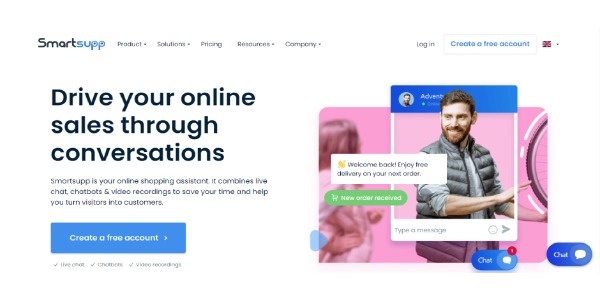 Smartsupp is a free live chat that can become your virtual assistant. This is one of the best live chat apps that brings live chat, chatbots, and video recordings to help you save time and convert visitors into paying customers. It promises to engage your visitors at precisely the correct time to assist your team in convincing the clients to complete the purchase. With Smartsupp, you can quickly design customized automated messages that follow your standards.

With the Smartsupp mentioned above, such as live chat software, you can reply to your clients' emails, chat messages, and Facebook messages in one location. The chatbot allows you to send customized messages to your users, and the video recording capability collects visitor behavior.
Features
Custom chat box colors
Recording history
File sharing
E-commerce platform integrations
Recording filters
5. HubSpot Live Chat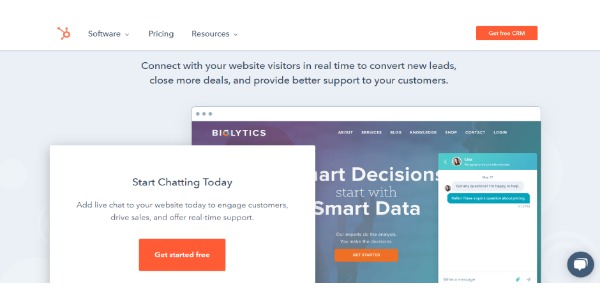 One of the most popular live chat apps is HubSpot, which enables you to communicate with website visitors in real-time and turn them into new leads to close more sales. Since the founder, Mr. Dharmesh Shah, is Indian, the majority of the users in India initially mistook it for a free live chat app in India. However, the free live chat platform was really founded in Massachusetts, USA.

This live chat software solution is integrated with HubSpot's CRM, enabling incoming chats to be tracked to client contact profiles. Since HubSpot provides an entirely free option by serving as their free live chat app, businesses like micro, and small businesses, or who couldn't afford a live chat app can implement this solution.

Since they don't need to switch between various UIs, HubSpot CRM users will find this free live chat software ideal. Even though you do not use a CRM, you can register for free and put the live chat widget on your website.

HubSpot's paid plans.
Features
Canned responses
Chatbots
Custom branding
ABM tools and automation
Email automation
6. Chatra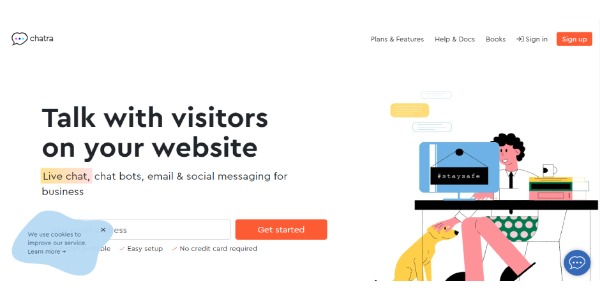 Chatra is a multi-channel messaging live chat tool for your website that is designed for businesses of all sizes. It was created to boost online sales. You may automatically start conversations with website visitors with this live chat application. Contrary to other tools, customers won't leave the conversation because reading receipts and type indicators let them recognize when you are composing a response.

Chatra offers a trial period of 14 days and a free plan with no time limit, however, only one user or agent may use it. One of its distinctive features is an offline chat widget, which informs clients that your team is occupied and will get back to them shortly.
Features
Form & lead capture bot
Offline chat widget
Detailed visitor info
Typing indicators
Chat notes
7. Drift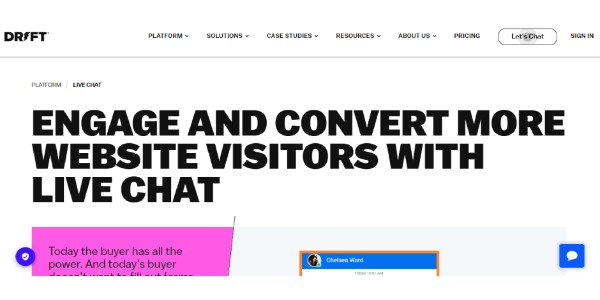 Drift is a cloud-based live chat, in-app messaging, and email management platform that is specially designed for sales and marketing teams. It offers customizable live chat widgets, email reminders for unfinished discussions, topic archives, email marketing automation, and an AI-powered chatbot. Since Drift promotes live conversations, it does not feature forms to collect customer information.

When a visitor enters their email address, Drift immediately makes their name, location, social network links, company and career information, and more available to users. It also gives users visibility into the page visitors are on when their discussion begins. Drift emails a visitor the entire chat with the option to respond later if they haven't seen a message after 15 minutes.

Drift allows you to build playbooks to target open opportunities when they return to your website and route them to their account executive. When one of their target accounts visits the website, this live chat software will also let the appropriate sales representative know so they can start a conversation.

When visitors return to your website, you can develop playbooks in Drift to target open chances and send them to their account executive. When one of their target accounts visits the website, this live chat software solution will also let the appropriate sales representative know so they can start a conversation.
Features
Custom domain
Marketing automation
Lead scoring
Unlimited contacts
Role management
8. Userlike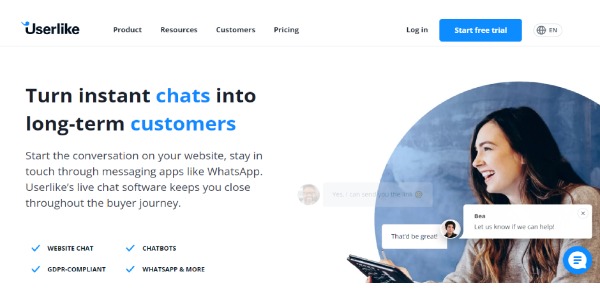 Userlike is cloud-based live chat software for websites and mobile devices called. Their website, Facebook Messenger, or Telegram, enables teams to communicate with clients in real-time. Undoubtedly, it is the best free live chat software that enables you to organize discussions by marking them with subjects using conversation tagging. Additionally, creating pre-written messages for typical inquiries is a valuable option.

Userlike doesn't have a ticketing system like other live chat tools, but it can be integrated with third-party ticketing programs using its add-ons or API. Live chat can be incorporated into your current system of business tools as an additional channel with little trouble.
Features
White label
Full API Access
Live Translation
Screen sharing
Analytics
Some instant messaging apps like Telegram and team chat apps like Troop Messenger are capable of providing live chat apps through their chat APIs. You cannot use Troop Messenger a free live chat app because it is a fully functional team collaboration software that only offers users a 7-day free trial. However, it does have chat APIs that allow business owners to integrate it into their websites and use it as a live chat tool. Troop Messenger is regarded as an incredibly secure chat app due to its high-security standards, making it capable of defending data against unparalleled vandalism and hacking attempts.
9. Crisp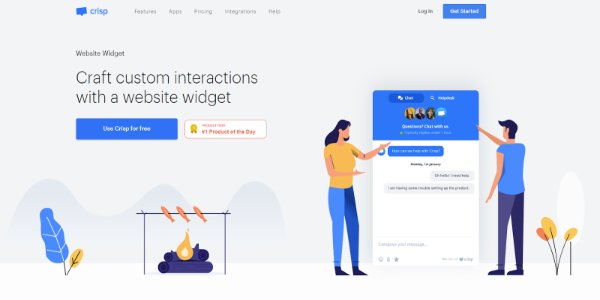 The live chat solution from Crisp enables you to customize and personalize the chat experience for your customers fully. Whether you run a website, a mobile app, or an e-commerce store, you can tailor your chat widget to your unique needs and build custom automated chat scenarios. You can even share files and images directly from the device. 400,000+ brands are already using Crisp to improve their digital customer experiences.
With Crisp, you can also integrate your live chat solution with third-party messaging apps such as WhatsApp, Facebook Messenger, Twitter, Instagram, and Twilio so that you can connect with customers across a multitude of channels while managing responses from a single shared dashboard. You can also access additional features such as video and audio chat, real-time translations, and even games to keep your customers engaged when you're offline.
Features
Fully customizable live chat widget
Integrated knowledge base
Multichannel interactions via Facebook, WhatsApp, etc.
LiveTranslate quality for real-time message translation
Video and audio chat
Advanced chatbot scenarios.
10. Intercom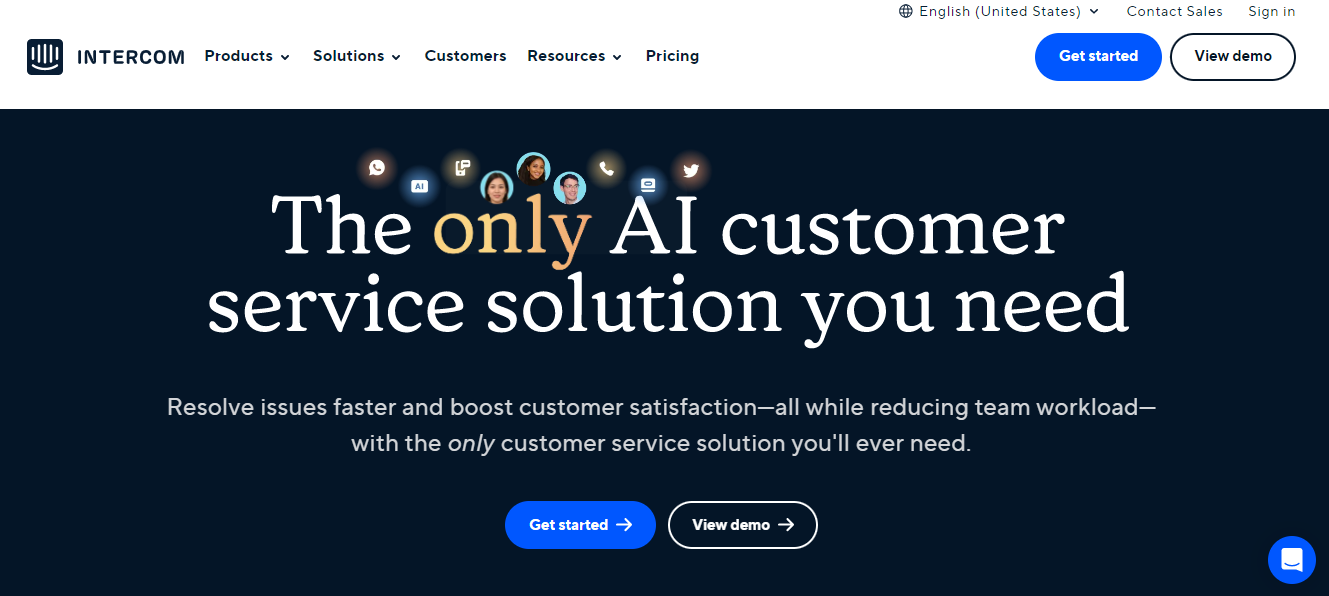 Intercom is the best free chatting app in India, which allows you to individually connect with more consumers regardless of the volume of conversations and whether your team is available immediately or later. This business messenger offers more ways to communicate with customers than ever before, including bots, apps, in-app chats, and more.

You will never lose a conversation since your chat history is constantly maintained. Customers could return to a chat whenever they wanted, on any device. It is created to create genuine client encounters while adhering to your brand.

The most customizable messenger ever is Intercom. Your option for content, format, and style. This is one of the reputed free live chat apps in India that lets site visitors and customers reply more quickly, improves new user onboarding, and fosters a stronger connection to your content across the customer journey.
Features
Shared Inbox
Role-based permissions
Salesforce integration
Company and behavioral data
Team-level workflows
11. Viber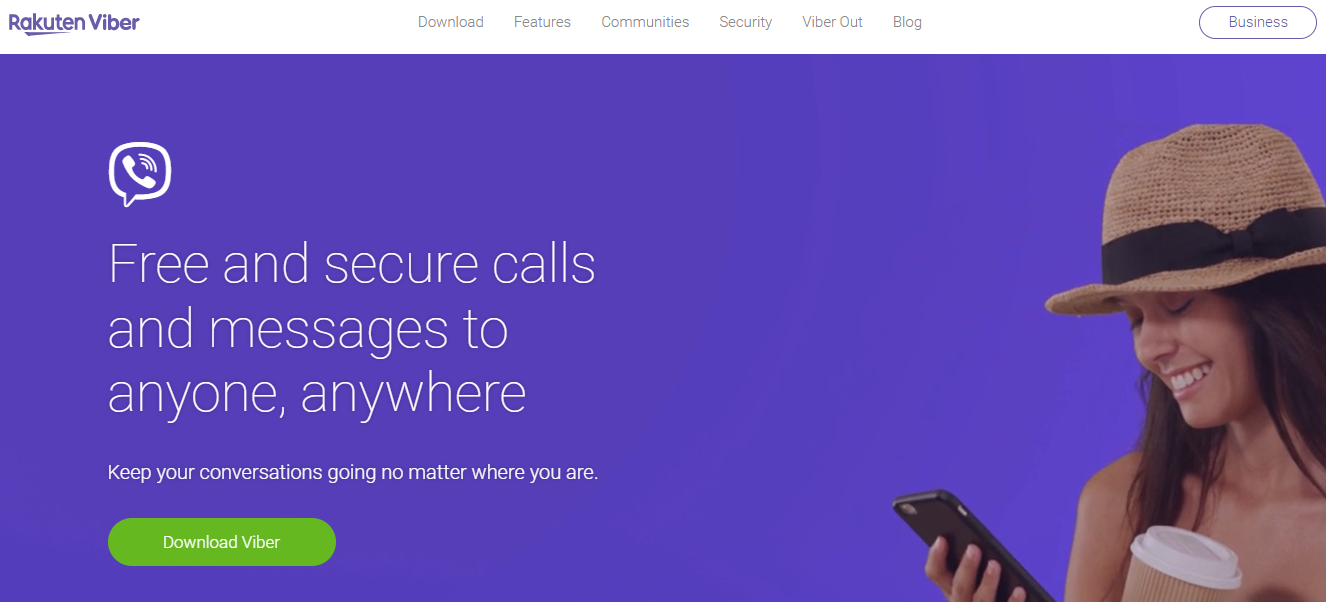 Viber is one of the free live chat apps in India that provides a wide range of calling and messaging functions and gives you a ton of ways to express yourself is called Viber.

The objective of this one of the few free online chatting apps in India is to protect your privacy, so you never have to second-guess what you can or cannot discuss when using Viber.

It allows you to set a self-destruct timer to automatically wipe it from the Viber chat on both sides of the conversation after reading it.

The business messenger for Viber may interact and conduct transactions to increase awareness, loyalty, and conversion. There are two main strategies. The first is employing chatbots or similar tools to let customers connect with brands using natural language processing and artificial intelligence. The second is when a live customer support agent is available, allowing clients to ask questions and receive assistance from a knowledgeable agent.
Features
Self-destruct timer to messages
Strategic service
One-to-one marketing
Advertising solutions
12. Tawk.to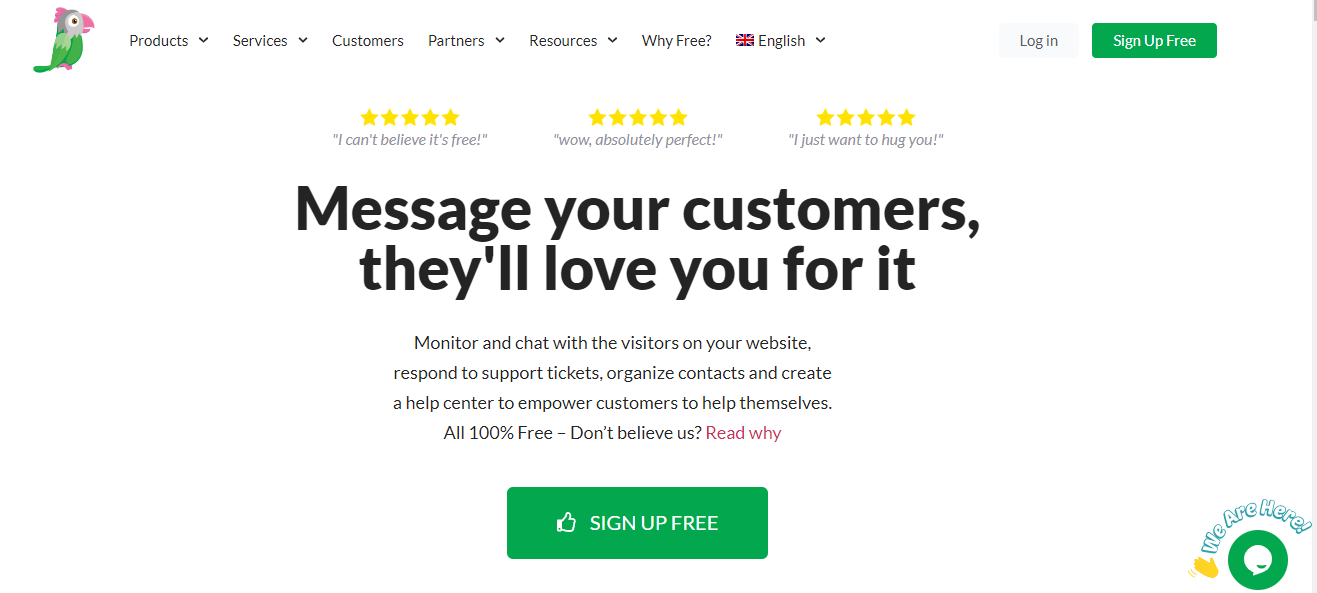 Tawk.to is a free chat app in India that allows you to keep tabs on and converse with website visitors, react to support tickets, manage contacts, and set up a help center so that users can assist themselves.

To generate articles and shortcuts that will help agents reply more quickly and enable consumers to find assistance without contacting you, you can identify FAQs and record help center searches.

With real-time client activity monitoring, you can view the pages your visitors are now on, the questions they ask your Knowledge Base, and the frequency of their visits. View all of their training at once. Keep a detailed conversation history and see who on the team responded to a customer last.

Ensure the appropriate team member responds at the appropriate moment by tagging and assigning chats to your team members. Your ability to respond appropriately and ultimately produce memorable and satisfying customer experiences depends on your ability to see the whole journey alongside consumer data.
Features
100+ Integrations
Ticketing Built-In
Real-time Monitoring
Customizable Widgets
Automated Triggers
13. Olark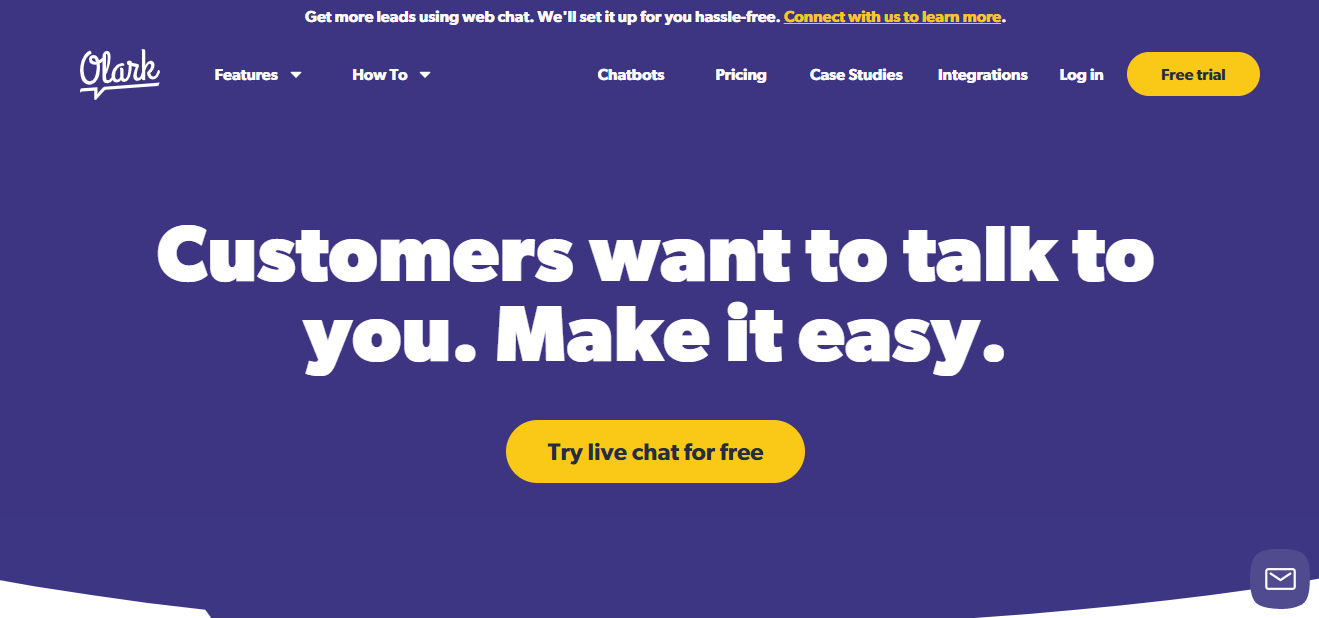 Olark offers simple, practical live chat features requiring a few short graphic adjustments to ensure your chat box looks entirely home on your website. A chat box increases the number of talks, purchases, and satisfied consumers.

This free chatting app's live chat automation rules are simple to set up and may be used to increase client engagement and streamline processes. Automated customer greetings, personalized messages based on visitor activity, chats directed to the appropriate department, the ability to display and conceal your chat window, and more.

You may watch chat volume, customer happiness, and agent activity as often as necessary to make intelligent staffing and priority decisions. Alternatively, you can have summary reports sent directly to your inbox using Olark's extensive live chat reports that update in real-time.
Features
Chat Analytics
Integrations
Searchable Transcripts
Accessible Live Chat
Automation
Conclusion
Being in constant contact with your teams and customers is crucial for every organization or industry. You may have an efficient team chat app for your team, but to engage your users, a live chat app must be integrated. Otherwise, your website will become a mute nightingale.

Using those mentioned above, free live-chat apps in India content, compare your requirements with the features of your ideal live-chat app to make an informed decision that suits your business needs.