Establishing a professional online presence is crucial for any business, no matter the size. One of the key elements of credibility and professionalism is a dedicated business email address.
While free email services have been available for personal use for years, they can also serve as a cost-effective solution for small businesses and startups to create a professional business email address despite online collaboration tools.
To help you get started, this article explores the importance of having a business email, two methods to set up your email, and the key steps for effective email management. Let's begin.
Why Is It Important to Create a Business Email?
Let's get one thing straight – is a free business email address truly free?
Technically, no. While the email service itself may be free, it often requires payment for an accompanying service.
For example, you can get a free email through your paid web hosting plan. However, weighing the pros and cons, having a business email address to accompany your professional website benefits business growth.
Here are a few more advantages of having a business email:
Professionalism - A dedicated business email presents professionalism and trustworthiness, making a strong first impression on clients, partners, and stakeholders.
Branding - Adding your business name to your email address strengthens your brand identity, resulting in easy recognition.
Credibility - A business email address lends credibility to your enterprise, showing that you are a serious player in your industry.
Organization - Keeping personal and business communications separate is key to ensuring important messages are not lost in a messy inbox.
Consistency - Using the same email format for all your communications helps keep things consistent and professional, making sure you maintain a polished image.
Now, let's dive deeper into the two methods you can use to create a free business email address.
Method 1: Using an Email Service Provider
One of the most recognized and effective ways to secure a business email address is through an established email service provider.
Google Workspace, for instance, offers a comprehensive suite of tools tailored to business needs, including creating personalized email addresses under your domain name.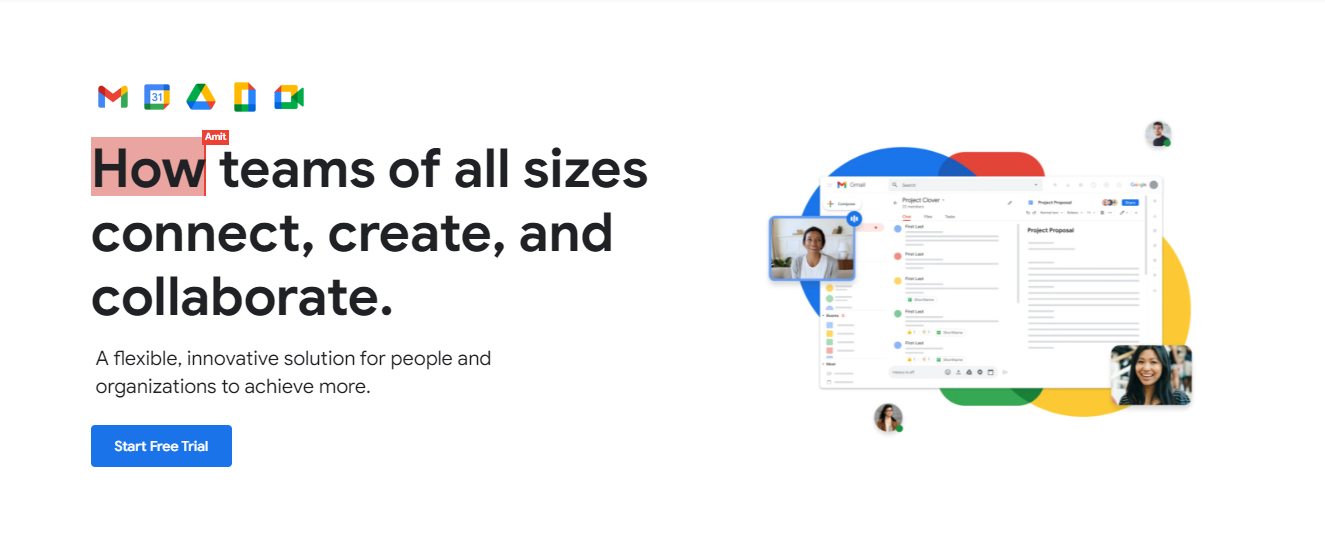 Here's a step-by-step guide to setting up your free business email using this method.
1. Choose a Plan
Google Workspace boosts productivity at work and offers several plans tailored to different business sizes and needs, so select the option that aligns with your requirements. Plans often vary in terms of features, storage capacity, and other services.
Its most popular plan is Business Standard. Costing $8.40/month, you'll get a custom business email along with ample storage and security features.
2. Create Your Google Workspace Account
Start by creating an account on Google Workspace. This service offers business-focused email solutions that include a personalized domain name.
During the signup process, you'll need to provide details about your business, including the company name, industry, and number of employees. This information helps Google customize your experience and tailor the services accordingly.
3. Set Up the Custom Business Email Address
You'll need to enter your domain name during the setup process. If you already have a custom domain, it's possible to use that. If not, you can purchase a domain directly through Google or another domain registrar.
Once your account is created, follow the prompts to configure your business email address. Make sure to choose a professional username that aligns with your brand.
4. Customize the Email Address
If your business has a few employees, you'll need to set up a business email account for different roles. Some examples are sales@yourbusiness.com or marketing@yourbusiness.com.
5. Verify Your Domain (Optional)
While optional, verifying your domain is recommended for email security and credibility.
Domain verification confirms that you own the domain associated with your business email. This process often involves adding a verification code or DNS record to your domain settings.
6. Review Your Plan
Before finalizing the setup, review your selection, plan details, and pricing. Ensure that all information is accurate.
Additionally, provide your billing information and select your payment method. Google Workspace plans are subscription-based, so you need to enter payment details to activate your account.
Method 2: Using AI Website Builders
Now, let's explore the second method. Website builders are excellent solutions that not only assist in creating a business website but also offer integrated email services, web hosting, and a free domain name.
Compared to a regular email service provider, this option can be a more cost-effective solution for business owners looking for a platform to help with multiple tasks. For this article, we'll focus on getting a free business email with Hostinger's AI Website Builder.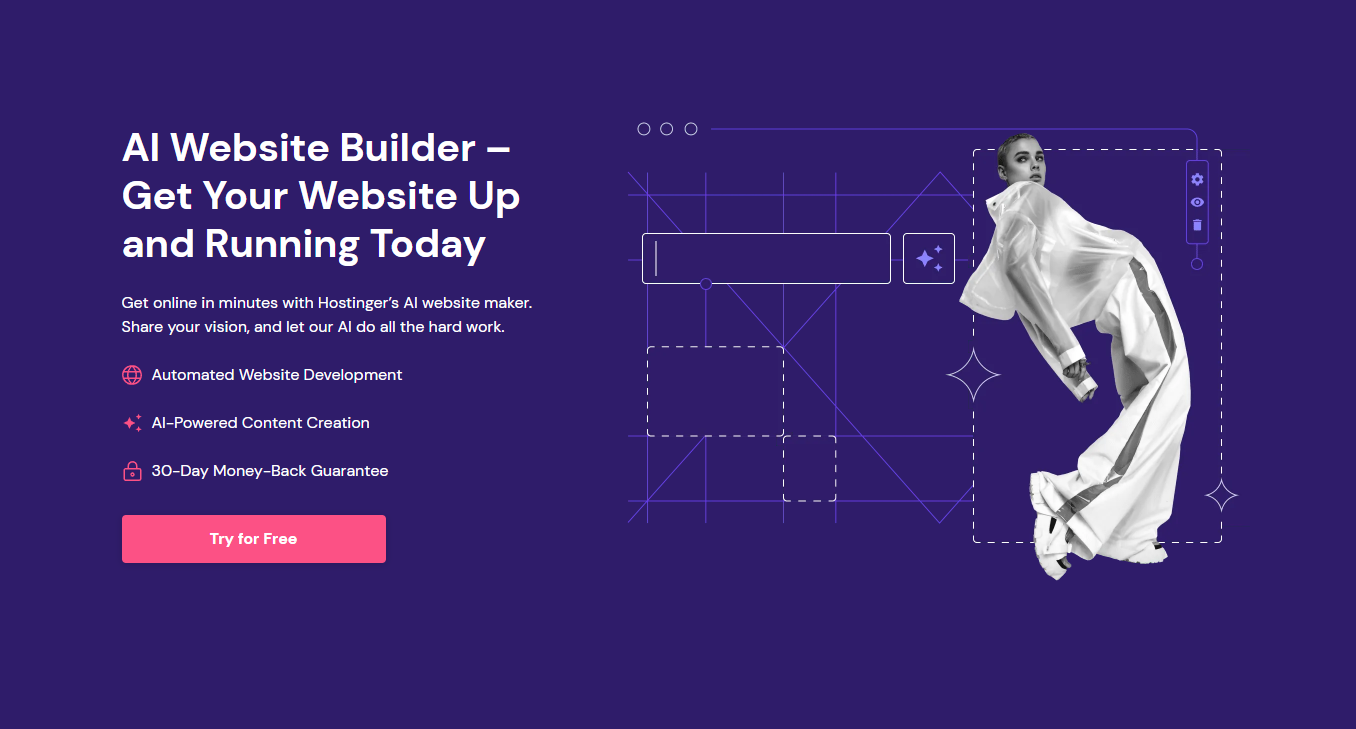 To get started, select Hostinger's AI Website Builder plan, create an account, and proceed with the checkout. Then, follow the process below:
1. Describe Your Business
Begin by providing information about your business to the AI website builder. This helps customize the platform to align with your brand and goals.
2. Choose a Website Theme
The AI website builder will generate a selection of themes for you to choose from. Review the options and find a design that best represents your business.
Alternatively, write a few sentences describing your perfect website, and let Hostinger's AI tool generate a completely custom site for you.
3. Customize Your Website
Utilize the builder's user-friendly interface to customize your business website. Incorporate your company's branding elements, imagery, and content to create a compelling online presence.
4. Set Up Email Details and Domain Name
As you customize your website, there will be the option to set up business email addresses associated with your custom domain. Configure these details to create your dedicated business email accounts.
5. Launch Your Business Website
Once you're satisfied with the design and content, it's time to launch your business website. Your personalized email addresses will become active and ready for use as you do so.
Managing Your Business Email
Once you've set up your free business email address, it's crucial to understand how to properly utilize and manage it. This section will guide you through the essential steps.
Write Your First Professional Email
Crafting your inaugural professional email is a pivotal task that sets the tone for your future interactions. Here's a detailed breakdown of the process:
Subject line - Begin with a subject line that concisely captures the email's purpose. A well-crafted subject line grabs attention and immediately communicates the essence of your email's content.
Tone and language - Keep a professional tone in the email by using appropriate language and avoiding informal expressions or slang. Remember, professionalism goes beyond content – it's how you convey your message.
Clear content - Ensure that the content of your email is clear and concise by stating the reason for your email within the first few sentences. Use short paragraphs and bullet points if applicable, making it easier for recipients to grasp the key points.
Provide details - If your email requires specific actions or responses from the recipient, outline these clearly. Whether it's a request for a meeting, feedback, or further information, make sure your expectations are evident.
Email signature - Conclude your message with a professionally-designed email signature. Include your name, title, business name, and contact information, such as a phone number and website. This signature adds a final touch of credibility to your email.
Organize Your Inbox
Managing your inbox efficiently is vital for staying on top of your communications. There are a few key approaches to help keep your inbox organized.
Firstly, we recommend creating different folders and labels. They are useful for categorizing emails based on clients, suppliers, projects, or any other relevant criteria. This organization system ensures that you can quickly locate specific messages when needed.

Next is to enable email filters to streamline your inbox further. Set up filters based on sender email addresses, keywords, or other criteria. This automated process directs emails to specific folders, minimizing clutter and aiding in prioritization.
Ensure Email Security and Privacy
Protecting the security and privacy of your business email is vital. Here's how to maintain a secure email environment:
Use two-factor authentication (2FA) - This additional layer of security requires a second form of verification beyond your password, significantly reducing the risk of unauthorized access.
Guard against phishing - Be cautious when dealing with emails from unknown sources. Avoid clicking on suspicious links or downloading attachments unless you know their authenticity. Phishing attempts can compromise your security and result in malware or data breaches.
Update passwords regularly - Periodically update your email account password to enhance security. Utilize strong, unique passwords for each account, and avoid using the same password across multiple platforms.
Conclusion
Creating a free business email address is a simple yet powerful step toward establishing a professional image for your business and building the best email marketing strategies. It enhances credibility, trust, and brand identity, leading to better communication with customers and partners.
This article has listed two methods along with step-by-step guides to create a free business email. Depending on your business needs, you can use an email services provider like Google Workspace or an all-in-one solution like Hostinger's AI Website Builder.