If your business intends to implement employee recognition software, it shows that it respects its employees and is dedicated to fostering a positive work environment.
Why should you recognize your employees?
Although tracking employees can be strenuous, it shouldn't be any less critical for you to recognize employees' efforts. One of the key factors in corporate culture and staff retention is employee recognition.

For instance, your mother, who prepares meals for you every day, will be pleased when you recognize her efforts; instead, she'll forget all the hard work she put in and take pleasure in preparing your favorite dishes. Recognizing or thanking someone for their efforts is part of human culture, and if you stray from it because you think paying a salary is sufficient, it will impact your team's productivity at work.

Show your team how much you value them by giving recognition. It inspires others who want to be acknowledged by showing them they can be noticed for excelling at work. The primary benefit of acknowledgment is it fosters a compassionate workplace atmosphere.

Employees who feel appreciated will want to put in more effort, eventually leading to a cycle of recognition and greater output that develops into a pleasant workplace culture.

Keeping track of your employees' efforts and giving them proper credit can be difficult. Therefore, you can utilize an employee rewards system or employee recognition software to thank or recognize them, simplifying your process.

Don't mistake your attendance management system for an employee recognition platform just because it notifies you of your employees' birthdays and work anniversaries; it extends far beyond that.

Here are some of the leading employee recognition tools that will aid you in establishing a great work culture and boosting work productivity.
Table of Contents
1. Vantage Circle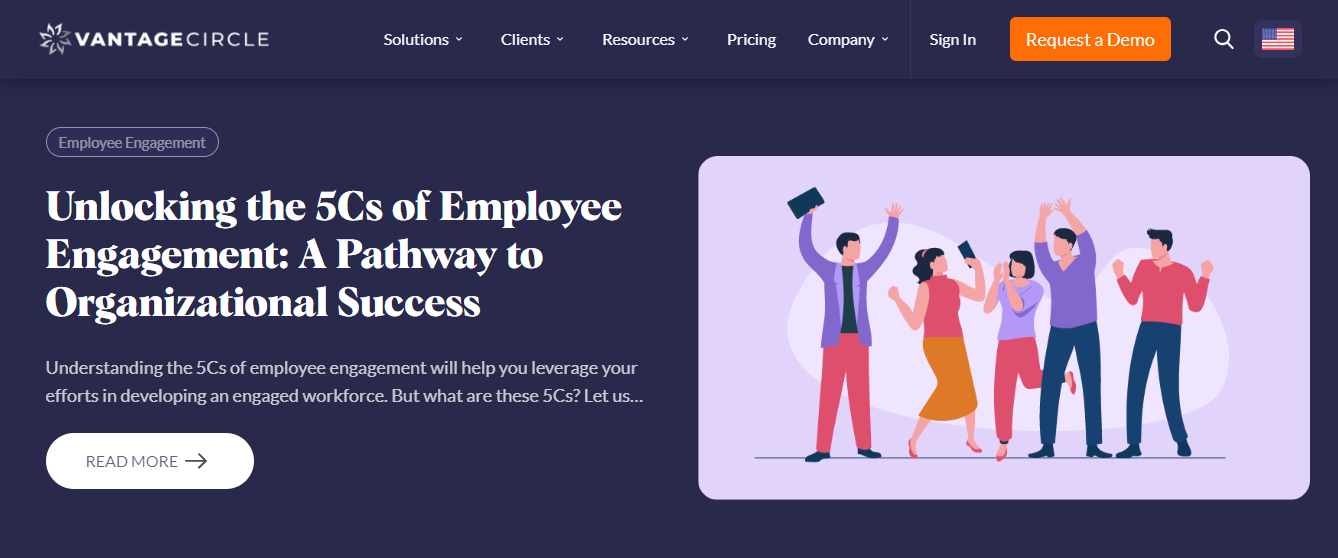 Vantage Circle is a global employee recognition software that provides AI-powered SaaS-based solutions to help companies engage their employees meaningfully. It is one of the top global award-winning platforms that 700+ corporations trust with 2+ million active corporate users across the globe.
The user-friendly platform allows companies to cover the recognition needs of a global workforce with flexible monetary and non-monetary rewards. Social recognition enables employees to acknowledge each other's achievements and contributions, making everyone feel valued and appreciated. It also allows seamless integration with tools such as Teams and Slack that organizations use every day.
With a global Rewards Catalog, employees using the platform can exchange their reward points for gift cards from 1000+ brands and products from the Amazon Store, book an experience or buy merchandise from options available across 59+ countries. The platform also offers a range of benefits for Long Service Award employees, including Anniversary Points, a Digital Service Yearbook, and a dedicated Milestone Catalog.
The platform also has a very intuitive and easy-to-use dashboard that simplifies HR management. It also provides HR professionals with a comprehensive view of their recognition program with advanced admin roles, budgeting and allocation tools, and rewards and badge configuration. It is also the preferred partner for Microsoft Teams, People Strong, and many other HRMS/HCM platforms.
2. Kudos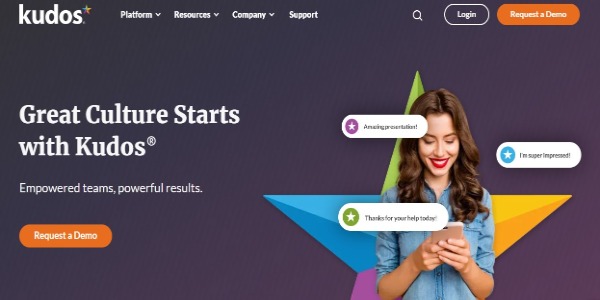 Kudos claims they have developed an employee recognition platform with multiple recognition levels supporting appreciation and performance. You can use Kudos recognition messages to share the contributions of your colleagues in a fun and impactful way. These powerful messages build trust, confidence, and team collaboration.

You can create awards pertaining to summer gift ideas, Punctual Employee Award, Best Voluntary Award, etc., that reflect your culture, goals, and business objectives. An influential awards program can boost employees' morale, communicate company goals accurately, and motivate employees. In addition, you won't miss your employees' birthdays, milestones, work anniversaries, welcoming new employees, and so on are essential moments for any employee, and are often given less priority. Still, Kudos doesn't give up it will remind you every moment with its reminders, making your employees feel they are part of your company.
Kudos will give access to pre-built or custom in-app campaigns and personalized promotional materials. Additionally, unlike other employee recognition tools, it facilitates expert guidance on improving your work culture. By conducting anonymous monthly Sentiment Surveys, Kudos allows you to learn how your employees feel and make vital improvements to your culture plan.

Knowing where you stand is necessary to bring about change. Kudos People Analytics makes it easy with clear, accessible, and actionable data. The intricate relationships within your business can be made sense with the aid of analytics, which can also help you improve performance.
3. WeGift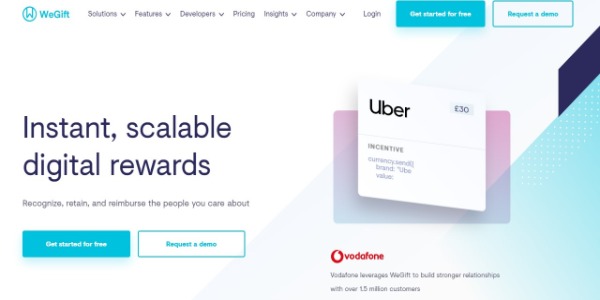 You are going to be better position to acknowledge, hold onto, and compensate the employees you value if WeGift is on your side. Your employees can be pleased with its employee recognition and rewards, such as digital gift cards from their preferred retailers like Apple, Starbucks, Uber, Adidas, Amazon, Nike, and other brands, which you can give either individually or in bulk.

Even though your teams are spread across borders, this won't impact employee engagement because you'll be able to deliver right away, sparing regional HR personnel hundreds of hours of logistical and email exchanges. Furthermore, you will be able to monitor the likelihood of various rewards across the departments of the entire company, or you can allow the recipient to choose their favorite brand from its extensive catalog. Additionally, you may quickly generate reports and monitor award redemption rates.

The WeGift platform streamlines your work, automates manual ordering and fulfillment processes, and allows your company to engage with customers and employees through first-rate rewarding experiences, unlike other employee recognition tools. It includes a robust API and more than 1300 digital gift card items.
4. Bonusly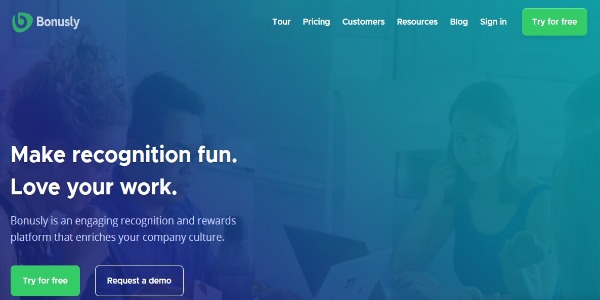 With Bonusly, everyone in your company can publicly recognize each other for their contributions by giving out primary monthly bonuses that add up to larger, more significant prizes. Bonuses are displayed in a public feed so that everyone can observe the crucial work done by the team. It makes acknowledgment simple and enjoyable, assisting each team member in realizing the value of their contributions. Utilize thorough analytics and reporting to examine recognition trends within your organization and identify team members' greatest strengths.

With the fast availability of cash, gift cards from the most well-known companies in the world, and options for charitable donations, Bonusly's comprehensive digital rewards catalog enables rewarding employees as quickly as it is effective.
In addition to offering customizable reward alternatives, this employee recognition software automates birthday, professional anniversary, and team event celebrations. Everyone can see teamwork thanks to Bonusly's 360-degree recognition, which gives your team the confidence to value one another and promote a collaborative work environment.

According to Bonusly, their team is constantly working on adding new products to the Reward Catalog, so if there are specific brands team members are looking for, they may get in touch with customer care. In Bonusly, you can also quickly add your personalized rewards to design a customized experience for your team.
5. Awardco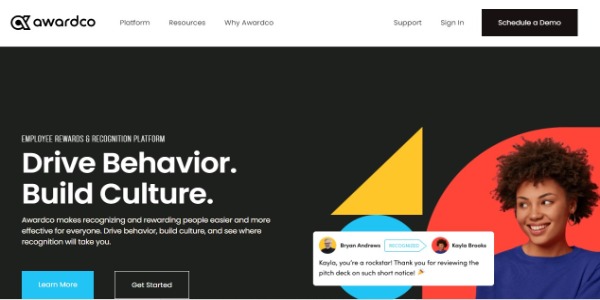 Awardco is one of the best employee recognition software, which increases everyone's access to and effectiveness in rewarding and recognizing employees. It can assist you in rethinking recognition from the outdated idea of giving it once a year on your service anniversary to something more significant.

A social feed displaying real-time recognition enables you to create an employee appreciation program. Team members can like, comment on, and respond to acknowledgment on the public feed. You may communicate with your teams from wherever they are; you may stay in touch while working remotely. In addition, you can send support, promote social recognition, develop work-from-home programs, and more.

It connects with your current communication tools like Troop Messenger to increase program visibility and acceptance. You can see the recognitions on your feed as they happen rather than watching emails arrive, which is considerably less fun than doing it. The productivity of some businesses using these connectors has increased.

Adding more options may improve your program for rewarding and recognizing employees. With Awardco points, your team members can obtain Amazon Business rewards, travel and event tickets, hotel stays, and a massive selection of gift cards. Even better, they can give their points to good causes.
6. Motivosity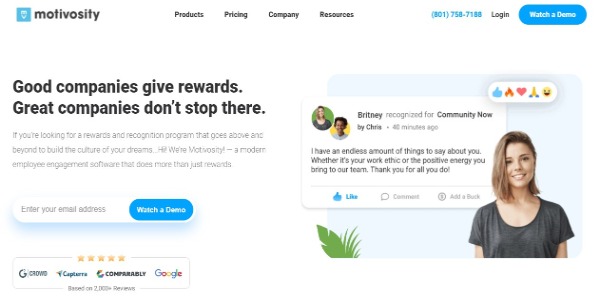 Motivosity is a cutting-edge recognition software for employees that may also be used for employee engagement. According to Motivosity, by providing managers with the tools to educate their team and build great relationships using Motivosity Lead, you can turn them from managers into leaders who can help you understand employee happiness and keep your employees happy at work. Managers and team members can celebrate daily "wins" in real-time.

This platform integrates with any HRIS platform and team chat apps, and it is simple to customize to match your company's specific needs. It enables you to acknowledge and appreciate every team member, keeping them engaged and inspired.

Everyone has access to the gratitude stream, may share and receive appreciation, and can redeem their next gift card through Motivosity's mobile app or web app. Real-time social feed recognition enables coworkers to identify one another. It allows team members to add money to their appreciation for work. Employees can payout at a store that they can customize when the money adds up.

It helps you identify the hard-working employees who strengthen your workforce, provides valuable information on how teams interact, and aids in streamlining your teams' operations.
7. Assembly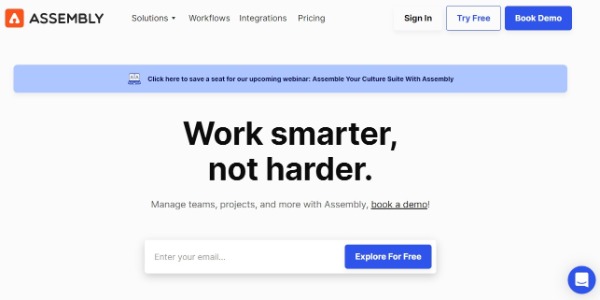 Assembly is an employee recognition software that encourages you to make gratitude and recognition a central part of your workplace culture to boost team morale, employee engagement, and loyalty. It motivates your employees to live out and embody them every day.

Assembly believes that with employee appreciation, a positive workplace culture will be created, boosts team members' performance, maintain top employees, and demonstrate the value of their contributions.

By allowing employee nominations, you may include your team to voice their opinions. As a result, you can solicit nominations from the whole team, ensuring their successes are acknowledged.

Assembly informs your staff of their birthdays and work anniversaries, just like other employee recognition tools, assuring that every employee will be thanked and wished for. Additionally, the automated option will facilitate sending a poignant note, a humorous GIF, and other things.

You can pick from thousands of gift cards, organizations, company merchandise, and prizes for your unique culture. Reward points can be redeemed for gifts that make your employees feel appreciated.

However, since you can integrate Assembly seamlessly into the team communication tools, you can maintain your recognition program in the tool where you invest more time, and your employees won't need to work across different platforms.
8. Perkbox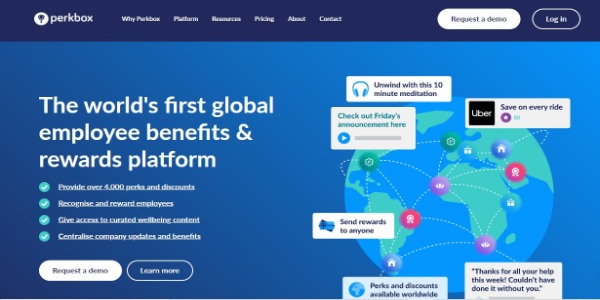 Perkbox is the leading employee recognition software in the market. It is regarded as the first worldwide platform for employee benefits and rewards, enabling businesses to support, engage with, and honor their staff members regardless of where they are or what they want.

By utilizing Perkbox, businesses with complicated workforces can maintain a unified Employee Value Proposition (EVP) and culture while keeping every employee delighted, healthy, and motivated.

With the aid of this platform, you can support, communicate with, and appreciate your staff. It enables you to consolidate all your employee benefits in one platform so that your employees can access them daily from mobile and desktop devices. Your employees may take advantage of free benefits, more than 4,000 promotions, and discounts with Perkbox. Additionally, they have access to various materials, such as meditation instructions, gym videos, and comforting bedtime stories, which are more helpful in lowering stress than mental health memes.

Peer-to-peer incentives and recognitions are another way for your teams to recognize their efforts. Perkbox holds events and webinars, publishes ebooks and articles, and produces videos to support your mission, help you take care of your team efficiently, and celebrate your employees,

It is trusted by more than 4,000 companies in more than 140 countries and provides your company the edge by assisting you in supporting your employees regardless of where they are.

Additionally, most employee recognition tools support integration with your team's communication tools. For example, you can utilize any employee appreciation tool, such as Troop Messenger, that enables Zapier integration with any device making your tasks sorted. The suggestions above will assist you in choosing the finest means.
Conclusion
Although not every employee is multi-skilled or an expert in their industry, their commitment to the company must be recognized. Your employees sometimes merit more. Each employee contributes their skills, efforts, and valuable time to the organization, adding value to the process. Because the idea of "leaving the company" is like gravity, which you as a company unwittingly test, if that value isn't valued, some other company will be ready to seize the opportunity in gracing them, resulting in your company losing a loyal employee.

You may feel you may not need them right now, but you will feel their absence after they leave you. According to Steve Jobs, "In weak companies, politics win; in strong companies, best ideas win." Don't get caught up in the temptation of losing your employees; they are one of your best hiring ideas. Employ an employee recognition software that rewards your teams, acts as your virtual assistant, acknowledges them at every turn, and prevents employee burnout.