The influenza pandemic resulted in significant financial losses for both humans and businesses. All of their business meetings, which had increased their confidence and vision, had been for naught. The echoing pandemic period effectively illustrated how negligence can damage the normal human cycle as a result.

Many companies were required to switch from their traditional office culture to a remote culture as a result of the pandemic. Many employees were eager to work from home, but the majority of them were unable to meet the remote working standards, thus impacting their performance. Companies attempted to assist their employees by providing regular assistance to boost productivity, but in the process, they discovered how insignificant they were while selecting a tool that could not assist them in such unusual circumstances.

Here are some examples
A group call couldn't fulfill the review meeting requirements for analyzing the work at the end of the day, so they had to switch between teleconferencing tools and an office chat app to get the data.
Client meetings were solely reliant on a free package of video conferencing software, which limited the length of the sessions while also presenting security issues, given the intruders' activities in ongoing meetings.
There are numerous other examples of companies having to adjust their tools. As a solution, we have listed a few tools to assist you in selecting the appropriate tool, if you're seeking the ideal tool for conducting your business meetings effectively.
Best Tools for Business Meetings
1. Troop Messenger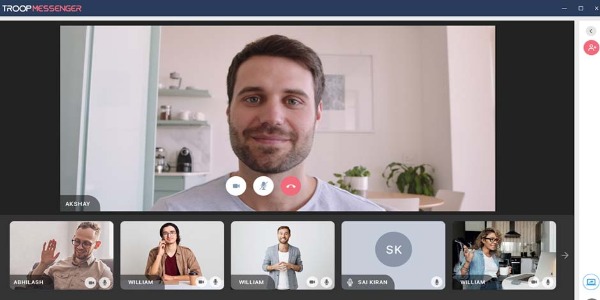 Troop Messenger is known as the best instant messaging software that rose to heights within a short period. Due to the policy of empowering the users, with every random release, it outshines its previous version by introducing new features in the platform.

The team conducts a market survey and research on market trends regularly to make or introduce features that ease the users' work. This collaboration tool has many features which make it more relevant across all domains.

Troop Messenger's clients and users acknowledged it on various sites in the form of reviews on how potentially it helped them in surviving the remote work minimizing all the repercussions.

With the integral module named Cattle Call, which is developed by Troop Messenger, clients, users, etc., were in a position to conduct business meetings, video conferences, webinars, and so on, as per their requirements. You can send meeting or event links to public domain email ids like Gmail, Yahoo, etc., to invite external stakeholders or members such as customers, clients, non-employees, and so on.

Cattle Call may have been one of the modules yet the advantages users avail from it are unique compared to other video conference software.
Features
Remote screen sharing & Controlling
Jointly Code - It enables multiple programmers to work on the code simultaneously
Exit self - You can self-exit without terminating the conference
Inviting Guest Users
High-Quality video meetings
Host privileges
File Management
Contacts Management
Cloud Storage
Schedule Meeting
HD Audio/Video Calls
Secured & Reliable tool
Pricing
Free Plan - $ 0
Premium - $ 2.5 per user
Enterprise - $ 5 per user
2. Zoom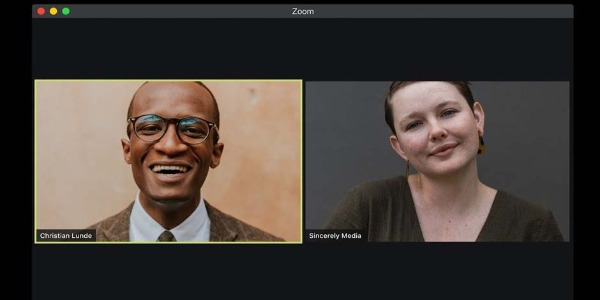 Zoom is a frequently used video teleconferencing software with which you can create a meeting room, hosting up to 100 participants as per its free plan yet with a session time limit.

Developed for companies to hold meetings such as webinars, training seminars, and other events. Users can share messages and documents during Zoom meetings using Zoom's chat function.

However, there were instances in the past, especially during the pandemic times, where a few uninvited guests joined in the meeting and created chaos.
Features
Global Call Routing
Unlimited Cloud Storage
Company Branding
Chat
Calendar Scheduling
Quality Dashboard
Advanced Analytics
Meeting Management
Pricing
Basic - Free
Pro - $ 14.99/ license
Business - $ 19.99/ license
Enterprise - $ 19.99/ license
3. Skype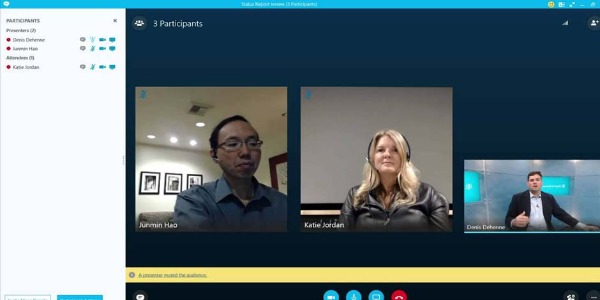 Skype is another widely utilized software for conducting all types of meetings in a company and with a large number of users signing up to use it as a Zoom alternative.

Niklas Zennström and Janus Friis launched Skype in 2003 as a software program for conducting voice calls over the Internet. Only users with a computer and an Internet connection could use the previous Skype application.

Skype's free version is ideal for small groups with less than 25 people. If you need an easy way to video chat from your computer system, mobile, or tablet and conduct one-on-one talks, smaller groups, or work meetings this is a good application to use.

Although the Skype app has no long-distance charges, it is subjected to audio and visual display issues, buffering delays, and call dropouts.
Features
Call Recording
Live Subtitles
Private Conversations
Smart Messaging
Audio and HD Video Calling
SMS from Skype
Pricing
North America - $ 8.39
World - $16.79
4. Google Hangouts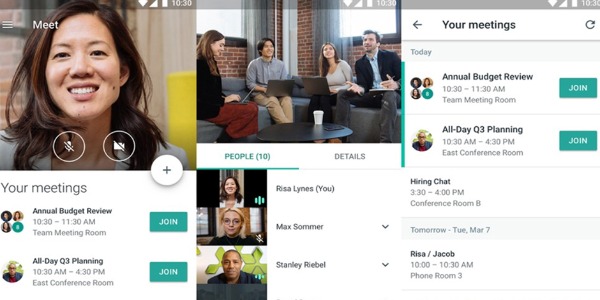 Google Hangouts is a free platform that allows you to make phone conversations, send instant messages, and hold video conferences.

Before the launch of Google Hangouts, the company had several similar, but technologically distinct chat services and platforms spread across its product line. The enterprise-oriented Google+ Messenger, Google Talk (based on XMPP), and the Google+ Hangouts feature, which included chat, phone, and video conferencing functions, were among them.

Meetings via Google Hangouts are secure since video and audio streams are fully encrypted, broadcast quickly, and can be shared with up to one lakh people.

The meetings are simple to record and may also be watched later. It's also possible to share your screen across numerous devices. A guest member who is not from the organization can also be invited to attend your team meeting. Furthermore, Google Hangouts is extremely mobile-friendly, allowing you to start a conference while on the go!
Features
HD Group Conferencing
HD Video Calls
Audio Calls
Integration with other Google Applications
Intelligent Muting
Built-In Screen Sharing
Custom Control for Admins
Hangout on Air
Auto Screen Focus
Pricing
Google Meet - Free
Google Workspace Essentials - $ 8 per user
Google Workspace Enterprise - Contact Sales
5. Cisco WebEx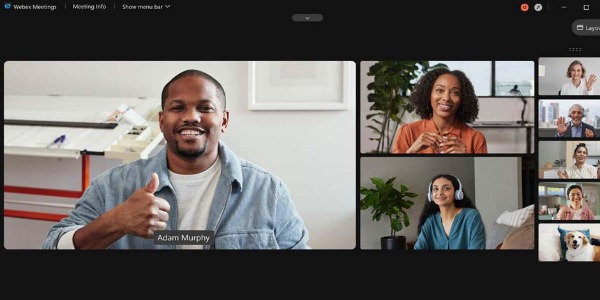 Webex by Cisco is a web conferencing and video conferencing software company based in the United States. It was developed in 1995 as WebEx and acquired by Cisco Systems in 2007. Milpitas, California is where the company's headquarters are located.

Webex Teams, Webex WebOffice, Webex Meetings, Webex AIM Pro Business Edition, Webex Connect, Training Center, Sales Center, Event Center, Support Center, MeetMeNow, and PCNow are among the company's software offerings. Cisco Systems' collaboration portfolio includes all Webex solutions.

You'll have access to a wide variety of features with this live video conferencing software, including scheduling, audio through call-in or VOIP, screen sharing, cloud recording, personal video meeting rooms, Q&A, Polling, and more.
Features
Mobile Screen Sharing
Interactive Whiteboarding
Breakout Sessions
Virtual Backgrounds
End-to-End Encryption
Toll-Free dial-in
Toll dial-in
Pricing
Basic - Free
Starter - $ 13.50 per host
Business - $ 26.95 per host
Enterprise plan - Contact Sales
6. Lucid Meetings
Lucid Meetings is a meeting management software that can help the teams within the company to create events, invite members, and conduct meetings with ease. It is one of the widely used tools in conducting business meetings.

LucidMeetings comprises meeting agenda features that aid in meeting preparation, document sharing, and conveying the purpose of the meeting. Minutes of meetings can be archived and be accessible to export in multiple formats, moreover, the overlapping conversations shall be prevented with the help of speaker queues.

Small to large companies can use this collaboration tool to their advantage. With its user-friendly UI, the team will be guided to manage the projects effectively.
Features
Scheduling & Invitations
Online Agendas
Integrated Conferencing
Group Note Taking
Shared Records
Instant follow-up
Pricing
Teams - $ 12.50/ per host
Business - $ 249/ Month
Enterprise - Contact Sales
7. GoToMeeting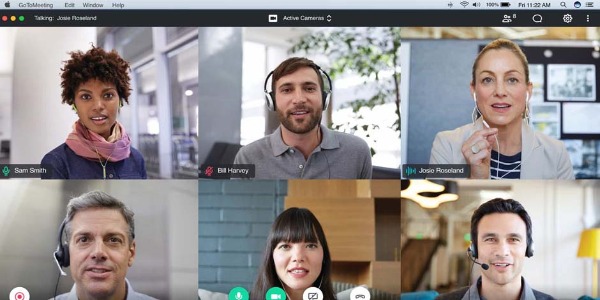 LogMeIn invented and markets GoToMeeting, a web-based meeting service. It's an online meeting, desktop sharing, and video conferencing software suite that lets you meet with other computer users, consumers, clients, or coworkers in real time over the Internet.

GoToMeeting includes features such as team messaging, customizable team settings, video dialogue transcriptions, and. Businesses may hold meetings with up to 100 individuals using, including participating and holding meetings using a smartphone.

For different conferencing contexts, GoToMeeting offers two more options such as GoToWebinar and GoToTraining. To name a few features, all three packages include desktop and application sharing, one-click meetings, one-click recording, a dial-in option, and a personal meeting room that can assist you in running effective meetings.
Features
Business Messaging
Personal Online Meeting Room
Screen Sharing
Meeting Drawing Tools
Commuter Mode for Mobile Meetings
Custom Backgrounds
Presenter Control
Meeting Transcriptions
Cloud Recording
Pricing
Professional - $ 12/ Per month
Business - $ 16/ Per month
Enterprise - Contact Sales
8. Trafft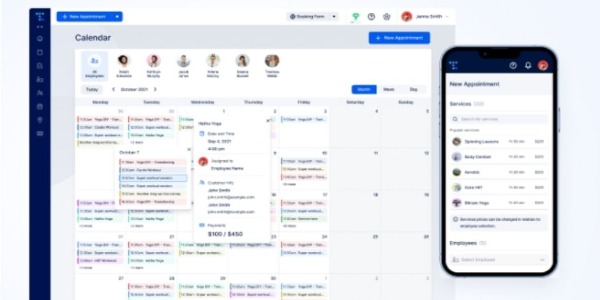 Trafft is a secure, cloud-hosted booking software that enables booking online meetings with ease. It is widely used by online consultants, tutors, coaches, freelancers, cosmeticians, and other service-based business owners who use the advantages of working online.
It is highly user-friendly and simple. You can use it with a simple log-in, and it behaves like a website with a list of services clients get to pick from. Its level of customization is high and constantly being improved.
Trafft offers a super-useful recurring appointments feature to its users. It allows you to book repetitive appointments, so your client will have the opportunity to book and pay for their appointments in advance.
The interface translates into 11 different languages, and it works well with multiple time zones, which comes in handy when working with people all around the world.
The software integrates easily with Google Calendar, Google Meet, Outlook Calendar, and Zoom, with which each employee can link their personal account. Synchronization with Google or Outlook Calendar prevents overlapping of your working and personal scheduled events. The busy time slots from your calendar will not be shown as available over Trafft.
Features
Recurring Appointments
Private Services
Coupons
Custom Domains
Online Payments - PayPal, Authorize.net, and Stripe
Custom Fields
Service Extras
Group Booking
Multiple Locations
SMTP Email
Special Days for Employees
Custom Notification
Custom Roles
Pricing
Free plan - forever for 1 user
Basic $12 per month - for 20 users
Pro $24 per month - 40 users
Expert $48 per month - 80 users
Conclusion
According to a survey conducted by a popular magazine, video conferencing will be more effective than a group call or an audio call.

In this ongoing pandemic, the majority of clients have chosen to connect via virtual meetings, and more than half of the world shares the same opinion since it saves them money, time, and effort. In this ongoing pandemic, the majority of clients have chosen to connect via virtual meetings, and more than half of the world shares the same opinion since it saves them money, time, and effort. And, if you have a lot of virtual meetings and are having trouble keeping track of your commitments, you should consider using a booking system to manage your hectic schedule and make sure that nothing slips through the cracks.

I hope the tools above will assist you in making an informed decision. Before choosing a tool, consider a versatile tool that can hold your business meetings, serve as an instant messaging software for your team, and so on, because it will not only help you in terms of effective team management, your team from switching multiple UIs but also help you in saving your budget.