The game between Slack and Discord is endless.


In this article, we're gonna be Comparing the Slack vs Discord battle to know which is better for business

First things first, Slack is a commercial choice for businesses where teams communicate and collaborated that is designed based on cloud technology.

while Discord is for the gaming community. It's a freeware (software that is available free of charge) Voice over Internet Protocol(VoIP) that is developed for the communication between the communities and the gaming teams.
Many questions might be doing the rounds in your mind to know:
When was Discord made?
Who made Discord?
What was the Discord initial release date?
How much data does Discord use?
How is Discord free? How to customize Discord?
How do gamers connect Discord to Slack?
Worry not, you have all the questions answered in this article.
Let's get started,
1. Slack vs Discord: Onboarding
Slack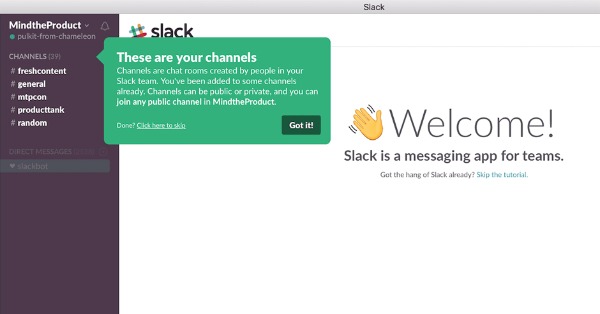 Slack says,"It is more productive, more transparent, more efficient, with no more emails". Let me take you on the product tour of Slack. The sign-up process begins with joining an existing workspace or joining a new workspace altogether. An invite is needed from the Admin of the Slack application for a new user to join the existing workspace.
What is Slack Workspace?
A new user can create a new workspace from scratch by confirming the registered email, and by confirming the 6-digit verification code. The new user is asked to enter the new workspace and project name and is also allowed to add other team members to the project. A separate channel for every project is created to bring in teams, conversations, files, etc., for seamless collaboration. Slack provides a URL for every workspace created. The user is supposed to use the allotted URL to log in to Slack. In the end, give your name and password to finish the sign-up process for your workspace.
The Slack user interface is simple to understand and quite interesting. Each workspace consists of channels, and all the conversations within the workspace happen through channels only. It allows sending direct messages to Slack bots to know more about the application. The feature stack of the basic free plan includes adding channels, inviting people, Mentions, 10k searchable messages, one-to-one video calls, two-factor authentication, and access to basic Slack features.
Discord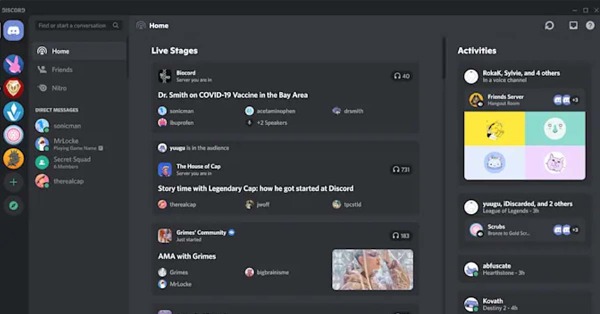 Discord is quite popular among the gaming community. It is a free application that provides voice and text chat conversations. The sign-up process for Discord is pretty simple and easy. Fill up the sign-up form by giving your email id, username, and password, and accept the terms and conditions to proceed further. The verification process can be made through email or a mobile device. Now the new user has access to free voice and text chat amongst the team of Discord server members. As far as the discord's data usage is concerned, its levels seem too high on PC rather than Mobile.
When was Discord made?
Discord's initial release date was May 13, 2015, but its stable release is noticed to be released five months ago i.e., on 1st April 2019.
What is a Discord Server?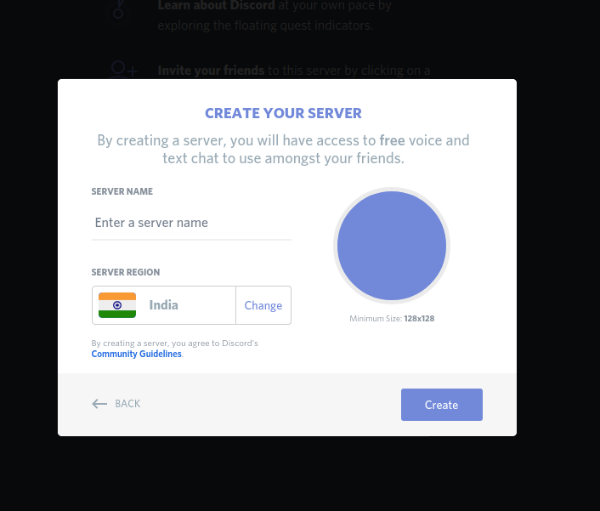 Most of Discord's text and voice conversations happen within servers. Servers act as individual hubs split into two parts: text channels and voice channels. Think of any server you join as a giant treehouse- each text channel within a server represents another room within your treehouse where you can chat with your friends!
The new user is asked to create a server by selecting the server region. A user can join any of the popular public servers as per their requirement. The user interface of Discord allows the user to create more servers, send direct messages, add friends, send friend requests, etc., A two-factor authentication is enabled to protect your server with an extra layer of security. As far as the Discord Server limit is concerned, it does not accept a single user to be on more than 100 servers. In one instance it allows 75+ users, as its servers don't have any member limit.
In this article, we look at the Quick Comparison between Slack and Discord for different scenarios.


Both the chat applications Slack and Discord are cross-platform enabled. They are available for Windows, macOS, Web, Android, and iOS. Discord has its presence for Linux too.
Slack comes with three pricing plans; Free plan, Standard Plan, and Plus Plan. Discord pricing plan includes; Free, Nitro Plan, and Nitro Classic.
Discord's message history is unlimited across its all plans, whereas Slack provides unlimited message history in Standard and Plus plans only.
Both applications are deployed in the cloud and mobile.
Discord and Slack both have come up with advanced search filters
Slack doesn't offer the feature of screen sharing in the free version, whereas the discord screen share feature is available for both free and paid versions.
Discord allows unlimited integrations. Slack limits to 10 integrations in the free plan and about 800 integrations in paid plans.
Both applications provide exceptional help and support services
Discord's group video calling allows adding friends who are all there in the contacts list.
2. Slack vs Discord: Simple-to-Use

Discord is highly popular for its slick design and hassle-free sign-up process. The user doesn't even have to provide the email id to use the Discord chat application; rather he/she can start using the application just by giving their name. But, yes the verification process needs an email address for quick access to all the servers.
The interface of Discord is so simple, customizable, and seamless, that any casual user can quickly understand the features, simply at a glance. In addition to this, Discord's text and voice conversations take place on their servers, and setting up them is absolutely simple. The terms Discord file size limit and Discord max file size limit might sound different, but their actual file size limits are the same as the upload limits.

Joining Slack's workspace is a little tedious when compared to Discord. The two ways to join Slack are by accepting an email invitation or by creating an account. Then you are asked to set up your profile with your First name, Display name, phone number, etc., to let other team members know about you. Users need to download desktop and mobile apps, whereas, in the case of Discord, they can log in to the web client to access the application.
3. Slack vs Discord: Cross-Platform
Discord
Discord Company, the most popular and biggest gaming cross-platform application, is available on all desktop and mobile OS platforms. It works on Windows, Mac OS, Android, and iOS and it is Linux friendly too. And if you don't feel like installing it, just experience the web application. One of the discord alternatives, the Troop Messenger also has its presence on all the platforms.
Slack
Slack is widely used as a team collaboration application, and had made its footprint on Windows, Chrome, Mac OS, Linux(beta), Android, iOS, and Windows Phone(beta). Though the desktop application is quite heavier than Discord, it's the most powerful one.
4. Slack vs Discord: Interface
Discord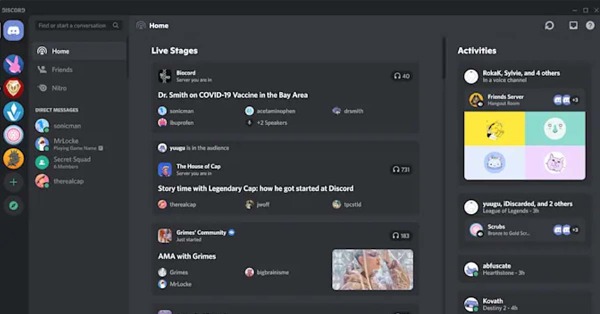 Your contacts will appear on the left and the conversations on the right. Comparatively, Discord is a little more complicated than other apps, since you have to search for channels and direct messages under different menus. With the primary chat window at the center, contacts and servers appear to the left. You can check who is currently active and online on the right side of the chat window.
You have an option of two distinct themes Discord has to offer, such as light and dark. On the other hand, Discord bots will allow you to customize the platform with new fonts, colors, and themes.
The on-screen features of Discord are its strongest suit. You can view any ongoing voice or video chats in your servers, who's online, and any new messages you receive on Discord's main screen.
Slack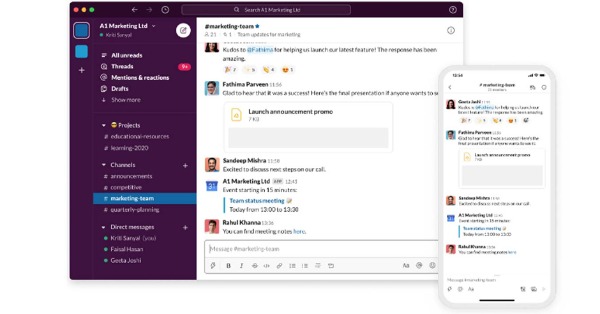 Because Direct Messages and apps will appear on the right, Slack's UI prevents users from wandering. Its greatest asset is its simplicity, and its interface is clean and simple to use, making it ideal for those who are new to team chat apps.
Users use the buttons on the left-hand side of the page to Slack channel, private chat, open a group, and thread, while you'll notice many buttons under the Details tab on the right-hand side. You may use these buttons to search your messages, find files, make phone calls, and add people to chats.
You can only change the sidebar with contacts and apps in Slack, and you can choose from one of the 21 available colors. And it also offers eight distinct themes to pick from, as well as the ability to create a custom theme, if you are tech-savvy, you can alter the entire Slack design using custom CSS and changing the desktop app's CSS file.
5. Slack vs Discord: Features
Discord
Discord's popularity is fast catching up in recent years. The client numbers are getting multiplied with its ever-increasing upcoming features –list. This application is rather famous in the gaming community than in team collaboration. Discord is specially designed for managing large groups and servers. It allows the user to quickly join the web client, without having to install a desktop app or create an account. This tool offers voice and video calls in a single interface and offers an unlimited message history too. When it comes to the Discord upload limit and Discord Character limit, they are 8mb and 2000 respectively. The upload limit can be extended to 50 MB by switching to the paid plan of Nitro.


The application is well-known for respecting users' privacy; neither does it message logging in to the free version nor is paid. Discord notifies users about other gaming information, to simplify choosing options for players. The server management and server-switching are so hassle-free in Discord that it enables the users to check their friend list on a daily basis, and switching between servers is just a click away. When it comes to Discord loading messages file size limits, it is similarly quantified with the file upload limits.


A few of the upcoming features include; keyboard navigation, overlay home bar for desktop, spoiler tags for iOS, game detection, and spoiler tags for Android.
Slack
Slack is popularly known as a "Place for every Conversation", as it is considered a unified choice for business communications and project management. It allows the user to create a separate channel for every discussion, be it for the team, for a new project, a channel for onboarding, or for training new employees, etc. The chat interface of Slack is quite simple to understand and pretty much easy to use. The user can find all the available channels open on the left side of the chat interface.
One of the additional features of Slack is its screen-sharing ability during video calls. It makes the best presentation tool with the help of voice, video, and text communication. The exceptional search functionality of Slack makes the user to bring all files, messages, and attachments in one place.
The CPU usage is high at Slack and is more intensive when compared to Discord. It uses 9.5 MB for its processing for the same count of message requests, which Discord attended. Every day's essential business applications of all sizes and shape like Asana, Dropbox, Salesforce, Trello, Jira, etc., are easily integrated into Slack.
6. Slack vs Discord: Conversations
Discord
Text and audio channels are available on Discord. Discord's server settings are far more sophisticated, allowing you to assign roles and rights to any channel member. As a result, you can use Discord's private channels.
Slack
Text and audio channels are available on Discord. Discord's server settings are far more sophisticated, allowing you to assign roles and rights to any channel member. As a result, you can use Discord's private channels.
Direct Messages: Slack's direct messaging system works similarly to other chat apps where you have to click on a person's icon in the chat list that appears on the left side to initiate a private conversation.

Threads: Since chat apps' messages tend to pile up, Slack lets you reply to comments directly through a thread.
Channels: Each team has its own set of Slack channels. These channels, such as #announcements, foster debate around a particular issue.
7. Slack vs Discord: Integrations
Discord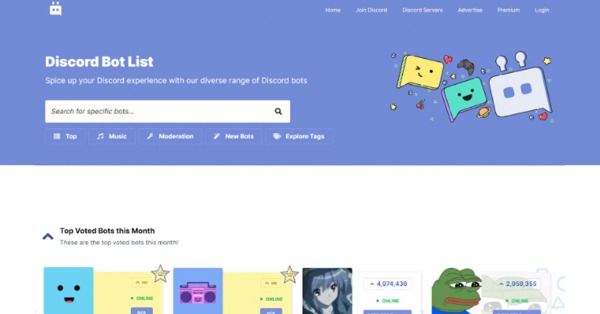 Apart from Discord Slack integration, it can be integrated with your favorite games and social networking platforms, such as Facebook, and Spotify and you may be surprised to learn about Jira software cloud Discord integration. You can also use Discord's API to connect with different bots.
Slack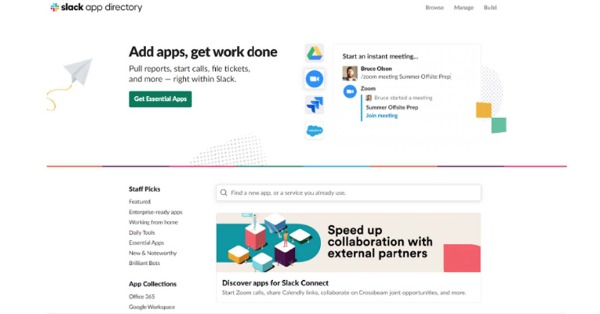 There are around 2400 apps to which Slack can be connected. Since Slack is more of an office chat app, some business owners transitioned from Discord to Slack. It interacts with apps you might require at work. With Slack Free, you can link up to 10 apps, and an unlimited number of apps with Slack's paid plans, albeit certain apps demand an additional subscription charge.
8. Slack vs Discord: End Users
The gaming community prefers to land on Discord rather than Slack, for its lag-free and high-speed gaming experience. Though mainly meant for gamers, collaboration is born out of the necessity to unite them in one place. Going further when we talk about, discord notification memes, it allows the users to compile them the way they want.
Though Slack was developed by a gaming company, it's been essentially built for team speak. Its primary focus is to attend business or corporate audiences for their uninterrupted team collaboration. The features designed are highly business-oriented with intuitive and impressive UI.
9. Slack vs Discord: Pricing
Discord comes in three pricing plans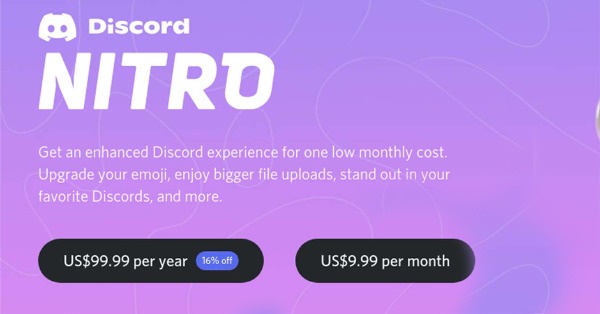 Free - $0
Discord Nitro Classic - $4.99/month
Discord Nitro - $9.99/month
Discord offers most of its features free of cost, and a Nitro Plan for the upgrade of extended file upload, animated emojis, and for high-quality screen sharing. Since the upgrade is applicable to each individual account instead of the server, the users who need it should upgrade accordingly.
Along with this, a Nitro plan of Discord enhances the user's chat experience with interesting perks such as animated fun, global search emojis, custom Discord tag, high-quality video, etc.,

Slack comes in three pricing plans and an enterprise Grid: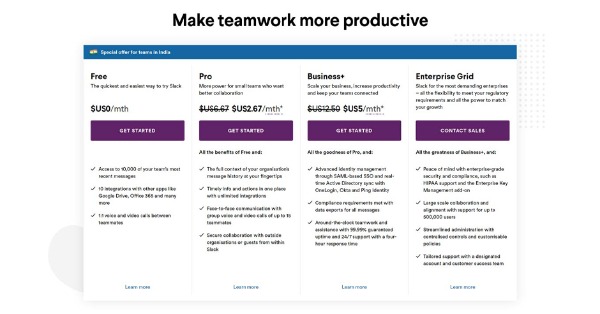 Free - $0
Standard - $6.67/month
Plus - $12.50/month
Enterprise Grid
It doesn't offer many of the important features in its free version. Small teams or small organizations can create a team collaboration workspace for an unlimited period of time with their+ free plan. For uninterrupted project communications, teams can opt for Slack's standard plan. The two-factor authentication facility is available for all users, regardless of the plan.
10. Slack vs Discord: Voice and Video Calls
Discord Voice calls and Voice chat are the heart of Discord. Discord video channels have kept separate from messaging channels and have gained huge popularity with free VoIP calling service between gaming servers, since its inception. When compared to its other competitors like Slack and Skype,


It provides the highest quality audio and video calling for users. Unlike Slack, Discord doesn't differentiate its voice and video calling services from its plan's purchase. Discord video calling and screen sharing can be used simultaneously to have an enhanced user gaming experience.

Let us have a quick look at how to video call on Discord.

-Select "Voice & Video" from App Settings Select video settings from the camera options drop-down menu and follow instructions as guided by Discord.
Though video calling is available in Slack's Free Plan, it's been restricted only to two people. The users need to upgrade to higher paid plans to expand the video call participant's limit to 15 users. In any of Slack's plans, its users can call other members of the application through channels. Slack gave a value addition to its video calling, where the participants can respond with different kinds of emojis to show their expression!
11. Slack vs Discord: File sharing & search
Discord
Discord uses text-based channels and directs messaging in the process to allow you to send files from your smartphone. It provides limitless file storage to all users, while sharing is limited. On Discord Free, you can exchange files up to 8 MB, and on Discord Nitro and Discord Nitro Classic, you can share files up to 100 MB. As per the user reviews, finding a file is quite a complicated task compared to Slack.
In Troop Messenger, users are empowered with advanced search filters, which not only saves their productive time but also directly maps to the destination based on preference such as files, link, image, message, etc.
Slack
Slack allows you to share files from two different locations: Google Drive and your personal computer. Slack allows you to share up to 1 GB of data at a time while uploading files from your device. And users are allowed to search their files from the sent messages until it lasts.
However, the storage capabilities of Slack are plan-dependent. You can store up to 5 GB per user on the free Slack version, and 10 GB per user on premium services.
12. Slack vs Discord: Support Service
Discord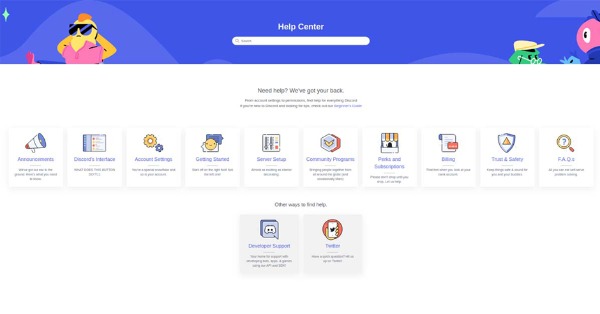 Discord extends excellent round-the-clock support services to its users. Apart from its 24/7 help center, its support team is actively available on most social channels like Twitter, Reddit, etc., Its exclusive help center page provides you with all the information right from the account settings to permissions. Get to know about its announcements, trust and safety, community programs, and many more from the help center page of its website.
Slack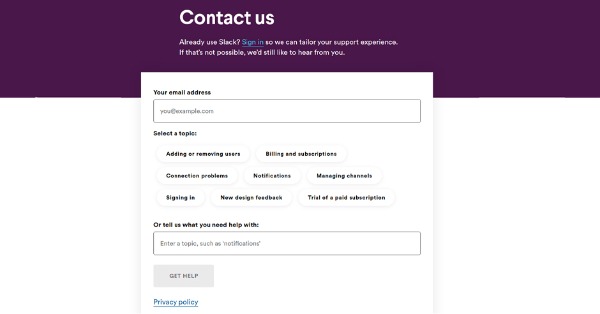 Slack too provides high-end and well-coordinated customer support for its users. They ensure the best possible resolutions for any sort of customer feedback and toughest queries. The support team who are up to date on the latest feature details will attend to the users by assuring them of seamless application usage. The support page of Slack lets you tap into the collective knowledge base of the application.
Conclusion
Eventually, the size of your organization and the cost of the application matters the most of the essential factors that determine your selection among Slack or Discord.
While choosing the right one! Discord and Slack both are exceptional in their respective genres, but you should know that there is a significant difference between Slack and Discord. If you are still held in Slack vs. Discord, I personally suggest the user opt for Discord, as its free plan itself is offering all the essential parameters of the application. But to be specific, if I were to suggest in the context of Slack vs Discord for developers, I would suggest Slack, and vice-versa in the context of Slack vs Discord for the community, inevitably anyone would choose Discord with or without my suggestion.
But ultimately, it's the user's choice of which to choose picked!
Still not justified! Then I would strongly suggest you hands-on with the new-age business messenger solution, The Troop Messenger.