Do you recognize that some Daily Planner Apps are essential for achieving operational excellence? It would be best if you read this blog because it has some excellent advice.
What is Daily Planner App?
Daily Planner App sorts all your complications in day-to-day operations, where you can prioritize and plan your essential work or chores that would provide substantial results. It enables you to prioritize your daily or monthly tasks, make reminders, and keep track of your commitments, deadlines, and to-dos from any location. Using a daily planner to schedule professional obligations, personal errands, appointments, and other events at precise times makes sure you are well-prepared for day-to-day operations.
Here is the list of the best daily planner apps:
Best Daily Planner Apps
1. Any.do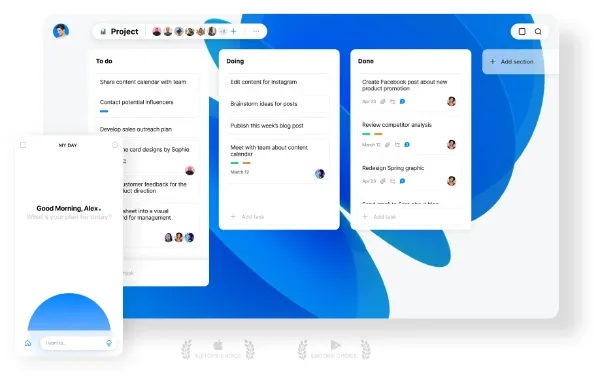 The productivity tool Any.do is designed for task and project management. With built-in integrations, such as calendars and virtual assistants, it is accessible on mobile, the web, and wearable devices.

Up to 30 million people utilize this app for schedule making, organizing lists and tasks, and overseeing team projects. Native integrations for well-known business applications like Zoom, Slack, Gmail, and WhatsApp are included with Any.do Workspace. You will also have access to more than 4,000 applications via Zapier integration.

For personal tasks, the Calendar views are accessible on mobile. The agenda view of this daily planner was designed to scroll through activities and events in reverse chronological order.
For users of plans, the agenda view is helpful since it promotes better time management and productivity.
The weekly view provides a quick glimpse of your entire week's itinerary.
Using Daily View is a terrific approach to concentrate on the tasks that need to get done today.
The Three Days view lets you manage your schedule correctly, prioritize daily chores, and reschedule tasks for the following days. It also helps you keep track of your to-dos for the near future.
2. TickTick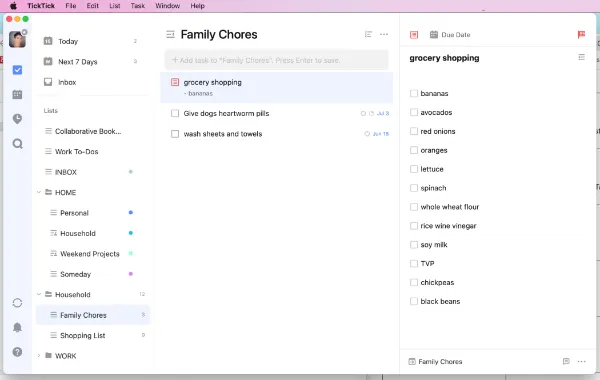 TickTick is a remarkably flexible and user-friendly task management application that is incredibly easy to use. It is one of the best daily planner apps available today that is less complicated thanks to its user-friendly design. It works as intended as a lightweight task manager with some sophisticated features. It will assist you in managing and enable you to check off every checkbox in your to-do list diary, whether it be an activity related to your job or a personal objective. It bridges the gap between task and project management at a low price and with many user-friendly features.

It is one of the best to-do list applications that allows you to group your chores into one or more lists, and as you complete them, you cross them off the list. Its simple design makes it ideal for little programs that assist you in keeping track of activities or productivity tools.

This is ideal for small enterprises or freelancers who need a trustworthy solution to manage assignments without a steep learning curve. Featuring five calendar views and a kanban board, you can easily manage and monitor your schedule.
3. Todoist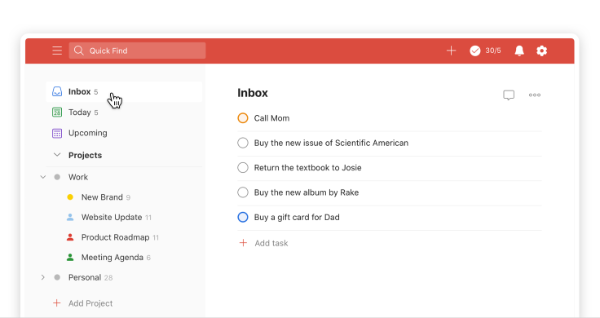 Todoist is one of the most user-friendly and reasonably priced productivity tools. It may be used by individuals or small teams as project management software. Its user interface is incredibly simple and intuitive. Prioritization, deadlines, and collaboration are all capabilities that are available in its free version, which is all you need to get going.

You can add tasks to your to-do list in seconds using Todoist's robust natural language recognition and repeating dates. To make it easier for you to concentrate on your most essential tasks, your to-do lists are automatically organized into Today, Upcoming, and custom Filter views.

Although task commenting has always been an option in this daily planner app, as of a 2022 update, you can also submit files and mention collaborators by adding their names after the @ sign.
4. Twobird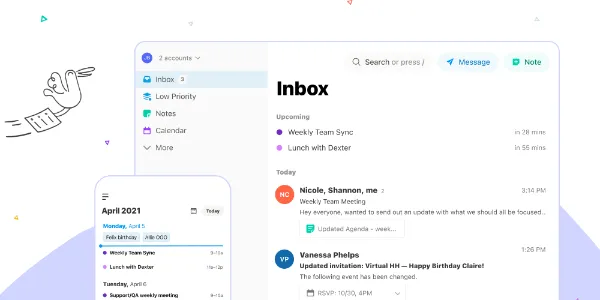 Twobird is an email program by Ginger Labs, the company behind Notability, one of the most popular note-taking apps, with the goal of making email easier to use and more effective.

Inevitably, it takes more effort to manage discussions, tasks, and collaboration across multiple apps. Twobird compiles everything in one location and highlights your top priorities.

These apps are indeed free to use, with plans to maintain this for users while introducing premium paid tiers for more prominent teams in the future. It is also one of the few email apps fully cross-platform, offering versions of the program for iOS, Android, macOS, and Windows in addition to a web interface.
5. Trello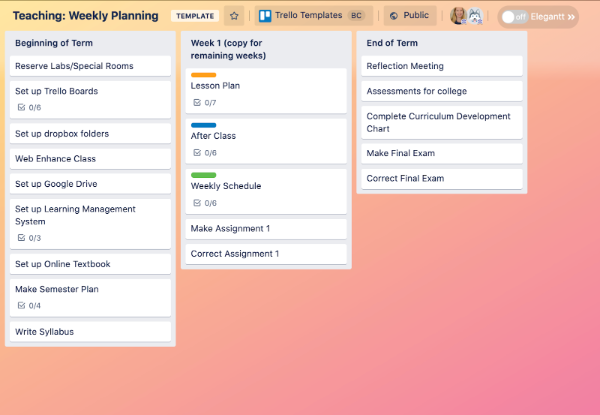 Trello is one of the commendable apps for daily routine tasks. It divides big tasks into manageable or small ones, allows users to cross items off their lists as completed, and displays a 100% complete status indicator.

Board, Timeline, Table, Calendar, Dashboard, Map, and Workspace views allow you to examine your projects from every angle, giving you a new perspective on the job. All users have access to boards; however, you might need to sign up for a Premium or Enterprise account to get more views.

The calendar in this planner app will be a tremendous resource when your team focuses on deadlines and due dates because it will provide you with a clearer picture of your work while still allowing you to focus on the minute details of what needs to be done each day.

You may evenly distribute duties among your team by scheduling new and old projects. Sort cards based on when they are due. Any labels, members, or checklists that have been added to them will also be displayed.

Consider project deadlines and due dates, even on external calendars. With just a few clicks, you can quickly add events to calendars, including Apple, Google, Outlook, and more.
6. Hubstaff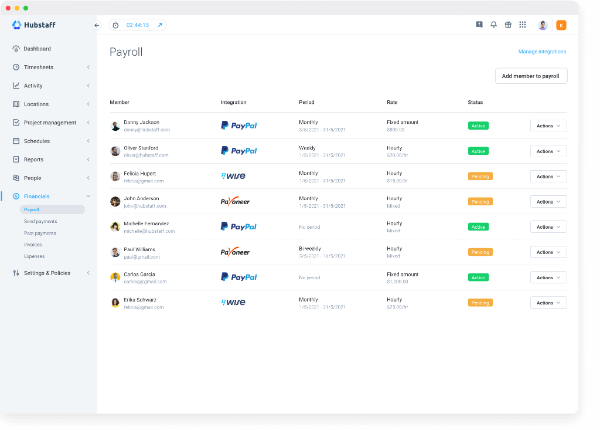 Hubstaff is one of the leading workforce management and time-tracking tools that streamlines numerous processes in an expanding company. You don't need to spend time on laborious processes or paper timesheets to keep track of your working hours. You and your team may start and stop the timer with a single click, giving you a precise picture of the amount of time spent on tasks and projects.

You can add endless projects and users to Hubstaff's free plan. A user-friendly time-tracking program for desktop, web, mobile, and Google Chrome, according to Hubstaff. Using Hubstaff's desktop, web, or mobile applications, you may check the time logs associated with the projects to assess the time spent on projects and tasks using reports.

With its time-tracking dashboard, you can see who is working in real-time and your team's working hours. After your team begins keeping track of time, you'll see the information filling in right away and be able to start making better choices for essential activities.
7. DeskTime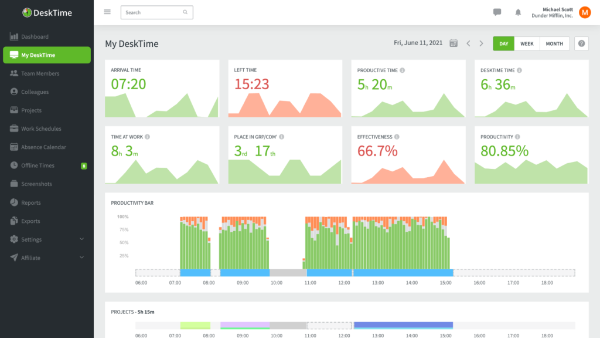 DeskTime is a time tracker with other workforce management tools that can assist you in creating a high-performing team that consistently exceeds expectations.

DeskTime undoubtedly ranks among the list of best planner apps, but it also serves as a general platform for managing activities for both small and large businesses. Project management, human resource planning, and other uses are also possible. You can manage a hybrid office, assign shifts, monitor absences, keep track of remote workers, and more on a single platform. Everything is programmable and can be switched on or off for the entire business or specific users.

It allows you to set hourly rates, forecast project costs, and manage to spend. DeskTime is well aware of the accessibility of project management when you get a bird's eye view of all active operations. As a result, it offers all the characteristics needed to carry out your tasks effectively.

Across the globe, more than 18,000 businesses rely on DeskTime as the best planning app for their operations.
8. ProofHub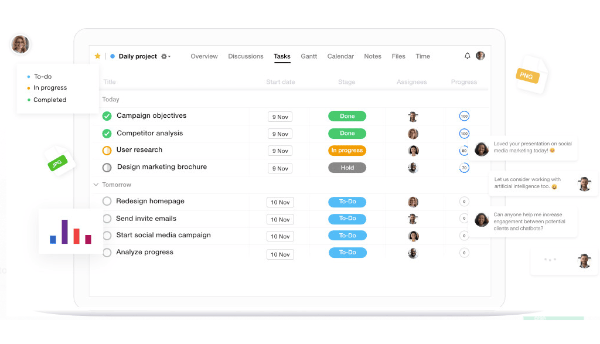 ProofHub is over-qualified for the daily planner apps list because it is a complete project management platform with every feature your team requires to work more effectively and cooperatively. It's a cloud-based tool for teams operating in various industries. Apart from using this application for daily schedules, it provides applications for task management, resource management, project collaboration, and other tasks.

You may organize your day and smoothly oversee operations in accordance with your vision. To elaborate, you may effectively plan and manage projects in a way that is ideal for your team. Assign tasks, prioritize data filtering and viewing, and keep the essential information at the forefront.

Learn every detail about the assignments for your team. Examine how a task has developed over time, note any changes, and closely monitor the development. Keep accurate time records for your team. In one location, you can add timesheets, make time estimates, keep track of your time manually or with timers, and create time reports.
9. Wrike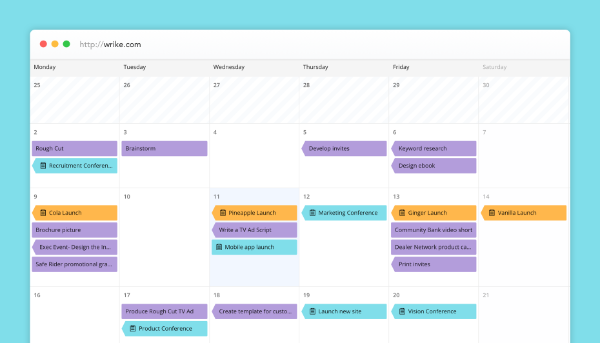 Wrike's project dashboard for teams empowers you to plan, progress, statistics, and other conveniently gathered information in one location. According to several user testimonials, this program can be distinguished as one of the best day planner apps.

With customized dashboards, this project management software prevents you from missing a deadline. Get an in-depth look into workloads, pin crucial to-dos, follow crucial tasks, and pick and choose what you want to see to keep a close check on development. You can share your progress with the entire organization and comprehend the current state of each team's work.

Several pre-built widgets subdivided into professional, personal, and project categories can be added to your dashboard. You may quickly make a custom widget if you wish to customize your widgets further to display particular tasks. To make your widget display only the jobs you need to see, you can set filters and include tasks from several folders. Even the names of the folders might be displayed on the functionality. This is especially useful if you display tasks from the client- or user-related directories.
10. My Hours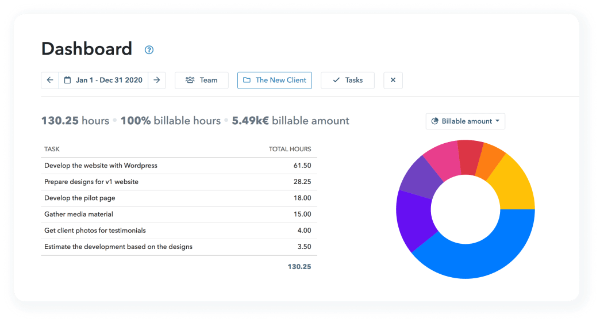 My Hours is a cloud-based, all-in-one, free time-tracking tool for small teams, startups, and freelancers. It enables you to create analytical reports, issue client bills, and keep track of the time spent on projects and activities.

This is one of the best apps for planning since it allows you to keep track of all your work and provide your time logs and expenses with a thorough explanation.

My Hours has a timesheet option to manually enter work hours for individuals who prefer manual time tracking. At any time, note what and when you worked on. You can access details for each particular day for more complex use. Add start and end time stamps, provide a more thorough description of the task, record expenses, and receipts, or designate the log as non-billable.
11. Troop Messenger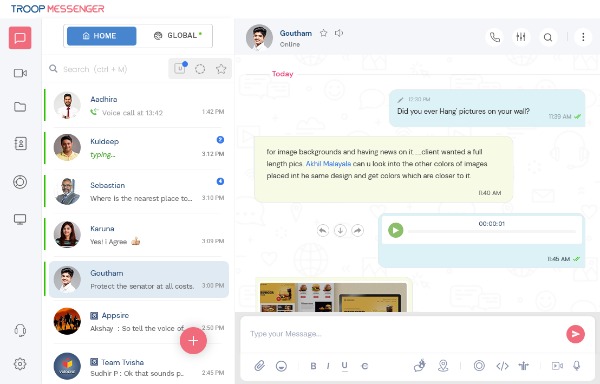 Troop Messenger is one of the top team communication tools that surpass its rivals in empowering team collaboration. It performs a planner function differently from the daily planner apps listed above. For instance, Troop Messenger is ideal for you if you're seeking a team chat app that offers planning features while protecting your privacy.

Don't be misled; it includes a Zapier integration so you can easily connect with any time-tracking software or planning app and get on with your business.

It provides all the necessary capabilities like chatting, audio/ video calling, the Cattle Call conference module to hold business meetings, screen sharing, remote access, live location tracking, and other features.

It supports the major delivery options, including on-premises, SaaS, chat APIs & SDKs, which are supported by this encrypted chat software. Defense organizations employ it as a safe and dependable platform for collaboration services, including government organizations, political parties, healthcare units, finance, software, and other corporate companies.
Conclusion
After reading through the list of daily planner apps, I hope you will realize how crucial they are to day-to-day operations and how they may assist you in planning and managing everyday tasks effectively. Be advised to compare the tool's features with your requirements to ensure you get the right solution.