The cloud-based service market was worth more than $270 billion in 2020.
In 2023, the numbers have gone up even more. Every business now wants to migrate to the cloud and for good reasons.

Cloud-based management platforms make it easier for any business to scale. At a time when every process is digitized, not opting for a cloud management platform makes very little sense. It's the single biggest contributing factor to the success of several small businesses.

At present, not using cloud-based management platforms puts you at a significant disadvantage over competitors.
Companies are now switching to multi-cloud platforms to make the most of cloud management systems. In this article, we will look at the 6 best cloud management platforms for IT teams.
Top 6 Cloud-based Management Platforms for IT Teams
Before we go into the list, it's important to note that we have included different categories of tools in the list. Some of them are suitable for beginners, while others are geared toward experts.
No matter which option you choose, make sure it aligns with your needs, usability, and skill levels. Otherwise, you would be left with a great tool that you don't know how to use. Having said that, only a selected few team chat apps stand out, such as Troop Messenger. Even though it has a plethora of features, users of all technical levels may use it with ease.

Some tools like Zluri and monday.com are perfect for beginners. Scalr, on the other hand, is suitable for pros and beginners alike. IBM Cloud Orchestrator requires a degree of experience and competence to manage.
In other words, the learning curves of these tools are very different. Keep that in mind when making your pick.
Now without any further ado, let's dive right in!
1. Zluri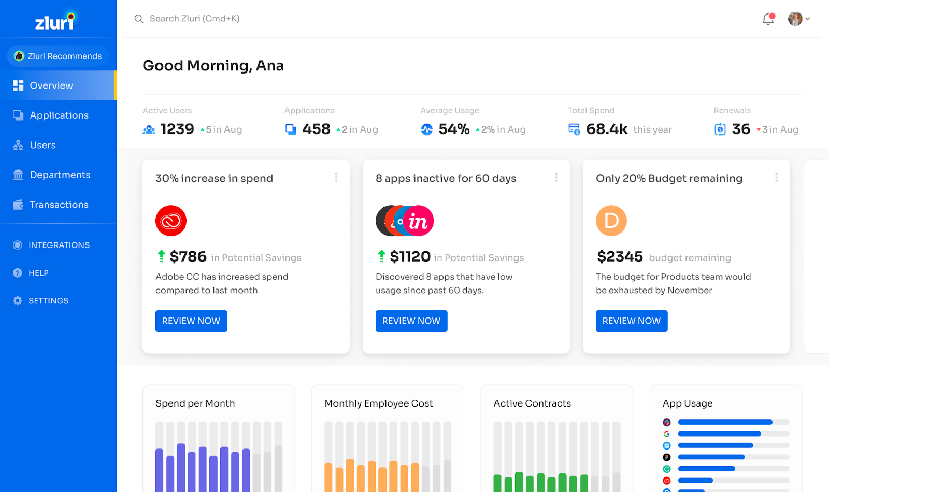 Easy-to-use automation engine
Vendor management tools
Real-time insights and reports
Financial optimization
IT and security measures
Customized pricing plans
Zluri is an all-in-one cloud-based management platform that has successfully helped several companies digitize their workflow. According to the website, it's a tool for companies that care about visibility, efficiency, and cost savings.

One of the many features that make Zluri so effective is its cost analysis tools. By eliminating SaaS wastage, you can reduce your expense by more than 30%. It does so by removing duplicate apps, consolidating apps with overlapping functionalities, and renewing licenses and keys optimally.

Like most cloud-based management platforms, Zluri focuses significantly on automation. It makes onboarding and off-boarding fast and easy. As a result, you can save hundreds of hours by not having to go through all manual processes.

Security is a key concern for this cloud-based management tool. Zluri's list of identity management platforms details how other tools and Zluri itself manage security and identities.

Overall, Zluri is an amazing tool for small to medium enterprises. It has all the features that you may look for in a cloud-based management platform and is available at affordable prices.
2. CloudHealth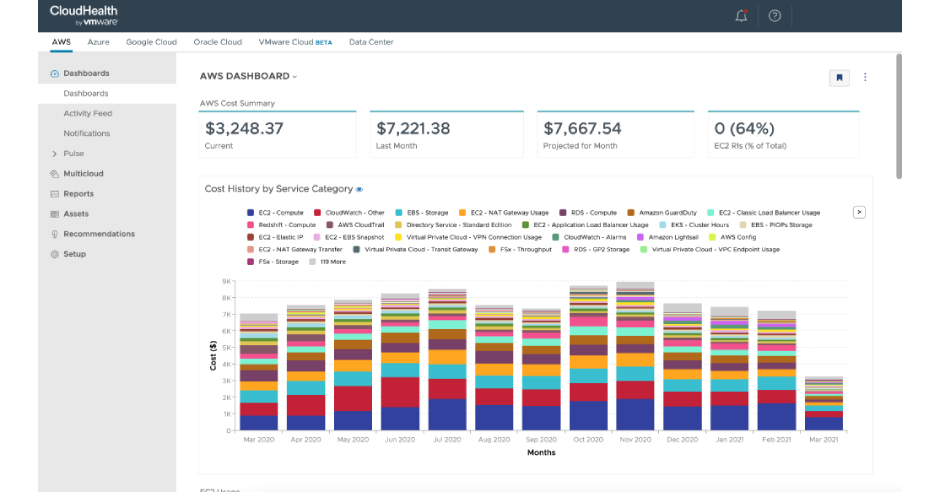 Save money by avoiding hidden costs
Enables better budgeting and more efficient spending
Be on track with compliance and security requirements
Allocate funds to places where they will give the highest return
CloudHealth is not a complete cloud-based management platform in itself. Rather, it focuses on the health and optimization part of a cloud-based team. The biggest advantage of using CloudHealth is financial management. You can monitor the overall expenses of your business from a unified platform. At the same time, CloudHealth will help you make better financial decisions in terms of revenue optimization.

CloudHealth is part of VMware, which is one of the largest cloud-based management platforms in the world. If you are using VMware already, there's a high chance of you also using CloudHealth. But you can use CloudHealth even if you are using any other approved partner cloud service.

To sum up, the main advantages of CloudHealth relate to cost savings and efficiency. Since it's from the house of VMware, it has a large pool of resources and a huge community of users. Any help that you may need would be readily available. If you are looking for ways to optimize your business's budget, CloudHealth is a must-have tool.
3. IBM Cloud Orchestrator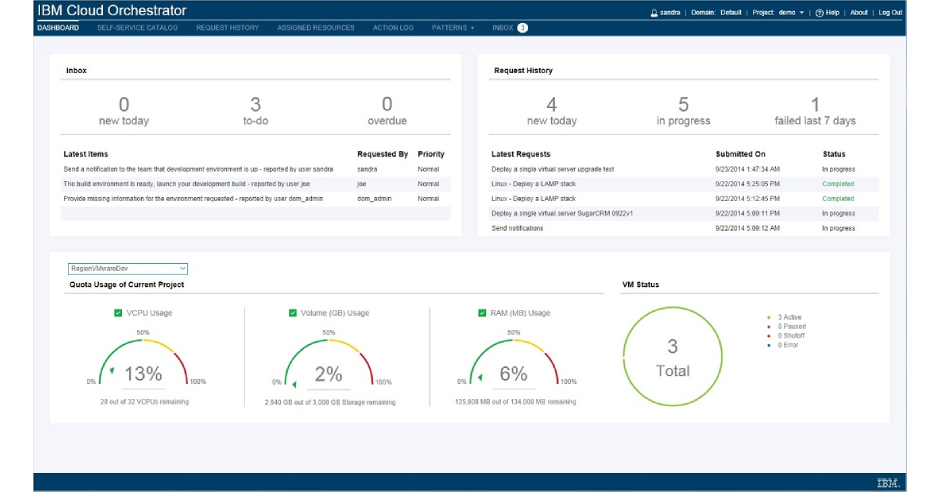 App testing and development
Synchronization of tasks
Automated cloud configuration
Cloud services administration
Cloud use statistics
Dashboards for executive costs
Adaptive change management
SLA compliance for a customizable self-service portal
Price - upon inquiry
IBM is a big name in the IT and tech space, and its Cloud Orchestrator is among the most popular cloud-based management platforms. Unlike the last two entries, the IBM Cloud Orchestrator is geared more toward large organizations. If you have more than 100 people working with you, using the IBM Cloud Orchestrator will make your workflow much smoother.

The IBM Cloud Orchestrator is a fairly advanced tool. It allows you to do everything that a cloud-based management platform is supposed to. The core functions of the IBM Cloud Orchestrator are to make companies efficient in delivering IT solutions over the cloud while maintaining complete control over the process.

This cloud-based management tool comes with a large number of toolkits and presets that make it user-friendly. At the same time, note that the IBM Cloud Orchestrator is not for laypeople. To make the most from this platform, you need to have a sizable business and workforce and a dedicated IT management team.
4. Monday.com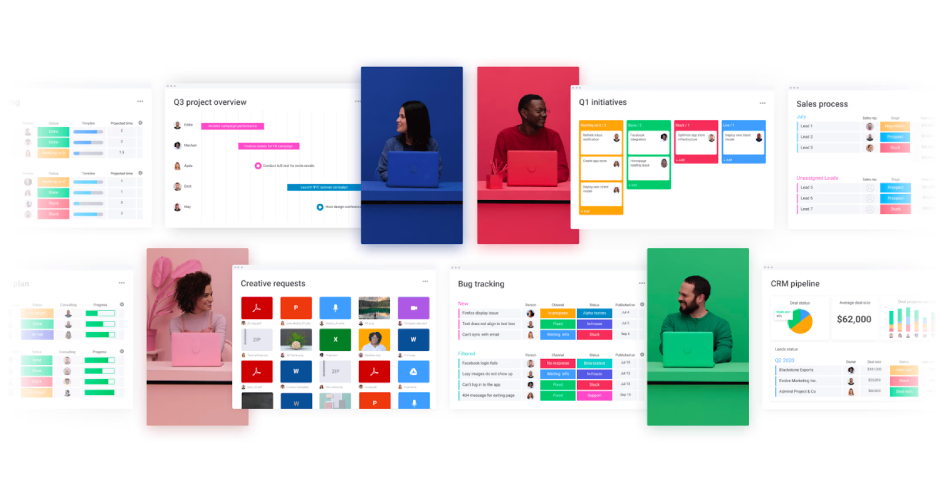 All projects are accessible from a single hub
Track project updates
Suitable for beginners
Affordable: Pro plan at $16 per person
Free plan for individuals
Monday.com is a collaboration and remote working platform, but it's much more than a messaging app.
It comes with the proprietary Work OS that makes it simpler for teams to work together on a common project. Since it integrates smoothly with your existing systems, you won't have any trouble switching to monday.com from your existing databases.

The best part about monday.com is that it's beginner-friendly. Unlike IBM Cloud Orchestrator, you do not need to have any technical know-how to access this platform. But that comes at a cost – monday.com is not capable of doing everything that IBM Cloud Orchestrator can. Nonetheless, the easy-to-understand user interface and clear guidelines make monday.com perfect for beginners and small businesses.

The vision behind monday.com is to empower teams to go online. If you have never used a cloud-based management platform before, starting with monday.com is a great idea. It will ease you into the processes of cloud-based management without a very steep learning curve. The ease of use is the USP of monday.com.
5. Scalr CMP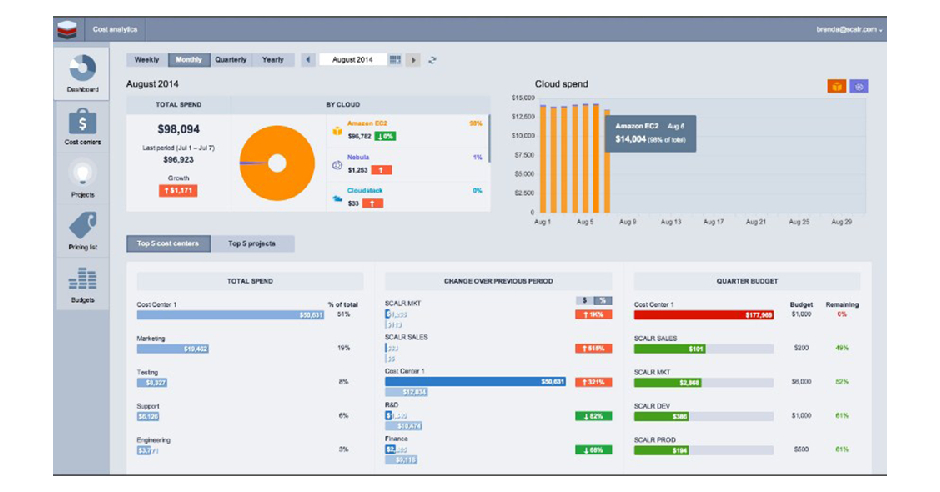 Helps manage business expenses
Used by large companies like Samsung and Xerox
Promotes self-service and automation
Suitable for businesses of any size
Price: upon inquiry
Scalr CMP claims to be The Only CMP Designed For Enterprise Scale. As the name of the platform suggests, it is designed to be scalable. That makes Scalr suitable for all businesses. Even if you have a small business at the moment, using Scalr will ensure you do not have to switch platforms when your business scale grows.

Scalr enables companies to deliver IT solutions without compromising on security or quality. It's an all-in-one platform that gives you a single workstation to monitor every aspect of operations. The best part about Scalr is that both basic and power users will find it equally helpful. It can scale up or down depending on what the requirements are.

Another area where Scalr does a great job is the prevention of vendor lock-in. Rather than purchasing proprietary software, it encourages policies that encourage integration with existing systems. As a result, you end up saving money while keeping your workflow intact. If you are confused about which cloud-based management platform to choose, Scalr would be a good starting point.
6. ManageEngine Applications Manager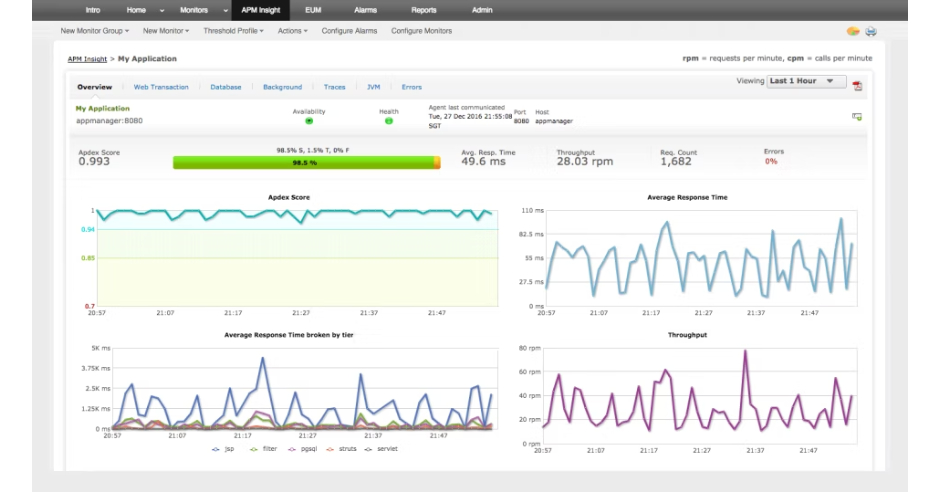 Troubleshoot production, QA, and development application performance issues
Supports Java, .NET, .NET Core, Node.js, PHP, and Ruby applications
Ensure your website's critical paths perform 24x7 to create better customer experiences
Assess front-end performance using actual traffic data
Applications Manager from ManageEngine falls under a distinct category of cloud-based IT solutions. It monitors every aspect of your operations to report on inefficiencies and gaps. As a result, almost any company can use it to monitor its performance over different channels.

ManageEngine Applications Manager monitors workload and troubleshoots application performance on cloud and virtualization platforms like AWS, Azure, GCP, Oracle Cloud, and OpenStack. It can help you identify outages, lags, and downtime in your applications. As a result, you are always on top of what's going on with your platforms and websites.

The Applications Manager also employs AI for both alerts and reporting. It triggers automatic actions that resolve several issues automatically. Its customizable and interactive dashboards make it easy for anyone to monitor performance over a long period of time.
While Applications Manager is geared more towards large enterprises, even small business owners can reap the benefits of this cloud management platform.
Conclusion
We hope this list will help you find the tools and systems that you are looking for.
Using a cloud-based management tool can be a game-changer for any business. These platforms allow companies to make the most of all their resources and optimize performance and revenue generation.