A business cannot only survive on the number of clients it has; it must also increase its productivity to meet its goals and bring on new customers or clients. I don't think I need to remind you that team communication is critical to boosting business productivity, but I do believe you should be aware that a conventional or social messaging app will not suffice to do it.

Any best messaging app can serve as your communication tool, but you'll need a business productivity app in the form of a team communication tool to accomplish your vision. However, there are a few best chatting apps on the market that assist you in boosting your team communication and business productivity more efficiently.

The following are some of the best chatting apps for businesses.
1. Troop Messenger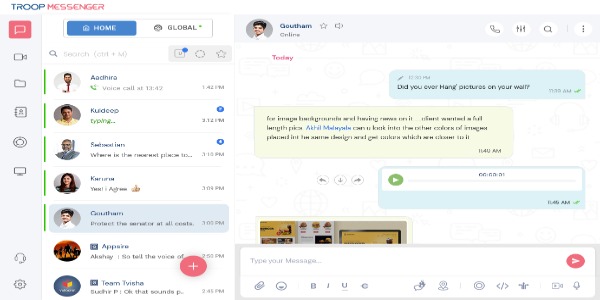 Troop Messenger is one of the best chatting apps that can help you improve business productivity and team communication. Its features and functionalities were created to establish seamless communication between teams to carry out everyday business tasks and workflows efficiently.

For example, it's entirely plausible that you'll be required to participate in classified discussions; however, Troop Messenger has a feature called Burnout that allows you to have one-on-one communication with the participant in a secret chat window while remaining confident that the entire data will be terminated at the time you specify.

Troop Messenger is a comprehensive team collaboration tool that not only allows you to communicate with your team via messaging, audio/video calling, and file sharing, but also includes features such as remote access, screen sharing, and video conferencing to help you start business meetings at any time.

On-premises, SaaS, chat APIs & SDKs, and other delivery formats are all supported by this encrypted chat app. It is a secure and reliable platform that is used by the Army and Air Force for defense collaboration services, government agencies, political parties, health-care units, finance, software, and other purposes. This business messaging app is appropriate for all domains, so you're only a few steps away from using it as your communication tool.
Highlights
Secret chat
Highly encrypted chat app
A plethora of features & functionalities
Easy to use
Advanced search filters
Super admin controls
Pricing
Troop Messenger pricing starts at $2.5 for the Premium Plan and $5 for the Enterprise Plan, with the Superior Plan requiring contact with sales.
2. Slack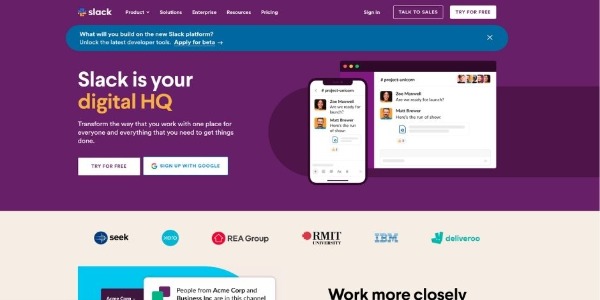 Slack is a commonly utilized tool, but there is a slew of rivals or rip-offs on the market vying for its crown. According to its co-founder and CEO Steward Butterfield, SLACK stands for Searchable Log of All Communication and Knowledge. It began as an internal tool in a gaming company, and today it is used by a few other domains employing this tool as their chatting app for business productivity.

File sharing, texting, and other functions are easy, however, group calls are limited to 15 participants in audio/video calls, which is insufficient to meet today's business needs. And unless you choose to integrate with a suitable solution, you won't be able to hold business meetings with this application, which is why remote employees faced issues and had to opt for an alternative.

Slack should anticipate business needs and upgrade the platform as quickly as possible, as it is past its prime.
Highlights
File storage
Data residency
Domain claiming
Slack huddles
Well-integrated tool
Pricing
The free subscription is available, and Premium membership plans are priced as follows: Pro US$2.67 per month, Business+ US$5 per month, and Enterprise Grid plan requires contact with sales.
3. Microsoft Teams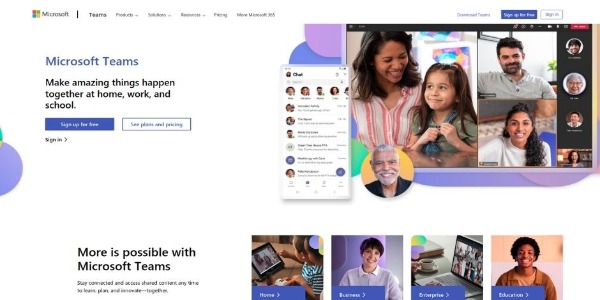 Microsoft Teams quickly became a viable competitor to Slack, and it is unquestionably one of the best chatting apps. During the pandemic, it was utilized as a video conference software by educational institutes and sales organizations because it permitted up to 100 people with a 60-minute time restriction, whereas Zoom only allowed for 40 minutes.

It is one of the few chatting applications that enables users to schedule meetings and add agendas, as well as attend surprise calls. Sharing capabilities include close interaction with the Microsoft Office suite for document, note collaboration, and calendars.

This messaging app has established itself as a viable alternative to its software, such as Skype. Many Skype business users switched to Microsoft Teams after it was shut down, as predicted.
Highlights
Cloud storage
Noise suppression
250+ integrated apps
Meeting recordings and transcripts
File storage
Pricing
Microsoft Team Free plan is available, and Premium membership plans are charged as follows: Microsoft Teams Essentials $4 per user/ month, Microsoft 365 Business Basic $6 per user/ month, and Microsoft 365 Business Standard $12.5 per user/ month.
4. Mattermost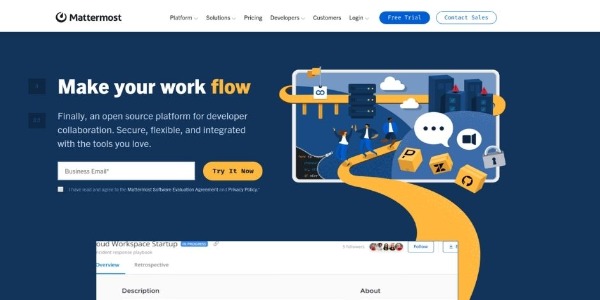 Mattermost is a self-hosted, open-source online chat service. This chatting app was developed to be used as a business messaging app. Certain interactions are too critical to be hosted on a third-party server, in which case Mattermost will come in handy. Conversations are separated into channels in the same way that other services are divided into channels. Threads are available, but each post in a thread is also broadcast on the main channel. From the user interface to storage to the mobile app, you have complete control to customize.
Highlights
Private playbooks
Elastic search
Email Authentication
Guests accounts
Granular data retention
Pricing
Mattermost offers a free Starter pack, while subscription plans such as Professional cost $10 per user each month, and Enterprise requires contacting the sales department.
5. Discord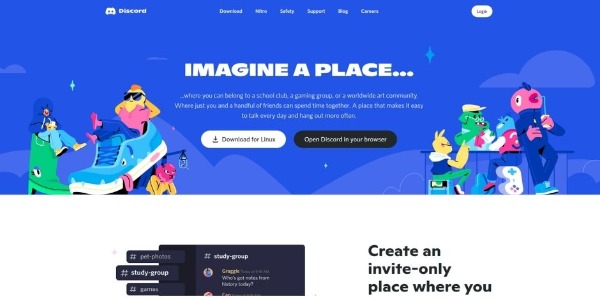 Don't think of it as just an online chatting app for gamers; it's also used by startups and small companies as a business messaging app, making it one of the best chatting apps.

This instant messaging app may not comprise many business-specific features unlike other tools, and while it's obvious that Discord screen share is well-known for sharing gaming sessions with participants, few businesses have used it in conjunction with other features such as multiple text chats, features voice chat, and so on.

When working remotely, it's convenient to communicate with fellow workers, and there are also video chats if you want to see your teammates in person. The audio chats are the real selling point here, with some of the best audio quality on the market, and this feature by itself turned out to be worth a look that helps you to communicate with the teams seamlessly and get things done.
Highlights
Screen share
Audio quality
Bigger uploads
HD video
Pricing
Discord offers a free version, and subscription plans such as Discord Nitro start at $9.99 per month.
6. Mesibo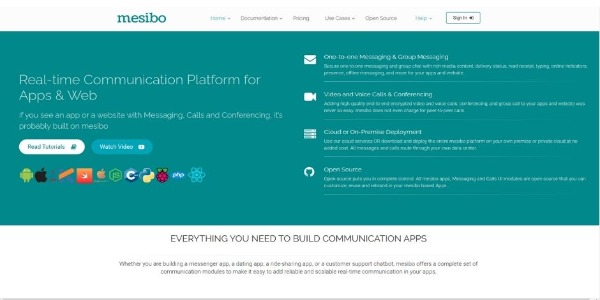 Mesibo is a cloud communication platform that includes features such as messaging, calling, video conferencing, file sharing, and so on. Its chat APIs are robust and designed to be user-friendly and simple to program. The API signature is the same whether you're building a mobile app or a web app, enabling messaging, or making phone calls. This allows bringing features to many platforms practically as simple as copying and pasting. If you are aiming to boost productivity this tool could be your ideal business productivity app.
Highlights
Message retention
Maximum file transfer size
Real-time database
Access controls/ permissions
Pricing
Contact sales department
7. Ryver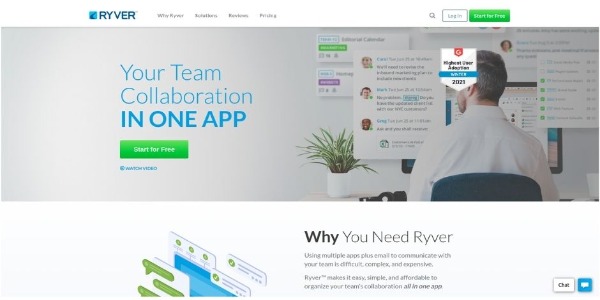 Ryver is one of the easy-to-use team communication tools that makes organizing your team simple. Its unique Active Response Technology replaces a sophisticated, automated event response cooperation system with an error-prone, slow human response time.

This chat app task management and team communication. There are three sites where communication takes place: Teams, Groups, and Discussion Boards The dialogue is further split down into chat, subjects, and tasks by the people in these places.
Highlights
Task management
Custom invite links
Testing sandbox
Single sign-on (SSO)
Pricing
Ryver pricing starts at $4.67 per user for the Medium pack, $69 per month for the Starter plan, $129 per month for the Standard plan, and $199 per month for the Enterprise plan contact the sales department.
8. Google Chat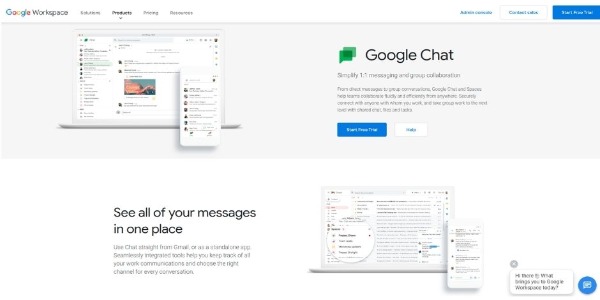 Google Chat is a team-oriented communication tool from Google that includes messaging, and group creation, and supports Google Drive file sharing. Google Chat is considered one of the best apps for chatting, which is known for its credibility.

Similar to Slack channels, Google Chat splits conversations into rooms. Conversations are grouped into threads, which makes it easier to keep track of ongoing projects. The chat feature is dominant in this team chat app. When you paste a Google Doc link into a document, the permissions are changed to allow everyone in the room to open it. By tagging Google Meet, your teammate, and meeting details like date and time will appear, and you can quickly organize a meeting with any coworker. This creates a calendar appointment with a Google Meet link for video conferencing. Given that this is a Google product, it is inevitable that search is a strong feature. Results appear in real-time as you write, and you have a range of filtering options.
Highlights
Searching
Cloud storage
Security
Allows maximum participants in video conferences
Pricing
Business Starter is $6, Business Standard is $12, and Business Plus is $18 on Google Chat. For EnterprisePlan, contact sales.
9. Rocket.Chat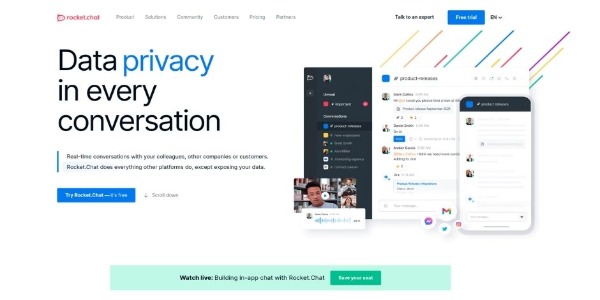 Rocket.Chat is an infinitely customizable messaging platform for companies that place a premium on data security. As a result, productivity and customer satisfaction have increased.

Rocket.Chat is one of the encrypted chat apps that start offering encryption from a free plan. It transforms into a task management hub, bringing all of your team's collaboration tools together in one spot. It allows you to have real-time chats with your teammates, other units, and clients/ customers, regardless of how they contact you. This business chat app facilitates tools for enterprise workflow automation, RSS streaming, and voice and video conferencing that will boost your business productivity.
Highlights
Social network login
Unlimited message history
Message audit panel
Guest users
Pricing
Rocket.Chat has a free Community plan, while premium plans start at $3 for Pro, and you must contact sales for the Enterprise plan.
Conclusion
I hope you now understand the significance of business productivity apps. So, begin by analyzing your business requirements and comparing them to the capabilities of the chatting applications listed above. However, in today's digital age, every business must employ a complete team collaboration tool that is more than simply the best chatting app; it must also be an encrypted chat app.