Do you realize that the performance of your teams and your company's success will be influenced by the business management apps you use?
What is Business Management App?
A series of modules, including project management, task management, customer relationship management, and others, comprise business management software. These modules allow you to manage operations effectively and keep track of the teams' work while directing them toward operational success.

Using sophisticated business messaging software, you can schedule your day, arrange your tasks, and improve your time management abilities. You may enhance the skills and morale of every team member, which will boost productivity and collaboration at work. Enrolling your team in PMP training can also be a strategic move to elevate their project management expertise and further enhance overall productivity and collaboration at work.

The tools listed below may accommodate your requirements and are some of the best on the market.
Business Management Apps
1. Scoro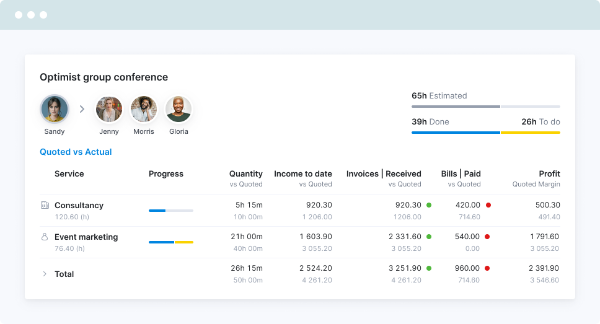 Scoro is considered one of the most influential business management software for professional and creative services. With the incorporation of methods, techniques, and tools into a single central system, it seeks to transform and improve the operations of your team.

Users can allocate non-chargeable and billable work, organize meetings and tasks, set budgets, invoices, expenses, files, etc., and ensure optimal usage using its project management features. Provide your staff the ability to work together effectively with a complete end-to-end workflow management tool that offers a comprehensive view of planned and completed activities and time spent on everything from small tasks to major projects. This team collaboration software lets you decide how to complete your work, regardless of location.

While building project templates, you can include several task bundles in each project phase, saving time when managing similar or identical projects by predefining relevant sets of activities within the existing template.

Scoro's organizational structure is its best feature. One of the reasons Scoro won awards in eight categories, including significant professional Services Automation (PSA) market momentum, is the logical connection and simplicity of the many components. The Winter 2023 Awards list from G2 further demonstrates the adaptability of Scoro's work management software across various industries, from SMEs to the Mid-Market and beyond.
2. TimeCamp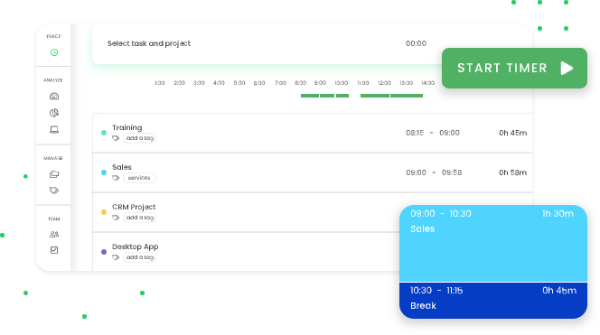 TimeCamp is a cloud-based business management app that enables project or business managers to keep track of billable work hours, collaborate, and monitor project status. It also offers project management features, one-click time tracking, a task list, and a timeline view. With its help, you can always stay on schedule and within your budget when working on numerous projects simultaneously.

Projects can be divided into several subtasks, and each subtask can be assigned to a team member based on their skills or expertise. The good news is that you can keep track of those tasks, projects, and activities by category, including website and app usage, watch the deadlines and automatically produce precise timesheets that support attendance tracking, task billing calculations, invoice creation, and time management.

This business application gives you all the information required to evaluate the projects' performance and ensure everyone stays on task. And also sends automatically generated weekly emails summarising the job performed, the time squandered, the productive hours, and lists of time-consuming websites.

Use TimeCamp's user-friendly modules to assist with your everyday HR and payroll tasks so that you and your staff can keep track of absences, sick days, and vacation time. Never before has tracking attendance and working hours been so quick.
3. Asana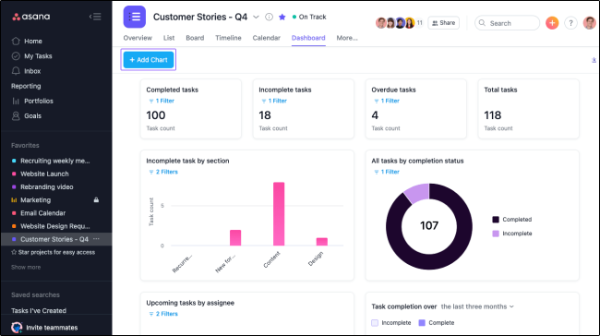 One of the most outstanding and popular programs used as project and task management tools is Asana. To bring together people, processes, and cross-functional teamwork in one location, many organizations use Asana. The user experience is enhanced by the Kanban design, user interface, and simplicity of usage, making this the best productivity tool available.

It is simple and enables you to efficiently allocate and arrange assignments by considering user ratings. Teams that use lists can understand what has to be done, what is required right now, and when the due dates are.

Your team may have more time to focus on your mission-critical job if you use rules to automate regular tasks. Also, you may set up your procedures using its 50+ templates and modify them to carry out the task in your preferred manner, ensuring anyone misses a step and keeping the cohesion of your team.

Considering its free plan, Asana is one of the best apps for small businesses and startups that must maintain a consistent workflow and ensure that deadlines are always met.
4. Trello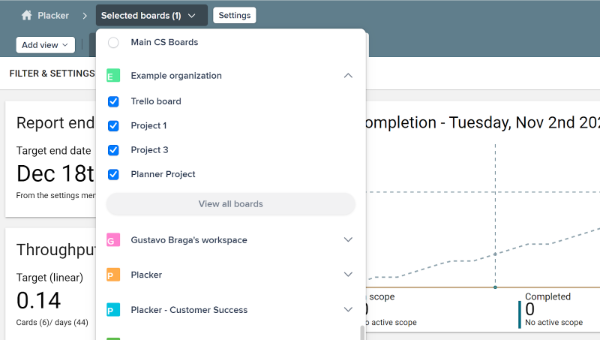 Trello was developed to boost efficiency and productivity by making it easier and more convenient for everyone to collaborate. The free plan has many features, including infinite cards, board enhancements, and storage, that can result in a productive day. With up to 10 boards, assignees, and due dates, each workspace can be operated on mobile iOS and Android apps seamlessly.

This business management system provides a variety of ways to represent your projects, including the ability to see them as a timeline, table, dashboard, and more. Views make the work easier to visualize and let you see everything from the overall project status to the day-to-day activities.

Labels that indicate high, medium, or low importance can be used to categorize tasks or projects to streamline them and provide another level of coherence to your tasks. You can even filter the results to examine only the cards connected with a specific label.

Butler uses the built-in automation in Trello to minimize the number of repetitive tasks on your project board by leveraging the power of automation throughout your team. It asserts that every team can set up and tailor processes for meetings, events, projects, and goal-setting because of its simple features. Also, Trello's robots handle the work so your team can focus on the essential assignments.
5. Honeygain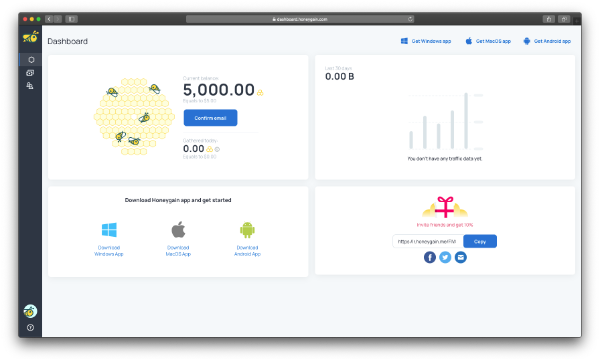 Likely Honeygain application is one of its kind that enables users to earn money online by selling access to their Internet connection. Real users worldwide supply the traffic to Honeygain's authorized home proxy network. The app works automatically and shares the bandwidth with its network if it runs in the background. This bandwidth is used for research, price aggregation, and other use cases by SEO agencies.
It ensures that only reliable partners are using your internet traffic, and the app never requests or obtains accessibility to your device's storage.
It uses a credits system in which 10 MB of traffic shared is worth three credits, and 1000 credits are worth $1. Once users reach $20 worth of credits, they can request a payout straight to their PayPal account or crypto wallet.
This app can help cover small expenses, such as cheaper Google Ads campaigns and other minor expenditures. Since the app is available on every operating system (Android, iOS, Windows, macOS, and Linux), it can be run on any device connected to the internet. As noted, the app works in the background without any input required from the user. The app does not ask for permission, meaning it is safe to use.
6. Traqq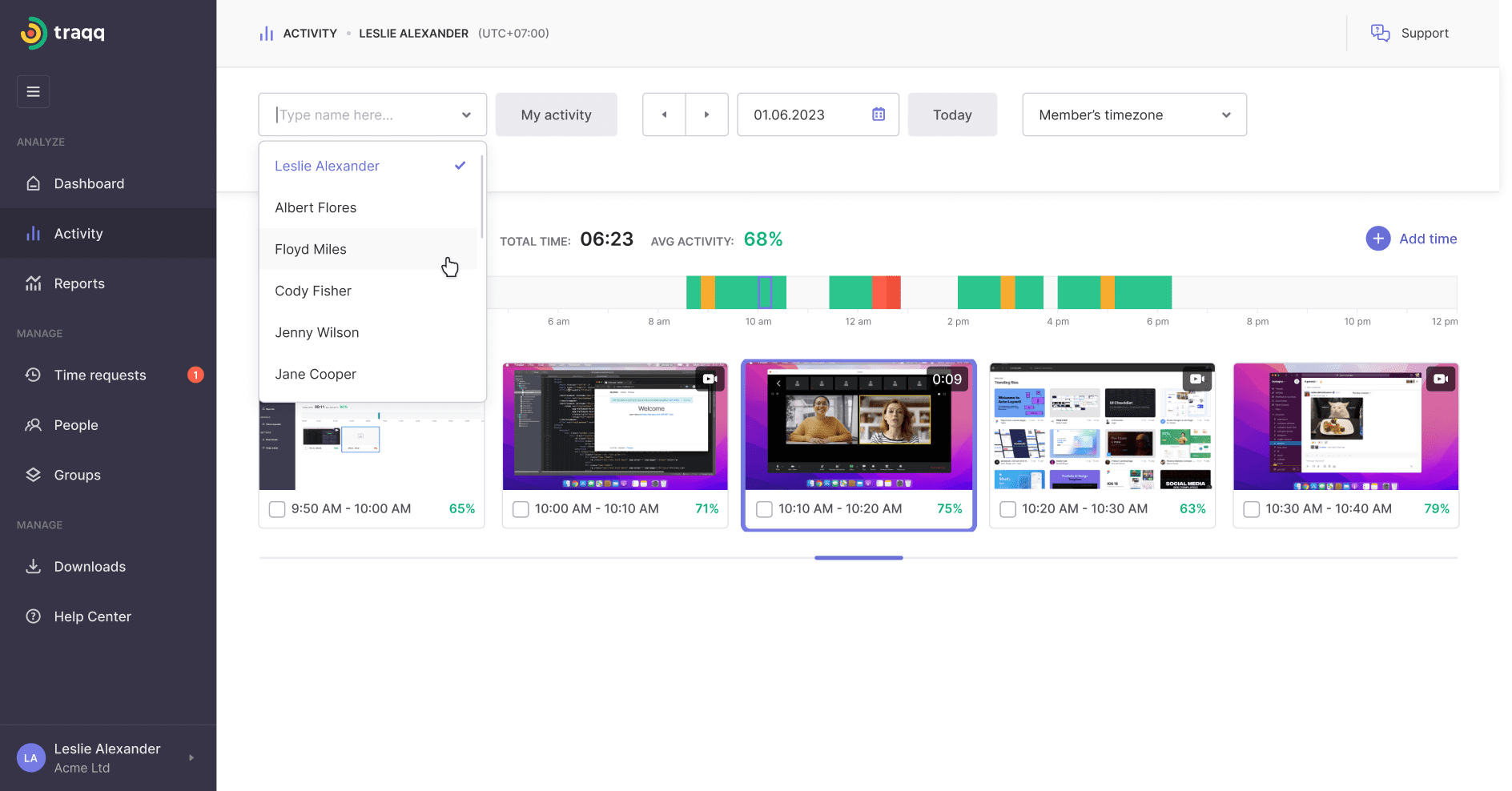 Traqq is a comprehensive business management application designed to streamline time tracking and improve productivity. With a simple click, users can effortlessly record their work hours. This not only provides accurate data for billing and payroll but also enables users to analyze their productivity and make informed decisions.
To promote transparency and accountability, Traqq generates comprehensive timelines that provide detailed information on work hours and breaks. This allows employers and project managers to monitor individual and team productivity, identify bottlenecks, and make data-driven decisions to improve efficiency.
Another valuable feature of Traqq is its ability to capture screenshots and record activity levels. Employers can monitor this data to ensure that work is being done in line with company policies.
Traqq also promotes ethical time tracking, offering the option to blur screenshots. This feature allows users to protect sensitive information and maintain a balance between productivity monitoring and respecting individual privacy.
7. Todoist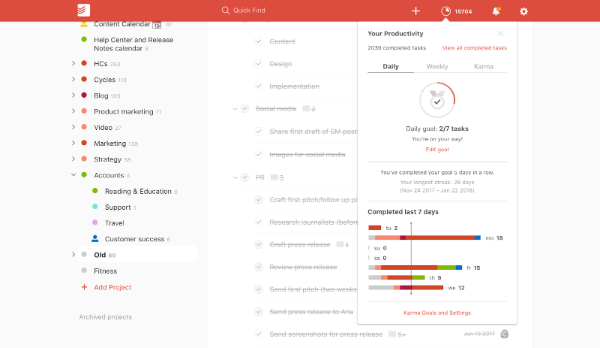 Todoist is one of the easiest and least expensive business management tools. Its free edition is all you need to get started and includes all the features you'll need, like prioritization, deadlines, and collaboration. It has a simple and user-friendly UI. It's a fantastic way to keep track of projects and activities for personal and business use, create lists, and collaborate at work.

With Todoist's robust natural language recognition and repeated dates, you can add items to your to-do list in seconds. Your to-do lists are automatically categorized into Today, Upcoming, and Custom Filter views to help you focus on your most important tasks.

You may set up numerous automated activities, such as converting your notes into tasks, tasks into notes, marking completed tasks as notes, and more by connecting note-taking apps with Todoist.

No matter where you are, you can evaluate your upcoming tasks and add new ones with the help of more than ten apps and plugins. Every single one of your devices keeps everything in perfect sync.
8. Monday.com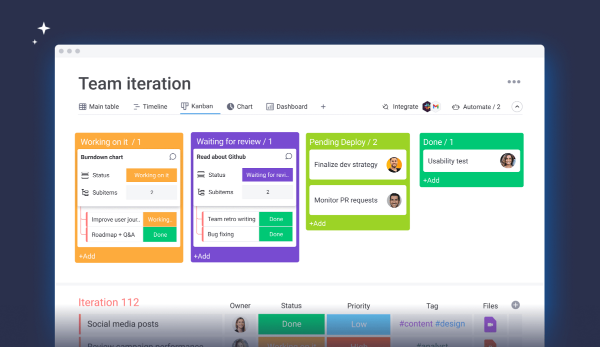 Monday.com is a cloud-based platform that enables users to build custom project management tools and applications. It is a versatile web and mobile business management program designed to enhance operational efficiency for teams and organizations. It records activities and processes, displays data graphically, and fosters team collaboration.

Thanks to the affordable pricing point, teams may quickly begin using some essential project management tools they need to use to thrive. This user-friendly tool supports Kanban and shows the specifics of your project as a timeline. You can obtain a graphic summary of the work your team has accomplished with the aid of their dashboard function.
9. Troop Messenger
Troop Messenger is one of the best team chat apps, and while other instant messaging apps may not match business management apps, Troop Messenger can do. Its primary objective is to provide its users with all the necessary features. So it is designed to eliminate time consumption in switching between different tools or apps, which causes communication breakdown and affects productivity.

Troop Messenger offers all the required features like chat, audio/ video calls, file exchange, remote access, screen sharing, conference, and others; it also provides Zapier integration. Hence, you connect with apps like the business management app you are currently using.
Conclusion
The aforementioned business management apps can be obtained in free and paid plans. They can therefore adapt to both small and large businesses without difficulties involved, but it is advised that you compare your needs with those of the apps before choosing the one that best suits your company's requirements. This will save you time and money by preventing you from making the same time- and money-consuming decision twice.