If you've handled a group project or managed a team, you already know how important it is to communicate with your team members.
To streamline communication and collaboration at your workplace, you must onboard your teams on the best work collaboration apps.
But, what are those apps that can help you break silos and improve productivity at the same time?
Best Online Collaboration Tools
1. Troop Messenger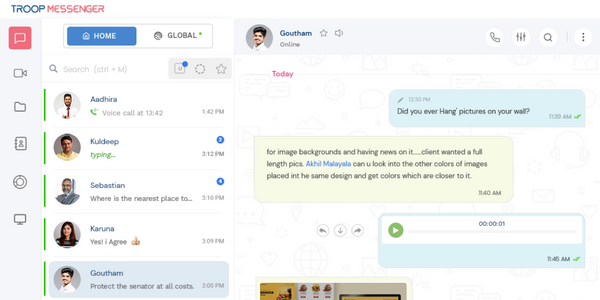 Known as a feature-rich office chat app, Troop Messenger is an easy-to-use tool with seamless UI and UX. This business chat app has functionalities and features that are well-crafted to ensure seamless collaboration and communication across teams.
Best Known for:
Unlimited messages
Unlimited Group creation
LDAP/Active Directory/ SSO
Group calling
video call and audio call
Burnout ( private chatting )
Multi companies collaboration
Big file sharing
Forkout( pushing message to all at once)
Audio messages
Edit and delete messages
Invite clients to collaborate with the team
Code snippet sharing
Multiplatform synchronization
SAAS & On-Premise solution
Pricing:
Why Choose Troop Messenger:

If you are looking for an affordable team chat app with all essential features such as one-on-one messaging, group conversations, file previews, voice-video calls, screen sharing, and a confidential chat window, Troop Messenger makes for a perfect pick.
2. ProofHub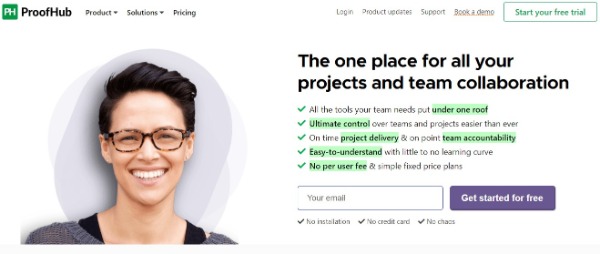 ProofHub is designed specifically for simplified project management and enhanced team collaboration without making things complicated for users. It works as an "all-in-one" solution for project managers who can manage everything with a single app. A suite of advanced features helps you eliminate resource wastage and maximize productivity while enabling users to enjoy a fine work-life balance.ProofHub gives you greater control over teams and projects with a Bird's eye view of all your project resources in a single place.
Best known for:
Organizes all your tasks and projects neatly in a centralized location
Encourages timely, quick communication with Instant chat, Discussions, etc.
Eliminates time wastage with a time-tracking tool.
Ease of usage, intuitiveness, and a simple learning curve.
Easy management of different types of work requests with Forms.
Custom workflows to fit your work structure.
Project tracking and management with Multiple project views.
Pricing:
| | | |
| --- | --- | --- |
| Plan Type | Essential | Ultimate Control |
| Monthly charges | Flat $50 per month, unlimited users | Flat $99 per month, unlimited users |
| Highlights | 40 projects, 15GB storage, Calendars, Forms, Proofing | Unlimited projects, 100GB storage, Custom roles, White labeling, Workflows |
Why Choose ProofHub:
ProofHub helps businesses and their teams cut down on resource wastage, unorganized work structures, and miscommunication that cause low productivity and delayed projects. The tool offers a suite of advanced features that help project teams streamline and organize all their work and utilize available resources in the most efficient manner possible.
3. Asana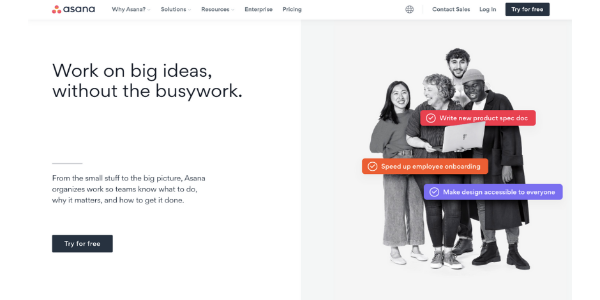 Asana is known for bringing the team's goals, files, plans, and files together in one shared space. Businesses use this task management app for organizing and assigning tasks.
Best known for:
Manage overlapping, dependent, and unscheduled tasks
Automate routine work
100+ integration options to communicate, coordinate, and collaborate
Workflow management
Real-time charts and visual highlights
Pricing:
| | | | | |
| --- | --- | --- | --- | --- |
| Plan Type | Basic | Premium | Business | Enterprise |
| Monthly charges | US $0 | US $10.99 | US $24.99 | Custom |
| Highlights | Unlimited tasks, messages, projects, and activity log unlimited. | Admin console, dashboards, and private teams and projects | Lock custom fields, Portfolios, Advanced integrations, and customization features | SAML, block native integrations, and priority support |
Why Choose Asana:
Asana lets team managers keep track of who is doing what and by when. With Asana, communication is actionable and focused and you'll always have an update about work. Hence, teams spend less time talking about work, and more on getting it done.
4. Basecamp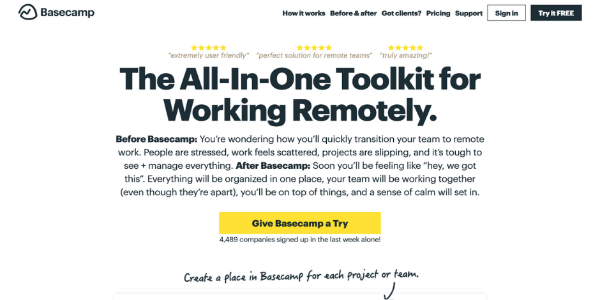 Basecamp is more than a work chat app - businesses are utilizing this state-of-the-art tool to stay more organized and productive. As an online collaboration tool, Basecamp allows users to communicate better with fewer meetings.
Best known for:
Message boards: to post announcements, updates, and share ideas
Schedule: Through Google Calendar, Outlook, and iCal
Group Chat: Direct messages and group chats in real-time
Docs and Files: Share files, images, docs, and spreadsheets
Automatic Check-ins: Inform and interact with teams about the latest updates and progress
To-dos: Create lists of works that need to be done
Pricing:
Plan Type
Basecamp personal
Basecamp Business
Monthly charges
US $0
US $99 per month
Highlights
20 Users,
3 projects,
1GB of storage space
Unlimited projects, users, team projects, clients, project templates, and advanced clients access
500 GB of storage space


Why Choose Basecamp:
Basecamp saves companies and businesses from a constant barrage of notifications that steal attention and create a distraction. With Basecamp, you get to centralize all your communication and notification and minimize interruptions.
5. Flock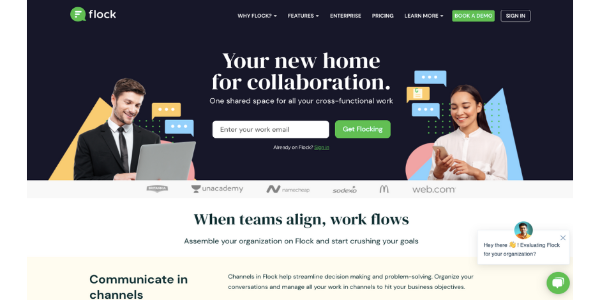 Flock is best known as an instant messaging app for businesses. However, growing businesses are using this app for breaking silos, building stronger work relationships, and bridging gaps.
Best known for:
Add to-dos right to your account
Read-only channels for organizational information that need no reply
Option to Migrate Slack account to Flock without losing past conversations
Integrate with apps of your choice
Personalized onboarding
Dedicated 24/7 support
Pricing:
Plan Type
Starter Plan
Pro Plan
Enterprise Plan
Monthly charges
Free
US $2.5 per user per month
Customized Pricing
Highlights

10k messages,
1 Auto-Join channel,
1 Announcement channel
10 public channel

5 GB storage space per team single team admin

Unlimited messages, Auto-Join channel, Announcement channel, public channel

10 GB storage space per team Single team admin

Unlimited messages,
Auto-Join channel, Announcement channel, and public channel

20 GB storage space per team
Single team admin
Why Choose Flock:
Flock, as a productivity and collaboration tool, ensures seamless file sharing and simple project management, and enhanced video conferencing. It's best for teams that run on these features and want to boost productivity by avoiding clutter and chaos.
6. Facebook Workplace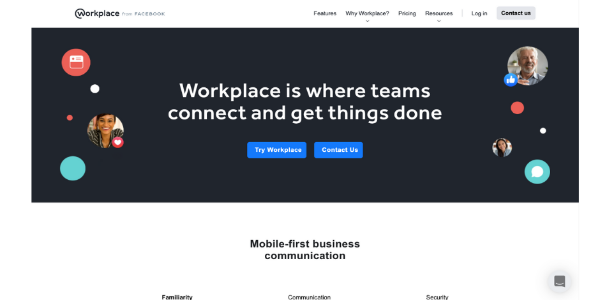 Facebook Workplace, as a business chat app, connects everyone in your company on a virtual platform. It has useful features on a familiar interface - chat rooms, group chats, live video broadcasting, and media sharing. As an online collaboration tool, Workplace is secure, simple, and connects everyone irrespective of their geographical location.
Best known for:
Manage employee access through G Suite and Azure
Open the conversation to everyone with auto-translate
Talk to the right people at the right time with Groups
Any small- to mid-sized company with teams who need to work together
Teams with remote members
Running news feed
Pricing:
| | | |
| --- | --- | --- |
| Plan Type | Advanced | Enterprise |
| Monthly charges | US $4 Per Person/ Per Month | US $8 Per Person/ Per Month |
| Highlights | Unlimited team and project groups, 1 TB per person file storage, and admin control | Unlimited team and project groups, unlimited file storage, directory integration access, and 24/7 support access |
Why Choose Facebook Workplace:
Workplace, as a communication app, makes it easy for everyone to communicate, from the shop floor to the head office. Apart from the live video facility, the workplace lets businesses measure the impact with insights, and also get input on decisions with surveys and polls.
7. Google Workspace (Formerly G Suite)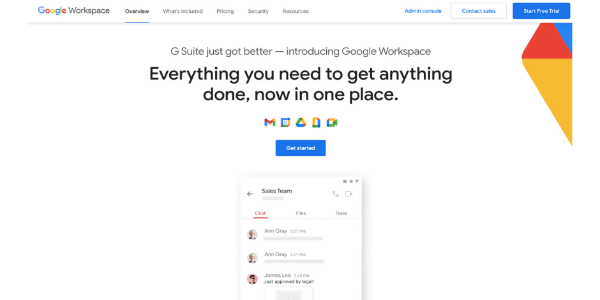 Google Workspace is everything you need to get anything done. This integrated workspace is simple to you and has features to let you integrate, expand, and customize existing features to meet your team's needs. Apart from that, the tool lets you spend less time managing work, and more time on actually doing it.
Best known for:
Any small- to mid-sized company with teams who need to work together
Teams with remote members
Video calls with recording features
Attendance tracking feature
Custom Business Emails
Enhanced Security Controls
Pricing:
Plan Type
Business Starter
Business Standard
Business Plus
Monthly charges
$1.25 per user per month
US $9.25 per user per month
US $17.25 per user per month
Highlights

100-participant video meetings

Custom Business Email

30 GB cloud storage per user

Standard Support

150-participant video meetings

Security and management controls

Meeting recording features

2 TB cloud storage per user

250-participant video meetings

5 TB cloud storage

Attendance tracking

Enhanced security control
Why Choose Google Workspace:
Google Workspace can help businesses get more done in less time - it has both productivity and collaboration features that are loved by billions of users. Like Google Workspace, it provides teams access to collaboration tools such as Gmail, Meet, Chat, Calendar, Drive, Sheets, Slides, Docs, Forms, Sites, and more.
8. Microsoft Teams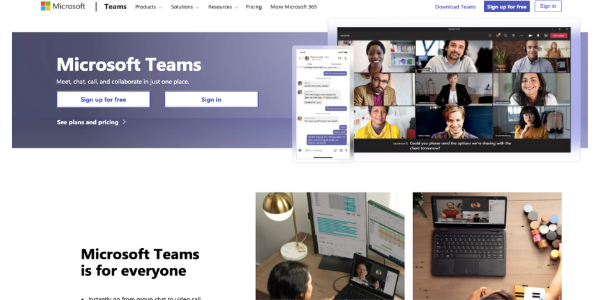 Known as an online collaboration tool, Microsoft Teams has become a hub for teamwork - it brings together everything a team needs - from threaded conversations to chat, video conferencing to meetings, content collaboration to calling, and the ability to integrate with apps.
Best Known for:
Video conferencing with Screen sharing & Custom backgrounds
File sharing to securely store, share, access, and collaborate
Apps and workflows to streamline critical business processes and tasks
Availability in 53 languages
Privacy and security compliance
Pricing:
Plan Type
Free Plan
Microsoft 365 Business Basic
Microsoft 365 Business Standard
Office 365 E3
Monthly charges
$0
$1.71 per user per month
US $9.05 per user per month
US $18.11 per user per month
Highlights

300 participants in a video meetings

Maximum meeting duration of 60 minutes

Customized Background

300 maximum number of users

1 TB storage per user

99.99% financially-backed uptime

250 integrated apps

1 TB storage per user & per 10 GB per license

Additional Microsoft 365 services

10000 participant video meetings

24-hour meeting duration

500k maximum users

Unlimited file attachment
Why Choose Microsoft Teams:
If you are looking for a chat-based remote collaboration tool that offers cool features such as file sharing, online meetings, integration with Office 365 tools, and meeting recording, MS Office should be the ideal choice.
Choose the Best Chat App
As you can see, each app has its purpose. So choosing an app might be overwhelming at first, but once you understand how their features differ, it'll be much easier to choose between them.
Our list of online collaboration tools should be enough to get you started, so have a look through and check out the feature outlines.
If you are running a technology company, you may want to consider Troop Messenger. As an online collaboration tool, it is fully customizable to your business needs and the tool can run on your own servers as well.