Business enterprises always find better ways for team communication and collaboration. Instead of writing heavy emails daily, if you employ an office chat app or team chat app it simplifies team conversations and organizes team tasks more efficiently. Many office chat apps for teams ensure a wide range of collaborative features for quick communication.
The Scottish-American business magnate Andrew Carnegie once said that teamwork is the fuel that allows common people to attain uncommon results.
He couldn't have been more precise because time and again teamwork has proved to increase the efficiency of projects by distributing the workload so that great results are achieved on time and with quality. However, hiring skilled resources is just the beginning of building a good team.
Once a team is created, an organization needs to provide the teams with the platforms and resources to make their collaboration continuous. Besides providing good equipment and facility, there has to be a forum or medium where ideas can be exchanged and peer reviews can be sought. And that is exactly where the Best Business Communication Platforms need to be deployed. Team chat apps are carved out to provide functionalities essential for communication in team projects.
However, choosing the right team chat app among the hoard of such apps can be a tedious task involving a lot of time.
Therefore, to save time–the most precious possession these days–we'll provide an overview of some of the best office chat software that businesses should deploy for better communication in team projects.
Team Chat Apps: A quick look
1. Troop Messenger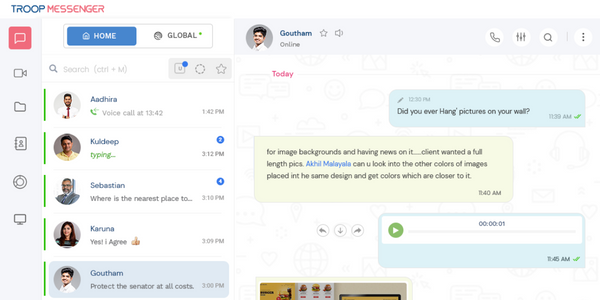 Attain optimum communication at your workplace with the new instant messaging collaboration application-The Troop Messenger. The design idea of Troop Messenger is to collaborate, share, and communicate new thoughts among fellow employees of every organization. Small, medium, large, or any size of organizations can give a sure try of Troop Messenger for their endless office chat communication and collaboration.
Tech Times, Newyork, had listed Troop Messenger as one of the best Instant Messenger For Businesses.
This office chat app is a cross-platform application, as it is available on iOS, Android, Mac, Linux, and Windows. The best part is that it is available in three pricing plans. Its sign-up process is completely hassled free. Anyone can download it for free and start their hands on the application.
It facilitates highly workable features to support the office chat experience of the user by offering highly secured end-to-end chat encryption. Its bouquet of features includes Screen share, Burnout, Forkout, Video calling, Favourite contacts, Groups, etc.,
In contrast to other team chat apps, Troop Messenger's UI is highly user-friendly. For instance, with other tools, you may have to check the manual to learn how to make a video chat, but since Troop Messenger is intuitive, you don't need any guidance. You can start the video chat instinctively.
2. Flock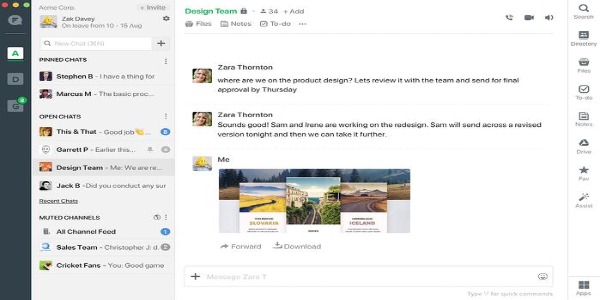 Flock is an all-in-one messaging and collaboration tool built especially for small businesses. The goal is to help businesses communicate better so they can build a culture of transparency and speed within teams.

With this office chat app, teams can exchange messages, share files, video conference, manage tasks, and centralize access to a variety of business tools and services. It brings people together and provides an easy and secure place for them to get work done, from anywhere.

Flock is used by over 32,000 businesses of all sizes around the world. We have a strong presence in all English-speaking markets globally - the United States, India, the UK, Canada, Australia, and mainland Europe leading with the greatest share of our user base.
Flock offers applications within every business function and organization size. Flock finds rapid adoption by teams in non-technical business functions as well, owing to its simple user interface and easy learning curve.
3. ProofHub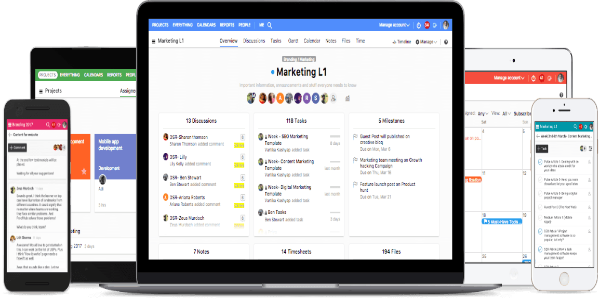 ProofHub intends to solve a problem that many organizations have to face. This team chat app saves you from the fuss of using multiple tools that your teams otherwise have to spend money and time on and replaces them all with one tool. When you need a single platform to manage, plan and track work as well as chat and collaborate, that's when ProofHub shines.


Whether it's an in-built team chat tool, proofing tool, Gantt chart tool, Kanban boards, calendar, time tracking tool, etc. ProofHub puts every tool under one roof.


ProofHub does not charge per user and it's for $89/month only (a limited-time offer).


You can use ProofHub on a browser and even download the mobile app from Play Store and AppStore.
4. ezTalks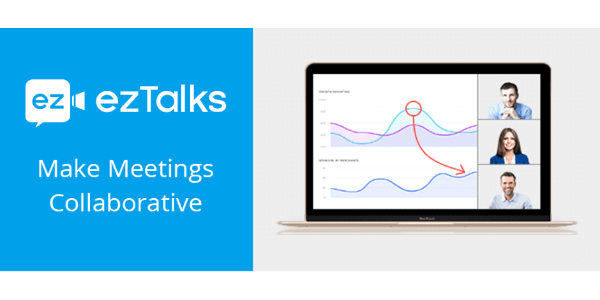 There is no doubt that ezTalks meetings are one of the most popular chat apps, which helps to increase real-time interactions and improve collaboration with your partners, friends, customers, and so on. It presents a way to cut costs and chat effectively.
Free & Easy
Anyone can download it for free and it is completely easy to use.


Flexible
ezTalks is compatible with Windows, Mac, Android, and iOS devices, and browsers.


Reliable
It is a reliable platform with highly secured end-to-end encryption so that you can talk freely.


Seamless
ezTalks not only provides high-quality video and audio chat but also offers free instant messaging service with text or emojis in private or in public over the internet seamlessly.

Interactive
When chatting, you can also share a screen or a whiteboard to engage those you're chatting with. It is also feasible to record the whole or partial chatting sessions for reference or sharing.
All these aim to create a memorable and amazing chat experience for each user. As for the paid version, it only costs $10/mo/host for up to 100 participants. Alternatively, you can start a 100-participant chat free-plan in 30 seconds. Sign up free NOW!
5. Basecamp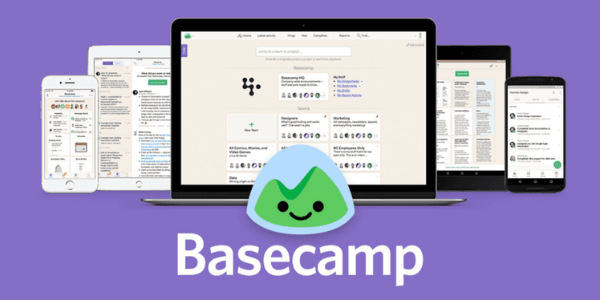 The campfire was merged with Basecamp sometime back but continues to offer some of the best features for team projects.
It is considered a group chat tool for Internet-based companies by allowing managers to assign tasks, group notes, and download files.
Besides, it also offers regular chat features such as group chat and conference calls.
It is priced at only $99 a month, and whether one has a team of 5 or 50, that price doesn't change. For those who are looking to find discounts or deals on this pricing, they can visit platforms like DontPayFull. Here, you may get a chance to find promo codes or discounts that could make the cost of using this tool even more affordable.
6. Google Hangouts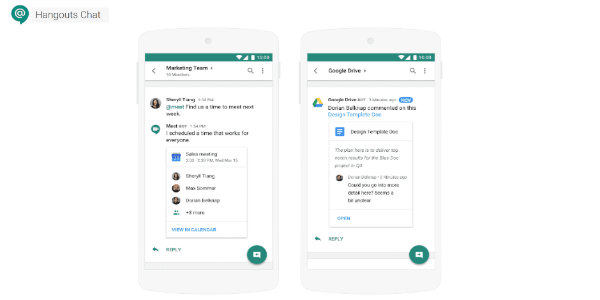 For a long time, Google Chat has been allowing people to communicate and collaborate without any charge.
However, there were some privacy concerns, and therefore, it was often less preferred for internal communication. It offers chat features such as one-to-one chats and allows a total of 9 participants in group chats in its free subscription plan.
An enterprise version of hangouts is called Hangouts Meet and its subscription plans start from $5 per month per user.
7. Zangi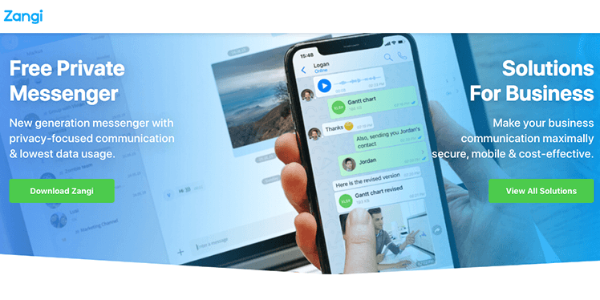 Zangi is a privacy-focused messenger with multi-level encryption and a serverless system. Its strong security measures make it great for companies & businesses that need to secure their confidential calls, files, and messages. Teams can simply download the app on their smartphones and have conversations with no risks.
If companies are willing to go the extra step, Zangi also offers a special business solution for teams. Businesses can choose to gain full control & privacy of the apps by self-hosting them on their company servers/cloud, making the apps completely theirs.

The communication app can have its company name, logo, branding, and special security keys and it can be private/public on Google Play & App Store.

The app also gives a web dashboard for the full management of your team. Using the Zangi app is free; self-hosting starts from $ 4 per user.
8. Grove IRC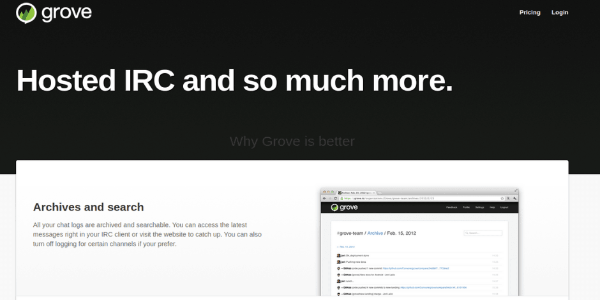 One of the newer startups, Grove is a private IRC (Internet Relay Chat) host, which manages chat rooms.
This team chat app allows the use of a desktop or mobile client to help a user to connect to a company's server. It can be used for private as well as group chats.
Its subscription is free for up to 5 users and goes as high as $125 per month for up to 50 users.
9. Redbooth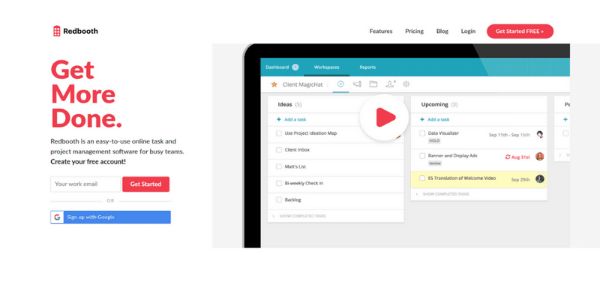 Previously known as Teambox, Redbooth is an instant messaging app for businesses.
Besides offering the features of group chats, file sharing, and conference calls, it also offers features such as delegating and assigning tasks for project management.
It has a free subscription plan that allows companies with less than 10 users to run their accounts for free, indefinitely.
This plan offers a 2 GB file storage space and supports up to 2 workspaces.
10. Flowdock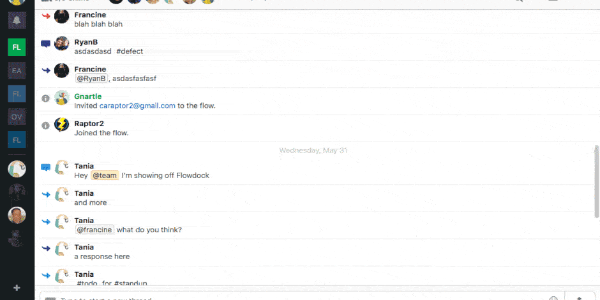 Branded as a team inbox with chat, Flowdock is available to download on mobile devices as well as desktops.
It provides group chat conversation in the form of threads and also allows for one-to-one flows. It also provides a tagging functionality to group threads together for easy filtering.
Video conferencing invokes its appearance.in feature. It is free for up to 5 users indefinitely.
For more than 5 uses it offers a 30-day free trial plan.
11. Brosix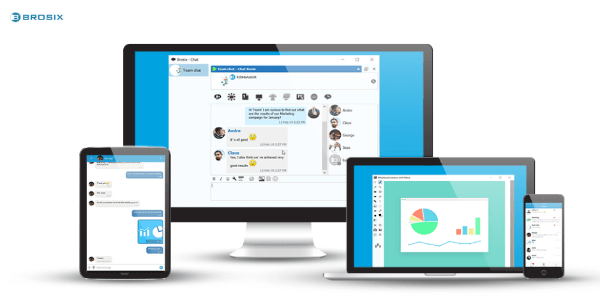 Brosix is an instant messaging chat application specially built for seamless team collaboration. It provides top priority to the team's privacy and security.
Every message that transfers through Brosix has high-level end-to-end encryption for all communication channels. No one outside the team can access the data of Brosix, all channels such as messages, text files, voice, and video calls are end-to-end encrypted.
The Brosix feature stack is fully loaded with multiple features to increase team collaboration. File transfer, screen-sharing, screen-shot, whiteboard, video and voice calls, one-on-one messaging, and group encrypted chat are a few among them. It ensures a smooth user experience and always strives to serve better by updating the features based on end-user feedback.
Quick Insights of Brosix
It's a cross-platform application where it can be downloaded on Mac, Windows, Linux, Android, iPhone, and the Web.

This application is available on the cloud. All operations from regular application upgrades, maintenance, and support are done on the cloud servers.

The network Administrator manages, configures, and monitors each user account.

Brosix makes an ideal instant messaging for all team sizes.
12. Telegram

It is a cloud-based instant messenger that offers all the essential features such as group chat, one-on-one chats, and file sharing, among other features.
One of its advantages is unlike many of the other chat tools, it does not ask the user to manually set up a chat backup; it does so automatically.
Its free subscription plan supports 3 users, and 10 scheduled messages, with up to 2 recurrences and a maximum of 5 minutes of time lag.
13. Podio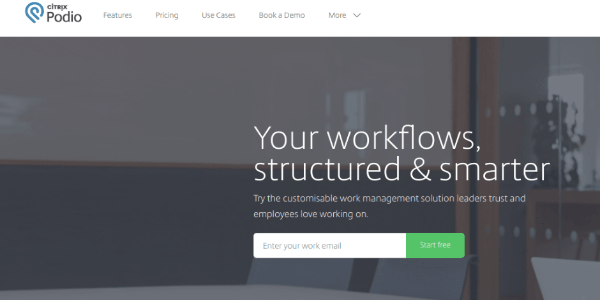 A product by Citrix, Podio is considered a full backend management suite. It allows users to keep all their content, context, and conversations in one place.
Besides the regular chat features, it also offers integration with other products such as Google Drive, Dropbox, and Zendesk.
Its free subscription plan offers only task management apps and workspaces, but to enjoy the actual features of PoConclusiondio, one has to shell out around $24 a month!
Conclusion
These team chat apps can help an organization maintain great teams by providing seamless interaction regardless of geographic boundaries and time zones. They help in enhancing productivity, economize on the costs of communication as well as drastically reduce time to accomplish projects.