Are you looking for Asana alternatives that meet your business requirements?

This blog is for you if you don't want to use Asana but want its alternative to be your tool for the best-known reasons.
What is Asana?
Asana's top project management tool is renowned for performing better than other project management programs. Its features are designed to increase business efficiency and achieve efficient workflow. Customers' or users' experiences are made simpler by the user interface's simplicity, ease of use, and Kanban design.
Beneath pressures, managing & coordinating teams and projects is challenging enough. However, a lot of software only renders problems worse by adding unnecessary complexity in the name of features and functionalities.

Since most users regard Asana as a more effective team productivity tool that would appeal to a niche business, most project management tools claim that they are an alternative to Asana.

Many project management tools are available on the market, but they initially make things more difficult for you rather than easier. Most of these tools offer capabilities that either miss the mark of your expectations or do not match what you're looking for, so if you try to choose based on your general understanding of project management tools, you will undoubtedly be disappointed. Selecting one of the many tools that meet your needs takes time. Therefore, the suggestions that are provided using Asana as the parameter are listed below.
1. Basecamp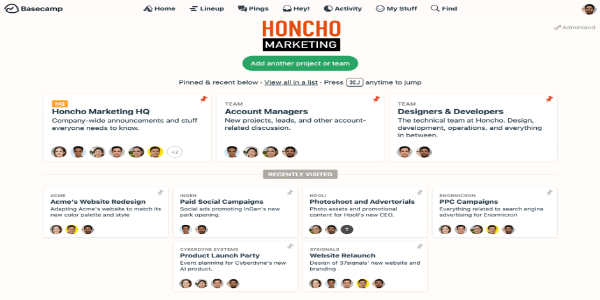 Basecamp is one of the top Asana alternatives. Over nearly 20 years, Basecamp has continuously improved a unique collection of tools and techniques to reduce complexity and radically enhance the project management experience. It has been refined and tested by many teams on millions of projects, making it the industry standard for a more accessible, better version of project management.

Basecamp stands out as the best workplace collaboration software in contrast to Asana competitors, thanks to the abundance of integrated features that enable effective team communication, including group chat, message boards, and team schedules. As a result of what has been mentioned so far, users view Basecamp as a complete solution because it offers all the capabilities they require for team communication and project management. To facilitate working remotely more accessible, it provides a comprehensive toolkit.

Basecamp can be a useful collaboration tool for teams that don't require an unnecessary dump of features, even if it isn't a complex Gantt chart software and doesn't have dependent subtasks or time tracking.
2. Nutcache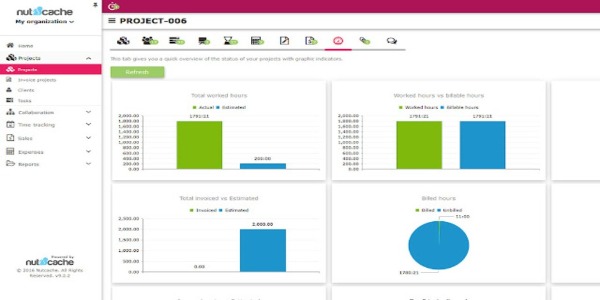 Nutcache is a comprehensive web application for collaborative project management that facilitates collaboration by allowing you to invite clients, work colleagues, and other collaborators to work with you on your projects and to share comments, notes about how the project is progressing, and documents of all kinds helping the organizations and teams of all sizes operate more efficiently.

With Nutcache's new collaborative features, you may more easily collaborate by organizing your projects and ideas using boards, lists, and cards following your team's preferred project management methodology. It also offers sophisticated project monitoring tools, including tracking the time spent on particular tasks, ensuring that deadlines and budgets are followed, and always recognizing where your projects stand. This could be your perfect alternative for Asana, which provides a unified workspace for managing projects from inception to completion.

For teams and companies of all sizes, Nutcache is reasonably priced. Furthermore, it is a reliable project management tool because more than 130,000 companies rely on it.
3. Mavenlink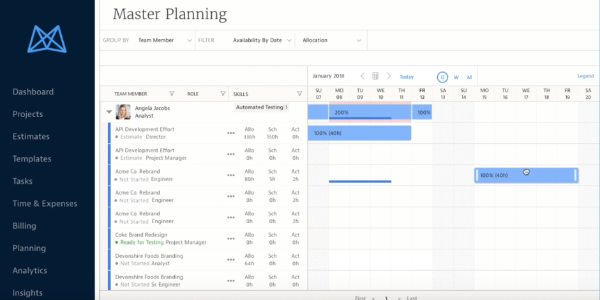 Mavenlink is an excellent end-to-end cloud-based project management and works management tool that encourages team communication. It enables team members to interact more effectively and efficiently by being adaptable, simple to customize, and powerful enough to manage business processes of various complexity. This business-ready application seamlessly integrates with many popular cloud-based programs, including Microsoft Office, Intuit QuickBooks, Google Apps, Paypal, and others.

With this application, you don't need to install any additional software; instead, you only need a web browser, unlike other Asana alternatives, because it is cloud-based and based on the SaaS model. Using a mobile device to access the application is equally easy. Hosting facilities for the software and related data are safe and dependable.

It offers a central dashboard that keeps you informed about the status of every project on a single screen, eliminating the need to disperse information across multiple screens. Gantt charts, task lists, and threaded discussions also help you better understand your projects.

When you have Mavenlink on your side, managing teams will become a seamless task since you can obtain detailed reports that will allow you to assess the performance and development of your team and make decisions about your upcoming projects.
4. Jira
4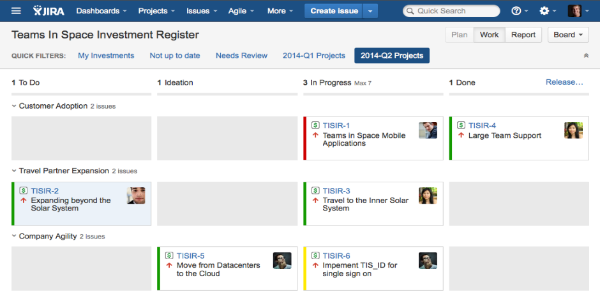 With Jira, an exclusive issue-tracking tool created by Atlassian, you can manage agile projects and track bugs and quickly customize your workflows by turning features on (or off) with a single click. According to Atlassian, Jira is used by more than 180,000 clients in 190 countries for bug tracking and project management.

It is the most excellent option if you seek a self-hosted asana alternative. The Jira Data Center subscription plan gives you the freedom to deploy on the infrastructure of your choice. This is an ideal tool for those who need to go beyond or have unique or complicated operating requirements. You'll have complete control over data management, security, compliance, when and how to upgrade, and uptime monitoring and performance management strategies. It would be the best option if you have more stringent requirements and still need to shift to the cloud.

Jira streamlines your project execution process with task planning and management techniques, including timeline views and Kanban boards. It guides you through a simple, step-by-step onboarding process that will assist you in selecting the best management approach for your project and show you how to set it up.
5. Scoro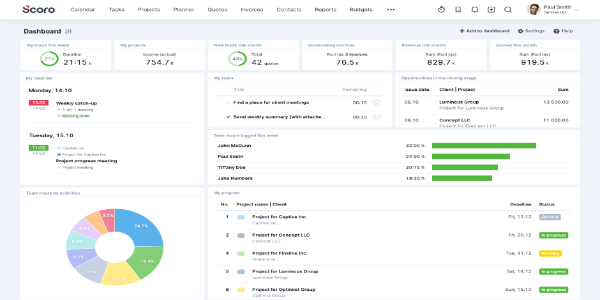 For professional and creative services, there is Scoro, a SaaS option. The all-in-one business management software includes project administration, billing, contact management, time tracking, and automation for professional services. Scoro's most significant advantage, in contrast to competitors of Asana, is that it allows you to continue using your CRM while managing your projects.

To encourage successful team collaboration, use an end-to-end work management solution. Using the award-winning work management tool Scoro, collaborative teams may work more productively and base their decisions on helpful information. No matter where you are, it allows you to choose how to finish any work, from small to large.

To assist you in achieving workflow automation, Scoro includes highly customizable integrations with well-known accounting programs, online storage services, and more than 1,000 other products through Zapier. It enables you to see your projects clearly and aids in your assessment of the progress getting done. With the help of its work management software, you can see what your team is doing with their time and how much it is worth.
6. Proofhub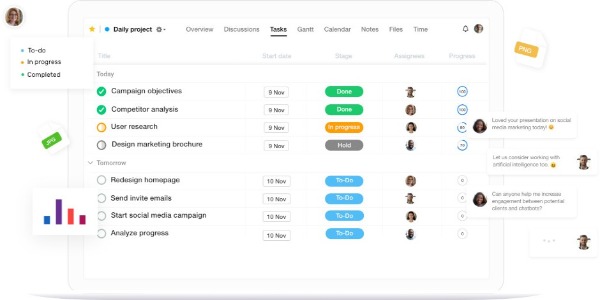 ProofHub is a project management solution that includes all the tools your team needs to operate more efficiently and collaboratively. This is a cloud-based tool for groups working across several sectors. The solution offers applications for project management, task management, project collaboration, resource management, and other functions.

Proofhub is the best alternative to Asana; that enables you to create custom workflows containing as many stages as you wish. Establish who will receive notifications at each step, so teams are informed as tasks advance.

The main benefit of using Proofhub is its ability to provide proof. On creative work and papers, you may immediately edit and add comments. A wide range of project management tools are also available with Proofhub, including Gantt charts, chat, discussions, Kanban boards, custom roles, timesheets, calendars, request forms, timers, and more.

Compared to Asana pricing, Proofhub will undoubtedly cost you more. Still, it is a next-generation business management system that combines all the project management features and capabilities you require for your company into one integrated system.
7. Trello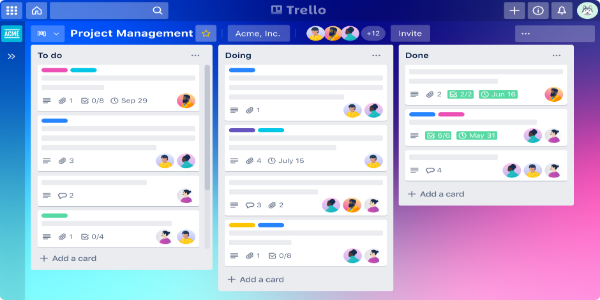 Trello is a fantastic and popular Asana alternative that you should consider using. To highlight prospective customers, search for tools referred to as "Trello alternatives"; this is how the market perceives this product.
By utilizing the power of automation throughout your team, Butler uses the built-in automation in Trello to reduce the number of monotonous tasks on your project board. Trello's intuitive features enable any team to quickly set up and adjust workflows for just about anything, spanning meetings and projects to events and goal setting. Also, Trello's robots execute the job so that your team can concentrate on the crucial assignments.

Trello features iOS and Android mobile apps, allowing you to stay connected. Your team's existing apps can be quickly integrated into your Trello process, or you can add a Power-Up to focus on a single need. Your team's workflow needs are satisfied thanks to the hundreds of Power-Ups that are offered.
8. OpenProject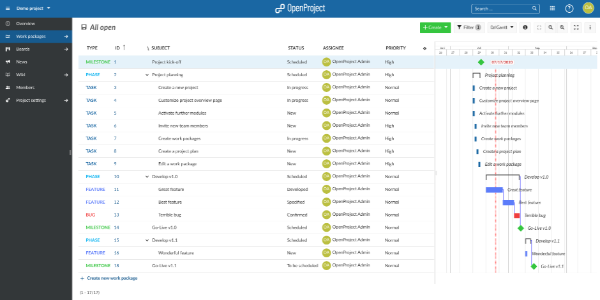 The best open-source Asana alternative is OpenProject, which provides users unlimited freedom to use, share, study, and edit. It has a GNU GPL version 3 license.

You can deploy OpenProject on-premises in your infrastructure, giving you complete control and complete data ownership. Without outside interference, you know where and what happens to your data.

The quickest and safest way for teams to communicate, organize their work and produce outcomes, whether traditional, agile, or hybrid project management, is through OpenProject. With OpenProject, you access all of your information in one site, which makes working with your teams simpler, more effective, and more fun. Set up your duties and delegate others to your team.

You may see the project's schedule more clearly and get a better overview using Asana's open-source alternative. Additionally, your team members will also have insight into all project information, resulting in an incredible scale of workflow efficiency.
9. Bitrix24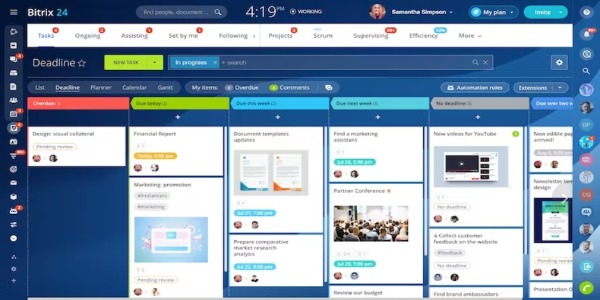 One of the top Asana alternatives is Bitrix24, a free project management collaboration tool. More than 10 million businesses are currently using it. All conventional project management tools are available, including Kanban boards, Gantt charts, tasks, timers, templates, user roles for workgroups, and more. Project management, sales, customer support, marketing, communication, and online collaboration are just a few of the uses it may be used for, notably for remote or hybrid teams. For small to large organizations, it offers both self-hosted and SaaS options.

Bitrix24 project management software includes all the tools you need for effective team collaboration, including 35+ tools. Bitrix24 can meet all your needs if you're seeking an Asana alternative for project management and CRM. Setting up a workgroup, inviting team members, defining each person's role, and then starting to assign responsibilities to become straightforward tasks while a project is just getting started. Connecting remote teams via chat, video conference, and other communication channels simplifies internal communication.
10. Monday.com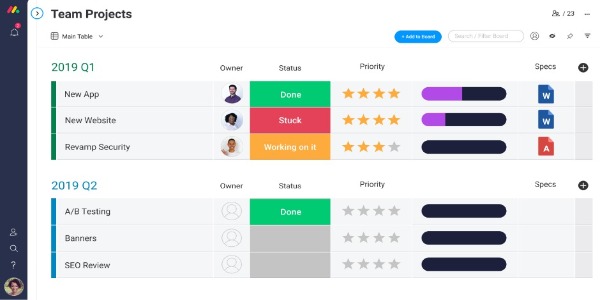 With the help of tracking tasks and processes, data visualization, and team collaboration, Monday.com is a flexible web and mobile work management tool that aims to improve operational efficiency for teams and organizations. This is the best Asana alternative, which supports automation and connectivity with other business software.

Create a single Work OS that contains all of your processes, tools, and files. Establish communication across teams, break down organizational silos, and keep a single source of truth.

It is a simple-to-use application that supports Kanban and presents the specifics of your project in a timeline. Their dashboard function enables you to view a graphic summary of the work done by your team. Teams can quickly get started with some essential project management tools they need to use to be successful due to the affordable price point.
11. ClickUp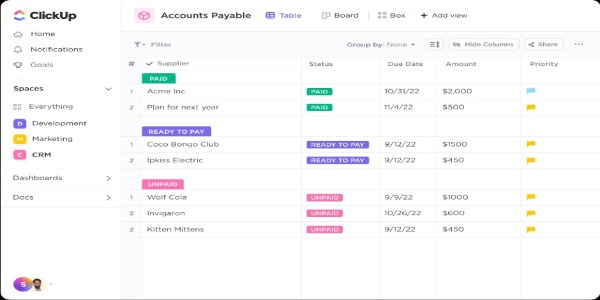 Given how frequently they are directly compared, ClickUp is included in the list of Asana alternatives. It is an all-in-one productivity tool built for teams of all types across any industry. On a single platform, you can plan, monitor, and collaborate on any project, construct the ideal workflow for you and your team, manage development sprints, and do much more.

Using just a few clicks, you can create, pull, and see reports with ClickUp, which simplifies your tasks. Reporting in ClickUp may provide information about the performance of your team. You will be empowered to determine exactly what each team member is operating on and who is behind or ahead of schedule. You can also choose from more than 50 widget variations to create a unique Dashboard. You'll receive a high-level summary of your work and then access the necessary reporting tools to monitor the development of particular projects.
12. Avaza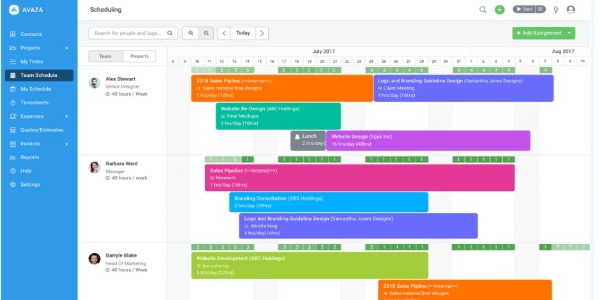 Avaza is an alternative to Asana that is an easy-to-use, all-in-one platform for project collaboration, chat, resource scheduling, time tracking, expense management, and client billing. It will eliminate the need to switch between many applications, subscriptions, and spreadsheets.

This tool is made to give you the self-assurance you need to lead teams despite their size, especially in how they use their time, and to help you allocate tasks and plan your time more wisely. It is used by over 60,000 businesses in more than 150 countries, claims Avaza. With the help of this platform, you may get a complete picture of who is doing what when on any given project.

Avaza has been shown to be more beneficial for freelancers and small businesses. It enables you to send your customers quotes, provide project reports, and share your project board with them. The clients can then monitor the time spent, estimate project expenses, and receive and pay invoices using MasterCard, Visa, Paypal, and other payment methods.
13. Wrike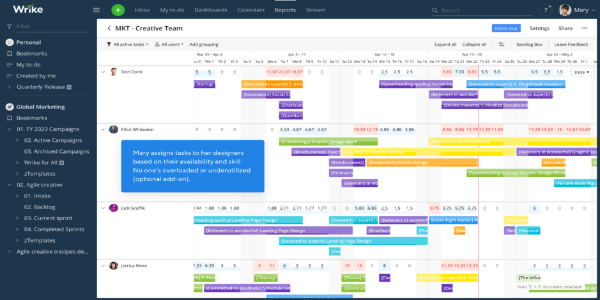 Wrike is a powerful alternative to Asana, with numerous customizable widgets and views to aid you and your team in managing even the most challenging projects; it offers a variety of opinions for managing projects. Gantt charts, timelines, cards, and boards have been implemented so users can work how they wish.

Wrike's aesthetically pleasing user interface offers 360° visibility to see the work in front of you. Additionally, it provides real-time updates allowing you to monitor your team's development.

You can carry on with your workflow without worrying about cyberattacks or other risks since it provides enterprise-grade security, user authentication, role-based access control, and 99.9% uptime.
14. Troop Messenger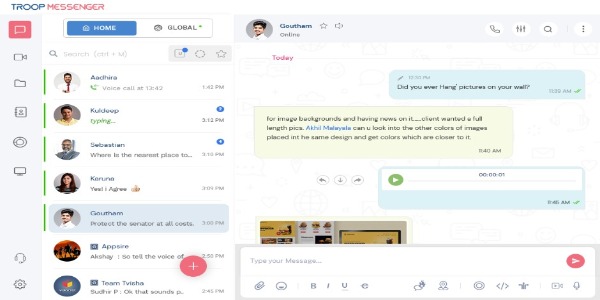 Troop Messenger is one of the best team communication tools, and while it isn't an Asana alternative, you might be surprised to see it on the list. Its primary objective is to provide its users with all the features they need, keeping them from losing time switching between different tools or apps and shrinking their productivity. You can utilize any project management application with it and keep your team linked by collaborating, sharing resources, and keeping an eye on progress with just a few clicks, thanks to its support for the Zapier integration.

Most small businesses mistakenly think of Troop Messenger as a standard instant messaging app. Still, it is a business chat app that offers a wide range of functions that no well-known team chat apps on the market do. In addition to standard features like chat, audio/video calling, and file sharing, it also provides remote access, conferences, real-time location tracking, screen sharing, and other necessary features, saving you from having to switch between multiple apps like screen sharing apps and video calling apps.
Conclusion
Most project management software provides the same functionality, plus or minus. Still, given that it is difficult to evaluate every solution, the solutions mentioned above are offered with the condition that they should be considered Asana alternatives. Since the suggestions above are reliable and popular among small to large businesses, I'm confident you'll be able to narrow down your selection of project management software to a solution that precisely meets your business requirements.