Airtable alternatives are undoubtedly just as good as Airtable, but if you're having trouble deciding, this blog can help.
What is Airtable Software?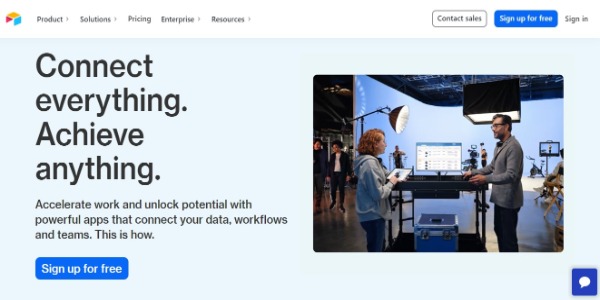 Airtable is a hybrid spreadsheet database that extends database functionalities to a spreadsheet. With qualities like a checkbox, phone number, and drop-down list, as well as the ability to reference file attachments like photos, the fields in an Airtable table resemble the cells in a spreadsheet, making it simple to create reliable, unique applications. These tools can be developed without ever understanding how to write a single line of code, and they can streamline practically any procedure, workflow, or project.

All of your favorite services and apps can be integrated. This work management application also has Calendar Views, 350+ App Integrations, 200+ Templates, Kanban Views, Project Tracker, and more features.

Airtable is a tool that you can use to manage large-scale video productions and keep track of job interviews. A database can be created, column types can be set up, records can be added, tables can be linked to one another, users can interact, records can be sorted, and views can be published to external websites. Thousands of businesses use Airtable daily to carry out their most critical business operations.
Here are some suggestions of alternatives to Airtable that can meet your needs at work.
Best Alternatives to Airtable
1. Smartsheet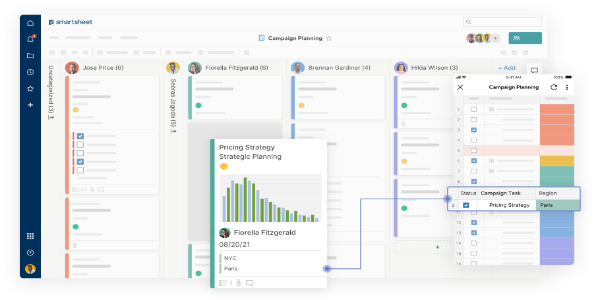 Smartsheet is one of the best Airtable alternatives that offer a rich set of views, workflows, reports, and dashboards to capture and track your plans, resources, and schedules. It seamlessly adapts to your needs ranging from projects to multi-faceted company-wide initiatives, manages projects, automates processes, and scales up to enterprise-level programs and portfolios, all with one platform.

Over 80,000 teams and enterprises are estimated to trust Smartsheet in 175 different countries. Forbes claims that Smartsheet's user interface is user-friendly, which dominates the interface comparable to the spreadsheets found in Microsoft Excel. Further smart sheets tracking the same activity, project, or data point are immediately updated as information is updated. The tool also tracks document versions and provides reminders for approaching task deadlines.
2. Notion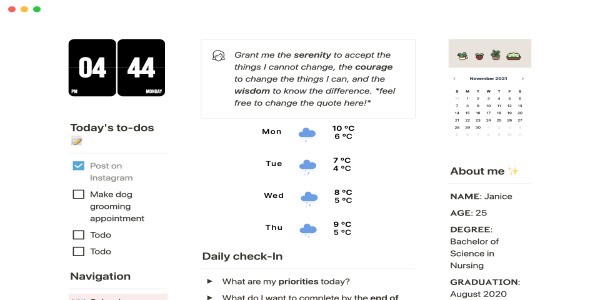 Notion is considered among the best note-taking apps and incorporates wikis, databases, kanban boards, tasks, and modified Markdown support to act as a platform for collaboration. Users can join discussions, comment on active projects, and get feedback using this file management solution, which offers a unified workspace. The workspace is a one-stop platform for taking notes, managing knowledge and data, and managing projects and tasks.
Using Embed.ly, users may add real-time remarks to web content embedded in their Notion pages and stream in Picture-in-Picture (PiP) mode. Users can use it to organize their work, manage files, save documents, create reminders, and plan tasks. Equations can be written and pasted in either block or inline format, thanks to LaTeX support. However, it offers a customization feature that will enable you to adhere to your guidelines.
3. Asana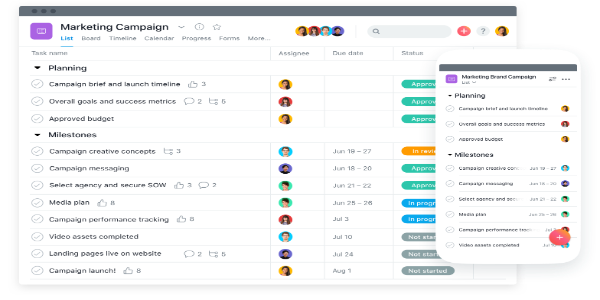 Asana is better than Airtable in terms of features. It is undoubtedly one of the best and most widely used task management solutions. Many organizations use Asana to connect people, processes, and cross-functional teamwork in one place. The Kanban design, user interface, and ease of use improve the user experience.

However, most software only exacerbates problems by adding pointless complexity under the pretext of features and functionalities. Leading and managing teams and projects under pressure is challenging enough, and Asana is made to make your workflow easier regardless of project complexity. Using rules to automate routine tasks may give your team more time to concentrate on your mission-critical work. Additionally, you may set up your processes using its 50+ templates and customize them to complete the task your way, ensuring nobody misses a step and maintaining the cohesiveness of your team.
4. ProofHub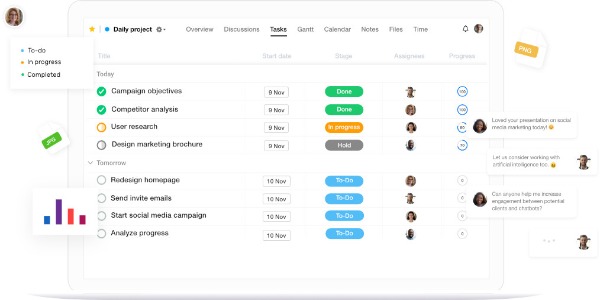 ProofHub is a robust project management tool with all the resources your team needs to work more effectively and cooperatively in various industries. This solution offers apps for task management, project collaboration, resource management, and other capabilities in addition to project management apps.

It empowers you to design unique processes with as many stages as possible. Decide who will be notified at each level to keep teams updated as tasks progress.

You may immediately edit and add comments to creative work and papers. Proofhub also offers many project management features, such as chat, Gantt charts, Kanban boards, discussions, timesheets, custom roles, calendars, timers, request forms, and other tools.
5. Fusioo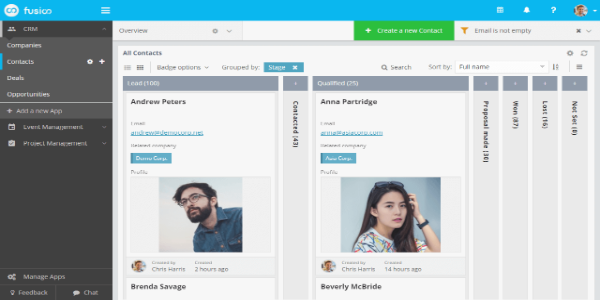 With Fusioo on your side, you can build a unique online database. As a result, you can do away with dispersed spreadsheets and make managing everything crucial to your business more difficult and manage everything in one location.

Although it has powerful database features, Fusioo is just as adaptable as a spreadsheet. Anything could be included, including clients, tasks, and inventories. You may invite your team, import data from other programs or spreadsheets, and administer everything in one location.

Users note that Fusioo has significantly improved over time. It aims to maintain a new user interface without making any fundamental changes to make it easier to use, faster, and more visually appealing without sacrificing what makes Fusioo one of the best Airtable competitors.

With a unique dashboard URL for each dashboard, admin users can share their app dashboards.
6. Monday.com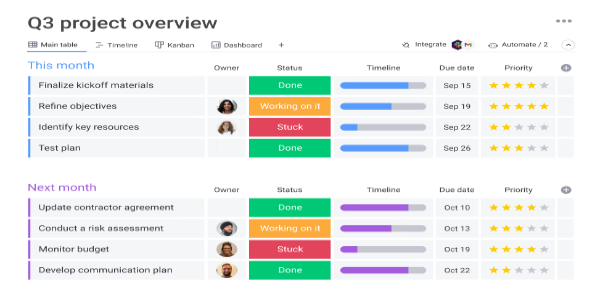 While Monday.com can seem like one of the Salesforce alternatives, it is a free Airtable alternative that promotes team communication, task and process tracking, and data visualization. It is a versatile web and mobile work management application designed to increase organizational and team operational effectiveness. That allows for connectivity with other company software and automation.

Make a single Work OS with your tools, files, and processes. Establish team communication, do away with organizational silos, and produce a single source of truth.

It is an easy-to-use program that supports Kanban and displays the details of your project as a timeline. With the help of their dashboard feature, you may get a graphic summary of the job your team has completed. Due to the reasonable price point, teams may quickly get started with specific crucial project management tools they ought to employ to succeed.
7. ClickUp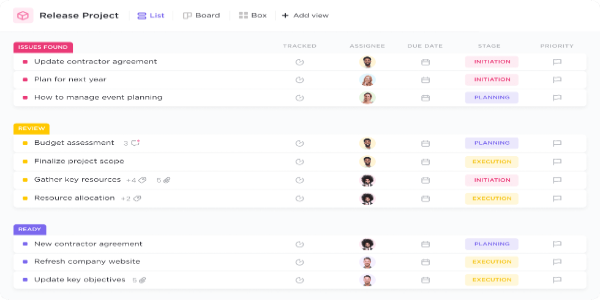 ClickUp is a part of the list of Airtable alternatives due to how often they are directly opposed. Your work can be automatically imported into ClickUp from other tools. To import work from unsupported tools or Excel, create a custom import.

It is an all-in-one productivity tool created for teams of all shapes and sizes in any business where you can plan, monitor, view reports, and work together on any project. It also creates the optimum workflow for you and your team, organizes development sprints, and does much more.

Your team's performance may be shown through reporting in ClickUp. Your ability to pinpoint precisely what each team member is working on and who is behind or ahead of schedule will increase. A customized Dashboard can be made by selecting from more than 50 widget variations. You'll get a high-level summary of your work before having access to the reporting tools you need to keep track of how specific projects are progressing.
8. Basecamp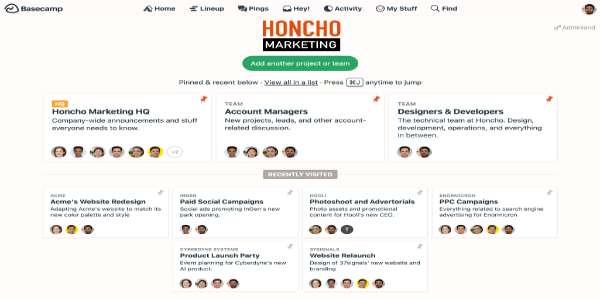 Since managing people and projects under pressure is difficult enough, Basecamp thinks that some team collaboration software only makes matters worse by complicating things excessively. Based on this, in contrast to other alternatives to Airtable, Basecamp claims to have continuously improved a remarkable collection of tools and techniques for almost two decades to minimize complexity and make project management more enjoyable and less work. Perfected and pressure-tested by more than 75,000 companies, both large and small, from 166 nations on five continents.

Managers can build projects, assign tasks, track progress, and manage teams following their preferences using the tool's straightforward interface. Additionally, there is a central board where all of the company's personnel can communicate with one another, and it also collects all the project-related files for easy access.
9. Wrike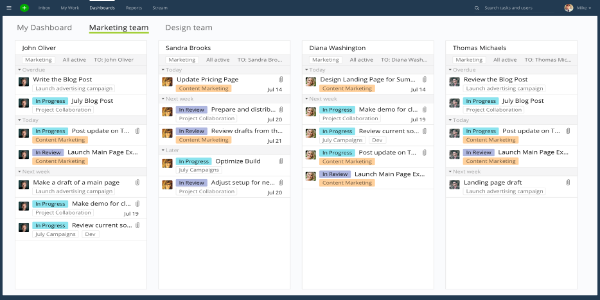 Wrike is a robust Airtable alternative that enables you and your team to better manage your workload, enhance communication, work together as a team, and keep track of every stage of your projects in one location.

With a 360-degree perspective of your projects provided by Wrike's professional services management software, you can easily manage resources, track billable hours, and make decisions. Demonstrate the development of your project with personalized status updates that enlighten all stakeholders.

Many customizable widgets and views are available to help you and your team manage even the most challenging projects; these include Gantt charts, timelines, cards, and boards. Utilize its cutting-edge capabilities, such as automation, real-time visibility, configurable dashboards, and reporting, to help you make quicker decisions and advance projects.

Since it offers enterprise-grade security, user authentication, role-based access control, and 99.9% availability, you can continue your process without worrying about cyberattacks or other threats.
10. Trello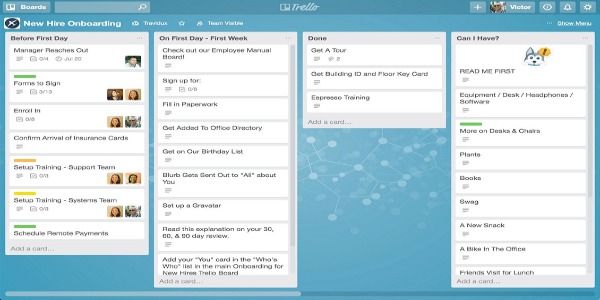 Trello is made to make collaborating more accessible and more convenient for everyone, increasing productivity and efficiency. A wide variety of features, including unlimited cards, storage, and board improvements, are included in the free edition. Each workspace features an iOS and Android mobile app with up to 10 boards, assignees, and due dates. It is simple to operate. You will like it if you want something straightforward.

Trello's Butler Power-Up can be an ideal addition if you need assistance crossing off tedious items from your to-do list. On your project board, Trello's built-in automation helps to reduce the number of repetitive operations. Trello is an effective alternative to Airtable because its simple features allow any team to quickly set up and modify processes for just about anything, from meetings and projects to events and goal setting.
11. OpenProject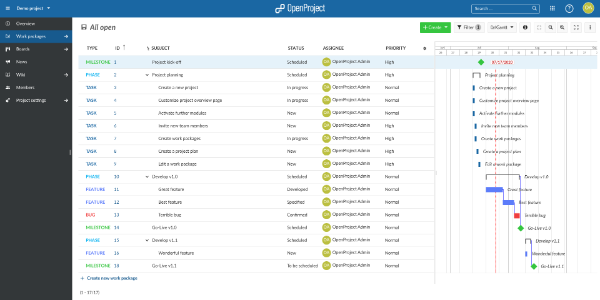 Only a few Airtable alternatives provide an on-premise model, like OpenProject, which is placed on-premises in your infrastructure with total control and 100% data ownership, enabling you to manage projects across various teams and departments. You know where and what happens to your data without third-party dependency or outside interference.

For teams to interact, organize their work, and produce results, OpenProject is the quickest and safest method. This free Gantt chart software empowers you to organize and assign tasks to a teammate. It is made to adapt to your project and assist you in boosting productivity so that you may effectively attain your goal.
12. Citrix Podio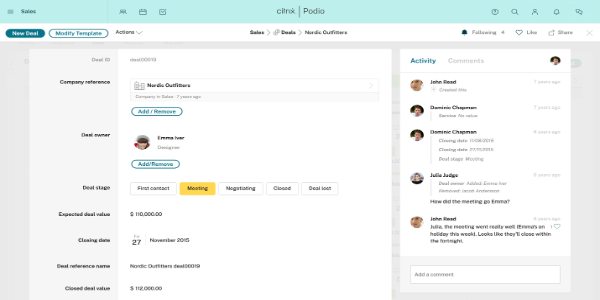 Citrix Podio works precisely as well as all the alternatives to Airtable at unifying all material, interactions, and procedures into a single point of collaboration by transforming your project data into a single tool. The platform allows you to onboard clients, contractors, and other parties without charging them, stopping time-consuming file sharing and drawn-out email conversations.

The software attempts to be as versatile as possible to ensure that it is the right fit for any business and moves your project ahead successfully. Thanks to the granular admin features, you can quickly make adjustments and control who has access to your Podio workspaces. But the way they collaborate is what distinguishes Podio from other apps like Airtable.
13. SmartTask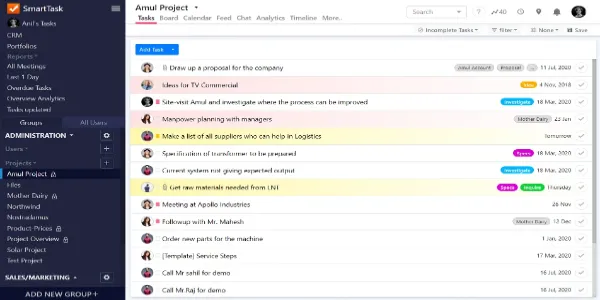 You can choose the best smart project template from various options by SmartTask. Its streamlined project and action templates let you use repeating procedures to minimize your work in half while saving time.
You can modify and examine reports according to the rules you've established. You will be able to identify possible issues and maintain work on schedule with real-time charts. Obtain a central overview of all your active projects. Real-time infographics, status updates, and progress percentages keep you informed.

Organize dependent, overlapping, unplanned, and other jobs to create realistic work plans. The workload view aids in evenly distributing jobs among the team members, preventing anyone from being overworked or underworked. Create drop-downs, text, numeric, and date fields to track the most crucial information, just like in other software like Airtable.

The market is accumulated with more alternatives to Airtable that are qualified to join the list. Still, we could only recommend thirteen because we want to limit the quantity of information. As a result, we decided to list popular and extensively used apps like Airtable in our list of honorable mentions, such as Quip, Zoho, Hansoft, Google G Suite, Plutio, Quire, Zenkit, Nifty, and others.

And other team collaboration software in the market may serve less fundamentally as software like Airtable. However, still, after learning about its extensive features, you would concede it as one of the Airtable alternatives, such as Troop Messenger.
Troop Messenger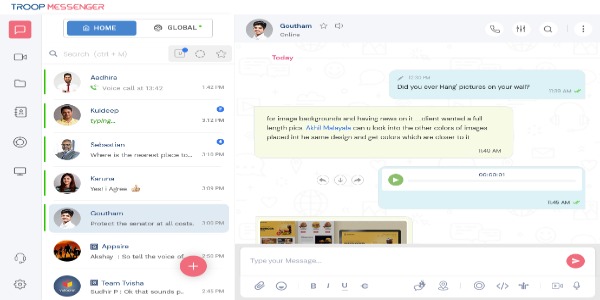 Troop Messenger is regarded as one of the best team chat apps that offer a plethora of features with a user-friendly UI. Compared to other instant messaging software, Troop Messenger works with a mission to provide a secure platform to clients, so it never intends to use the data to its advantage; in fact, Troop Messenger doesn't have access to client data.

It provides all necessary functionality, including chat, one-on-one and group audio/video calls, conferences, screen sharing, remote access, file sharing, and other required features. It supports on-premise, chat APIs and SDKs, SaaS, and customizable delivery options, in contrast to other team chat apps. Additionally, it allows Zapier integration, allowing you to smoothly continue your workflow by integrating with any software. I thus hope you now see how effectively it can function similarly to other Airtable alternatives.
Conclusion
Operational excellence depends on your team and the array of valuable tools you use daily. Now that you know the aforementioned Airtable alternatives, I hope you will choose suitable software for your company's requirements. Having said that, I advise you to research each application and compare it to your needs.