Team Collaboration is all about bringing individuals together with different levels of skills and experiences to work together towards a common goal.
A team comprises individuals with variant grades of expertise in their respective skills who are required to work collaboratively otherwise they would just scatter into their own created zones limiting themselves and working independently without any contribution of others' skills, guidance, or ideas affecting their own growth, and compromising the project's result.
Advantages of Team Collaboration
Individuals who work in a group are more likely to feel vouched and connected, which encourages them to work together to reach a common goal by taking advantage of opportunities and offering their ideas, and skills.
The following are the advantages of Team Collaboration
Revamped Team Performance
Regardless of your experience, you may have or have to encounter a gap that can be solved by a colleague who has more or less experience.
Collaboration aids in the completion of a project by allowing individuals in the team to contribute with new viewpoints and ideas solving problems faster, which not only boosts productivity at work but also improves their knowledge of technology.
Seamless Communication
Communication is an important factor in any company or domain and team collaboration is the only method that can aid the seamless communication between the teams.
Despite their unfamiliarity with one another, several teams working in a company must work together. With the instilled team collaboration spirit, teams can communicate with each other according to their requirements and work proactively. The team will have healthy debates and disagreements, but they will eventually come to a productive conclusion, be it at the office or with remote employees using remote collaboration software.
Adaptability
Change in the modern world is inevitable as in domains, market trends, etc., An individual may be suppressed but a good team will never be crushed seeing the change team collaboration makes them strong and adapt to the change flexibly and molds it to their advantage with the teams' contribution, ideas, experience who witnessed many of these changes.
Complex Projects
Projects that demand a huge time investment and may initially appear complex can be distributed among the team members, allowing them to collaborate with their experience, ideas, and knowledge. Generating (free traffic for affiliate marketing) through organic methods, for example, may entail collaborating with various team members to create high-quality content, videos, and social media pages. Get the help of professional writers from essayservice.com to assist you in producing high-quality and original content for your projects.
Projects can be monitored regularly, where the team members can share the outcomes/ results when they collaborate and work together by making their distinctive contributions which help the manager or team leader in knowing the work status and planning the workflow accordingly so that the project can be delivered as per the commitment working collectively. As a result, following such processes can simplify complex projects.
Enhanced Work Culture
Anyone would be pleased to work in a work culture that values team collaboration since they are well aware that it not only allows them to connect but also allows them to grow their skills and gain experience.
The whole team will work with pride seeing their collaborative efforts contribute towards a larger goal.
Best Collaboration Tools
Collaboration tools must be capable of connecting everyone, regardless of their location. The following are some of the top collaboration tools and their features.
1. Troop Messenger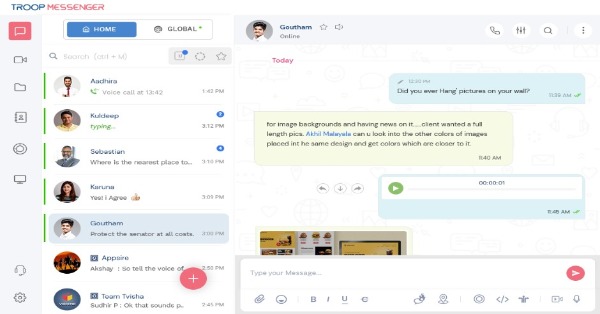 Troop Messenger is an instant messaging software that is known for its new-age features. Its design is very competent and it can be integrated into any domain.
At remote work, these online collaboration tools make communication as seamless as in the office.
Troop Messenger is multifunctional and can be used as a work chat app, a business chat app with the features such as audio & video calling, one on one & group text chats, file sharing, and so on.
Apart from the aforesaid list of basic features which can any chat app can provide, below are the unique features that you may not find in giant companies' tools.
Features
Burn Out feature helps its users to have a private chat within the specific time set by the same users. It is impenetrable to outsiders, cannot be breached by any means, and as a result, it can be used as a military messaging tool.

Forkout feature will help you to send a message to multiple users or multiple groups at one go,

Live Location Tracking feature is meant to track your employees who work on the field such as the marketing team, sales team, business development team, and so on,

Slide Show is a feature that allows users to engage in seeing images one by one rather than doing them manually.

Remote Screen Sharing and Controlling functions provide you with the privileges of remote access to the system and screen sharing,

Jointly Code feature allows two programmers to collaborate on a code while on a video or audio call,

Search filters help the user to search based on a keyword, file, image, video, flagged messages specific user chat in the group without consuming time.
2. Mailtrim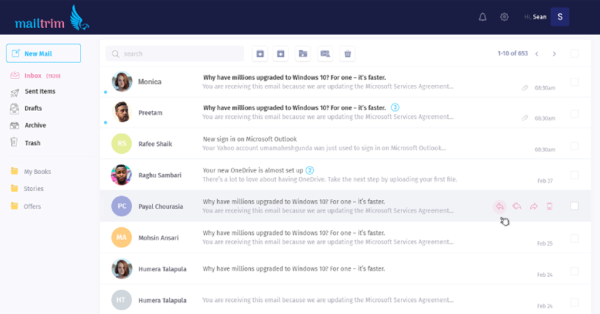 MailTrim is an email management software that can help users to classify or sort emails received from various users or companies. It will organize the emails in chronological order according to the user's specifications so that they can quickly view them.
It is designed to save time by guiding users to check important emails without encountering spam emails, unwanted emails, etc., increasing team productivity.
It is highly secure, identifies spam, and serves as a secure repository for storing confidential communications and data for future reference. And it can be used in a variety of ways by any domain.
features
Easy to use

Intuitive UI

Intelligent Inbox

Multi Integrated

Smart Search

Customized displays
3. Time Dynamo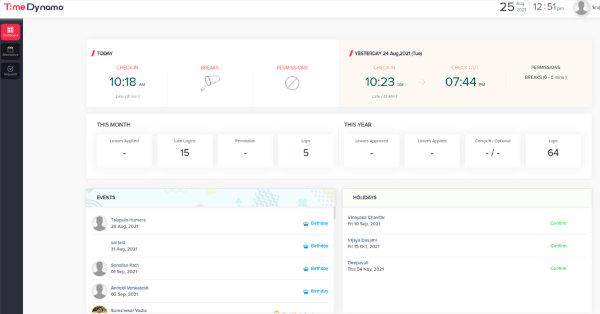 Time Dynamo is a biometric attendance management system commonly used in mid-to-large-sized businesses, colleges and universities, and government agencies. This solution lowers the time spent manually tracking employees' work roaster, leaves, timesheets, and attendance, among other things. This application is easily adaptable to any domain and any type of office.
Features
4. SendX – Send Bulk Emails with Ease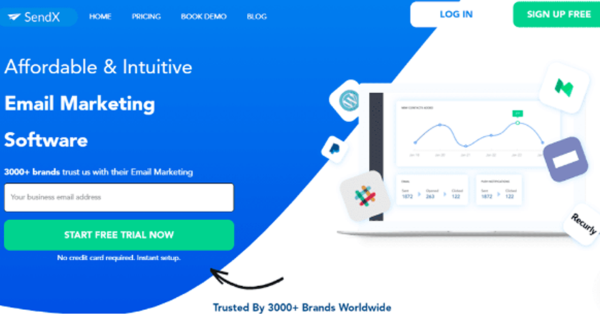 SendX is an Intuitive and affordable bulk email tool. With one of the simplest UIs in the industry, SendX provides unlimited email sends with every plan, powerful automation capabilities, best of breed email deliverability. 3000+ companies worldwide trust SendX for their Email Marketing.
Features
Email Editor: SendX has a simple WYSIWYG (What You See Is What You Get) drag and drops email editor. You can just drag the blocks to create beautiful emails.
Email Templates:

It is extremely useful to work based on free email templates There are nearly 50 inside SendX that can be used for various use cases like the holiday season, newsletter, product launch, promotions, eCommerce, evergreen webinars, with your online course platforms, etc. We also feature one of the biggest email template collections from across the web with over 1500+ templates.
Email Campaigns:

With SendX you can send unlimited emails every day to your audience. If someone has not opened your emails, you can use the Resend feature to send the emails again, therefore ensuring that nobody misses the updates.

Automation

With SendX, you can make your marketing go into auto-pilot mode. Segment the customers on the basis of demography, subscriber behavior, and more than 25+ other parameters. You can increase revenue with transactional emails and reach the target customers at the appropriate time through scheduling.
5. Avoma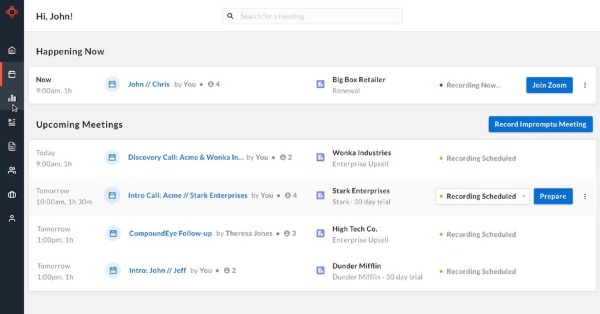 Avoma is your all-in-one meeting assistant that will make organizing and attending meetings all the easier. With meeting management, meeting assistant, meeting collaboration, and meeting intelligence, Avoma has it all.
Prepare agendas, collaborate on note-taking tasks, sync events with your calendar, and more. Avoma has AI-generated summary notes that ensure you take away the most important points of every meeting.
Avoma can be used by anyone, if you need to collaborate with teams, generate notes for other participants, and gain insights from data within the platform, then this is for you. Avoma has countless integrations, so you never run out of options.
And to emphasize Avoma's organization, the name is an acronym for 'A Very Organized Meeting Assistant', short and sweet, making work life a whole lot smoother.
Features:
Meeting Management: Prepare agenda, collaborate on note-taking, and sync notes to Calendar events
Meeting Assistant: Automatically record and transcribe meetings and get AI-generated summary notes
Meeting Collaboration: Search across transcripts, share key moments, and comment to collaborate faster
Meeting Intelligence: Learn topic trends, talk-patterns of top performers, and get coaching insights
Conclusion
Team collaboration boosts productivity at work by reinvigorating the team spirit, engaging every team member in the project offering them a chance to contribute their skills in the process to achieve a common goal. It's a procedure that every organization should approach as a work culture, as a result of which both employers and employees will be delighted.