Do you think email is still the fastest way of getting stuff done?
As you might have guessed from the title, we beg to differ.
Yes, Microsoft Outlook is one of the most popular desktop email clients. However, Outlook hasn't been designed to get things done in a more productive manner. If you've used this tool to communicate with your clients or coworkers, you might have wondered if there's a faster way of doing things.
We are not going to list all reasons why Outlook is not a great choice. Because, if you're searching for an Outlook alternative, you can think of a few yourself.
So, let's cut to the chase.
Fortunately, there are viable alternatives that offer better services in terms of both features and cost.
In this blog post, discover the best Outlook alternatives as we explore 7 desktop email clients that can serve as a replacement for Outlook. Explore new email software options like Outlook and find your perfect match.
7 Best Outlook Alternatives
1. Mailtrim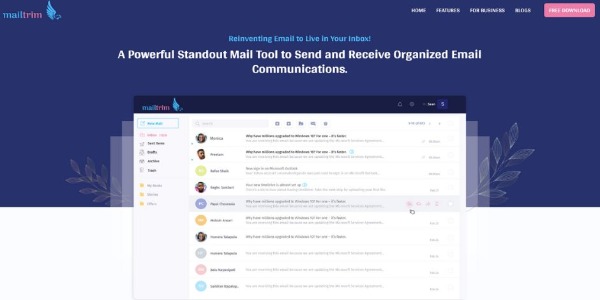 MailTrim is one of the feature-rich free email clients and a perfect outlook replacement that offers a clean and modern design alongside offering plenty of useful features. Some of the most striking features of MailTrim include an intelligent inbox, customized email signature, response later features, impressive archives, and other features that can surpass Outlook Messenger. You may find the best alternative in MailBird as a free email software like Outlook for Windows 7.
Easy to set up and use
Intelligent Inbox that allows users to receive emails from different accounts at the same time. MailTrim inbox classifies inboxes from different.
Accounts separately by sorting them into different folders.
A smart search feature allows you to retrieve just what you need - whether that be an attachment or email content.
Customized displays and an advanced dashboard give complete visibility and tracking of threats.
It has more features like flagging, archives and responding later.
A mobile app is available for Android, iOS, and Windows.
Supporting Platforms: Windows, Android, macOS, iOS
Pricing: Available for Free
2. Inky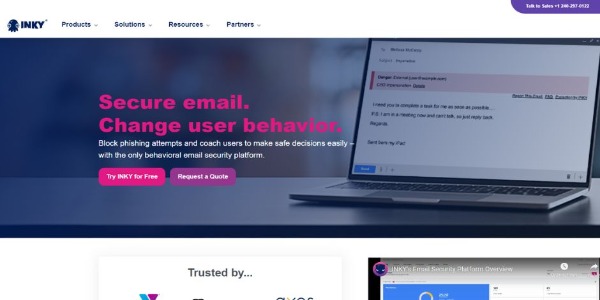 INKY is a behavioral email security technology that guides users towards making wise decisions while attackers and preventing data leaks. It alerts users to suspect conduct, acting as a security coach, with interactive banners that direct users to take appropriate action on every device or email client. It is an email software similar to Outlook, using which IT teams are relieved of the strain of managing several systems and manually filtering every email.

Unlike other Microsoft Outlook alternatives, Inky offers advanced security features such as the "Inky Phish Fence" that detects and blocks phishing attempts in both internal and external emails. With patented machine learning technology, it quarantines or delivers emails with malicious links blocked. Inky also provides an analytics dashboard for administrators to analyze attack patterns, making it a better-than-Outlook choice for enhanced email security.
Inky vs Outlook: Distinctive features
Advanced attachment analysis
Powerful protection against phishing emails
Patented machine learning technology
Outbound mail protection
Social graphing
Supporting Platforms: iOS, Android, macOS, Windows
Free Trial Period: 30 days
3. MailBird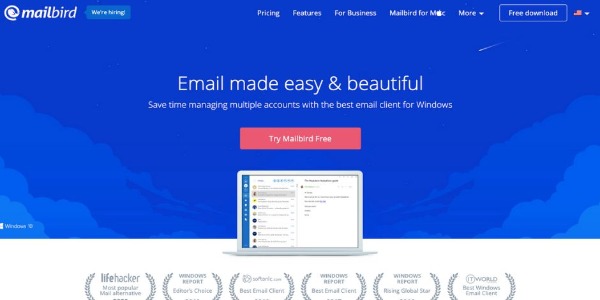 If you want to upgrade your team's communication and collaboration efficiency, MailBird might be the answer to your wishes. It is not really an email client like Gmail and Outlook, but it offers features that work beyond any free Outlook alternatives.
MailBird is basically a platform for viewing, managing, and sending your messages. But its main power comes with integrations. You can connect this tool with multiple apps like WhatsApp, Facebook, Twitter, and Slack, so users can easily toggle between these - without having to switch between the apps.
Easy-to-use interface and simple layout
Integration with Multiple third-party apps like WhatsApp, Facebook, Twitter, Slack
Undo Send mails
Advanced attachment search
Advanced In-Line reply
Unsubscribe button
Moving Mail between accounts
Multiple signatures per email address
Research contacts on LinkedIn from within the app
Attachment preview
Add multiple accounts to one inbox
Pricing: Mailbird pricing starts at $2.5 per month for Personal (Yearly), $27.29 (pay once) per month for Personal (Yearly), and $2 per month for Mailbird Business (Yearly).
4. Rambox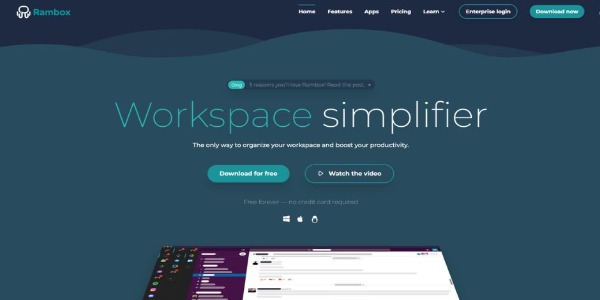 Rambox is a workspace manager that enables you to group as many applications as you'd want in one location. To be precise, it is an email software like Outlook, where you can manage over 70 email and messaging providers.

With innovative features such as Spell Check and a master password to keep your emails secure, this email client enables you to handle emails across many applications. Do not Disturb Mode is another feature of this application that might aid in productivity and effective results.
Rambox vs Outlook: Distinctive features
Customizable workspaces
Hibernation
Session management
Pre-installed workspace
Proxies
Supporting Platforms: Windows. Linux, Mac
Free Trial Period: 30 days
5. Mozilla Thunderbird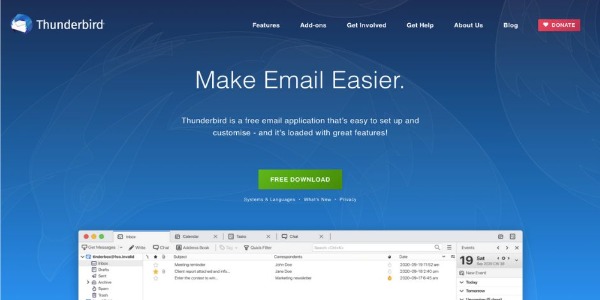 If you use Mozilla Thunderbird as an Outlook alternative, the app guarantees to make your email easier and more accessible. It works by removing the complexity of managing tons of emails by providing easy customization options.
With support for tons of plugins, an unlimited number of email accounts, and lightning-quick functionality, Thunderbird's place on the email client throne is well-suited.
Mozilla Thunderbird vs Outlook: Distinctive Features
Manage multiple email accounts by combining all mails
Quickly add people to your address book
Highly customizable
A reminder for an attachment email is sent
Built-in security and privacy system
Filter emails by messages, people, and tags
Protection from phishing
Allows importing from several email clients
Supporting Platforms: Windows 7 or later; OS X 10.9 or later; FreeBSD; Linux
Pricing: Available for Free
6. Hiri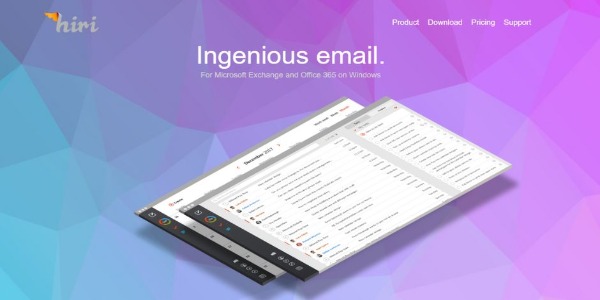 Hiri is a desktop email client that was created as a business-focused alternative to Outlook for sending and receiving emails and managing calendars, tasks, contacts, and others.

Other than categorizing emails, some features, like reminders, are made to help you develop better email habits. You can set reminders for emails you can't respond to immediately if you move emails to a task list where you may add due dates or reminders.

Hiri's composing feature makes sending emails simpler by allowing you to load the basic template for creating a mail or a reply to a customer. Hiri is one of the best alternatives to Outlook.
Hiri vs Outlook: Distinctive features
Reminders
Easy to use
Shared calendars
Offline mode
Global address list
Supporting Platforms: Windows, Mac, Linux
Free Trial Period: 7 days
7. eM Client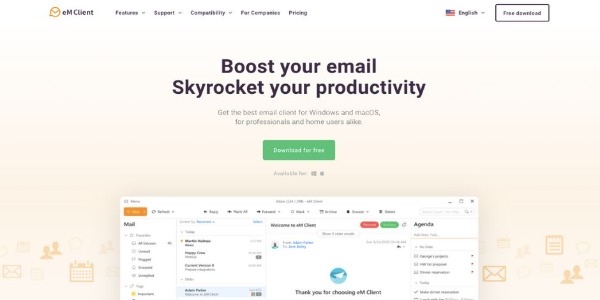 eM client is one of the most feature-rich alternatives for Outlook. It has an easy-to-use interface that allows users to manage emails, contacts, calendars, and tasks.
With eM Client, you get to master your workflow by utilizing features as great as message encryption, message translation, calendar, and tasks, watching for replies, incoming emails snooze, sending later, and note features.
eM Client vs Outlook: Distinctive Features
It supports PGP encryption.
Compatible with Google Workspace, Office 365, Outlook, and Exchange.
Facility to take email backup.
Supports the auto-reply feature for received emails.
Automatic download of contacts from the web.
Feature to add tables and effortlessly resize.
Change image size, rotate, and flip.
Supporting Platforms: Windows, macOS
Pricing: Available for Free
Choosing a Replacement for Outlook: Additional Tips
What you ultimately choose and a replacement for Outlook depends on your business needs and what your employees or teams are looking for. As you can see, there are a lot of outlook alternatives, but not all of them have the capacity to solve all your problems.
While Thunderbird, MailBird, and Gmail are excellent desktop email clients, they all present challenges similar to Outlook. So, it's obvious that you are in a dilemma when it comes to choosing a decent alternative outlook.
As we wrap this blog post, we'll leave you with a few things to consider when deciding which outlook alternative is better for your team:
Ease of Use
User interface and ease of use are important - not just for you but all your employees. Because, eventually, it's them who'll have to use the app. So, make sure to review the learning curve of the app, how complex or easy it is to use, and implement a newer technology accordingly.
For example, if your team is not great with advanced technology, you should stick with an app that offers a simpler interface. And if your team can handle complex apps, you can go all-in with any kind of interface.
Determine your budget
If you're looking for a replacement for Outlook, you're probably looking for a better email client. And as the rule goes by, anything better comes with an additional price.
Now, we're not saying you've to shell out extra dollars on email software similar to Outlook, but you certainly need to review your budget and see how much more you'll have to shell out before you break the bank.
Find Pain Points of Using Outlook
The best way of finding an Outlook alternative is to know the pain point of using this app and then find those features in alternative applications.
For example, if you're feeling trapped by the limited integrations Outlook provides, you need to choose a replacement for Outlook that offers more integrations. If emails aren't cutting it for you anymore, try finding an app that has more productivity features and use.
It's a Wrap!
We hope this article served its purpose. These 7 tools make for a great outlook alternative. But if you're still unsure about which one to go for, we suggest shortlisting a bunch of tools for a spin.
Since the majority of these tools are available for a free-trial period, you can get a feel of how they work and then make a final decision.