You are here on a page that talks about 'Free Gantt Chart Software.'

Would it be too early to say 'Your search ends here'?

I guess not!

Because, here, you get to review an impartial analysis of top Gantt chart software with templates and examples.

This blog post needs your undivided attention.! 5 minutes will be enough.

Let's start with the basics.

Missing a deadline when you are on a serious project is never an option!
You need to accomplish your task with accuracy and precision, and that too within a fixed timeline. There are a lot of things running on the schedule that one needs to manage while working on a project.
Project management is not as easy as you think. You will have to keep a record of every step you take. It will be difficult to maintain such records if you don't have Gantt Chart Software. Right from the duration of the task, the name of the person who is assigned to the task, the task milestone, how much investment was involved, and how much time is scheduled for each achieving each milestone-everything must be recorded with top-notch accuracy.
For fulfilling these project management requirements, Gantt chart software always comes in handy. Unlike the traditional timeline charts and manual records, it focuses more on the interdependencies within tasks instead of emphasizing only the broad picture.
What is a Gantt chart?
Gantt chart is a very important tool that is used to visually schedule and monitor projects. Its main objective is to show the activities that are finished, the ones that are currently ongoing, and also those that are yet to start.
Henry Gantt was the first person to introduce the concept of a Gantt chart, and ever since it has become an integral project management tool. Gantt chart gives a visual or graphical representation of all the tasks undertaken in the project. It also gives the duration for each task and other important details with the progression of the project.
Generally, the bar of the graph changes its shading to show the progress of the project. Upon the completion of the project, the graph color turns to a different shade. Also, it can show the name of the person to whom a particular task is assigned and the milestones that are set to achieve the final goal. You can jump through hoops building a Gantt chart in Google Sheets with severely limited customization options, pay a premium for a paid solution, or get your work done in a free Gantt chart software in just a few clicks.
Gantt Chart Glossary you need to know
Tasks: Tasks are different types of work assigned to individuals which should be done to reach the goal. They come with the start date, end date, duration, assigned person, and all the other details involved.
Milestone: It's a task with zero duration. It can indicate an important date in the project plan, for example, the initiation or completion of an important task. You might use it to make the completion dates of specific tasks.
Summary task: It is a group of tasks. They are made of sub-tasks that show combined information.
Task status: It shows the progress, percentage, and completion of the task.
Dependencies: It shows the link and connection between different errands.
Assigned resources: It indicates the name of the people assigned to specific tasks
Ready-made Gantt Chart Template to use
Template.net Gantt Chart Templates can be edited in several formats such as Microsoft Excel, Microsoft Word, Apple Pages, and Apple Numbers. These Gantt charts are incredibly useful in project management because they allow you to track the status of project tasks.

They also help keep track of deadlines, milestones, and hours worked. Working with clients helps boost the perceived value as the clients are able to see the progress of their projects in real time. Having a document that gets updated every time a task gets completed or makes a certain amount of progress helps in decreasing the communication needed to notify the people of the progress made thereby enhancing the employees' overall productivity.


Here is what you can do with the Template.net Gantt chart:
Plan & Schedule Projects
Plan & Schedule Tasks
Plan and schedule Tasks across Multiple Projects
View Tasks Over Time
Plan in Sprints
Team Collaboration
Scheduling Teams' Work
Determining Planned versus Actual Timelines on a Project
Increasing Perceived Value for Clients
Increasing Employee Productivity

Pricing: Template.net has both Free membership and paid Plans which start at 8/per month.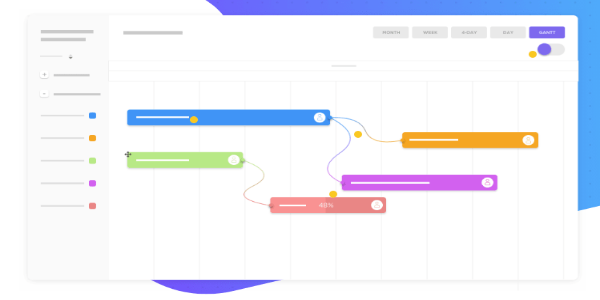 No more boring Gantt Charts! With ClickUp, every Gantt chart looks beautiful. It is easy to manage anything, whether it could be people, projects, tasks, spreadsheets, email and chat, to-do lists, documents, notes, etc. The ClickUp free Gantt chat software is the only application that provides feature customization to build awesome projects.


ClickUp is the best Gantt chart maker that has been rated 5 stars ratings by G2, Capterra, and GetApp and supports incredible integrations! You can automatically import your data from other productivity apps that you use. Unlike other online Gantt chart makers, this tool provides a wide variety of ready-to-use Gantt Chart Templates for Marketing, Development, Project Management, Design, and more. So, if you are looking for the best free Gantt chart online solution, your search may end here.


Features that make you opt for this tool:
Custom Statuses
Multiple Assignees
Agile Board View
Workload Chart
Time Estimates
Remapping Due Dates
Future Recurring Tasks on Calendar.
Pricing: Free Forever and Unlimited at 361.14 INR per user/per month.
supported platforms: Access from any; Web, iOS, Android, Chrome, Desktop, Alexa, and google home.

Pricing: Free 14-day trial and $15 per user per month.
Supported Platform: Web-based
With this exclusive Gantt Chart software, you can easily create charts and visual graphs through existing templates of project planning. These charts can be shared with team members for better collaboration and project management.
It may not be a free Gantt chart maker but it has an extensive community of users who create and share editable templates for different projects.
Here are some of the features of Gantt Pro:
Unlimited number of projects and premium support
Multiple Gantt chart baseline and task filter
Can allow one active project per member
Customizable export to PNG, PDF, and XL format
Project estimation cost and working hours
Onboarding and team progress tracking
Resource management
All the other basic Gantt chart features
It is the best Gantt chart online solution for people working individually. It's also a good choice if you want to work with your group since it supports features like team training sessions, real-time notifications, and project role settings for members.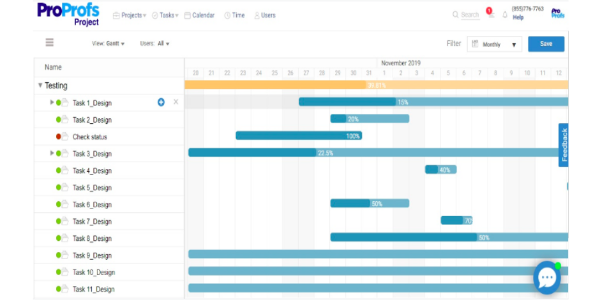 ProProfs Project is an online project management tool that solves your need to plan, schedule, and deliver projects on time. With the Gantt Charts feature, you can visualize milestones, track work progress, and view project status on a single dashboard.
Gantt charts keep you updated on what's going on in your projects, enable better time management, prevent resource overload, and help you meet deadlines like a pro.
Here is how you can achieve all this with ProProfs Gantt charts:
Assign tasks to the relevant team members.
Use drag and drop for proper task planning.
Set due dates for each project and task.
Track time spent by team members on each task.
Set reminders and notifications for project completion.
Share files, and links, and give feedback using task comments.
Receive detailed reports to monitor team performance.
Assign roles & permissions for access control on Gantt charts.
Calculate billable hours and generate shareable invoices
ProProfs is a popular choice of Gantt Chart tool amongst creative teams, IT project managers, and digital marketing teams who seek immense clarity in project scheduling and planning. If you are looking for a free Gantt chart maker, I would suggest you look for other tools, since it provides a free plan for 15 days only as a trial period only.
Pricing: Free 15-day trial. Afterward, $2 per user per month for the Essentials plan and $4 per user per month for the Premium plan.
Platform Supported: Mobile, Web, Desktop.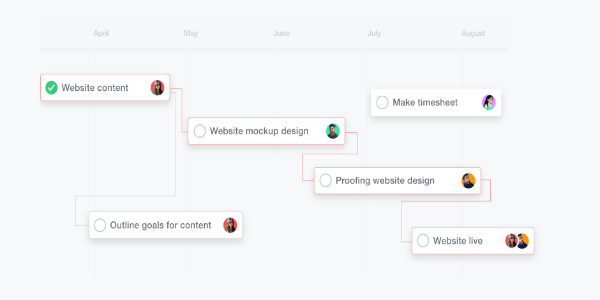 ProofHub is a project management solution and collaboration software that makes work easier for teams. It facilitates planning, helps in tracking progress, and allows real-time collaboration and communication so that efficiency increases and deadlines are met on time.


ProofHub is a project management software that has an exhaustive list of features and the Gantt chart is one of them. The Gantt chart in ProofHub gives you a timeline view of all your projects in one window. It helps in planning your projects and tracking the progress of tasks at any given time.


Here is what you can do with ProofHub Gantt charts:
Add tasks and task lists to the Gantt chart.
Clearly distribute roles and duties by assigning tasks to team members.
Set dependencies between tasks and adjust schedules as work changes or deadlines shift.
Highlight the critical path to see which tasks directly affect the start and end date of the project.
Adjust the start and end dates of tasks with a single drag and drop.
Associate milestones with tasks.
Pricing: ProofHub is priced at $99/month (limited-time offer). It offers a free trial with complete access to all its features.
Platforms supported: Web-based, Google Play Store & App Store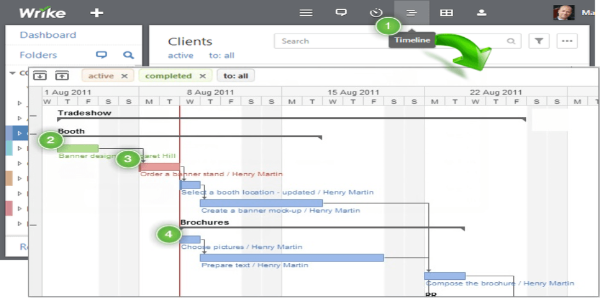 You can now stop updating your project in Spreadsheets! Instead, Wrike offers you simple, yet tried and tested Gantt Charts to make you understand and visualize the time and resources allocated in a given project. Set task deadlines for your team members and make them faster and smarter. The fluid-like application easily adapts to the changing environments of Agile methodologies.


The online work management application of Wrike seamlessly scales across the length and breadth of your organization. Integrate the tools you daily use with Wrike.

It supports a wide number of integrations. Features that come with Wrike:
Task and Subtask Management
Shareable Dashboards
Collaborators
Business Intelligence Integrations
Custom Fields and Workflows
Additional Integrations
Pricing: Wrike offers many plans; Free, Professional, Business, Wrike for Marketers, Wrike for service delivery teams, and Enterprise.
Supported Platforms: Android, iOS, Desktop, and Web app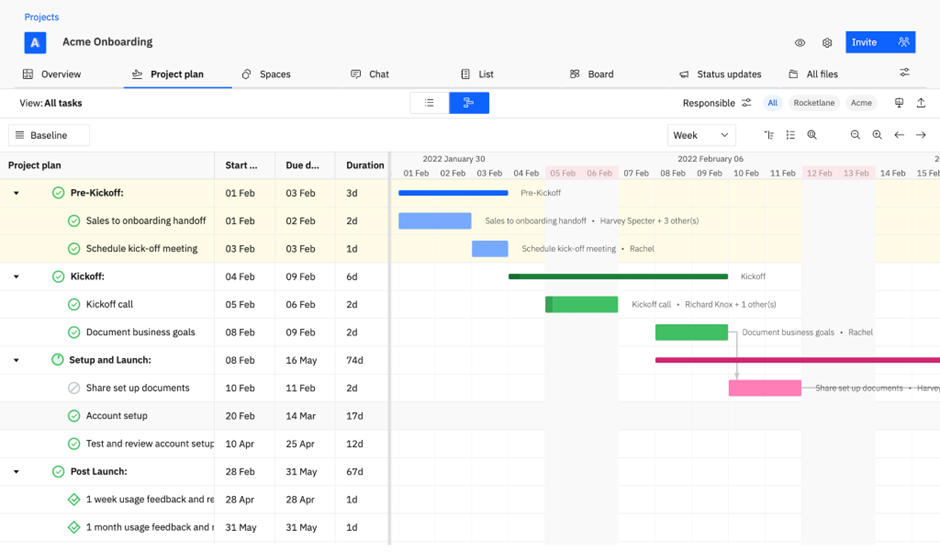 Rocketlane is an easy-to-use and intuitive Gantt chart that helps you effectively manage projects and stay on top of project dates and timelines. With its 5-star ratings from G2 and support for crucial integrations, Rocketlane is a trusted tool for project management.


One of the standout features of Rocketlane is its ability to import data from other productivity apps, making it seamless to bring all your project information into one place. The ready-to-use Gantt chart is also easily customizable, allowing you to tailor it to your specific project needs.

Efficient, customizable, and feature-rich, Rocketlane is the ideal tool for streamlined project management.
Make changes on the go with simple drag-and-drop functionality.
In-line edits allow you to quickly modify tasks, ensuring accuracy and flexibility in your project management process.
Create and manage dependencies between tasks and project phases to ensure a smooth workflow.
Create and assign tasks to multiple people, ensuring collaboration and accountability within your team.
Get a comprehensive view of your project's critical path and the slack duration for various tasks.
The "Baseline" view allows you to set reference points and benchmarks for your project timelines, ensuring you stay on track and meet your goals.
Pricing: Starts at 19 USD per user/per month.
Supported platforms: Web Chrome, Desktop. Coming soon: iOS, Android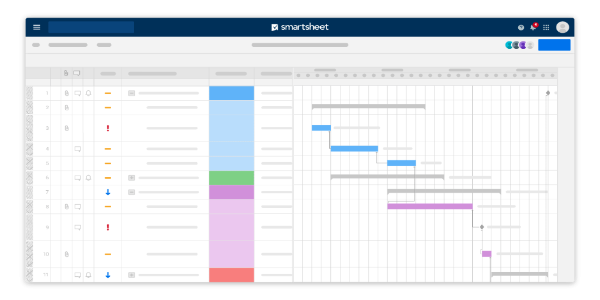 Create quick online Gantt Charts in just a few seconds with Smartsheet Gantt Chart Software. It works better and intuitive than Microsoft Project. This application is preferred by businesses of all sizes, as it increases productivity and saves time. A real-time collaborative Gantt chat software that brilliantly organizes and schedules tasks of all kinds of projects for their smooth execution.


You just name it! The Smartsheet will get it for you. This free online Gantt chart solution has a wide number of ready-to-use Gantt Chart templates for the categories of product management, project management, software development, digital marketing, and more.


Features that SmartSheet has:
Drag and Drop Gantt Bars
Set Durations and Dependencies
Premium Integrations
Identify Critical Path
Track Milestones
Share with stakeholders
Access your work on a Mobile
Pricing: Besides its free edition, SmartSheet comes in Standard and Enterprise.
Supported Platforms: Android, iOS, Mac, and Windows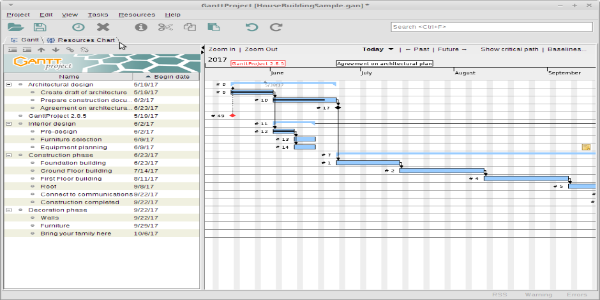 Here's why we have placed the Gantt project at the top position of this list: It's available for free for both personal and commercial uses.
Established in 2003, the Gantt Project is not just a clone of the MS projects but a lot more. It is one of the most efficient and trusted free Gantt chart software. Gantt project will run anywhere where Java runtime is available as it is written in Java.
It is a desktop application that allows you to:
Manage the elements like tasks and milestones, including the initiation date, priority, duration, notes, resources, etc.
Create a hierarchy that shows the cost, progress, and details of lower-level tasks displayed on the upper level.
Draw dependency: dependencies between tasks, leads, etc
Baseline: you can compare your current status with your previous plans by creating baselines
Generate PDF / JPEG/ PNG files
It can export and import to/from CSV for analyzing data in spreadsheet apps.
Allows import and export to Microsoft projects.
If you are looking for a Gantt chart online with free plans, the Gantt project has great features allowing users to collaborate with WebDAV servers and use cloud storage for storing all projects in the cloud. As you can see, the Gantt project is a light and useful software that is very easy to use if you are a beginner in project management.


Price: Free

Supported Platform: Windows, Linux, OSX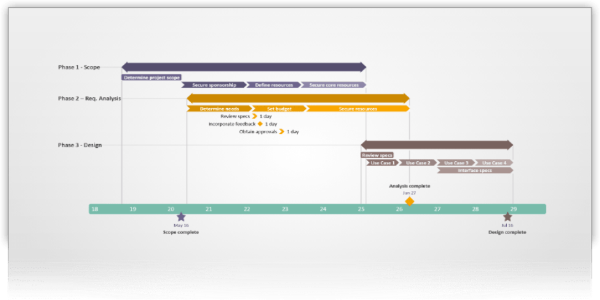 Subscribe to Office Timeline PowerPoint Add-in to directly create timelines and road maps in PowerPoint. Office timeline allows users to seamlessly produce sophisticated Gantt Charts and swimlane diagrams simply and quickly. Be in sync with your whole team by sharing your visual presentations, and assigning tasks while collaborating with them online.


The 4.5-star rated application improves project planning with professional-looking Gantt Chart Templates. Though they seem to look on the surface, they have powerful underneath layers. This Gantt chart software offers a free edition. You can download it to check how it works.


Important Features:
Consolidate Multiple Projects
Editable and Shareable PowerPoint presentations
Fully customized swimlanes
Imports data from Projects
Timelines in hours and minutes
Unlimited free updates
Group Tasks on one row
Pricing: Get Office Timeline Powerpoint Add-in at $99/1-year Pro License and Office Timeline Online at $59/1-Year Plus License.
Supported Platforms: Windows and Mac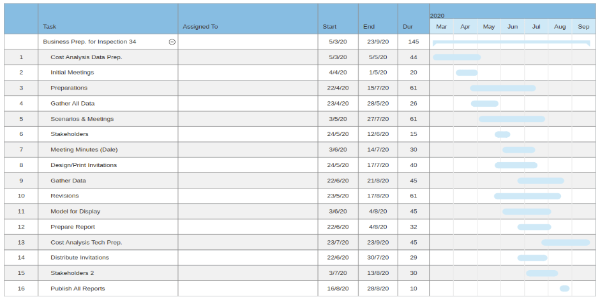 The one-in-all chat maker application that is easier than Visio for making powerful flow charts, floor plans, and organization charts offers a quick start and ready-to-draw diagram templates for designing accurate and perfect layouts. The CNET five-star rated product is trusted by many users such as FedEx, General Dynamics, Nestle, Tesla, SAP, Texas Children's Hospital, Pepsi, and more.


With SmartDraw, you can notice a marked difference in managing your projects and processes. This smart application has a broad variety of Gantt Chart Templates developed for almost every category. Be it Confluence, Jira, Trello, G Suite, or any, it integrates with every tool that you use. The only diagramming application that runs on a web browser allows users to seamlessly collaborate to work on the same diagram from different sign-ups.


Important Features:
Intelligent formatting engine
Wide Color Schemes
Visio Import and Export
Built-in Extensions
Custom Extensions using Visual Script SDK
Collaborate anywhere
Enterprise administration
Pricing: One-time purchase for a Single User at $297 with no monthly or annual billing. For multiple users, SmartDraw comes at $ 595 per year, billed annually with multi-seat administration features.
Supported Platform: Mobile, Online edition, and desktop edition(Windows and Mac).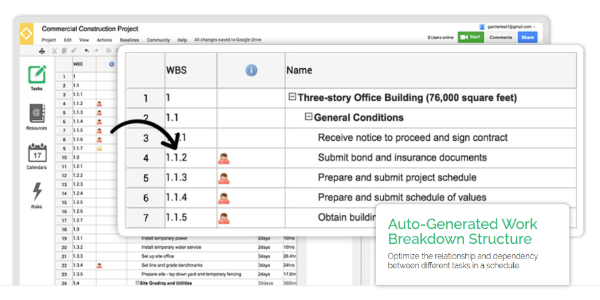 Gantter is a cloud-based, community-powered, project scheduling and management tool. Its most distinctive feature is the community-contributed task scheduling templates and the suggest and assist the engine,


With Gantter, you get an optimized user experience as it allows seamless integration with Google apps like Google Drive, Calendar, Hangout, etc. Primarily,
Gantter has three editions:
Gantter Cloud
Gantter for Google Drive
Gantter for G-Suite
Here's what you'll get with these editions:
Features:
Save or open the Gantter files to Gantter Cloud/Google Drive.
Access to millions of free community-based templates.
Access 24/7 community-powered support, suggest and edit recommendations, and real-time collaborative editing.
Auto-Generated WBS (Work breakdown structure), custom columns, built-in analytics, Cost and task tracking, and resource auto-leveling.
MS Project import and export.
The team collaboration features let users bring multiple timelines and teams together, work on multiple tasks, and gauge project completion. The Google edition is best for those who use Google Drive and other G-suite applications.

Pricing: $5 per month per user. Gantter is also available for a 30-day free trial
Supported Platforms: Web-based apps.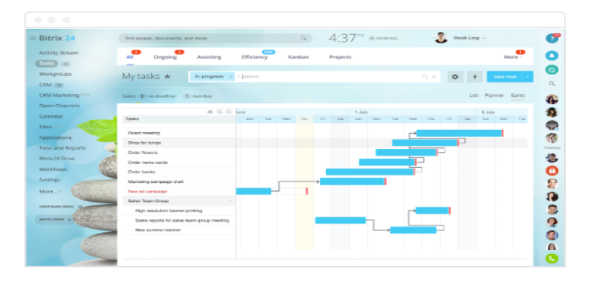 Bitrix24 is a highly reliable Gantt chart software with the main specialty of moving tasks while still keeping their connections to compare current and baseline states at any time. This is mainly a team collaboration software that offers the benefits of project management and CRM.


It can create a very professional Gantt chart for unlimited tasks and projects. It's another great option to work with 12 users. So even a small or average-sized company can use it very easily.

It also monitors the workload on employees and identifies the tasks that can be uncertainly delayed.
Important features:
Free unlimited projects
Free unlimited subtasks
Free 5GB online storage
Multiple Gantt charts
Free 12 users
Task dependencies
Cloud and on-premise
Open source code and API
Free mobile PM (Android and IOS)
With Bitrix, you can communicate with team members and also work collaboratively on the project by gauging the visual representation of tasks, milestones, deadlines, and dependencies. Other fancy features are office reports, checklists, template report builders, etc.


Pricing: $69 per month for all team members.
Supported Platform: App Store and Google Play Store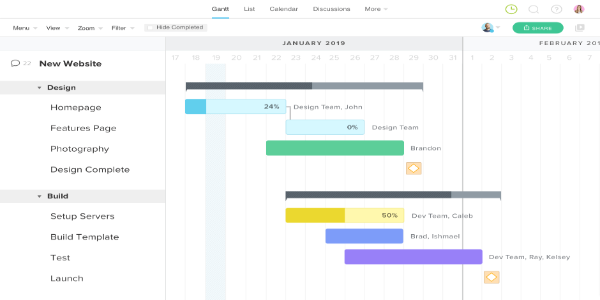 This project management suite allows users to manage tasks while reviewing them in a different visual or graphical format. This Gantt chart-free solution provides team communication, project planning, and resource management functions which are very intuitive and offers user flexibility to assign tasks, set deadline, and create priorities via the drag and drop option.
Some of the exciting features of this project scheduling software are:
Unlimited time for using the free version
Drag and drop scheduling
Customizable view through Google Calendar
Centralized storage of tasks, conversations, documents, and achievable.
Review into team member's workload and availability
Exports to PDF but the watermark
Auto-update on team progress
Daily Mail reminders
File attachments
Graphical formats for showing planned vs. actual timeline.
TeamGantt brings project scheduling online with the easy-to-integrate Gantt software. Users can invite teammates, co-workers, and friends to edit and view the Gantt chart.
Pricing: $0 for small teams of three members. $49.5 and $74.5 for teams up to 5 and 10 members.
Supported Platforms: Web-based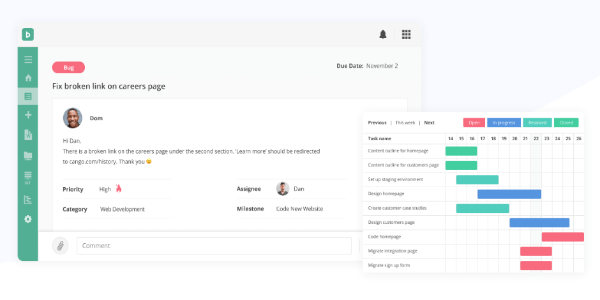 Backlog is an all-in-one online project management tool for task management, version control, and bug tracking. Bringing together the organizational benefits of project management with the power and convenience of code management, Backlog enhances team collaboration across organizations large and small. Plan work, track progress, and release code updates right in Backlog.
Why Backlog

Task management, bug tracking, and version control in one tool
Visual Gantt and Burndown charts for better planning and resource management
Built-in Git and SVN repositories
Custom statuses and workflows to suit your project
Mobile app for Android and iOS users
Kanban-style boards for each project make it easy to view every task as they move through your workflow.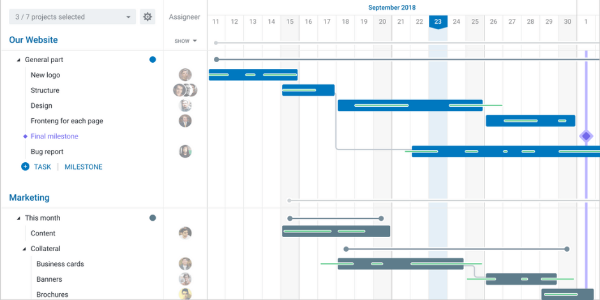 Many Trello users have been waiting for this for a long time. Now they have access to a Gantt Chart with deep integration in Trello. It will seem as if it is one application and you do not have to go to external pages during use. You can quickly plan a project by creating Trello cards directly from the Gantt Chart
Here are some of the features of Good Gantt:
On one Gantt chart, you can view all your Trello boards
You can set up integration with time trackers to keep track of the actual execution time of tasks by your employees
Nice design
Automate the movement of cards depending on the actions
Evenly distribute the load among employees
Group tasks and milestones
track progress by the task
Use hotkeys for quick work
Pricing: Free for one user without restrictions. Prices for use in a team depending on its size. It starts at 2.99 per person per month
Supported Platform: Web-based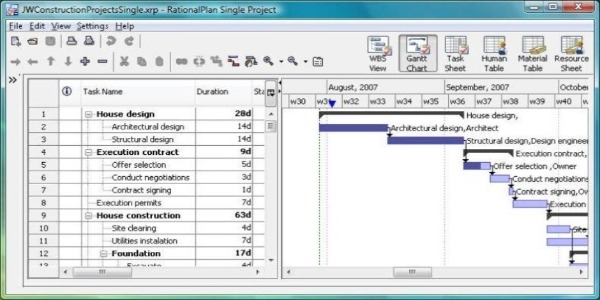 This comprehensive project planning and scheduling software covers are available for free with Linux.
The rational plan offers a variety of project management features. It is available as a cloud-based solution as well as on-premise and it helps both the project managers and teams to develop a consistent project plan with the analyzed workload, allocation of resources, estimation of project cost, and management of the budget.
Rational Plan has two versions: You can either use a cloud service or opt for an on-premise application.
On-premise- single version for Linux- It shows advanced planning through dynamic Gantt charts and timesheets. This single version will allow you to share the project with MS users. Gives you a chance to share the details about your projects with other users who are involved.
Cloud-based- Includes all the basic Gantt chart features for two users, two projects, 100 tasks, and 5 MB storage.
Here's why Rational Plan is a great choice for Linux users:
Schedule the project using duration-driven activities
Use of recurrent, split tasks, and milestones.
A visual way of tracking the baseline and dependencies
Critical path detection
Collaboration with team members and integration with Microsoft project files
Some other feature includes portfolio management, resource management tool, cost tracking, scheduling, time management, and all the basic Gantt chart features.
Pricing: The free trial and the paid plan start from $19 per month (for the cloud-hosted version)
Supported Platforms: Linux, Cloud-based, On-premise.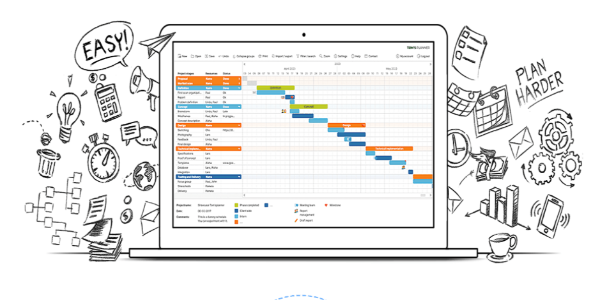 It imports projects from Excel, MS Project, Trello, and Basecamp an excellent web-based Gantt chart application. It requires no installation and has easy drag-and-drop options with right-click menu and task management.
Tom's planner really stands unique when it comes to the collaboration feature. This project scheduling tool offers a free subscription with two-user limitations and offers most of the basic features.
With Tom's Planner, you can:
Create professional Gantt charts and share them virtually
Zoom in to check who's doing what and how far they've progressed
Drag and drop to make the edits and changes on the fly
Import projects from Excel, Basecamp, MS Project, and Trello
Embed charts with SharePoint, WordPress theme, and Confluence
The free subscription can allow for 200 items in a schedule. It only lasts for one year. This software is recommended for beginners who want to have a basic knowledge of project management.
Pricing: $ 9.95 per month
Supported Platform: Web-based

ProjectLibre is another great project scheduling solution for your team projects. Unlike other software, it is not a complicated one. Its main objective is that all the company users should be able to learn to work in the chart even if they cannot afford it. That's the reason it is open-source software.
This open-source alternative to MS project has the following features:
Gantt Chart
Earned Value Costing
WBS/RBS charts
Network Diagram
Resource Histograms
Compatibility with Microsoft Project
The software has received various awards which proves that being free it can give the best results. You can translate it into any language. It has versatility which makes it much easier to work for a small or large business.
Pricing: Free
Supported Platform: Windows, Linux, Mac OS.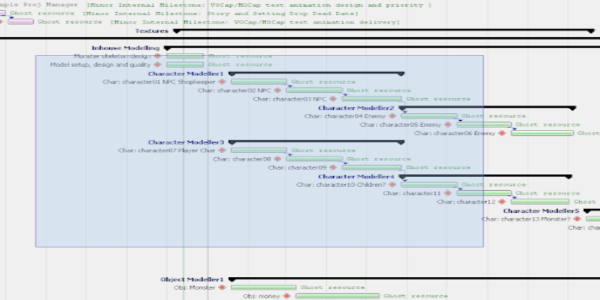 Hansoft originated from Sweden. The Swedish company offers many project management tools along with a Gantt chart template. Many companies swear by this software because of its seven main features.
You are allowed to refine your task from the backlog feature.
Long-term, as well as short-term planning, can be viewed and modified.
Supports Kanban, Waterfall method, hybrids, and Scrum
Efficiency boosting features like the acceleration of plan up to 20%
Real-time dashboard to stay informed of real-world data and workflow management
Hansoft has all the basic features like an issue tracker, to-do lists, reports, resource allocation, integration, backlogs, and on-premise installation. So, you might want to change your mind if you are working on a big project.
Pricing: Varying rates depending on team members and the type of installation.
Supported Platform: Cloud and On-premise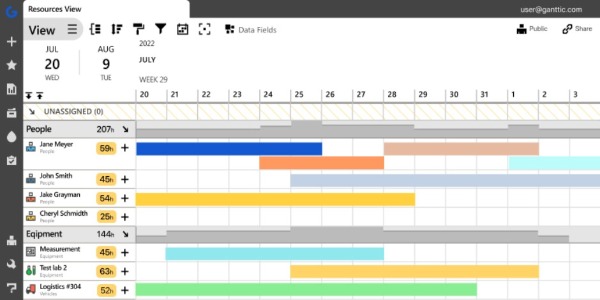 Ganttic is an online Gantt chart aimed to help project managers perform unbelievable feats of resource management. With a visual overview of all your projects, resources, and tasks, you can ensure capacity, eliminate double-booking projects, and deliver projects in record time.
Multiple project managers can collaborate at the same time. And since planning is done in real time, everyone can stay on top of the changes. Share curated Gantt charts with the entire team. Or give clients and stakeholders access and keep them up to date.
Here are some of the top project management features of Ganttic.
Cloud-based Gantt charts
Drag and drop scheduling
Task dependencies
Resource utilization tracking
Customizable color coding
Resource management
Project portfolio management
Multi-user planning environment
Push notifications and Calendar Syncs
Advanced user permissions
Project templates
API and Zapier integrations
Unlimited users for every plan
Pricing: Free 14-day free trial. Up to 10 resources are free forever. Paid plans start from $25 per month.
Supported Platform: Web-based, iOS, and Android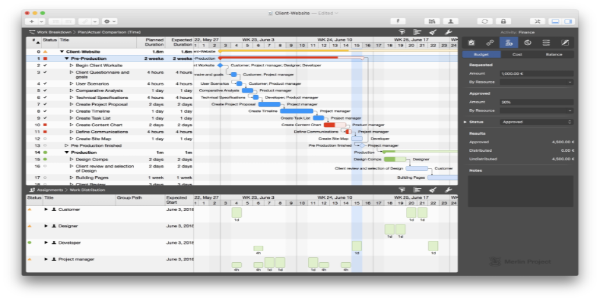 It is the latest project management software from Project Wizard. It runs specifically on Mac so before you go for this software make sure your team can work on Mac.
It has all the basic features one Gantt chart software has and it is user-friendly offering many possibilities. You can customize it as per your needs. It can also be used offline. You can edit or modify your planning offline, and it will keep the updates on the chart when you are back on.
Kanban View and Waterfall feature
Find critical paths and distribute tasks with few gestures
Link attachment to tasks in the project
Stay up-to-date with cloud storage
Compact on the iPhone
Export and Import through MS project.
Pricing: $149 per year per user and $1,415 per year for 10 users.
Supported Platform: Mac and iPad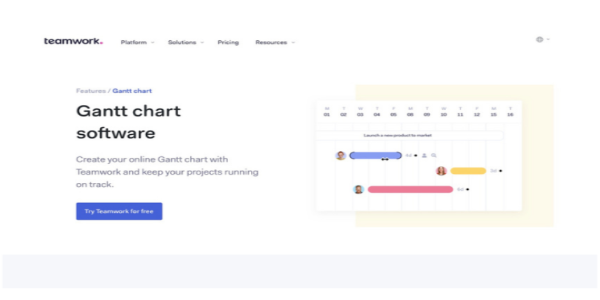 The Teamwork project management platform allows you to map out your work, visualize your project timeline, update your plan in real-time, and keep stakeholders up to date, easily and seamlessly creating a single source of truth in your organization.

Why choose Teamwork?
Easy to use online Gantt Chart
Ready-made task list templates
Create your own custom templates
Time tracking to see if your projects are profitable
Board view for better organization
Portfolio - A panoramic view of where your projects stand
Tasks and subtasks, so everyone knows what work they need to complete
However, it allows only 30 days for working free without any restriction, but after that, you must purchase it. Or you can upgrade to Merlin Project 3 which is totally free.
Pricing: Free for up to 5 users and 2 projects, Pro starts from $10 per user, per month.
Supported Platforms: Web-based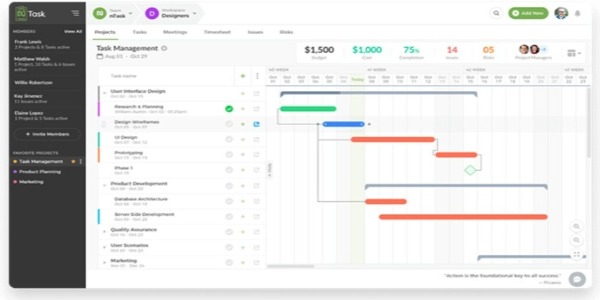 With nTask interactive Gantt chart software, you can create charts, and workflows and even find a critical path for streamlined project planning. Add tasks, set due dates, and assign tasks, and a Gantt chart will be created automatically for your projects.
Set task dependencies, and create milestones to help your team achieve their bigger goal. With Gantt charts, you can get other project management features such as time-tracking, Kanban boards, calendar management, issue tracking, timesheets, and many more.
Here are some of the features of the task:
One-click Gantt chart creation. They are automatically created
Resource planning
Set Billable and non-billable hours
2 free team members on the Premium plan
Critical Path Method and Progress Line
Project financial summary and budget overview
Set due dates, status, and task priority
To-do lists and unlimited sub-tasks
Recurring tasks and meetings
nTask is a favorite choice for SMEs, startups, and even enterprises for creating interactive Gantt charts with a drag-and-drop function.
Pricing: Free 14-day free trial. The plan is as low as $2.99 per user per month
Supported Platform: Web-based, iOS, and Android
Conclusion
There are many options outlined in this article. You can narrow the best choice by understanding what each software offers and comparing it with your company's needs. If you want to see more reviews, you can check out this article about Gantt chart software. It contains in-depth reviews and covers a few tools not included here. If you are still confused about which one to pick, consider the following five capabilities of an ideal Gantt Chart software:
It should support a maximum number of users and collaborators
It should allow unlimited edits to the chart
It should offer flexibility to work on multiple projects
It should be easy to use with drag-and-drop features and one-click sync
It should be compatible with the devices you and your team members use

Once you keep these five features in mind and also consider your team's requirements, the selection of the final pick will be a piece of cake!